Ignite Learning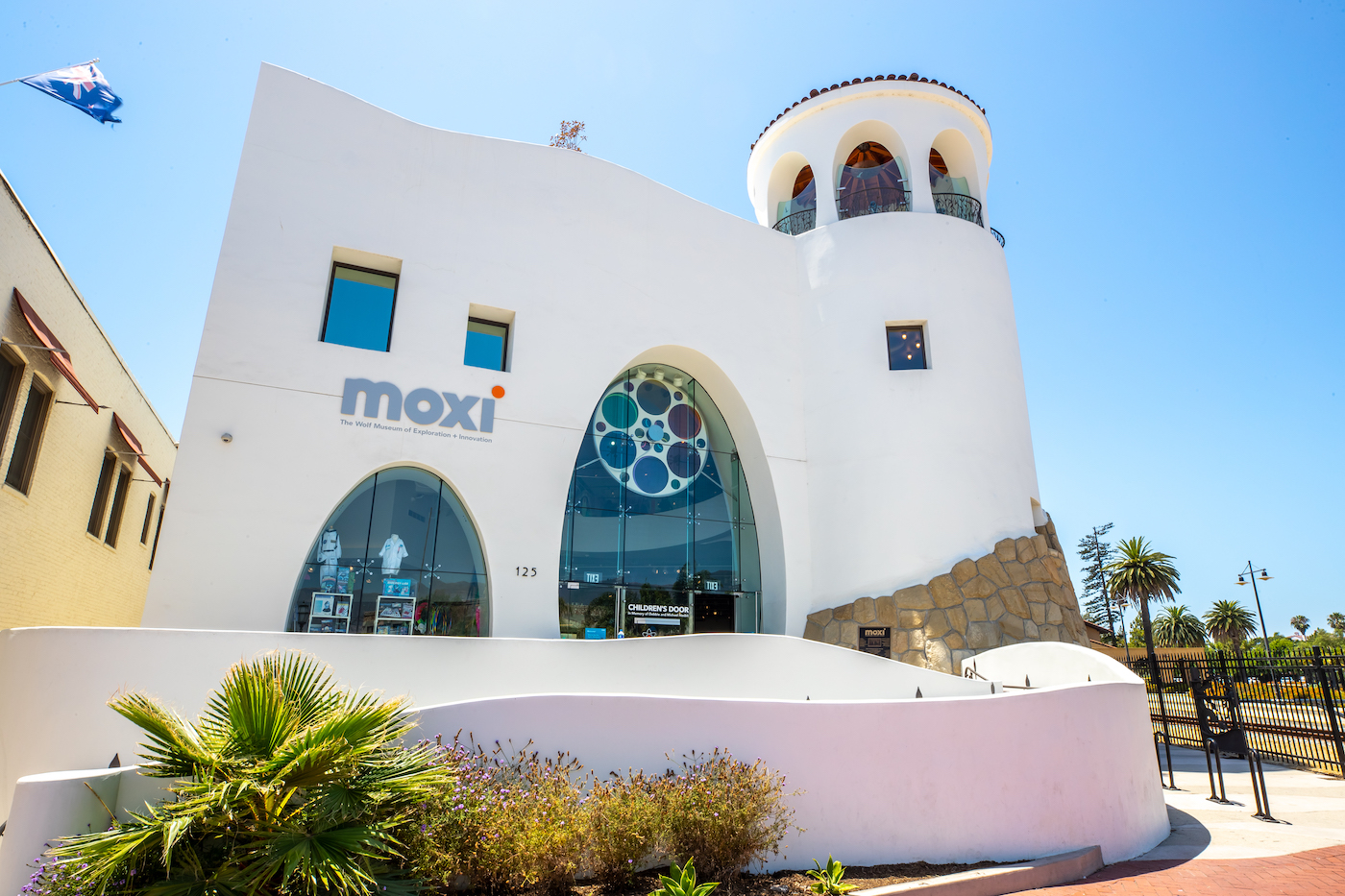 In 2017, Santa Barbara welcomed a new, exciting and wholly unique museum to its ranks: MOXI, The Wolf Museum of Exploration + Innovation.
Since the grand opening, more than 500,000 visitors, mostly wide-eyed children, have bopped through MOXI's 17,000 square feet of interactive exhibits. Exhibits like Build It. Test It. Race It. where kids can assemble their own racecars and send them down an oversized track. The builders have variables to play with, the slope of the track and the design and weight of the race cars, which force them to hypothesize and test, both hallmarks of critical thinking and problem solving.
"It's science plus race cars, which are super fun," says CEO Robin Gose, clearly jazzed about the exhibit. "And it's this racetrack on steroids, bigger than anything they have at home, which is really exciting."
For Gose, her staff and the community volunteers who spent almost three decades dreaming up and making MOXI a reality, Build It. Test It. Race it. and all the exhibits are as much about learning as they are about fun – two inextricably intertwined concepts.
As Gose, who has spent the better part of the past two decades in both formal and informal science education, explains, MOXI is about developing 21st century core competencies for not just its visitors, but also every child in the region.
The Department of Labor predicts that two thirds of all students today will be employed in jobs that don't yet exist by the time they enter the labor force. Many of those jobs will be in STEM – science, technology, engineering, and math – areas of learning that MOXI is all about.
"What is needed for this generation of children and generations to come are the problem solving skills and adaptive mindset to face new and bigger challenges," Gose says. "We are going to need critical thinkers and science advocates as we continue to face pandemics, climate change, rising sea levels, and new challenges being thrown at us all the time."
To get there is all about, as MOXI's mission says, igniting "learning through interactive experiences in science and creativity."
"Don't just read about science," says Gose. "Do it! Play and discover and open up that world of curiosity and creativity."
Gose is not only excited about MOXI's exhibits, but the museum's new strategic plan. The museum itself, she says, is "a beautiful proof of concept" for its larger goal of serving the entire community. A key goal of the new strategic plan is to engage and collaborate with local schools to bring the kind of science education found at MOXI to every school and student in the region. "We want to do everything we can to provide equitable access," Gose says. "We are truly here for the whole community."
Mission
To ignite learning through interactive experiences in science + creativity.
Begin to Build a Relationship
We know you care about where your money goes and how it is used. Connect with this organization's leadership in order to begin to build this important relationship. Your email will be sent directly to this organization's Director of Development and/or Executive Director.
An Inspired Future
"Our mission for MOXI from the beginning was to emphasize STEM learning for children of all ages, in a fun, enriching, and interactive environment. I am delighted at what we've accomplished in such a short time. STEM education is the future of our country, and our programs and staff give children and young adults a chance to ask questions, discover and explore the joys of science, technology, engineering and mathematics. It is my fondest hope that MOXI will inspire future generations of youngsters to pursue STEM-related studies and careers."
Catalyst Club
MOXI is a museum with a long-term plan for community impact. To get there, like any business, they need sustainable, predictable revenue.
To support this, MOXI recently launched the Catalyst Club, wherein donors commit to three years of giving at least $1,000 per year.
"Be a catalyst for change in your community," says CEO Robin Gose. "Be a catalyst for changing the trajectory of a child's life."
Board of Directors
Scott Hadley, President
Chris Kroes, Vice President, General Counsel
Susan McMillan, Secretary
Justin Anderson, Treasurer
Jill Levinson, Immediate Past President
Jill Chase, At Large
Alixe Mattingly, At Large
Kelly Almeroth
Kristen Blabey
Josh Blumer
Marcia Cohen
Naomi Dewey
Tyler Duncan
Julie Farrell
Jennifer Hecht
Richard Hutton
Leanne Schlinger
Fiona Stone
Andrew Winchester
Noelle Wolf