A Century of Dignity and Respect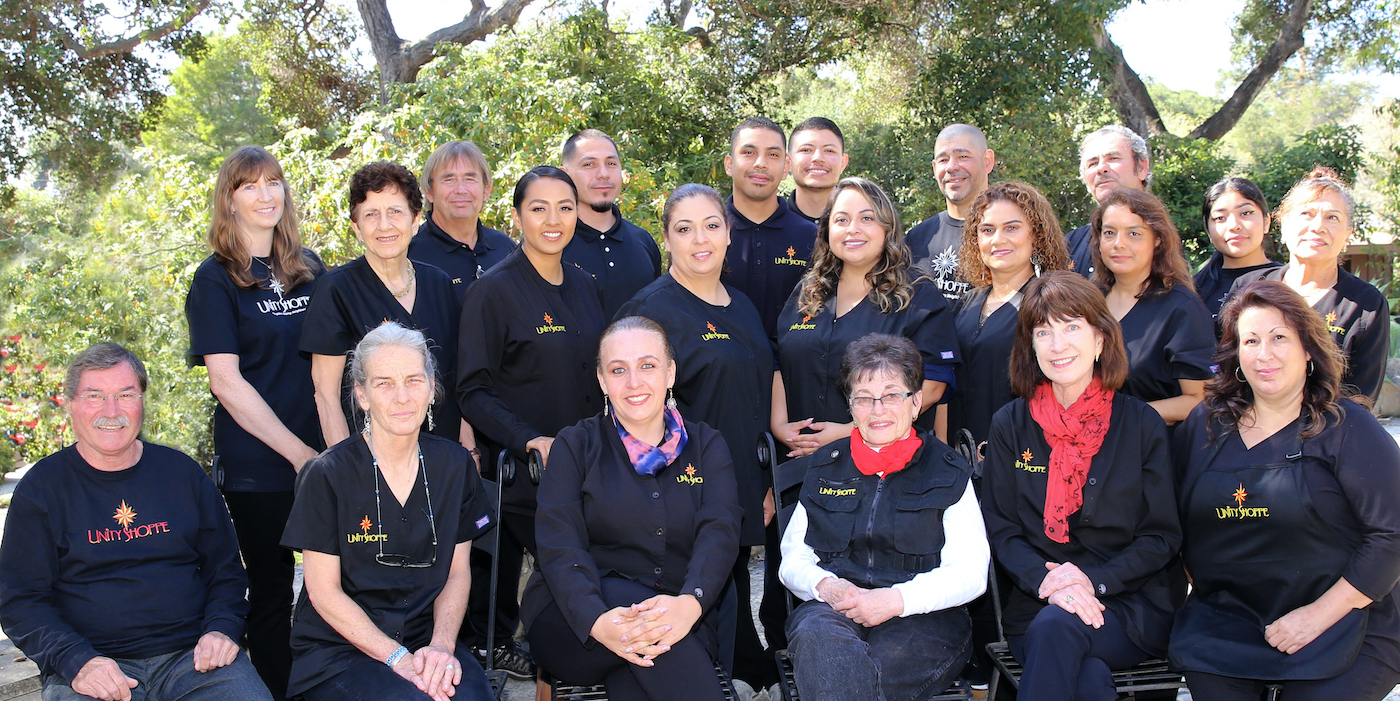 For more than 100 years, Unity Shoppe, a multifaceted nonprofit serving Santa Barbara's residents, has maintained an unwavering focus on dignity and respect in their service to others.
Today, the organization has grown to use every inch of its 31,000 square feet of building space to steadily serve 20,000 individuals referred by over 300 partner agencies across Santa Barbara County every year. In some 80,000 annual visits, clients come to Unity Shoppe's Essential Services Center where they select from a wide array of nutritious groceries presented as if at a high-end food market; or families can shop for new clothes and school supplies entirely free-of-charge.
This question of choice is as old as Unity Shoppe itself. During the 1930s the organization heralded volunteers who amassed gifts to give to the working poor during the holiday season. Unity Shoppe, then called The Council of Christmas Cheer, had a clear policy regarding the paramount importance of client choice.
For Barbara Tellefson, who has run Unity Shoppe for nearly 50 years, this concept is what first attracted her as a volunteer, and what keeps her passionate about the organization well into her 80s.
"Dignity is essential to the human spirit," Tellefson says. "It signals that you are valued for who you are, and how you live your life. We've never assumed we know better than the people we serve.They have their own ideas about what is important to them and their families. When we give them the opportunity to choose and then show respect for their decisions, we are saying 'You are worthy; You CAN do it.'"
And Unity Shoppe is there every step on the journeys of its tens of thousands of clients. For those low-income men, women and youth who are actively seeking employment, the organization's Job Smart program provides resumé assistance, job interview coaching, and appropriate work attire so they can put their best foot forward and land the job. When they are hired, they can choose more outfits to help them feel confident in their new workplace.
Every year, Unity Shoppe's 1,700 volunteers ensure that all programs are imbued with respect and TLC towards clients. Many among the bevy of volunteers are seniors who do everything from hand-making and wrapping holiday gifts to assembling customized care packages for other seniors. Able-bodied and disabled youth volunteers are trained in practical job skills and gain valuable work experience, while others accrue necessary community service hours to complete high school.
For Tellefson this is the beauty of Unity Shoppe, "People from all walks of life, races, and religions join together to be of service to people that need help. We hear again and again from both clients and volunteers how Unity has changed their lives."
Donate now!
Mission
Unity Shoppe is dedicated to providing residents impacted by temporary conditions of poverty, natural disaster or health crisis with resources, including groceries, clothing, and other essentials, that reinforce human dignity and encourage self-sufficiency and independence.
Begin to Build a Relationship
We know you care about where your money goes and how it is used. Connect with this organization's leadership in order to begin to build this important relationship. Your email will be sent directly to this organization's director of development and/or Executive Director.
I Never Thought This Would Happen to Me
I was first introduced to Unity Shoppe when my son was volunteering for community service hours. We volunteered and worked side-by-side and saw first-hand the clients shopping with dignity by choosing items that they needed and then we watched as it appeared that they checked out at the register just like they would do in any other store but at Unity Shoppe, no payment changes hands. One of my favorite programs is Unity's Seniors Helping Seniors Center. This program provides basic need requests from hospitals, senior centers, and other organizations helping seniors who are homebound or disabled. It's no wonder why I love Unity's slogan: DIGNITY. RESPECT. CHOICE.
Taking the Legacy Countywide
Unity Shoppe is counting on the durable success of its annual telethon to continue investing in its programs and services. This includes JobSmart, which supplies low-income people with work clothes, and the Senior Resource Center, in which long-time senior volunteers knit, sew, quilt, paint, woodwork, and assemble clothes and toys to the delight and comfort of Santa Barbara's vulnerable residents. In 2023, Unity Shoppe also plans to begin serving families in north Santa Barbara County. It's a move inspired in part by Brad Paisley, who was so taken by Unity Shoppe that he brought the concept to his adopted home in Nashville. "Until now, people from north county have had to travel down to get our services," says Executive Director Angela Miller-Bevan. "In 2023, we will go to them."
Key Supporters
Patricia and Paul Bragg Foundation
Mithun Foundation
Susan and Ronald
Rodriguez Giving Fund
Golden Rule Family Foundation
John and Marcia Goldman
Bank of America Foundation
William Corbett Foundation
Maxine R. Waughtell
Donovan and Kathryn Chalfant
Santa Ynez Band of Chumash
Indians Foundation
Brittingham Family Foundation
Milton Hess
Victoria Ward
Ann Jaxson Family Foundation
MUFG Union Bank
Community West Bank
ZIA Group
Santa Barbara Foundation
Dana Newquist
Brad and Kim Paisley
Montecito Bank & Trust
Kenneth Richardson
Consumer Fire Products
Dena Stein