From Rescued to Rescuer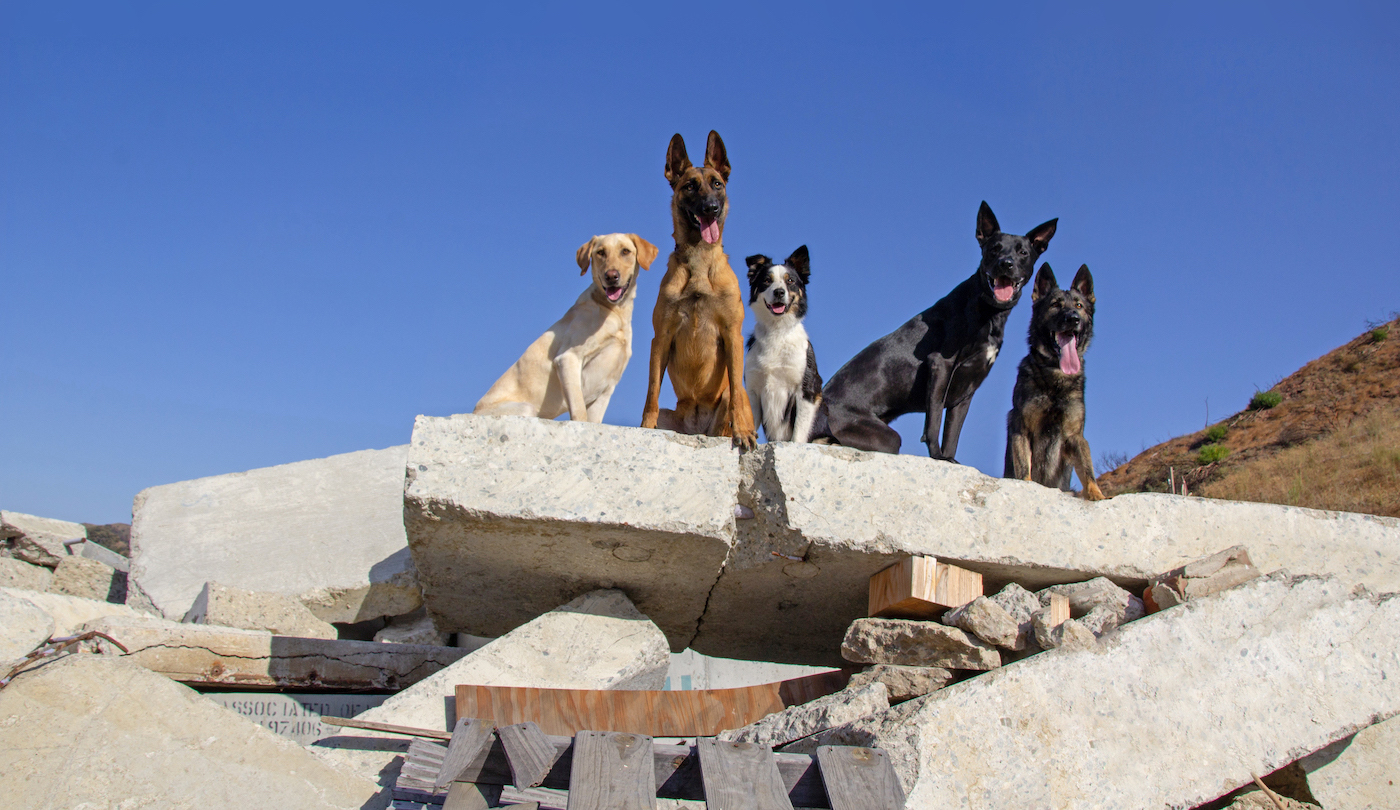 When the debris flow hit Montecito on January 9, 2018, Riley was ready. 
Having been deployed to the tsunami in Japan and a devastating earthquake in Nepal, Riley and his partner, a Santa Barbara County fire captain named Eric Gray, search for survivors amid the scenes of unbelievable chaos.
Unlike Gray, Riley is a yellow lab, who was too rambunctious for the family that had adopted him. The pair was one of 18 National Disaster Search Dog Foundation (SDF) teams working the devastating aftermath of the debris flow in Montecito.
That Riley and his fellow canines are so exceptional is no surprise given the impressive nonprofit organization that does their training. SDF was founded in 1996 by Wilma Melville, a FEMA-Certified canine handler who worked the Oklahoma City Bombing where 168 people lost their lives. 
Melville quietly made a commitment to train 168 search dog teams for every one of those victims, a goal recently achieved by the organization.
To get there, Melville and her successors, including current CEO George Haynes, built a 125-acre training center in the mountains of Santa Paula. Board Chair George Leis calls it a "simulated search city," replete with a downed airplane, derailed train, and replicas of buildings torn apart by earthquakes, tornadoes, and hurricanes.
It is here that dogs like Riley go through an intensive eight-to-twelve-month training ahead of the stringent FEMA or state certification process.
During the debris flow, 13 of the teams stayed overnight at the Santa Paula campus, turning it from a place to train for future disasters, to a staging area for an unfolding one.
Beyond preparing search teams for the herculean task of saving lives during disaster and tragedy, the SDF team is also saving dogs from otherwise certain fates.
"Most of our dogs come from shelters," Haynes, the CEO, says. "These are extremely high-drive, intense dogs. Absent them being rescued, likely they would be euthanized."
And once in the SDF family, the organization ensures each dog is cared for through its entire life.
In 2019, after 11 years of service, Riley retired and Gray took on another SDF search rescue dog – a Belgian Malinois, aptly named Waffles, who was, himself, a shelter rescue. Now, over the next decade or so, Gray and Waffles will serve Santa Barbara, their country, and the world when called upon to respond in the aftermath of a disaster.
Mission
Our mission is to strengthen disaster response in America by rescuing and recruiting dogs and partnering them with firefighters and other first responders to find people buried alive in the wreckage of disasters.
Begin to Build a Relationship
We know you care about where your money goes and how it is used. Connect with this organization's leadership in order to begin to build this important relationship. Your email will be sent directly to this organization's Director of Development and/or Executive Director.
Disasters Happen. It's Not a Matter of If, But When…
In a time of crisis, nothing matters more than who your partners are. During Santa Barbara's 1/9 debris flow which followed the 2017 Thomas Fire, National Disaster Search Dog Foundation, with 18 of their search teams deployed, played a crucial role in our search and rescue operation. I cannot say enough about the vital importance of the work that is being done by this organization.
Saving Lives, Both Human and Canine
The National Disaster Search Dog Foundation has rescued and trained 279 dogs that have, in turn, rescued humans in disasters. Over 26 years, these expert teams have worked in the largest disasters: from 9/11, Hurricane Katrina, and the earthquakes in Haiti to missing persons and small structure collapses throughout the country.
The foundation has pioneered a model for screening, training, and providing a lifetime of care for each dog it rescues, along with ongoing expert support for handlers.
But the U.S. only has half the amount of search teams truly needed. The National Disaster Search Dog Foundation has a goal of training 20 teams in the next year, while ensuring every dog that enters its program will be successful, whether as a disaster search dog or in another career, by fostering the bonds that will create the next generation of working dogs.
With a gift to the foundation, you can save lives both human and canine.
Be Part of the Search today.
Key Supporters
BOARD OF DIRECTORS
George Leis – Board Chair, President and COO, Montecito Bank & Trust
Dennis Kuykendall – Board Vice Chair, Project Executive, Balfour Beatty Construction
Mike J. Diani – Secretary, President, Diani Building Corp.
Richard Butt, Retired EVP, Executive Creative Director, VMLY&R
Robert Harris, Battalion Chief, Los Angeles County Fire Department
George R. Haynes, Ph.D., CEO, National Disaster Search Dog Foundation
Crystal Wyatt, Leadership in Board Governance and Creative & Sustainable Philanthropy