Guiding Survivors Out of the Woods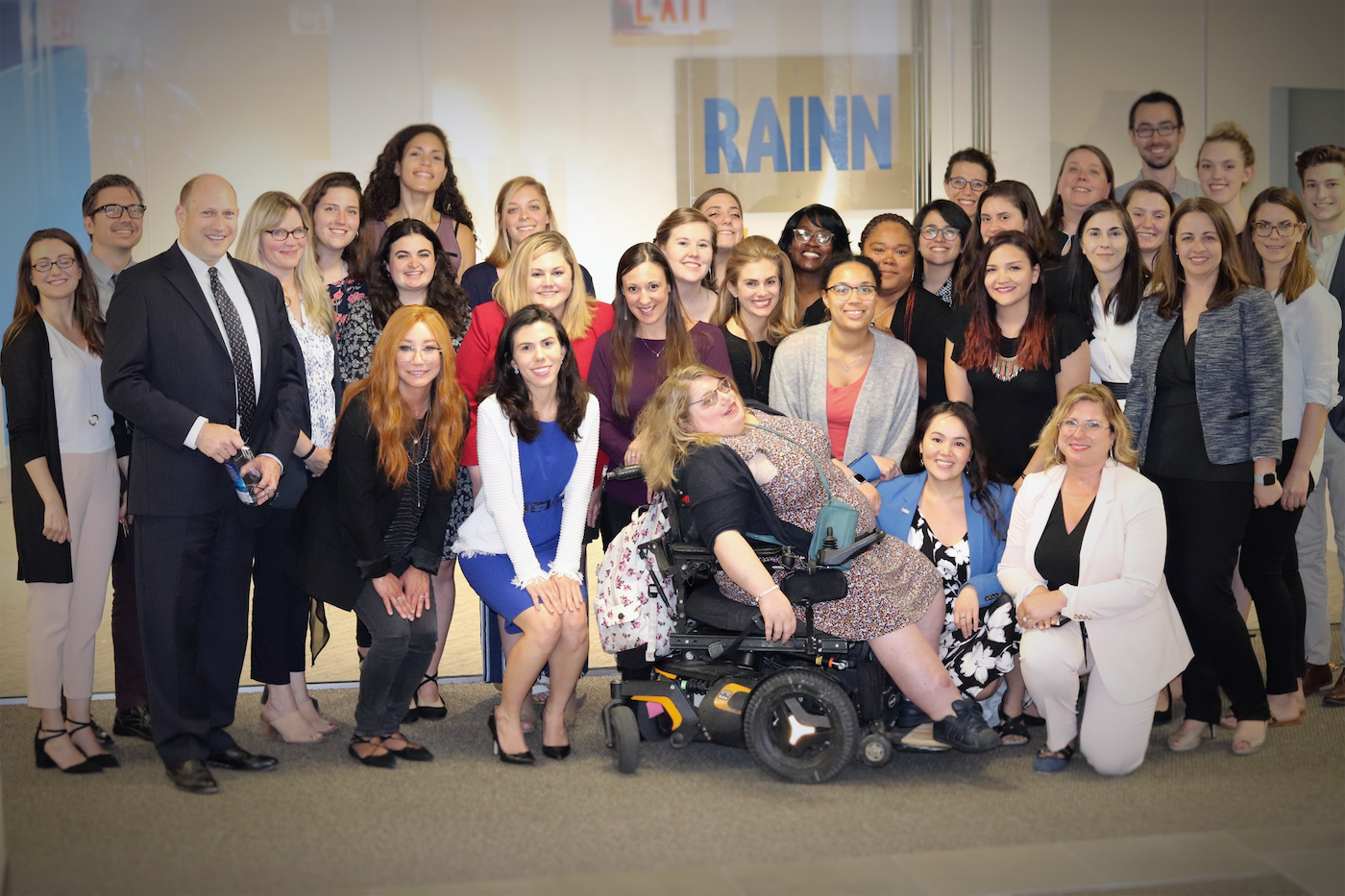 On the second day of her freshman year of college, Aspen Matis was raped. 
When "mediation" with her attacker failed, and the school inexplicably moved him into her dorm, Matis was traumatized, scared and left alone. Instead of moving him out, they moved her to a converted motel off campus, where she would sit, alone, staring at the cinder block walls.
While there, Matis called the National Sexual Assault Hotline – created and operated by RAINN (Rape, Abuse & Incest National Network), the nation's largest anti-sexual violence organization.
"The person I spoke with was so amazing," Matis says. "She told me things that sound so obvious in retrospect, but at the time they were revelations to me: 'This was not your fault. You didn't cause this. Short shorts don't cause rape. Weed doesn't cause rape. Rapists cause rape.' Talking with a compassionate professional from RAINN became the first step in my healing process."
After a handful of more calls with RAINN's highly trained support specialists, Matis decided to leave college. Her new plan: walk the 2,500 miles from Mexico to Canada along the Pacific Crest Trail to raise money for RAINN.
Beyond operating the hotline and providing other victim services that have touched more than 3.2 million survivors and their loved ones since 1994, RAINN works with national media and the entertainment industry to elevate sexual violence storylines across the country. RAINN also works to expand the use of DNA in unsolved rape kits, reduce the backlog of untested rape kits, reform statute of limitations laws, broaden survivors' access to appropriate medical care, protect young athletes, and bring perpetrators to justice.
"We founded RAINN more than 25 years ago based on the belief that no survivor should feel alone," says Founder and President Scott Berkowitz. "While supporting survivors will always be at the core of what we do, we have become the leading voice educating the public and fighting for survivors' rights in Congress and the states."
In 2015, Matis wrote a memoir, "Girl in the Woods," about her epic trek and painful recovery, which was propelled into the spotlight as a part of Oprah's Book Club. As a member of the RAINN Speakers Bureau, Matis travels the country spreading awareness about sexual assault and rape, and its frightening frequency. Nearly one in four young women will have such an experience before leaving college.
"The reality is that sexual assault and rape are happening every day and everywhere," Matis says. "The most convenient thing to do is to pretend that they are rare, because acknowledging this epidemic is uncomfortable and it's sad and it's scary. But by denying reality, averting your eyes and just willing it away, you are denying the validity of the struggles of so many people, and also denying them resources that may help them to heal and live a fulfilling life after.
RAINN is doing a wonderful and admirable service for the people who have been through the trauma of sexual assault and for anyone who knows someone or loves someone who has been raped."
Mission
RAINN (Rape, Abuse & Incest National Network) is the nation's largest anti-sexual violence organization. RAINN created and operates the National Sexual Assault Hotline (800.656.HOPE) in partnership with more than 1,000 local sexual assault service providers across the country and operates the DoD Safe Helpline for the Department of Defense. RAINN also carries out programs to prevent sexual violence, help survivors, and ensure that perpetrators are brought to justice.
Begin to Build a Relationship
We know you care about where your money goes and how it is used. Connect with this organization's leadership in order to begin to build this important relationship. Your email will be sent directly to this organization's Director of Development and/or Executive Director.
"No organization does more for survivors of sexual violence in their times of greatest need. RAINN created and operates the National Sexual Assault Hotline to ensure that no survivor has to feel alone. The hotline is staffed 24 hours a day, 7 days a week, 365 days a year with caring and empathetic support specialists who can help survivors and their loved ones process what has happened to them and access the resources they need to start their healing journey. I can think of no better way to assist survivors than to support RAINN's ongoing ability to be able to answer the call for every survivor that needs them."
Thrive Together
After #MeToo, demand for RAINN's services jumped 67 percent. And now, during the ongoing COVID-19 health crisis, minors have made up more than half the visitors to the online hotline. To meet the challenge, RAINN is embarking on a two-year, $10 million fundraising campaign: Thrive Together. The campaign focuses on three vital initiatives:
• Answering the Call. This initiative will enable RAINN to meet the skyrocketing demand for survivor-centered, trauma-informed services through the National Sexual Assault Hotline. In addition to staffing up the hotline, this initiative will enable RAINN to expand their online training program, adapt new technological innovations, and ensure that people in every community learn about and trust RAINN's services. Goal: $5 million.
• Shaping the Narrative. This initiative will enable RAINN to work alongside the media and entrainment industry to tell stories that spark change. RAINN is working to change the conversation about sexual violence, raise awareness and educate the public, and bring hope to survivors and their loved ones by amplifying the voices of survivors. Goal: $3 million.
• Championing Change. This initiative is to build coalitions and launch strategic efforts for survivor-led change across the country, protect vulnerable populations from sexual abuse, and ensure all survivors have access to critical care and services.
Goal: $2 million.