At Organic Soup Kitchen, the Proof is in the Soup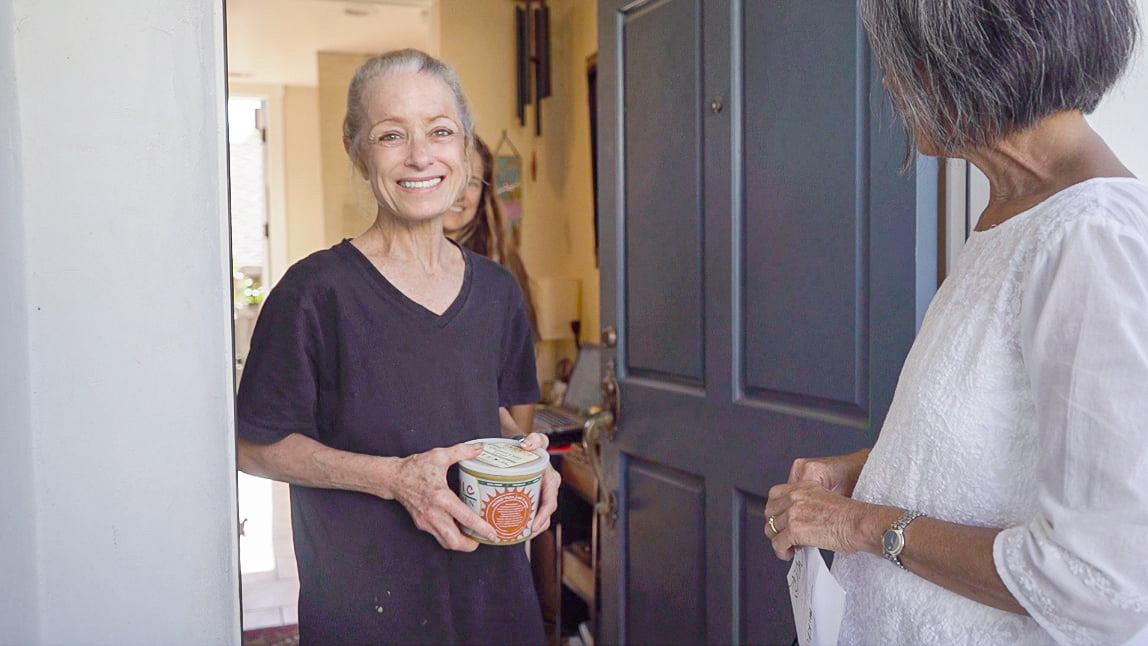 Historians say that soup has been a staple of the human diet as long as man has cooked his food. Archaeologists believe that humans have been making soup for at least 20,000 years, beginning with the advent of waterproof containers such as clay pots, where folks could pile in ingredients and boil them over a fire. For sure, soup has captured our attention in popular culture through a series of unforgettable advertising slogans and other references.
Campbell's "M'm! M'm! Good!" phrase pervaded for many decades dating back to the 1930s, while the company's "Soup is Good Food" tagline also curried a lot of favor. In the 1970s, Lipton found its catchphrase "Is it soup yet?" entering the lexicon.
And who could forget the famous 1995 "Soup Nazi" episode of Seinfeld where the purveyor of a new soup stand makes concoctions so outstandingly delicious that customers line up out the door and kowtow to the owner's insistence on a strict code of conduct while ordering lest they get banned from the place. Jerry even disavowed his smooching girlfriend to avoid the dreaded "No soup for you!" rebuff.
I'm sure the m-m-m-m-mulligatawny was marvelous. But the thing is, at Santa Barbara's Organic Soup Kitchen (OSK), not only is the soup really good, it's also really good for you.
Each one of OSK's SoupMeal™ recipes – it's such a unique concept that they've trademarked the name – is designed to strengthen the immune system, increase energy, and promote healing. OSK's soup designers collaborate with leading cancer specialists to formulate metabolic oncology recipes aimed at lowering inflammation, balancing blood sugar, and improving circulation. The hand-crafted, small-batch soups are sourced from largely local organic produce, healthy fats and oils, and non-irradiated spices, resulting in a medicinal quality, complete balanced meal that contains at least 10 different vegetables, whole grains and a full spectrum of plant-based nutrients.
Once it's cooked and ready to eat, each SoupMeal is then packaged in a 24-ounce BPA-free container that is hermetically sealed to eliminate contamination by airborne pathogens, bacteria, and viruses. OSK employees and volunteers then deliver the soups to clients once a week.
"We have a really good product," OSK founder and Executive Director Anthony Carroccio said simply. "In fact, I would put it up against any soup out there in the market. That's why I trademarked SoupMeal because our soups have everything that a complete meal would have, everything you need for nutrition."
Which is why its Cancer Recovery Program has proved so popular in town. Ever since its founding, OSK has served the community through weekly delivery of its SoupMeals, servicing the area's more than 15,000 recorded cancer patients upwards of 1,000,000 bowls of soup collectively.
"We don't cure cancer. We're not the doctors, so that's not what we do," Carroccio said. "But I will go to the mat and say, yes, we do help people build a strong immune system, and a good immune system helps you heal. You need a real good, nutritious, and balanced diet to have a good immune system, and that's what we provide."
A little more than a decade in, the Cancer Recovery and Chronic Illness Initiatives are still going strong. But 2020 provided a new series of challenges when the pandemic hit and demand for OSK's products and service skyrocketed. In response, OSK expanded its delivery of its signature plant-based immune-building soups throughout Santa Barbara County to cover door-to-door services from Carpinteria to the Santa Ynez Valley to an even wider client base.
"We literally doubled in service when COVID started because we were aware that low-income seniors don't want to leave the house to go shopping," Carroccio said. "We doubled our clientele and production right down the line."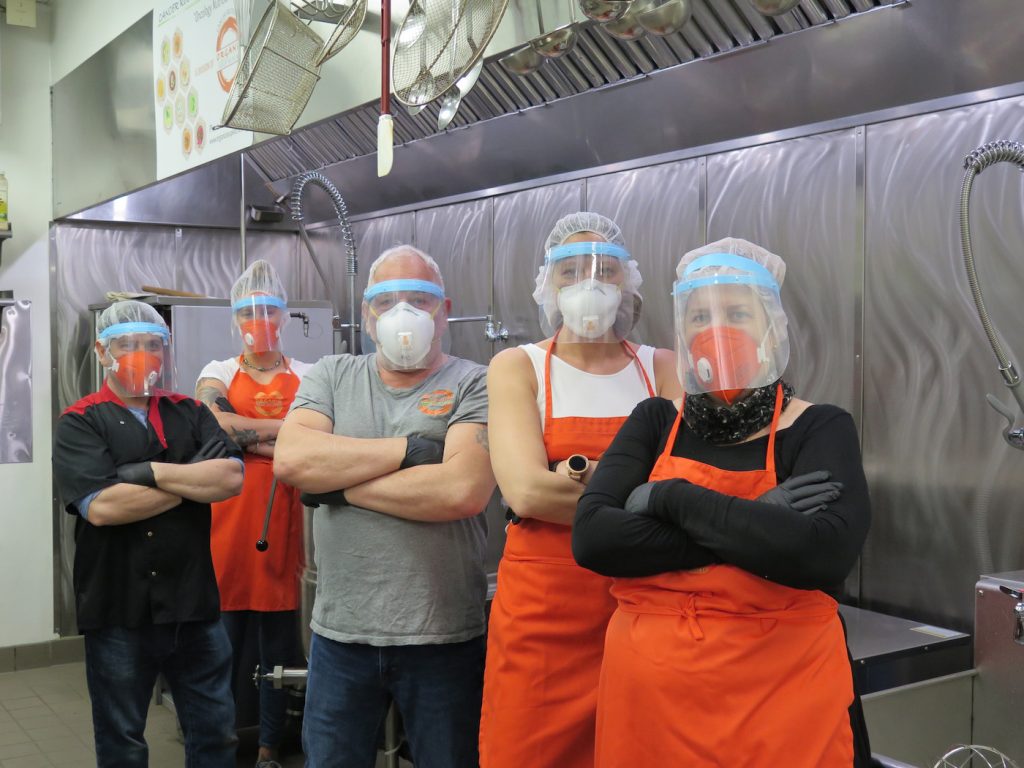 Which was no easy task, as OSK's menu of handcrafted small batch soups now runs to a baker's dozen options, including such delectable varieties as Butternut Squash, Coconut Curry Lentil, Cowgirl Chili, Roasted Tomato and Wild Rice, Italian Fagioli, and Tuscan White Bean & Kale. Six of the soups now also come with a bone broth base for additional nutrition for those who aren't vegan, plus traditional turkey soup boasting meat from an organic bird. Carroccio said he's in contact with alternative and traditional doctors as well as such health gurus as John Robbins (of "Diet for a New America" fame) and Andrew Weil to stay on top of the latest information in nutrition and immune-building foods.
That's a lot of work, even though the soup-making is largely a labor of love.
Carroccio himself shows up at two in the morning each Tuesday to start making that week's soups, filling the two 60-gallon kettles that are the centerpiece of OSK's newish 2,000-square-foot industrial kitchen before another crew comes in that afternoon to ladle out the servings into the special containers and chill them. On Wednesday morning, the team of 20 drivers arrives to pick up the soups and head out on their delivery routes.
And even though there are more people to serve than ever before, OSK hasn't cut back on service to their existing client base.
"We give them as much as they want because when someone has cancer, they don't feel like cooking, and it's dangerous for them to go shopping anyway," Carroccio said. "So we give them what they want, which often ends up being four or five, sometimes six containers a week."
So obviously costs have also increased sharply as demand shot up during the ongoing pandemic.
Good thing the soups are also available for anyone to buy. That's right: you don't have to be sick or elderly to enjoy Carroccio's tasty and nutritious creations.
Soup for Good
"We're selling an awful lot of soup these days and that's really keeping us alive to keep doing what we do," he said. "But that's great, because funding is still tight as hell."
The soup sales – each variety sells for $15 for a 24 ounce container – directly fund the programs for the cancer and chronically ill patients or those who can't afford them as the pandemic has curtailed a lot of people's income. "Every soup you purchase allows us to donate a soup to a low-income person," Carroccio explained.
OSK's donation program is also a big boost, he said. Members of the so-called SouperHeroes make automatic gifts of as little as $10 a month, although most contribute $50 or more.
"Folks are doing it because they know that our soup that's going out there is a good product for the folks who need it," Carroccio said.
But OSK's financial needs are still growing.
"We just put in a $50,000 freezer, and, you know, we outgrew it immediately," Carroccio said. "So now I'm on the market looking for another walk-in freezer to install and I'm trying to raise money to buy it. It's an immediate need. We are begging, I hate to use that word, but in truth, that's what it's like these days."
Organic Soup
www.organicsoupkitchen.org
(805) 364-2790
Donate now!
Mission
Organic Soup Kitchen provides oncology nutrition and addresses food insecurity to a diverse demographic of individuals struggling with the effects of cancer and chronic illnesses.
Begin to Build a Relationship
We know you care about where your money goes and how it is used. Connect with this organization's leadership in order to begin to build this important relationship. Your email will be sent directly to this organization's Director of Development and/or Executive Director.
When someone is going through chemotherapy, they need healthy and nourishing food more than anything, but most of the time they don't have the physical and mental energy to get up and do it for themselves. Organic Soup Kitchen does it for them with so much love and care! They work tirelessly in rain or shine to make sure that all their clients get their nutritious soup on time. I feel so blessed and privileged to be a small part of this gem of an organization in our community! I joined hands with them a few years back and I am happy to say that I am here to stay and support this wonderful organization in the years to come!
How Can You Help?
Monthly Givers are the heartbeat of our organization. Your monthly contribution will directly provide a month's worth of SoupMeals to community members in treatment or recovering from cancer.New Distribution Center. As demand grows, we have quickly outgrown our facility and are actively seeking the resources to expand our operation.
Key Supporters
Manitou Fund
Trust in Diversity and Exchange
Deckers OutDoor Corporation
Volentine Family Foundation
The Herbert and Gertrude Latkin Charitable Foundation
St. Francis Foundation
Community Volunteer Foundation
of UCSB
Union Bank
Natalie Orfalea Foundation
Mosher Foundation
Russell Steiner
Hutton Parker Foundation