ADL Adds Exceptional Community Leaders to its Santa Barbara/Tri-Counties Board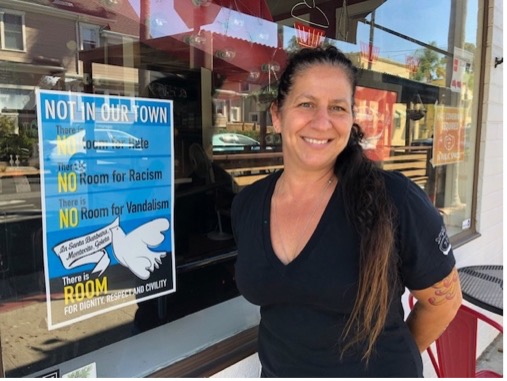 ADL (the Anti-Defamation League) Santa Barbara/Tri-Counties is proud to announce the induction of five new leaders to its Regional Board. 
John Daly, a retired events industry veteran who founded "The Key Class" to teach life skills and etiquette to students from the eighth-grade level through college levels; Shannon Gaston, owner of Crushcakes & Café in Santa Barbara and founder of C2C (Crushcakes 2 Communities), which donates to local civil rights causes; Jill Goldworn, co-Founder/CRO of thefirstclub.com, a worldwide digital entertainment rewards platform, and member of the Board of Advisors for UCSB Customer Experience Program; Judi Koper, an attorney who serves on the Assessment Appeals Board and Civil Service Commission of Santa Barbara County; and Jeffrey Winter, a former hospital and health systems Chief Executive, Board Chairman of two home care organizations that also serve people with intellectual disabilities, and Board member for an Autism services organization; have all joined as ADL Regional Board Members.
This impressive group joins a roster of 29 other community leaders, led by recently elected Regional Board Chair, Mark Goldstein, a partner and intellectual property attorney with SoCal IP Law Group LLP.
Dan Meisel, ADL Santa Barbara/Tri-Counties Regional Director, shared, "This is the largest group of new board members we have inducted in my decade of involvement with the organization. We are tremendously proud of the group of change-makers selected to join our Board and look forward to their important input and guidance as we continue to expand our programs and work throughout the Tri-Counties." 
Mission
The Anti-Defamation League's Santa Barbara/Tri-Counties Office serves Santa Barbara, Ventura and San Luis Obispo Counties. The office is located in Santa Barbara, California.
The Santa Barbara Tri-Counties region is dedicated, as is ADL nationally and internationally, to combating all forms of hatred and bigotry by investigating and exposing extremism, protecting as well as advocating for civil rights and religious freedom, educating on how to promote diversity and respect through our many programs and resources and by fostering interfaith relations. We handle victim complaints of all forms of discrimination. Our Educational Programs are well known and highly regarded throughout the Tri-Counties.
Begin to Build a Relationship
We know you care about where your money goes and how it is used. Connect with this organization's leadership in order to begin to build this important relationship. Your email will be sent directly to this organization's director of development and/or Executive Director.
Protecting the Rights of Everyone
"Twenty years ago we and a small group of people secured the funding to open our Tri-Counties Regional office with the idea that our board would be comprised of members of our community from a range of backgrounds and ethnicities. We were driven by ADL's mission, and we are proud of the work ADL has done to defend the right of everyone to participate fully and safely in our community and to educate adults and students about harmful impacts of bias, bullying, hate speech, and discrimination in schools, on the internet, and in the workplace. ADL talks the talk and walks the walk."
Local and National Impact
ADL's Santa Barbara office offers donors myriad ways to invest in eradicating hate and bigotry both locally and nationally.
Whether investing in its "No Place for Hate" programming in local schools, countering extremism nationwide, or supporting local incident response, ADL offers pathways for donors to stand up for the organization's core beliefs: to protect all marginalized groups from the devastating impacts of extremism, reduce bias in individuals through education, and create an environment of laws and norms where all groups are treated fairly, and hate has no home.
To join the cause, visit: santabarbara.adl.org.
A Board Standing Together
Brook Ashley
Ralph Baxter
Janice Brown
Julianna and Tom Dain
John Daly
Jason Saltoun-Ebin
Gayle Eidelson
David Edelman
Aaron Ettenberg
Andee Gaines
Mark Goldstein
Daniel Hochma
Shirley Ann Hurley
Judi Koper
Cindy and Steve Lyons
Joni Meisel
Natalie Myerson
Deborah Naish
Josh Narva
Susan Rose
Roz Rosin
Rob Skinner and Meghan White-Skinner
Marina Stephens
Sissy Taran
Leah Temkin
Gail Teton-Landis
Leslie White
Rachel Wilson