Junior League and Rotary Get Students Moving Remotely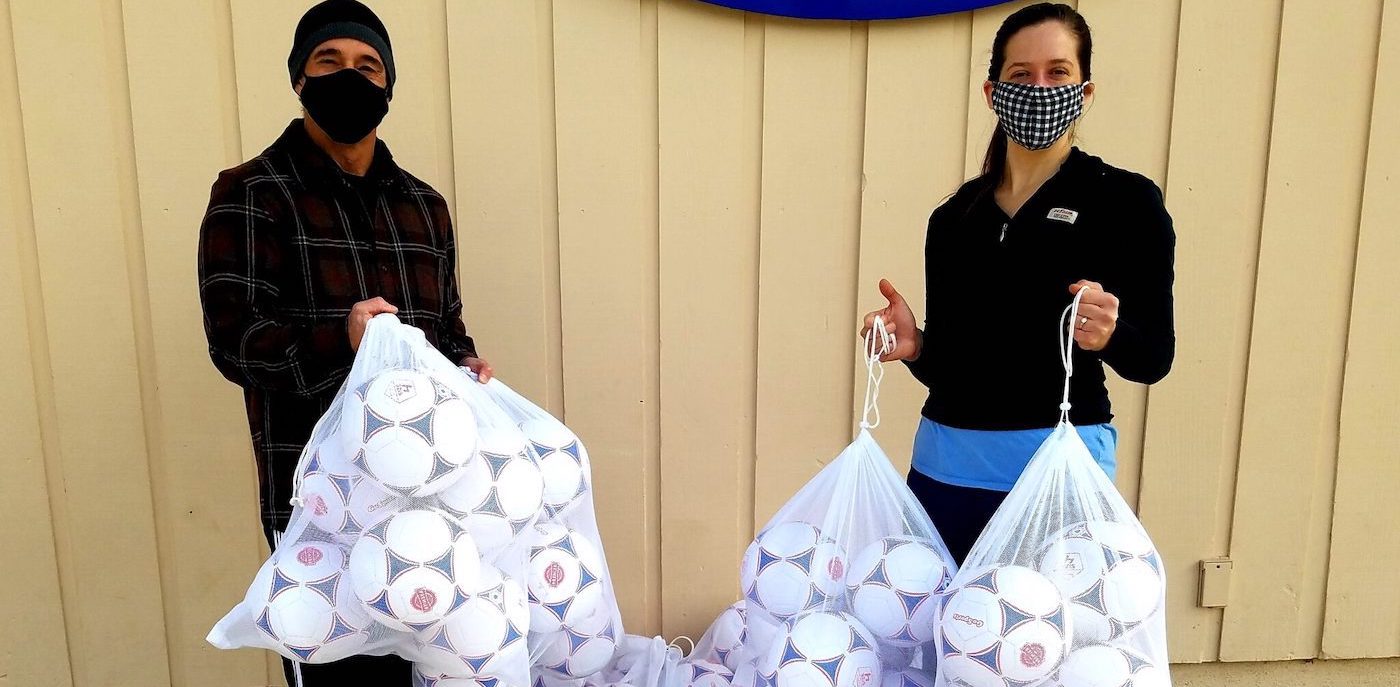 Imagine trying to lead a virtual PE class for a group of first-graders while they are stuck inside their homes with limited space and no equipment. Since school closures in March, delivering virtual academics has been a challenge, but physical education teachers have especially had to think outside the box to keep students physically fit and active from home.
From designing exercise videos to mapping out safe running routes and encouraging walks and hikes, Santa Barbara Unified School District PE teachers have done a fantastic job adapting to the times. But when it came down to it, putting equipment into students' hands was crucial, and versatile items like soccer balls and jump ropes were high on PE teachers' wish list. The Santa Barbara Education Foundation partnered with the Junior League of Santa Barbara and local Rotary clubs to make these requests a reality.
In January, the Junior League of Santa Barbara collected 640 balls to distribute to SB Unified elementary school students for PE classes during remote and hybrid learning. In addition to many in the community who donated new and gently used soccer balls, local law firm Brownstein Hyatt Farber Schreck generously sponsored the soccer ball drive.
After learning of the need, the Junior League's Jessica Burns helped kick off the effort. "The leaders of the Junior League of Santa Barbara were thrilled to take up the idea of a Soccer Ball Drive and work in partnership with the Santa Barbara Education Foundation on a project that directly provides schoolchildren with equipment so they can continue their educational programming through these unprecedented times."
Local Rotary clubs, including Rotary Club of Santa Barbara, Rotary Club of Santa Barbara North, and Rotary Club of Santa Barbara Sunrise, have donated funds to purchase jump ropes for elementary school students. On account of these generous contributions, 850 jump ropes are already in the hands of elementary school students, and more than a thousand are on the way.
According to SB Unified PE teacher Ethan Zolt, "The need for all kids to have access to sports equipment in the home is especially crucial during remote learning." Zolt has already seen the difference in engagement with his students. "The joy and excitement of receiving this gift were evident, as smiling students proudly displayed their new soccer balls at our most recent PE Zoom classes!"
Santa Barbara Education Foundation promotes private support of Santa Barbara's public education system, serving over 14,000 students in 18 schools. For more information, visit www.santabarbaraeducation.org.
Donate now!
Mission
Santa Barbara Education Foundation (SBEF) provides and supports programs that enrich the academic, artistic, and personal development of all students in the Santa Barbara Unified School District.
Begin to Build a Relationship
We know you care about where your money goes and how it is used. Connect with this organization's leadership in order to begin to build this important relationship. Your email will be sent directly to this organization's director of development and/or Executive Director.
I have always been impressed with Keep the Beat as it fosters a love of music in children that can last a lifetime. I learned to love music when I was young and wanted to help our young folks experience that same love in their formative years.
Helping Teachers Help Students
The agenda for the 2022/2023 school year is to close the gap and achieve more funding for Teacher Grants while focusing on literacy development and mental health. Despite the $223,000 gap that the Santa Barbara Education Foundation is currently experiencing, their diligence and thoughtfulness bear every single student in mind.
You can help countless students like Bella find their voice.
Key Supporters
Arnesen Family Foundation
Timothy and Louise Casey
Andrew and Mary Jane Cooper
Daniel and Mandy Hochman
Elaine F. Stepanek Foundation
James S. Bower Foundation
John L. Carleton Foundation
Senator Monique Limón
J.M. Lind
Superintendent Dr. Hilda Maldonado
Sara Miller McCune
Mithun Family Foundation
Mosher Foundation
Santa Barbara Foundation
Nick Rail
April Thede
Towbes Foundation
Walter J. & Holly O.
Thomson Foundation
Wood-Claeyssens Foundation
Zegar Family Foundation