Celebrate Pi Day with Special Edition MOXI at Home Party Kit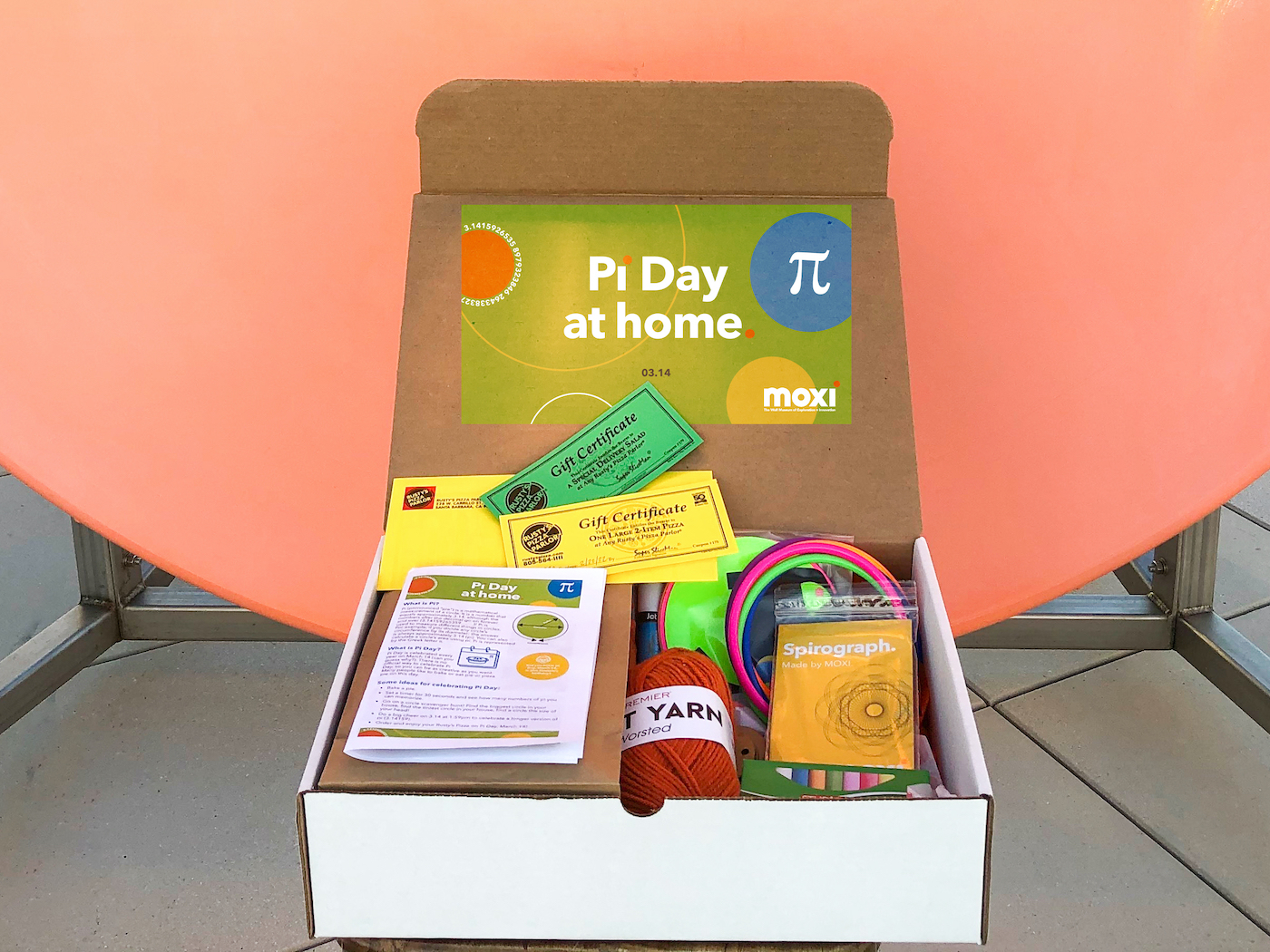 It may have started as a way for staff at a San Francisco museum to bond, but Pi Day has evolved and grown into a national holiday celebrated by math aficionados, educators, those with a sweet tooth and more all around the world. Pi Day is celebrated on March 14 since 3, 1, and 4 are the first three digits of the mathematical constant, pi. MOXI, The Wolf Museum of Exploration + Innovation is marking the day this year with an exclusive at-home event kit now on sale in its online Museum Store. Kits are available for curbside pickup at the museum Monday through Friday, 10 am to 5 pm.
The Pi Day at Home party in a box was created by MOXI staff to foster creativity and bring joy to the whole family. The kit includes everything needed to pay homage to pi, even an on-theme meal. Each kit includes: materials to make a spin art machine, a customizable Pi Day banner, rings to play ring toss, chalk for outdoor circle drawing, a laser cut spirograph plus materials to make one, and a gift certificate to Rusty's Pizza Parlor redeemable for one large two-topping pizza pi(e) and salad. Just add enthusiasm and creativity for a well-rounded celebration.
"The Pi Day at Home kit is a fitting way to bring the spirit of MOXI to the homes of area families for a celebration that encourages active exploration and critical thinking about the world around us," said Robin Gose, president and CEO of MOXI. "While we of course wish we were celebrating onsite at the museum, we'll have to wait until next March 14 for that opportunity. In the meantime, we hope this brings our fans as much joy as we experienced in creating the kits."
The first organized celebration of Pi Day was held in 1988 at one of MOXI's peers to the north, the Exploratorium in San Francisco. They marked it with a circular parade and eating of fruit pies, and it has since grown into a big annual tradition for staff and the public as well as a worldwide cultural phenomenon. MOXI has previously marked the day with making activities at the museum, but needed to pivot this year's celebration given the museum's ongoing closure due to COVID-19.
While the doors to its building at 125 State Street in Santa Barbara remain closed due to state and county health orders, MOXI staff have been working hard to ensure opportunities for creative discovery and exploration continue with its MOXI at Home programs, online museum store, and just announced virtual field trip programs. Virtual Design Lab programs are now open for registration by classrooms, homeschool groups and learning pods for students in kindergarten through 6th grade. These virtual field trips are facilitated live from the museum by MOXI education team staff and introduce the engineering design process by posing a challenge related to one of MOXI's exhibits for students to solve.
As the museum nears almost one full year of being closed, it faces significant financial challenges due to loss of revenue from admissions, membership, programs and facility rentals during the ongoing closure. Proceeds from all MOXI at Home programs and online store sales, including the Pi Day kit, support the museum's mission to ignite learning through interactive experiences in science and creativity and help to ensure MOXI will be a viable resource for the greater Santa Barbara region for years to come. Rusty's Pizza Parlor is a proud sponsor of Pi Day at Home.
Pi Day at Home kits are $70 with a 10% discount available to MOXI Members. All orders must be placed online at www.moxi.org/store. Any questions can be directed to info@moxi.org. Once purchased, kits are available for contactless, curbside pickup at MOXI, Monday through Friday from 10 am to 5 pm. A limited quantity of kits are available and must be purchased by noon on Friday, March 12 to pick up in time for a proper March 14 celebration.
About MOXI
MOXI, The Wolf Museum of Exploration + Innovation® is dedicated to igniting learning through interactive experiences in science and creativity. Located in the heart of Santa Barbara's redeveloped tourist area at 125 State Street, the museum is LEED-certified Gold and serves guests of all ages through its engaging exhibits and education programs. MOXI is a 501(c)(3) nonprofit organization generously supported by its daily guests, members, facility rentals and donations from individuals, foundations and corporate partners. For more information, visit moxi.org.
Mission
To ignite learning through interactive experiences in science + creativity.
Begin to Build a Relationship
We know you care about where your money goes and how it is used. Connect with this organization's leadership in order to begin to build this important relationship. Your email will be sent directly to this organization's Director of Development and/or Executive Director.
An Inspired Future
"Our mission for MOXI from the beginning was to emphasize STEM learning for children of all ages, in a fun, enriching, and interactive environment. I am delighted at what we've accomplished in such a short time. STEM education is the future of our country, and our programs and staff give children and young adults a chance to ask questions, discover and explore the joys of science, technology, engineering and mathematics. It is my fondest hope that MOXI will inspire future generations of youngsters to pursue STEM-related studies and careers."
Catalyst Club
MOXI is a museum with a long-term plan for community impact. To get there, like any business, they need sustainable, predictable revenue.
To support this, MOXI recently launched the Catalyst Club, wherein donors commit to three years of giving at least $1,000 per year.
"Be a catalyst for change in your community," says CEO Robin Gose. "Be a catalyst for changing the trajectory of a child's life."
Board of Directors
Scott Hadley, President
Chris Kroes, Vice President, General Counsel
Susan McMillan, Secretary
Justin Anderson, Treasurer
Jill Levinson, Immediate Past President
Jill Chase, At Large
Alixe Mattingly, At Large
Kelly Almeroth
Kristen Blabey
Josh Blumer
Marcia Cohen
Naomi Dewey
Tyler Duncan
Julie Farrell
Jennifer Hecht
Richard Hutton
Leanne Schlinger
Fiona Stone
Andrew Winchester
Noelle Wolf