Anti-Defamation League of SB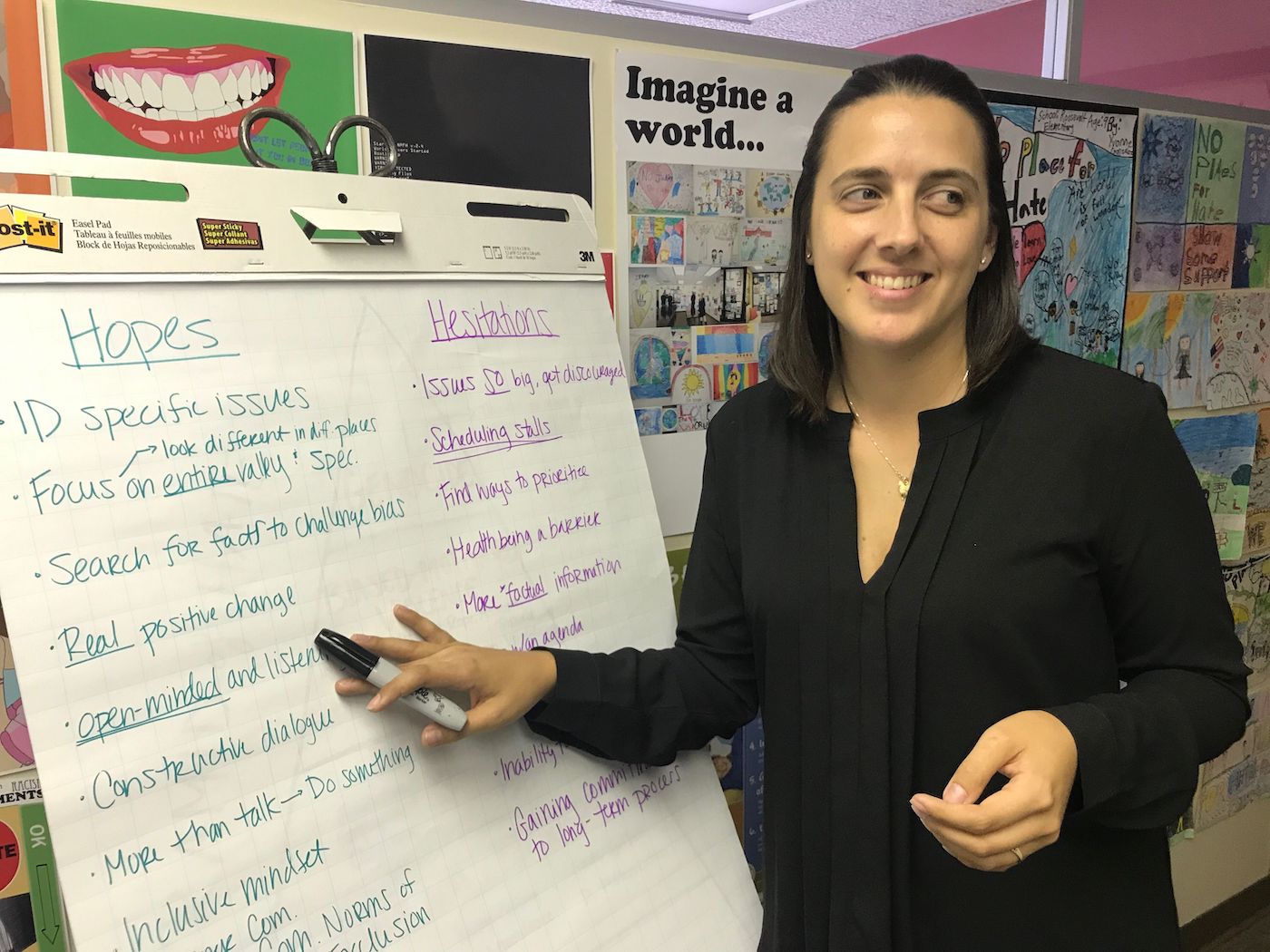 This past January 6, Americans watched in horror as an insurrection fueled by violent conspiracy theories and white supremacy extremism attacked the Capitol in Washington, D.C., the very seat of our democracy. The Anti-Defamation League might have been shocked, but they weren't surprised by what they have called "a predictable act of political violence fueled by years of increasing extremism." 
To counter forces that continue to pose a threat to American security and democracy, ADL sprang into action, creating its PROTECT plan, an acronym that contains a seven-pronged government and society approach to countering and preventing such violence in the future while still protecting civil liberties. Still, everyday Americans might be left with feelings of helplessness, and wondering what we can do individually to help fix the problem.
That's where the Tri-Counties office of the ADL comes into play.
"It's natural for us all to have anxiety when we see what happened at the Capitol, or when we see some evidence of extremism and hatred in our own midst," said Dan Meisel, ADL's Santa Barbara-based regional director for Ventura, Santa Barbara, and San Luis Obispo Counties. "It's important for residents to know that there's a local organization that is responding to these kinds of incidents and trying to prevent them. The message I want to get across is that we're not powerless. There is a lot we are doing locally to prevent normalization of hate and bias in our area. We can learn to be allies for each other and we can advocate for each other and in coalition. And the more broad and diverse the coalition that's advocating against hate, the more effective we can be."
To that end, the local ADL office offers everything from analysis of extremist activity for law enforcement to educating youngsters and adults.
"We receive and investigate reports from Tri-Counties residents on extremist activity in person and online, whether it's a grocery shopper wearing a highly offensive T-Shirt or the appearance of White Supremacist or antisemitic fliers or graffiti," Meisel said. "Our Center on Extremism analyzes those incidents and sometimes finds information that helps identify the perpetrators. Our efforts and services could include advocacy on a victim's behalf. It could mean mediating between parties. It could be forming or participating in coalitions to advocate on particular issues, or it could mean providing educational programming in response to either an incident or a pattern of incidents at a school or even in a workplace."
Indeed, perhaps surprisingly to those who only hear about the ADL in response to a highly-publicized hate incident, the organization is even more involved in trying to prevent violence and hateful activities from occurring by getting deeper into the root of the problem.
"It's hard to prevent this kind of behavior from people who are already infected with hatred, but we strongly believe that extremism can be prevented with effective educational programming about inclusivity, mutual respect, and the inaccuracies and harmful impact of stereotypes, hate speech, and hate symbols," Meisel explained.
The ADL provides educational programming directly to students as well as professional development for teachers, and also offers foundational anti-bias workshops for the workplace, including Holocaust education and free online trainings and lesson plans for educators who teach about the Holocaust.
"Awareness of antisemitism and the hurt it has caused both in the present day and through the centuries can help to prevent extremist acts in the future," Meisel said.
But even as the insurrection at the Capitol reverberates two months later, the ADL isn't only concerned about extremist violence, as a much larger number of people are impacted by normalization of biased or hateful conduct, Meisel said. That's why the larger day-to-day work of the nonprofit takes place at the grassroots level.
"That's why I often speak about the importance of calling out and checking biased attitudes before they escalate into biased or hateful conduct," he said.
Indeed, ADL encourages local schools to respond to a hateful incident by adopting programs and practices that help create sustainably inclusive environments that prevent as well as counter such behavior.
"It used to be a school would call us to say there was a swastika on a desk, and ask us to come in and do an assembly. But that assembly may cause some students to feel punished for the bad acts of a few other students," Meisel noted. "It is far better for the institution to consider, 'What is our vision for an inclusive school? Let's devise a plan for creating that.' Then students, teachers, and administrators experience the programming as part of collective efforts to realize and sustain a larger vision of their community."
Ideally, Meisel said, when schools request a training, they have a strategic plan in place and ADL's offering is part of it.
"That's music to my ears," Meisel said. "I am heartened by the dramatic increase I am seeing in recent months of both public and private institutions creating strategic plans to promote diversity, equity, and inclusion in their community or workplace. The best outcomes in promoting inclusivity tend to occur as a result of sustained and coordinated efforts with many opportunities for education, reflection, and examination of policies and practices."
As a former First Amendment litigator and filmmaker with a focus on education equity, Meisel – a Santa Barbarian who moved back to town in 2010 to have his family be closer to his parents who still live in his boyhood home – is perhaps uniquely qualified to be running the ADL's Santa Barbara, a position he assumed after 10 years as a volunteer.
"The thread in each of those jobs is communication about issues that I'm passionate about," he said. "Initially I felt litigation might be a good way to go at them. Then I thought storytelling could be a more free way because I wouldn't be confined by the unique specifics of disputes that happened to arise. Stepping into ADL is really a blend of both worlds. We have litigation, but we're mostly doing a lot of communication and community education, presentations, and discussions about these issues. It's all about effective communication and getting to the bottom of these issues and expanding people's horizons. We need to stand up for victims and we need to contest and condemn hateful behavior, but we also need to keep the conversation going. I might be an optimist, but I truly believe that continued engagement in education and civil discourse can bring people out of hateful perspectives."
Donations to ADL support the work of the local office and contributions from ADL's subject matter experts and staff in other offices. Visit santabarbara.adl.org for more information.
Mission
The Anti-Defamation League's Santa Barbara/Tri-Counties Office serves Santa Barbara, Ventura and San Luis Obispo Counties. The office is located in Santa Barbara, California.
The Santa Barbara Tri-Counties region is dedicated, as is ADL nationally and internationally, to combating all forms of hatred and bigotry by investigating and exposing extremism, protecting as well as advocating for civil rights and religious freedom, educating on how to promote diversity and respect through our many programs and resources and by fostering interfaith relations. We handle victim complaints of all forms of discrimination. Our Educational Programs are well known and highly regarded throughout the Tri-Counties.
Begin to Build a Relationship
We know you care about where your money goes and how it is used. Connect with this organization's leadership in order to begin to build this important relationship. Your email will be sent directly to this organization's director of development and/or Executive Director.
Protecting the Rights of Everyone
"Twenty years ago we and a small group of people secured the funding to open our Tri-Counties Regional office with the idea that our board would be comprised of members of our community from a range of backgrounds and ethnicities. We were driven by ADL's mission, and we are proud of the work ADL has done to defend the right of everyone to participate fully and safely in our community and to educate adults and students about harmful impacts of bias, bullying, hate speech, and discrimination in schools, on the internet, and in the workplace. ADL talks the talk and walks the walk."
Local and National Impact
ADL's Santa Barbara office offers donors myriad ways to invest in eradicating hate and bigotry both locally and nationally.
Whether investing in its "No Place for Hate" programming in local schools, countering extremism nationwide, or supporting local incident response, ADL offers pathways for donors to stand up for the organization's core beliefs: to protect all marginalized groups from the devastating impacts of extremism, reduce bias in individuals through education, and create an environment of laws and norms where all groups are treated fairly, and hate has no home.
To join the cause, visit: santabarbara.adl.org.
A Board Standing Together
Brook Ashley
Ralph Baxter
Janice Brown
Julianna and Tom Dain
John Daly
Jason Saltoun-Ebin
Gayle Eidelson
David Edelman
Aaron Ettenberg
Andee Gaines
Mark Goldstein
Daniel Hochma
Shirley Ann Hurley
Judi Koper
Cindy and Steve Lyons
Joni Meisel
Natalie Myerson
Deborah Naish
Josh Narva
Susan Rose
Roz Rosin
Rob Skinner and Meghan White-Skinner
Marina Stephens
Sissy Taran
Leah Temkin
Gail Teton-Landis
Leslie White
Rachel Wilson