It Takes a Village to Help Our Village!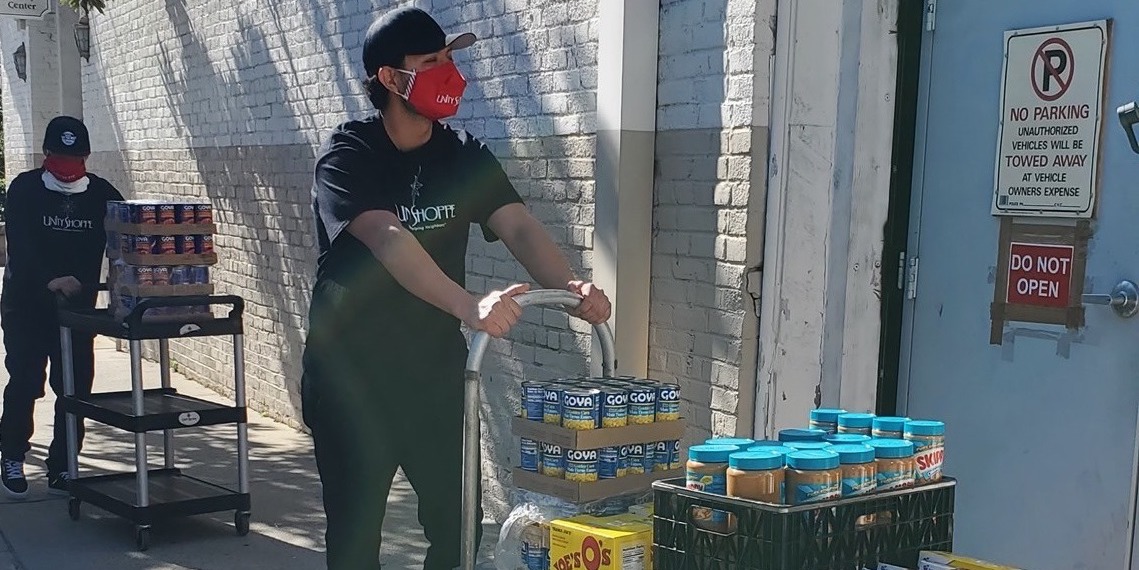 Someone once said that it takes a village to raise a child; at Unity Shoppe, we say that it takes a village to help a village — and every day we offer our gratitude for that support: to Unity's essential employees for their selfless work, especially in this last year, when our Community needed it most; to our volunteers who normally join us throughout the year, in numbers typically nearing 2,000 strong, through a range of initiatives, contributing their handiwork, their time and willingness to lend a hand, and their desire to collect dollar amounts and in-kind donations large and small to make a difference in the lives of our local residents. And what of our donors? When we ask — and we do ask — their positive response and generous support is never taken for granted!
Here are just but two examples of the kind of big-hearted folks we mean. Meet Kathy and Christina, who will also be featured as part of our upcoming Spring Newsletter due out in early April.
If you would like to receive a copy, and learn more about all things Unity during the pandemic, and how we're going to keeping supporting our Community in novel ways during the rest of 2021, email us your post mail address to pat@unityshoppe.org, and we'll be sure to send you a copy!
Ms. Christina Rodriguez: A MOST Essential Worker!
How do we explain why Christina is one of our MOST essential workers? … In her own words, of course!
"From a very young age, all I ever wanted was to rescue and heal all living creatures who were being mistreated and needed caring for. As I got older that feeling only got stronger, so when I found "my perfect first job" at Unity Shoppe, I vowed to keep it for as long as possible! That was 1995, and I've never looked back since!"
Christina has been an integral member of the Unity Shoppe family since joining the team 16 years ago, when she was hired to open Unity's Gift Shoppe on State Street. Fast forward several years of on-the-job training in many different capacities — merchandising, purchasing, inventorying, client services, staff supervision, and volunteer oversight — and you're left with an employee like no other: the person capable of filling Barbara's shoes as Manager of Operations!
"There isn't a day that goes by that I don't miss our dear Miss Barbara. More than anything, I want to continue to make her proud by fulfilling the role she taught me so well. Partly because it was among her last wishes, but mostly because I owe it to her and to all of the wonderful people who have turned to Unity for help — especially in this last year. Nothing makes me more proud than to be part of a team that can make a genuine difference in the lives of so many who are less fortunate."
Leading others with her big warm heart, engaging smile, and years of experience under Barbara's mentorship, we know Christina will shine bright in her newest role at Unity Shoppe!
An Extraordinary Volunteer with a Heart of Gold…Much Like That of Her Hero
No single phrase adequately describes the powerhouse that is Kathy Hughes…a part of the Unity Shoppe family for over 30 years, she's been a devoted volunteer, donor, cheerleader, Community member, and successful realtor at Berkshire Hathaway who isn't bashful about sharing her strong work ethic or passion for the woman she considered her mentor, teacher, and friend — Barbara Tellefson.
"I had the honor of really watching Barbara from up close over the years, and when I think about her…what comes to mind first is how she brought the Santa Barbara Community together at Unity Shoppe and just how many thousands of people she was able to help during her lifetime. Barbara was my hero, and she taught me incredible life lessons that I try to embody every day: how to care, how to give generously to others, and how to treat people — all people — with love and respect.
As much as it saddens me to think of Unity Shoppe and our Community without Barbara, I am comforted to know that her legacy lives on in the caring staff who work in service of others — especially during this incredibly trying time. I know that Barbara's vision and mission will live on in Unity Shoppe with the help of her many caring supporters and volunteers, just like me, for years to come."
Thank you Kathy for your volunteership and support over three decades, for your most recent sponsorship of our 34th Annual Telethon in December 2020, and the additional matching dollars it generated — thanks to your generous outreach effort — from all across the Community … a heart of gold indeed!
Donate now!
Mission
Unity Shoppe is dedicated to providing residents impacted by temporary conditions of poverty, natural disaster or health crisis with resources, including groceries, clothing, and other essentials, that reinforce human dignity and encourage self-sufficiency and independence.
Begin to Build a Relationship
We know you care about where your money goes and how it is used. Connect with this organization's leadership in order to begin to build this important relationship. Your email will be sent directly to this organization's director of development and/or Executive Director.
I Never Thought This Would Happen to Me
I was first introduced to Unity Shoppe when my son was volunteering for community service hours. We volunteered and worked side-by-side and saw first-hand the clients shopping with dignity by choosing items that they needed and then we watched as it appeared that they checked out at the register just like they would do in any other store but at Unity Shoppe, no payment changes hands. One of my favorite programs is Unity's Seniors Helping Seniors Center. This program provides basic need requests from hospitals, senior centers, and other organizations helping seniors who are homebound or disabled. It's no wonder why I love Unity's slogan: DIGNITY. RESPECT. CHOICE.
Taking the Legacy Countywide
Unity Shoppe is counting on the durable success of its annual telethon to continue investing in its programs and services. This includes JobSmart, which supplies low-income people with work clothes, and the Senior Resource Center, in which long-time senior volunteers knit, sew, quilt, paint, woodwork, and assemble clothes and toys to the delight and comfort of Santa Barbara's vulnerable residents. In 2023, Unity Shoppe also plans to begin serving families in north Santa Barbara County. It's a move inspired in part by Brad Paisley, who was so taken by Unity Shoppe that he brought the concept to his adopted home in Nashville. "Until now, people from north county have had to travel down to get our services," says Executive Director Angela Miller-Bevan. "In 2023, we will go to them."
Key Supporters
Patricia and Paul Bragg Foundation
Mithun Foundation
Susan and Ronald
Rodriguez Giving Fund
Golden Rule Family Foundation
John and Marcia Goldman
Bank of America Foundation
William Corbett Foundation
Maxine R. Waughtell
Donovan and Kathryn Chalfant
Santa Ynez Band of Chumash
Indians Foundation
Brittingham Family Foundation
Milton Hess
Victoria Ward
Ann Jaxson Family Foundation
MUFG Union Bank
Community West Bank
ZIA Group
Santa Barbara Foundation
Dana Newquist
Brad and Kim Paisley
Montecito Bank & Trust
Kenneth Richardson
Consumer Fire Products
Dena Stein