Latest on School Reopening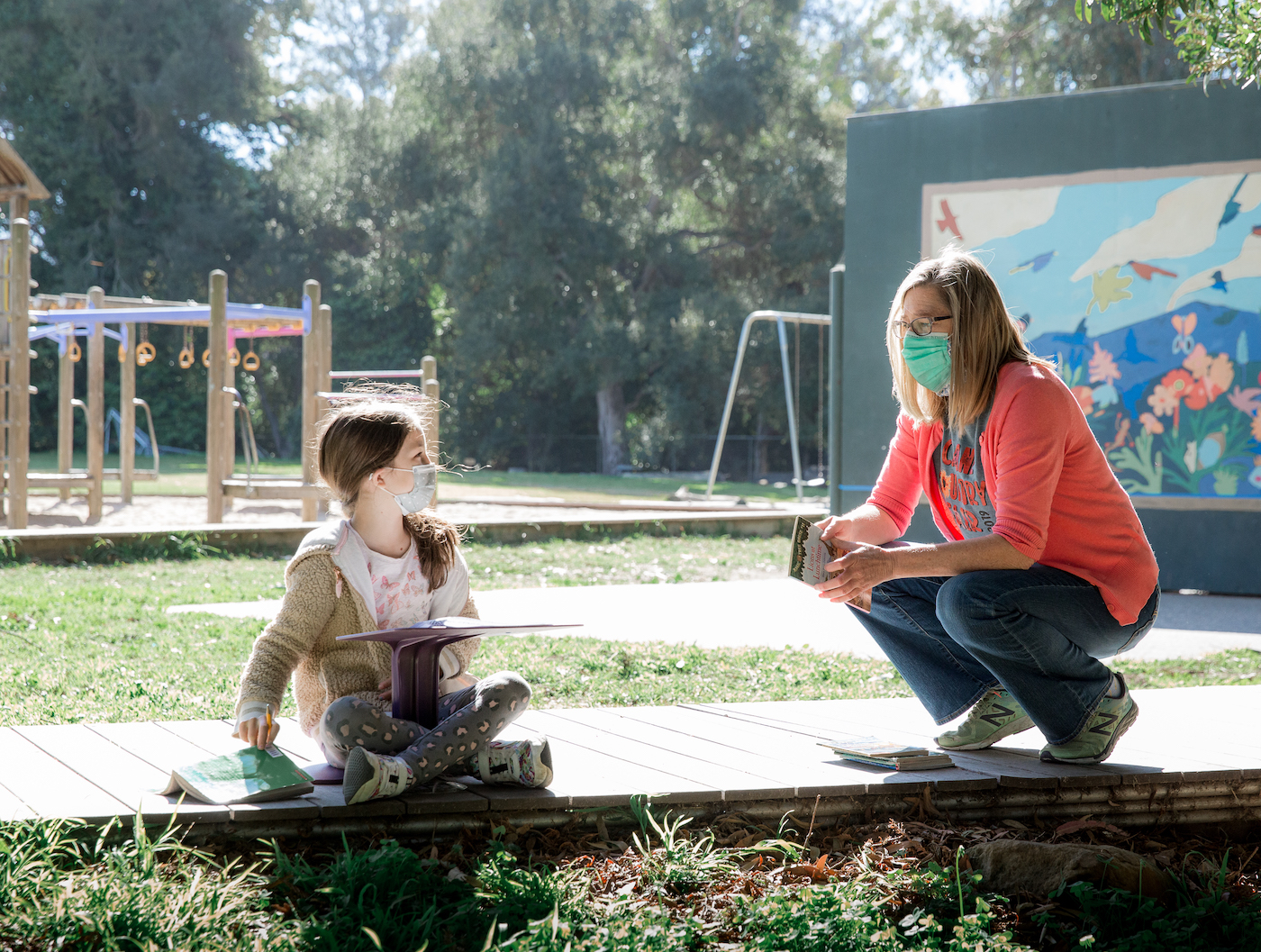 In addition to the majority of the business sector permitted to reopen indoors with modifications earlier this week, most county public schools – bolstered by happy and tired parents and caregivers – reopened in early March. Montecito public schools, Montecito Union School and Cold Spring School, have been open for in-person learning since late September, after applying for and receiving a waiver from the County's Health Officer. Both schools have since conducted the majority of in-person learning outside, modifying both campuses to accommodate outdoor, socially distanced curriculum. Both school superintendents report that there has been no COVID-19 transmission at either school, and all staff and teachers have tested negative. The majority of teachers at the two schools have had the first round of the COVID-19 vaccination.
Crane Country Day School has also been open since October, and Kristen Peralta, Assistant Director of Admission tells us vaccines arrived last week for Crane employees. "There was an immense sense of peace that they were one step closer to safety and would soon be relieved of the burden that had been upon them since beginning On-Campus learning last October."
By the end of the week over 90% of Crane's employees had received at least their first dose of the vaccine. "For a school that has been providing full-day, on-campus learning five days a week since October, as well as an online learning option, this is a significant step in the right direction," Peralta said, crediting Crane's Health Administrator, Nurse Savannah Aijian,for helping coordinate the effort. "Sharing vaccine information and availability became a group effort as chains of emails were sent among Crane employees, including 5 am messages to let others know that appointments were available," Peralta said. "Teachers rallied to cover their colleagues' duty stations so that they could get to their vaccine appointments. The glimpse of hope and sense of gratitude sparked camaraderie, and the vaccinations marked a milestone in the academic year and in the school's history."
In the five months that the majority of the Crane community has been on campus, students, parents, teachers, and staff have become accustomed to the safety measures implemented this year, including handwashing stations, a daily health questionnaire, a full-time school nurse, plexiglass at every desk, coyote badges around campus marking a six-foot distance, and 23 unique outdoor learning spaces. Experiential learning areas in the various quads and plazas around campus have allowed teachers and students to spread out, enjoy fresh air, and look at their education outside of the four walls of the classroom. "Teachers have been grateful to be offering their students an exceptional education whether they are on campus or at home. The school is grateful that its decisions and the precautions of Crane families have together successfully allowed for a 0% transmission rate of COVID-19 on campus. Finally, the entire community can now be grateful that the widespread vaccination adds another thick layer of protection to our schools," Peralta said.
Crane will continue to offer a slightly modified two-prong approach with the vast majority of families choosing on-campus learning, while a smaller set of families in third through eighth grades continue to rely upon Crane's online learning option. "I am hopeful that if we continue to wear masks, and we continue to socially distance, we will be able to slowly return to a more normal school environment," said Head of School Joel Weiss.
Last month, in order to help prepare local school campuses in Santa Barbara for the reopening, One805, a local nonprofit, donated 1,000 masks and 50 disaster kits to Harding Elementary School. "The new double masking recommendations from the CDC combined with the community beginning to open up has increased a need for masks," said Angela Schmidt, One805 Executive Director. "Never has it been more important to work together as one county to abide by all safety recommendations."
One805 was formed to create a way for all members of our community to support First Responders and contribute to the public safety needs of Santa Barbara County; the organization was formed following the Thomas Fire and 1/9 Debris Flow in January 2018. "We are the only organization that supports multiple First Responder agencies. The One805 Advisory Council, which helps direct donations to where they are most needed, is comprised of the department heads of 11 separate First Responder agencies from Carpinteria to Santa Maria and throughout the county," explains John Thyne, a founding board member. The group also recently delivered 300 disaster kits to the Lompoc Police Department; each hand-packed kit contained two masks, soap, sanitizing wipes, hand sanitizer, tissues, and a note of encouragement.
"It's remarkable to witness the impact One805 has had on the overall safety of our community" says Schmidt. "We established an emergency Twitter feed at www.twitter.com/One805sb to consolidate messages from multiple agencies during emergencies and we work on public safety initiatives county-wide."
One805's slogan is Prepare, Equip, Support, and they do all three. To learn more visit www.one805.org.
Mission
One805 is a permanent 501(c)(3) corporation, raising funds for all three First Responder groups – Fire, Police, and Sheriff – purchasing equipment, counseling & taking care of those who take care of us.
Begin to Build a Relationship
We know you care about where your money goes and how it is used. Connect with this organization's leadership in order to begin to build this important relationship. Your email will be sent directly to this organization's Director of Development and/or Executive Director.
"One805 has been a valuable partner for first responders in Santa Barbara County. They are dedicated to supporting community preparedness, public safety, counseling services and financial support for un-budgeted equipment. One805 re- cently purchased sanitizing foggers to help keep us safe from COVID-19 and also provided QRET helicopter harnesses for the County Air Support Unit.
Thank you for making a difference here in our local community."
Social Solidarity
Through local natural disasters and COVID-19, the team at One805 has recognized the power of Santa Barbara's "social solidarity" – the interdependence between individuals in a society – to survive a crisis together.
Despite the glamour of One805's first benefit concert, the charity is dedicated to including ALL county residents in equitable safety initiatives. Future benefit concerts titled "One805 Live!" will further the tradition of live music to raise funds for public safety emergencies.
"One805's mission is to support the public safety needs of our community in an efficient, equitable fashion," says Executive Director Angela Binetti Schmidt. "We are not another black-tie charity. We are stronger as ONE and are asking everyone to join. Our $25 members are just as appreciated and important as our honorary board $10,000 members." Honorary board members meet with public safety Department Heads to collaborate on donation expenditures.
Together we are One805. Visit One805.org to learn more, become a member and donate.
One 805 Executive Board
Richard Weston-Smith, President/Co-Founder
Eric G. Phillips, Chief Executive Officer/Co-Founder
John J. Thyne III, Chief Financial Officer/Co-Founder
Advisory Council
Chief Laurie Luhnow, Santa Barbara Police Department |
Sheriff Bill Brown, Santa Barbara County Sheriff Department
Fire Chief Eric Nickel, Santa Barbara City Fire Department
Fire Chief Mark Hartwig, Santa Barbara City Fire Department
Fire Chief Kevin Taylor, Montecito Fire Department
Fire Chief Gregory Fish, Summerland/Carpinteria Fire Department
Chief Phil Hansen, Santa Maria Police Department
Chief Joseph Mariani, Lompoc Police Department
Chief Michael Cash, Guadalupe Police & Fire Department
Fire Chief Leonard Champion, Santa Barbara Fire Department
Fire Chief Jerry Kuras, Santa Maria Fire Department