At Covid-19 One-year Mark, Foodbank Deepens Commitment to End Hunger Amid Unprecedented Need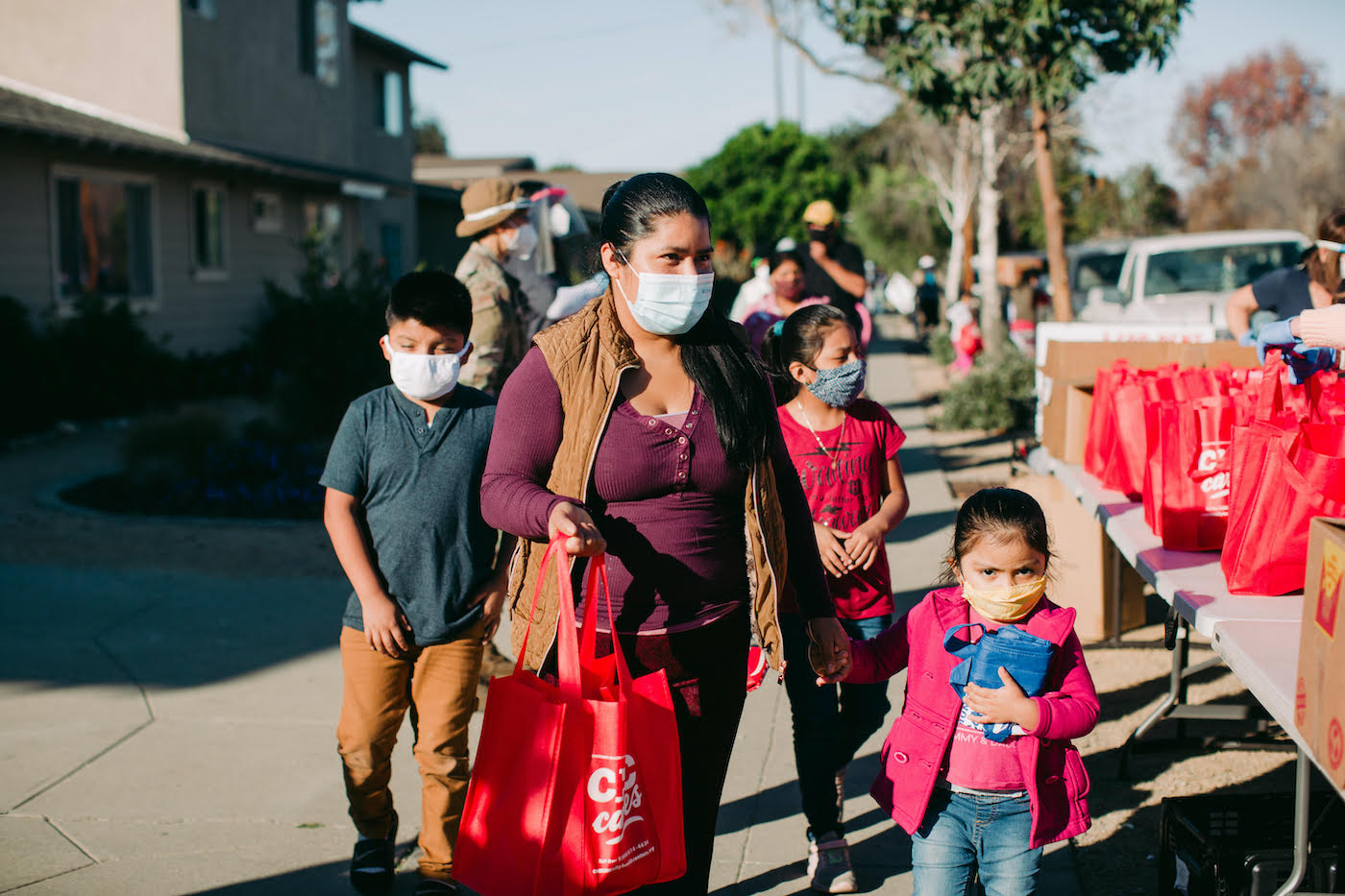 In addition to meeting doubled demand for supplemental food for the last year, Santa Barbara County's primary food assistance organization deepens commitment, expands partnerships to serve those most vulnerable in our community
The Foodbank of Santa Barbara County has met twice (or more) the usual need for food assistance countywide for nearly one year since the Covid-19 crisis began in early March 2020. At that time, viral infections, mandatory stay-at-home orders, business restrictions and lockdowns began in California, plunging residents of Santa Barbara County into unprecedented need.
"I couldn't be more proud of the Foodbank team and organizations across Santa Barbara County for working together to implement our Disaster Feeding Plan so swiftly and gracefully when the Covid crisis struck our area," explained Foodbank CEO Erik Talkin.
"We put our heads together, using lessons learned from the Thomas disasters, and mounted a creative, strategic response based on strong relationships and providing food at or near where people live. Our Covid response has endured and evolved over the course of a highly volatile year, proving how scalable and adaptable the Plan is."
Providing Food for Everyone in Need
Within weeks, the Foodbank established the Safe Food Access for Everyone (SAFE) Food Net, working with county- and city-government disaster response agencies, nonprofit organizations, and the education, healthcare and business sectors. The Foodbank established 50+ certified SAFE Food Net food distribution locations in neighborhoods throughout the county so residents could find food safely near their homes. More than 20 of the locations offered no-contact drive-thru service for enhanced safety.
Total pounds of food distributed between March 9, 2020 and March 8, 2021:

19,549,119
Pounds of fresh vegetables and fruits distributed, same time frame:

8,313,581
For comparison, same time during previous year:
Total pounds of food distributed between March 9, 2019 and March 8, 2020:
9,708,944
Pounds of fresh vegetables and fruits distributed same time range:
4,086,509
A home delivery program was launched that provided the 1,500 low-income seniors served by our Brown Bag program with healthy groceries and fresh produce food at their doors. The Foodbank also enrolled more than 3,000 additional seniors in the Brown Bag program, providing triple the usual low-income seniors in the county with home deliveries. Households experiencing severe medical circumstances were provided with home deliveries by request.
Total home deliveries provided since March 9, 2020: 60,000
Capacity-building
As lockdowns and mandatory stay-at-home orders led to precipitous job and income losses and economic collapse, need for food assistance doubled countywide.
In order to meet the need, Foodbank procured additional physical capacity by acquiring additional warehouses in Santa Maria and Goleta to hold inventory and provide space for safely distanced volunteer efforts. Large refrigerated trailers were added at each of the Foodbank regular warehouses to expand cold storage. New trucks were purchased to transport food between north and south county, to deliver food to more food distribution sites and to expand cold food storage.
The Foodbank enlisted invaluable additional human resources via the following sources:
New hires, for a 15% increase in total paid staff
Thousands of new community volunteers and interns
California National Guard
AmeriCorps VISTA
Cesar Chavez Environmental Corps
Workforce Development Board / United Way's dislocated workers program
Team Rubicon, and
Red Cross.
The Foodbank team organized almost 15,000 volunteer shifts representing more than 27,000 volunteer hours.
Communications
To ensure that community members could find information about where and when to receive food, the Foodbank provided updated information via:
A collaboration with the City of Santa Maria and the County's 2-1-1 service to offer live phone assistance to provide food location guidance and home delivery sign-ups;
Hard copy paper flyers updated multiple times each week;
Downloadable .pdfs in Spanish and English,
Scrollable listings on the website, and
A brand new bi-lingual text-to-find-food program to serve those without wifi or smart-phones.
New Initiatives: Supporting Local Business and Reaching Underserved Populations
At the peak of the crisis, when businesses closed suddenly, the Foodbank partnered with local restaurants The Lark and Loquita for the Chef's Kitchen program, to provide more than 10,000 nutrient-dense, gourmet meals to seniors and households in need throughout the county. The program helped valued local businesses keep their staff employed.
Families with school children represent a segment of the community facing unique need as parents lost jobs and children could not attend school. In collaboration with districts countywide, the Foodbank provided boxes of healthy groceries and fresh produce to kids' families at the same times and locations where picked up school lunches.
To serve families experiencing the highest need, the Foodbank is collaborating with schools and other community organizations to broaden the reach of our award-winning Healthy School Pantry (HSP) program. Adding to a base of six existing programs, the Foodbank has identified 10 more high-need neighborhoods countywide where new HSPs will be launched in the coming year.
At a Healthy School Pantry, families receive nutritious groceries and fresh produce, and have access to health and nutrition education, recipes, and other wrap-around services and resources from additional providers.
One of the most painful ironies of the pandemic has been that essential workers who provide healthy local produce for others of us have been least equipped to provide their own families with that same nutritious food.
Launched in July, the Food Access for Farmworkers outreach program provides food in locations where high concentrations of farmworkers live. The reason this works better than providing food at work sites is that farmworkers often carpool to work or are transported there in vans. Shared vehicles would not have enough space to hold the food they receive. Also, many don't have personal transportation, so they and their children can walk to food distribution sites and carry the food home easily.
The Foodbank's Food Access for Farmworkers program has served more than 4,800 unduplicated individuals, providing over 200,000 pounds of food at five sites in north county. The Foodbank aims to serve 500 families per month and expand locations for this program to other areas of the county.
In collaboration with CenCal Health, the Foodbank also launched a Food Prescription (Food Rx) program to deliver boxes of fresh fruits and vegetables to families with children with obesity. The program is currently serving 60 families, with a goal to reach 70 families this year.
Nutrition Education
In a time when health is a central concern, the Foodbank has pivoted to make nutrition education safely available to as many in the community as possible.
Food as Medicine, a series of free public presentations on eating for optimal health, moved from live events and periodic podcasts to interactive webinars covering topics including power of cruciferous vegetables, food and mood, digestion, and diet trends.
The Foodbank's nutrition educations programs for children – such as Kids Farmers Market (KFM) and Food Literacy in Preschool (FLIP) – which normally take place during or after the school day, evolved into a hybrid model incorporating both activities and information sent home with food boxes for students' families, along with online education modules and videos for students.
About the Foodbank of Santa Barbara County
The Foodbank of Santa Barbara County is transforming hunger into health by eliminating food insecurity through good nutrition and food literacy. The Foodbank provides nourishment and education through a network of more than 300 nonprofit community partners and more than 2,000 volunteers annually. In Santa Barbara County, one in four people receive food support from the Foodbank, which equates to more than 191,000 unduplicated people, 41% of whom are children. In the past year, the Foodbank distributed nearly 19 million pounds of food –half of which was fresh produce. This represents twice as much food distributed in an ordinary year. The Foodbank is assuming a major leadership role in countywide disaster preparedness with initiatives including a host of Covid-19 response programs, disaster food boxes, disaster feeding plan, establishing a new south county warehouse and updating our trucks for safer food storage and transport. For more information, visit www.foodbanksbc.org.
Mission
The Foodbank of Santa Barbara County is ending hunger and transforming the health of Santa Barbara County through good nutrition.
Begin to Build a Relationship
We know you care about where your money goes and how it is used. Connect with this organization's leadership in order to begin to build this important relationship. Your email will be sent directly to this organization's director of development and/or Executive Director.
A Valiant Effort to End Food Insecurity
"Over the past couple decades we have witnessed the Foodbank increase the population it serves, expand its services, and develop programs to meet the issue of food insecurity in a holistic fashion. It has been particularly nimble in its response to the economic crisis the community faces right now.
In this city, in this country, in this age, it's criminal that anyone would not have access to quality sustenance. We believe that those of us who can must step up and support the Foodbank in its valiant effort to end food insecurity. We believe in the hope the Foodbank provides." 
One Dollar = 8 Meals
Faced with the COVID-19 crisis this year, the Foodbank leveled up its already impressive food sourcing to provide healthy groceries, fresh fruits, and vegetables to more than twice the number of residents they usually serve. The current economic crisis is forecast to deepen throughout 2021 as families face ongoing unemployment and underemployment, dig out from mountains of debt and try to avoid eviction and foreclosure. Now more than ever, donations are critical to ensure healthy food is available to everyone facing hunger here at home. The Foodbank turns $1 into 8 meals thanks to volume purchasing, relationships with farmers, retail and wholesale partnerships, and being the primary distributor of USDA foods in our county.
Board of Trustees
George L. Bean, Board Chair
Carol Olson, Vice Chair
Cindy Halstead, Treasurer
Erwin Villegas, Secretary
Frank Abatemarco
Peter N. Brown
Martha Gabbert
Scott Hansen
Tim Harrington
Jim Houck
Bruce Porter
Cynthia Schur
Ian Stewart
Betsey von Summer Moller
Barry Spector
Barbara Tzur