Feeding Our Community: The Foodbank of Santa Barbara County Adjusts to Meet Our COVID Needs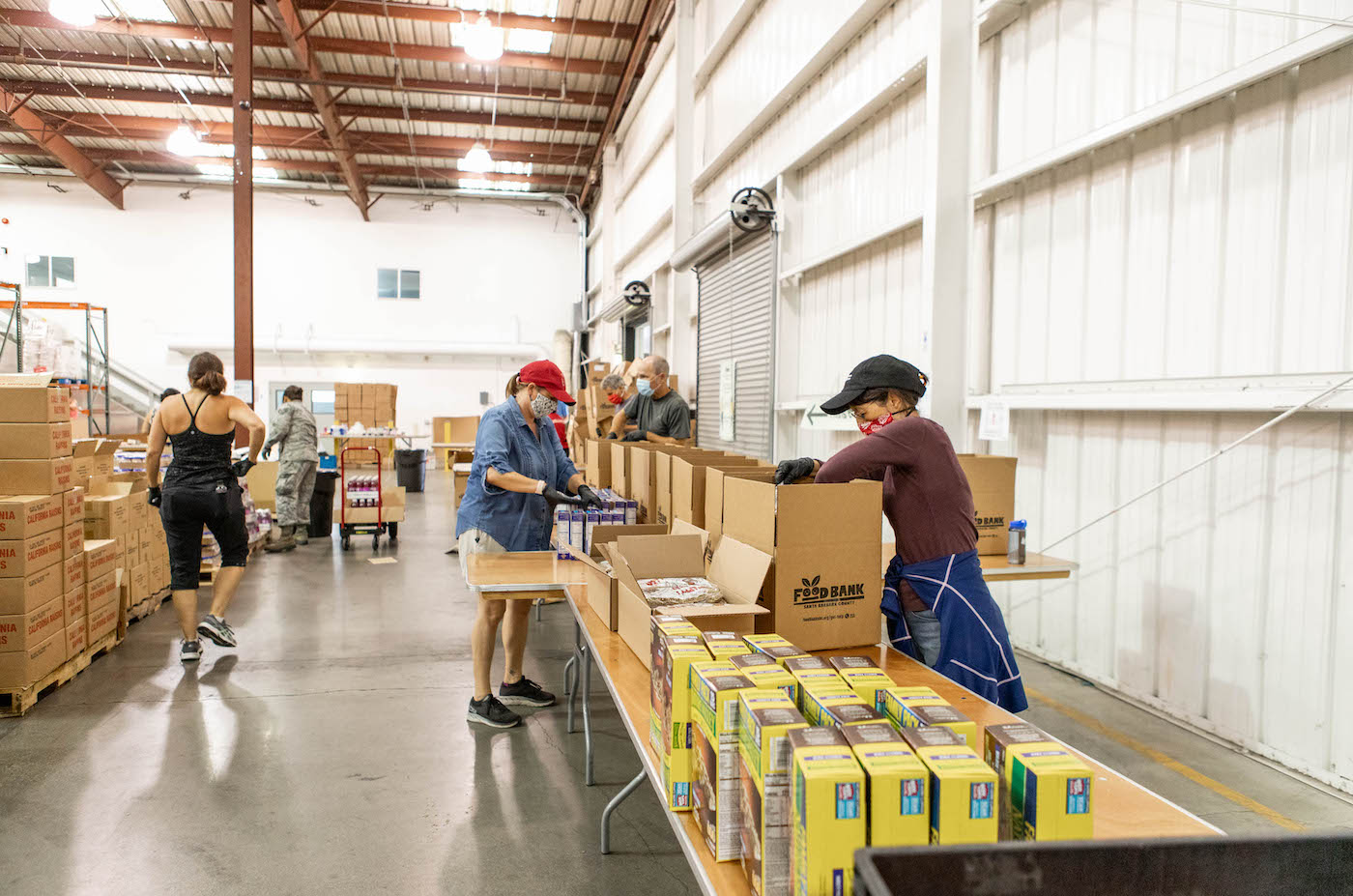 To say that the Foodbank of Santa Barbara County has been busy is an understatement – the nonprofit distributed 9,708,944 pounds of food over the course of a year, including some four million-plus pounds of fresh vegetables and fruits.
Sounds like a lot, right?
Sure, but that's the year preceding the COVID crisis in California.
From March 9, 2020, to March 8, 2021, the Foodbank doled out 18,421,361 pounds of food, including just shy of eight million pounds of fresh fruits and vegetables.
To get there, it took an operational plan to place a priority on both feeding the county, but also doing it safely for all involved.
When the pandemic began to pervade Santa Barbara County in mid-March 2020, it resulted in an increase in need for healthy sustenance due to the mandatory stay-at-home orders, business restrictions, and lockdowns.
This is not to mention the viral infection taking hold, but the Foodbank stepped up – quickly.
Within weeks, the organization whose formal mission is to transform hunger into health by eliminating food insecurity through good nutrition and food literacy, pivoted to abide by the new protocols.
The Foodbank created the Safe Access to Food for Everyone (SAFE) Food Net, working with government disaster response agencies and nonprofits, as well as the education, healthcare, and business sectors to establish more than 50 SAFE Food Net distribution locations.
These sites were in neighborhoods throughout the county so residents could safely find sustenance near their own homes. More than 20 of the locations even offered complete no-contact, drive-thru service for enhanced safety.
Among other programs, Foodbank also launched a home-delivery service that provided 1,500 low-income, high-risk seniors already partaking of its Brown Bag program with boxes of healthy groceries and fresh produce food delivered to their doors. The nonprofit also tripled the program, enrolling more than 3,000 additional seniors in home delivery and adding other households that were experiencing severe medical circumstances.
How was the nonprofit able to respond so rapidly with a massive upscaling to meet the unprecedented demand? The organization isn't new to disaster, especially two years removed from the Thomas Fire and Montecito debris flow.
"I think we'd become a little bit complacent before the fire and debris flows," Foodbank CEO Erik Talkin explained. "They enabled us to really rethink our approach and increase our ability to respond to a disaster over a long period of time and avoid staff burnout."
Of course, the pandemic required a completely different kind of pivoting, he said.
"Obviously foodbanks have been all about trying to get people to come to one place and get large amounts of food at one time. That wasn't going to work with COVID, where that would be the last thing you would want to do," Talkin said. "So we had to really upend our model and learn to do new things to build that capacity and scale up."
That included finding ways of storing and moving much more food than before, which the Foodbank solved temporarily by borrowing two additional warehouses to augment its current facilities.
But that didn't solve how to find people who weren't familiar with how the program worked.
"That was a real challenge, having to identify a system where people could indicate they needed food delivered so we could plan routes and get volunteers to drive those routes and make sure that they received food in a safe fashion," Talkin said.
A First-Time Experience
The pandemic produced food insecurity among people who work in the tourism-related services, or even restaurants and other food industries.
These people never imagined they would need this kind of help.
"With the pandemic, so many people need help. It's affected a wide variety of people. Who are we to say who is the type of person we want to serve? There's so many people of all sorts who need help," explained Talkin, who has published Lulu and the Hunger Monster, a children's picture book that aims to enable kids to feel fine if they or their family needs help with food.
Now that many county residents have already been fully vaccinated, and with increased supply of the three approved vaccines, can we expect the Foodbank to return to its pre-pandemic programs?
Not so fast, said Talkin.
"Although the pandemic is winding down, the need for our services is not realistically going to be dramatically reduced for another 18-24 months," he said. "People have built up a lot of debt. People are still unemployed or underemployed. And the federal subsidies are coming to an end. All the studies that we're doing and the national studies from the Congressional Budget Office related to unemployment show there will be a need for emergency food at much larger levels right through most of 2022."
So, no, the Foodbank won't be scaling back services in the near term.
And it will be keeping some of the lessons that it has learned, including how it operates educational programs, with some staying online even after it is safe to be in-person.
All this increase in demand and services, of course, means a continued need for financial support – even though the Foodbank continues to turn $1 donations into eight meals.
That's courtesy of volume purchasing and strong partnerships with farmers and other food partners.
But it does have one need – a new facility in Santa Barbara.
Currently, the Foodbank is working out of a small, converted fire station with no loading dock, causing it to lean heavily on its North County warehouse.
That means it needs to truck all the food down, which Talkin says doesn't "make sense environmentally."
"Or worse yet, if there is an earthquake or other disaster and the roads are cut off. So finding land or a location to build a new South County warehouse is a big focus for us at the moment," Talkin said.
While a donation leading to solving that problem would of course be more than welcome, Talkin noted that everything helps.
"Our greatest need is for the community to engage with us in whatever way they feel comfortable," he said.
"I'm just amazed at the community's response and how they've supported us already. I think it's because they know it's absolutely vital to have a strong Foodbank for a resilient community. That's how you keep people fed and healthy during a challenge."
Mission
The Foodbank of Santa Barbara County is ending hunger and transforming the health of Santa Barbara County through good nutrition.
Begin to Build a Relationship
We know you care about where your money goes and how it is used. Connect with this organization's leadership in order to begin to build this important relationship. Your email will be sent directly to this organization's director of development and/or Executive Director.
A Valiant Effort to End Food Insecurity
"Over the past couple decades we have witnessed the Foodbank increase the population it serves, expand its services, and develop programs to meet the issue of food insecurity in a holistic fashion. It has been particularly nimble in its response to the economic crisis the community faces right now.
In this city, in this country, in this age, it's criminal that anyone would not have access to quality sustenance. We believe that those of us who can must step up and support the Foodbank in its valiant effort to end food insecurity. We believe in the hope the Foodbank provides." 
One Dollar = 8 Meals
Faced with the COVID-19 crisis this year, the Foodbank leveled up its already impressive food sourcing to provide healthy groceries, fresh fruits, and vegetables to more than twice the number of residents they usually serve. The current economic crisis is forecast to deepen throughout 2021 as families face ongoing unemployment and underemployment, dig out from mountains of debt and try to avoid eviction and foreclosure. Now more than ever, donations are critical to ensure healthy food is available to everyone facing hunger here at home. The Foodbank turns $1 into 8 meals thanks to volume purchasing, relationships with farmers, retail and wholesale partnerships, and being the primary distributor of USDA foods in our county.
Board of Trustees
George L. Bean, Board Chair
Carol Olson, Vice Chair
Cindy Halstead, Treasurer
Erwin Villegas, Secretary
Frank Abatemarco
Peter N. Brown
Martha Gabbert
Scott Hansen
Tim Harrington
Jim Houck
Bruce Porter
Cynthia Schur
Ian Stewart
Betsey von Summer Moller
Barry Spector
Barbara Tzur