Dine & Donate: Los Agaves to Donate Proceeds of April 21 Event to Friendship Center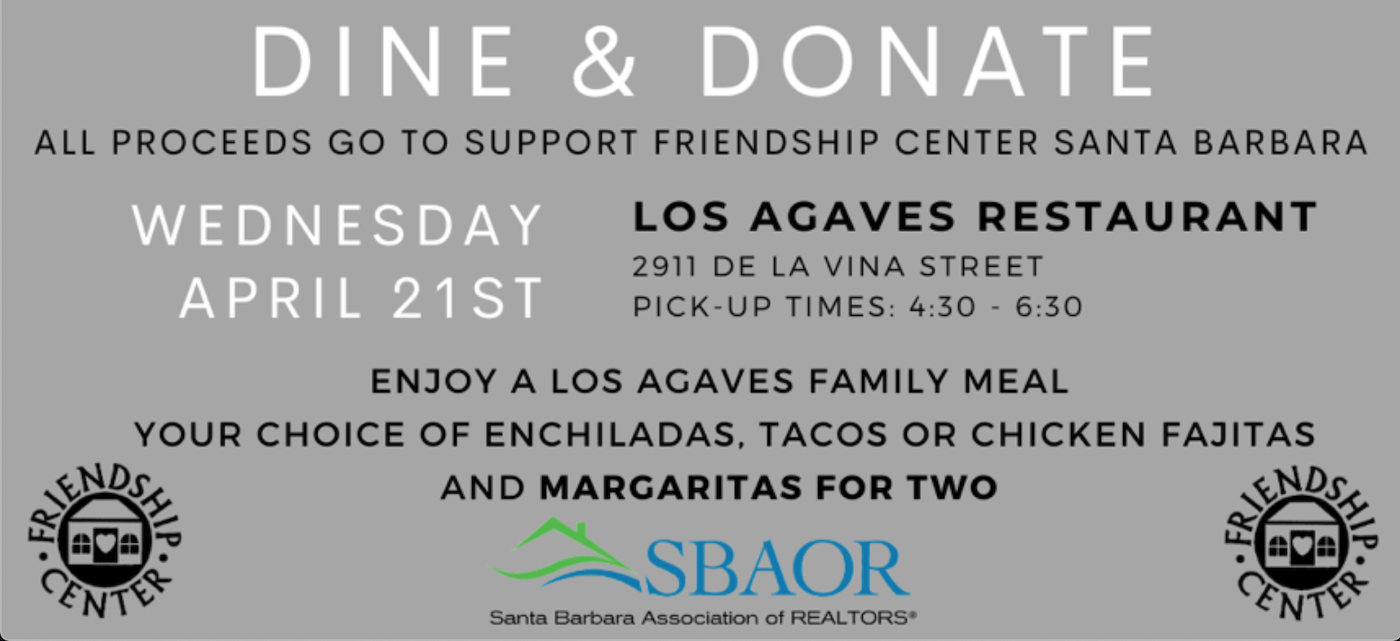 In an event sponsored by the Santa Barbara Association of Realtors (SBAOR), Los Agaves Restaurant is cooking up an authentic Mexican meal for charity.
Meal pick-up is Wednesday, April 21 from 4:30 p.m. – 6:30 p.m. All proceeds support Friendship Center, an Adult Day Program located in Montecito and Goleta, providing programs that honor individuality, promote socialization, and foster a compassionate community for aging adults.
Follow this link to register: https://www.sbindytickets.com/events/111248192/dine-donate 
Please note, entree selections are chosen at the end of the checkout process, with your choice of enchiladas, taco bar or chicken fajitas, with options available. Generous portions with all the fixings are large enough for two or more people and include two margaritas.
Contact Sophia Davis: sophia@friendshipcenter.org for more information about this event. Visit Friendship Center's website at: https://www.friendshipcentersb.org.
Mission
Friendship Center provides innovative activities and programs that honor individuality, promote socialization, and foster a compassionate community for aging adults. Caregivers receive respite support and education, enabling them to achieve balance in their lives.
Begin to Build a Relationship
We know you care about where your money goes and how it is used. Connect with this organization's leadership in order to begin to build this important relationship. Your email will be sent directly to this organization's director of development and/or Executive Director.
A Friend of the Center
"When asked to contribute to what I think Friendship Center is all about, I really didn't know where to begin. My connection with the Center began in l987.
In a few words, Friendship Center is a beautiful place physically, that provides programs and safe activities for aging adults and much needed respite for their caregivers. It is the most life-affirming, and the most joyous way for aging adults, many with health conditions, like Alzheimer's to continue to be part of their families and community. The innovative programs and activities are too many to list here, and continue to adapt when new needs arise.. When thinking of what a friend is, we think of kindness, sympathy, empathy, compassion, interest and FUN. The well- trained staff and many volunteers provide all of these to Friendship Center's members.
On a personal level, I was the social worker at the Center for many years and saw what a difference the community and fellowship at the Center made in the member's life (their spirit, attitude and sense of fun). and lives of their families. My mother, as aging limited her mobility, attended FC. She always came home with a big smile and feeling happy.
My husband, Steven Gilbar and I continue to support Friendship Center with regular donations, and have included them in our will."
Take a Tour!
Friendship Center offers daily programs at reasonable rates. Donations to the agency allow it to subsidize that fee for those who need it – an invaluable service to isolated, low-income seniors. We aim to turn no one away based on financial limitations.
But donations are not the only way to help the center and aging adults.
"We want people to avail themselves of our services," Heidi, the executive director, says. This could be support groups for adult children caring for aging parents, or programs for the older adults themselves, including virtual activities for the homebound. "Come take a tour," Heidi adds.
Board of Directors
Joe Wheatley, President
Dana VanderMey, Secretary
Joe Holland, Chief Financial Officer
Kathy Marden, MFT, Member-at-Large
Sue Adams
Marti Correa de Garcia
Karolyn Hanna, RN, PhD
Matt Lum
Justin Redmond
Andy Siegel
Marcella Simmons
Pamela Vander Heide
Directors Emeriti
Nevill Cramer (In Memoriam)
Barbara Gutmann
The Rev. George Hall (In Memoriam)
Shirley Mankin (In Memoriam)
Homer Sheffield Jr.
Mary Walsh
HONORARY COMMITTEE
Rona Barrett
Jeff Bridges
Carnzu Clark (In Memoriam)
Thomas & Nancy Crawford
Paul & Bobbi Didier
Vasanti Fithian
Roy Gaskin
Andy Granatelli (In Memoriam)
Sally Hall
Robert Harbaugh, M.D.
Milt & Arlene Larsen
Selma Rubin (In Memoriam)
Eva Marie Saint
Naomi Schwartz (In Memoriam)
Sidney Smith (In Memoriam)