Standing Together to End Sexual Assault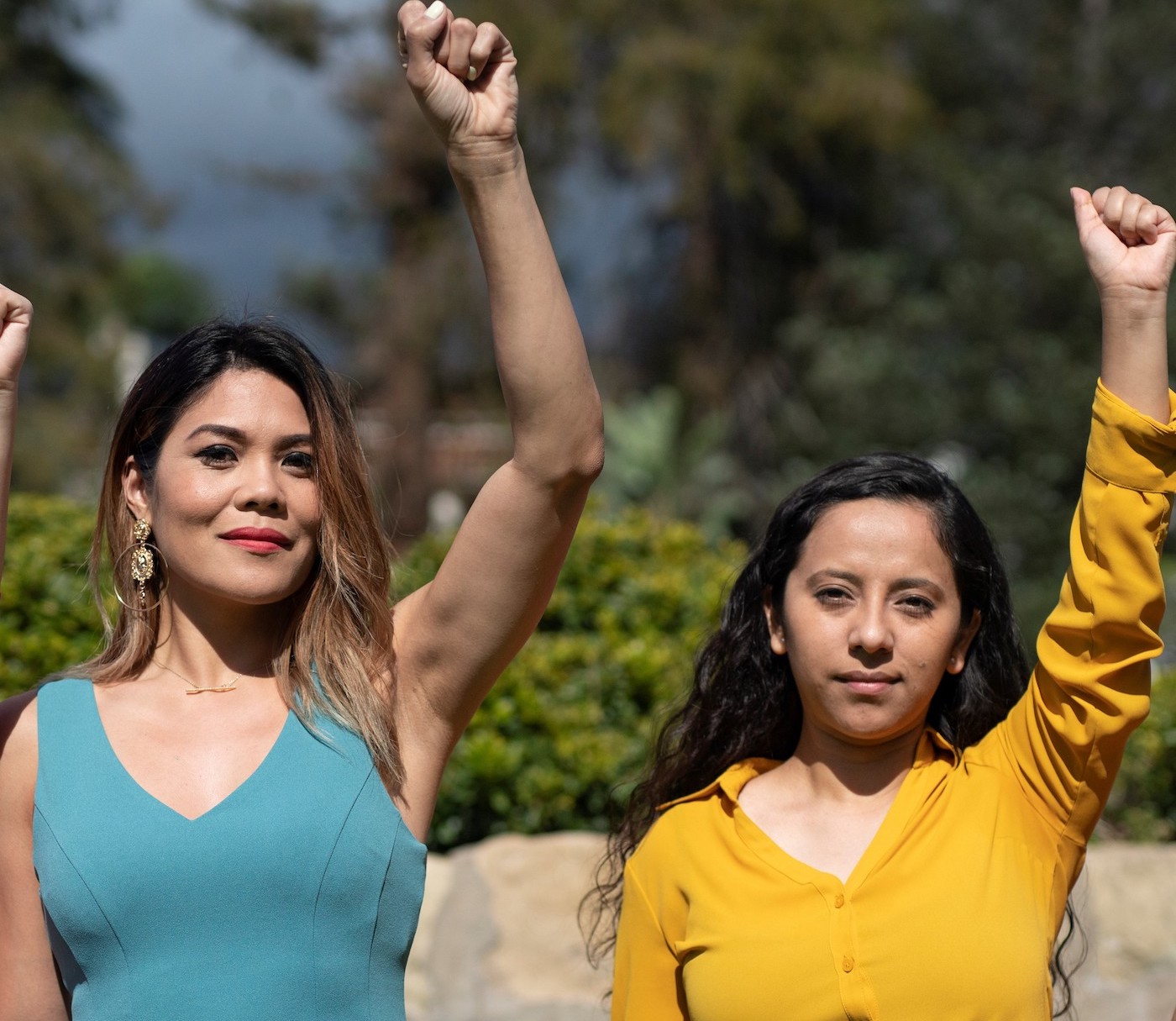 April is national Sexual Assault Awareness Month (SAAM), an annual campaign aimed at raising public consciousness to consider sexual assault as a public health, human rights, and social justice issue as well as educating people about how to prevent it. 
For the nonprofit Standing Together to End Sexual Assault (STESA) based here in Santa Barbara, though, every month, every day, and every hour is devoted to the same goals: providing confidential counseling and support services to survivors of sexual assault while striving to eliminate all forms of sexual violence in our community.
The organization that was founded back in the 1970s as the Rape Crisis Center and adopted its new name just a little over two years ago still has the core service of being there for rape and sexual assault victims as soon as a call comes into its hotline, with a staff member or volunteer showing up – if only virtually during the pandemic – to offer advice about medical care, legal options, and provide counseling services if desired. The goal is to empower survivors to take back control of their lives and their bodies.
But the new name, chosen to more accurately represent the scope of services offered by the organization, alludes to the broader goal of actually ending sexual assault at its roots, indeed changing the cultural norms that enable sexual assault to proliferate. That's where education and the goals of this year's SAAM events come in.
"Sexual assault is an umbrella term and there's many different examples that fall underneath it," explained Bianca Orozco, STESA's community education coordinator. "Any sexual harassment that happens online is an example of sexual assault. Someone commenting in an inappropriate way on a picture that makes that person uncomfortable, anything like that – they're different examples of sexual assault and can be equally violating and traumatic to (the victim). It might be common online, but it's still assault if there isn't consent. Just because we're not in-person doesn't mean that sexual assault has stopped, it does adapt and it does occur in those spaces, too."
Considering online harassment as a lesser form of sexual assault, perhaps further down on a continuum, isn't a smart approach, Orozco said.
"It's like diminishing cat calling as no big deal, telling the woman to just walk a different way or cover up," she said. "It creates a level of accessibility that not only diminishes the experience of the victim, but eventually leads to excusing or minimizing all forms of sexual assault."
That take is in line with STESA executive director Elsa Granados' approach: "They're all violating and they're all about power and control," she said. "People who experience online harassment can be just as traumatized as survivors of in-person and suffer depression and anxiety, especially while we're all isolated. So we have to set some boundaries around what is acceptable to speak to someone else."
Create to Prevent
Raising the level of online awareness during the pandemic is what STESA's focus for the 20th anniversary of SAAM is all about. A virtual campaign called Create to Prevent, launching across several social media platforms including Facebook, Instagram, and Twitter, invites local youths to become change agents by tapping into their creative expression to express ideas about cyber sexual harassment. This includes any unwanted behaviors over social media, dating apps, email, Zoom calls, and video chat, whether verbal or through a visual action.
Accordingly, youths are being encouraged to create multimedia content – art, poetry, skits, infographics – that STESA will collate and choose winners who will see their creations shared on social media and possibly earn a pair of Beats headphones and other prizes.
"What we're doing for SAAM this year is asking youth in our community to pick the information that we have been using to educate them, and pass it along by creating something original," Orozco said. "It could be a painting or a drawing. Maybe poetry, or a TikTok video. Whatever they feel comfortable submitting that focuses on the topic of sexual assault, and counteracting messages they might be seeing on TV or elsewhere that perpetuates it. We want the information to be shared creatively so it reaches people."
The outreach efforts are extensions of STESA's regular education programs that address all aspects of sexual harassment and assault for area youths, STESA youth educator Holly Scala said. The topics have grown out of conversations about the meaning of consent or how so-called "rape culture" gets perpetuated. 
"They experience it mostly online because that's where they spend a lot of time, especially this last year," Scala said. "So we're bringing it closer to home and cultivating a more nuanced understanding of what sexual assault is. And we also focus on cyber sexual harassment because we know that it's more common in that it can be anonymous, and maybe it seems benign, but it only opens the floodgates to perpetrating future violence. So by educating them it helps to prevent that slippery slope."
To that end, STESA's digital SAAM program for 2021 will focus on a different aspect on cyber abuse, through nonconsensual sending of nude images to sexually coercing people online. And the month will also include education on how people can directly intervene to combat online sexual harassment, Scala said. "You can become an upstander instead of a passive bystander."
April's awareness activities also include STESA's first Virtual Book Club on April 9 where participants will be reading Beartown by Fredrik Backman, a novel that explores the consequences and small-town reactions after the town's star junior hockey player rapes a 15-year-old girl that was also recently adapted into an HBO series. Other activities include Yelp SB County hosting a free comedy show on April 22 with voluntary Venmo tips going to STESA, and a Denim Day that takes place both over social media and in-person at STESA's socially-distanced self-defense class on April 28.
The April activities are just a small piece of STESA's stated goal of making Santa Barbara a community free of all forms of sexual violence.
"To eliminate it, we need to prevent it and to prevent it we need to educate and to educate, we need to start early," Scala said. "We would rather give young people the information now so they don't turn into perpetrators and that's how you prevent sexual assault for generations to come."
That's a mission that works for April or anytime at all.
For more information about STESA, visit sbstesa.org.
Donate now!

www.sbstesa.org
Phone: (805) 963-6832 ext 15
Executive Director: Elsa Granados
Mission
Standing Together to End Sexual Assault (STESA) – Formerly the Santa Barbara Rape Crisis Center, empowers people through healing and social change to eliminate all forms of sexual violence. We are committed to transforming lives by providing services and education to meet the needs of our diverse community.
Begin to Build a Relationship
We know you care about where your money goes and how it is used. Connect with this organization's leadership in order to begin to build this important relationship. Your email will be sent directly to this organization's Director of Development and/or Executive Director.
As a sexual assault survivor, I know first-hand the importance of STESA's work. I remember how alone I felt following my assault, and it's something I'd never wish for another survivor to experience. STESA plays an essential role in providing expert crisis and long-term supportive services to survivors in our community. STESA staff members are compassionate and dedicated to healing and empowering survivors, preventing sexual violence, and creating social change through education. By giving my time and financial support to STESA, I know that I am supporting other survivors and transforming lives.
Empower Survivors Through Healing and Social Change
The nightly news is filled with appalling damage caused by sexual assault to the individuals it touches and to our community's well-being. Through the #MeToo movement, we have made important strides in support of survivors of sexual assault. Through this work, we hope that all perpetrators of sexual violence are held accountable for their crimes and that survivors receive the support and justice they deserve.
For this purpose, please consider making a gift. Your donation ensures that the women and men who have experienced the trauma of sexual assault have a place where they can receive the counseling, advocacy, and other support services that are crucial to the healing process.
Your contribution assists us in supporting our community-wide education programs that create awareness and intolerance for sexual violence. With these educational programs, we can create significant social change, which will lead to the elimination of this brutal crime.
Key Supporters
Ethan Bertrand
Margaret Connell
Harriet Eckstein & Alan Irwin
Fund for Santa Barbara
Debra P. Geiger & Eliot Crowley
Devon Geiger Nielsen
Ed Graper
Cheri Gurse & Carol Keator
The Manger Scout Fund
Montecito Bank & Trust
New Day Marketing
Stacey Risotti
Linda Sanders & One On One Fitness
Santa Barbara Foundation
Kate Silsbury
Tomchin Family Foundation
The Towbes Foundation
Nancy Weiss & Marc Chytilo
Wood-Claeyssens Foundation
Yardi Systems Inc.