Save the Planet With Native Plants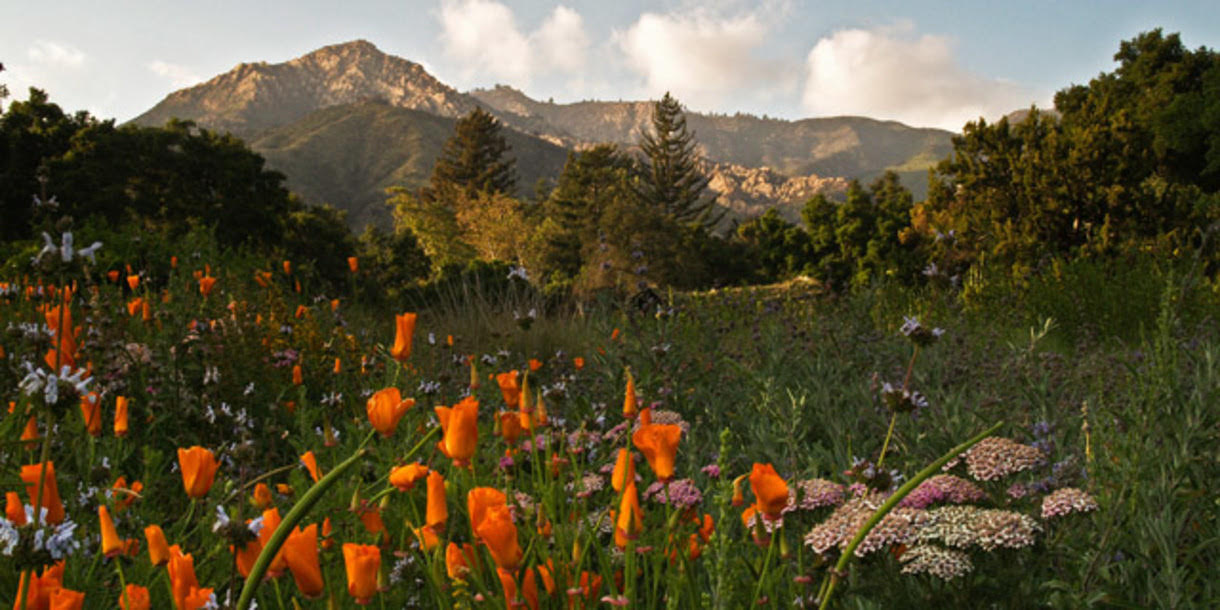 How you can protect and restore mother earth all year round
Over 50 years ago, an oil rig experienced a pressure blowout in the Santa Barbara Channel resulting in up to 3 million gallons of crude oil ripping through the ocean floor — the worst oil spill in the nation's history up to that point. It took years for Santa Barbara's ecosystem to recover, but the Earth Day movement took root. Despite our collective efforts that were started on that first Earth Day, globally we are still in the throes of the sixth major mass extinction in planetary history and the first time this has been caused by humans. Today, our global biodiversity is collapsing, resulting in an accelerated rate of species extinction.
Earth Day, a time to demonstrate support for environmental protection, is an opportunity to bring awareness to the healing power of native plants. The mission of the Santa Barbara Botanic Garden is to conserve and protect native plants and habitats for the health and well being of people and the planet. That mission has become increasingly urgent as more native plant species face extinction, threatening the foundation of all life on the planet.
Saving plants means saving the planet.
In honor of Earth Day, the Garden invites the community to restore the earth by celebrating these critical native plants.
1) Spending time in nature is something we can all do to reconnect with mother earth, and it doesn't go without healing benefits. Nature can help reduce anxiety, promote creativity and contribute to heart health. Research shows rewards begin accruing with as little as 2 hours a week.
"The Garden provides the community with respite filled with redwood trees, wildflower meadows, and Channel Island views," said Dr. Steve Windhager, Executive Director of the Garden. "It's a good opportunity to remind ourselves of the connection between our own health and the health of the planet."
2) The Garden welcomes the community to take a stroll through our native plant displays on Earth Day to observe the unique beauty of California flora and learn more about what simple seeds of change you can implement that make a huge impact on our environment. Discover our chalkboard signs along the trails with tips on what you can do to protect biodiversity or join our Instagram livestream from 11am – 12:30pm for a Garden stroll with our Director of Education and Engagement.
3) Participate in Earth Day virtually by registering to join in Chumash Earth Day on April 20 at 1pm, hosted by the Santa Ynez Chumash Environmental Office. Windhager will be giving a presentation on how you can heal the earth starting in your own home and neighborhood by planting native plants.
4) Learn more about where climate leaders are stepping up to do the critical work needed to combat the climate crisis by joining in the Community Environmental Council's 3-Day Virtual Earth Day Festival. The Garden's Director of Education and Engagement, Scot Pipkin, will be a co-emcee on April 24 from 12pm – 3pm and will share how native plants can be used to lean into climate action at this urgent moment.
5) At the Garden, be sure to visit our nursery, which offers the widest selection of native plants on the central coast. Staffed with knowledgeable and experienced gardeners, there's no better place to learn more about native plants, find the right selection for your garden, create wildlife habitat, or purchase a plant for a friend.
Protect and restore the earth this year through native plants. Native plants enhance the environment instead of threatening it, provide habitat for wildlife, and are a source of nectar for pollinators. Earth Day began in our own backyard, and can continue to grow there as well.
About the Santa Barbara Botanic Garden
The Garden serves the public as more than just a pretty place, but as a model for sustainability. Founded in 1926, the Garden is the first botanic garden focused exclusively on California native plants and currently spans 78 acres with five miles of walking trails, an herbarium, seed bank, research labs, library, and Nursery. The Garden welcomes the public every day from 10 a.m. – 6 p.m. and offers a members-only hour from 9 a.m. – 10 a.m. For more information about the Garden, please visit sbbg.org.
Mission
To conserve California native plants and habitats for the health and well-being of people and the planet.
Begin to Build a Relationship
We know you care about where your money goes and how it is used. Connect with this organization's leadership in order to begin to build this important relationship. Your email will be sent directly to this organization's Director of Development and/or Executive Director.
Leading the Way
"As a former trustee, long-time docent, and legacy society member, I see the Garden as an essential leader in not only the conservation of California's wild, but as a pillar in the health and well-being of our community. Families have long trusted the Garden as a place for outdoor exploration and learning, and for forming an important connection to our natural world. I give to the Garden as an investment in our collective future."
ProtectingCalifornia's Biodiversity
A gift to the Garden protects the biodiversity and resilience of the California ecosystems on which we all rely. As a center for world-class scientific research, the Garden is a leader in the conservation of native plants and habitats of the California Floristic Province with an impact stretching from Baja California to Monterey and the Sierras with significant work on the Central Coast and Channel Islands. As climate change increasingly threatens our landscapes, the Garden urgently needs your help to safeguard California's native plants and ecosystems.
Give a gift today at sbbg.org/give!
Board of Trustees
Tom Craveiro, Chair
Valerie Hoffman, Vice Chair
Kathy Scroggs,Treasurer
John Parke, Secretary
Samantha Davis
Mark Funk
John Gabbert
Gil Garcia
Elaine Gibson
Sarah Berkus Gower
William Murdoch
Gerry Rubin
Warren Schultheis
Jesse Smith