MOXI Reopens Thursday, April 29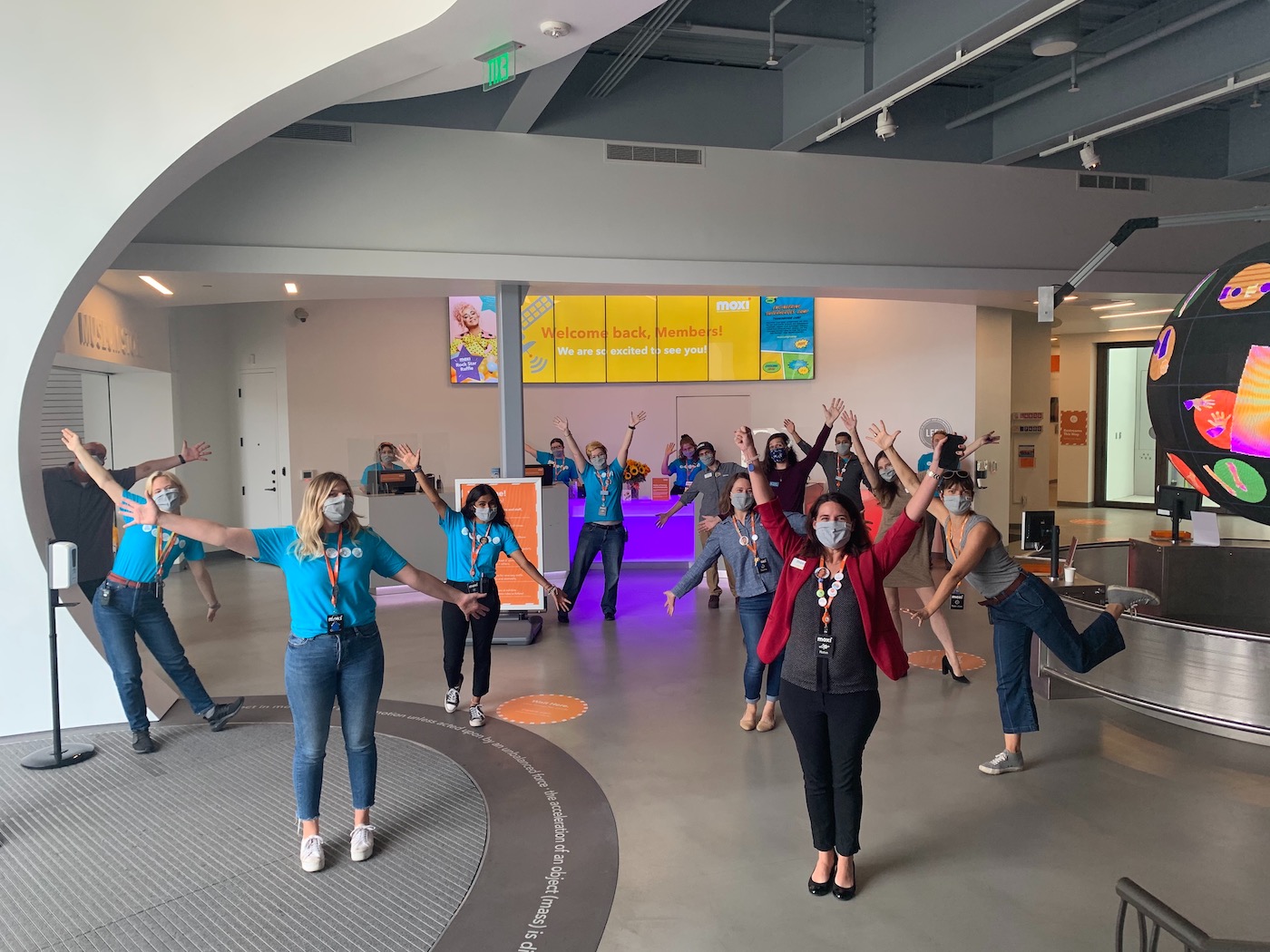 MOXI, The Wolf Museum of Exploration + Innovation is excited to welcome back guests to Santa Barbara's home for interactive exploration of science and creativity. MOXI will reopen on Thursday, April 29 following more than a year-long closure due to the coronavirus pandemic. Following CDC, state and local guidance, MOXI has implemented a variety of new procedures to once again provide a safe, engaging and fun experience where curious minds of all ages can explore, discover and play.
What to know about planning a visit to MOXI:
– New temporary hours are Thursday through Sunday, 10 a.m. to 5 p.m.
– All visitors, including members, are encouraged to make a reservation or advance ticket purchase (free for Members).
– All guests ages 2 and up must wear a face covering at all times (no gaiters or face shields without masks allowed).
– Guests must be in groups of no more than nine, with only people from their household, in accordance with current state and CDC guidance.
– Guests and staff will maintain physical distance of at least six feet between one another.
– Guests will be asked to follow new guidance at select exhibits, and one-way pathways in select areas.
– Guests will be offered a stylus pen at entry to be used on push buttons and touchscreens to cut down on touch points throughout the museum, while still allowing for engagement.
Health and safety procedures implemented by MOXI include:
– Staff health screening before work shifts, with only necessary staff onsite.
– Limitation of number of visitors – starting at 25% normal capacity.
– Enhancement of MOXI's already robust cleaning procedures including regular sanitizing of high-touch points such as door handles and railings, and one-time usage of loose parts at select exhibits.
– Sneeze-guard Plexiglas barriers at front desk check-in points and eight hand sanitizing stations have been installed.
– Indoor air quality maintained via the building's high-performance HVAC system with MERV-13 filters and fans are being run continuously when the building is occupied. Keeping windows and doors open as weather and outdoor air quality allows to further increase air flow.
– Closure of select exhibits and experiences which do not allow for physical distancing or have a high number of hands-on elements.
While some procedures have changed and some exhibits are temporarily closed, guests will be excited to discover that many of the museum's most popular exhibits, including Build It. Test It. Race It., Light Patterns and Whitewater all remain open.
Guests will also be able to view "CurioCity," a miniature cardboard city, in the Interactive Media Theater. The display is the result of a community-wide collaboration that had members of the public creating and dropping off their own uniquely engineered and decorated cardboard structures at the museum last summer.
For those who are unable to or not yet comfortable with visiting MOXI, opportunities for "at-home" learning and experiences will continue to be available via the museum's website and Facebook and Instagram pages. The latest offerings include printable activity guides for all ages, covering a variety of topics from motion to sound and light, engineering and making. The museum is also hosting a virtual spring luncheon fundraiser on May 18 and has plans to host a modified version of its MOXI@Night gala onsite at the museum on October 1 and 2.
Tickets, Member reservations and information about all museum programs and events are available on MOXI's website, moxi.org.
About MOXI
MOXI, The Wolf Museum of Exploration + Innovation® is dedicated to igniting learning through interactive experiences in science and creativity. Located in the heart of Santa Barbara's redeveloped tourist area at 125 State Street, the museum is LEED-certified Gold and serves guests of all ages through its hands-on exhibits and education programs. MOXI is a 501(c)(3) nonprofit organization generously supported by its daily guests, members, facility rentals and donations from individuals, foundations and corporate partners. For more information, visit moxi.org.
Mission
To ignite learning through interactive experiences in science + creativity.
Begin to Build a Relationship
We know you care about where your money goes and how it is used. Connect with this organization's leadership in order to begin to build this important relationship. Your email will be sent directly to this organization's Director of Development and/or Executive Director.
An Inspired Future
"Our mission for MOXI from the beginning was to emphasize STEM learning for children of all ages, in a fun, enriching, and interactive environment. I am delighted at what we've accomplished in such a short time. STEM education is the future of our country, and our programs and staff give children and young adults a chance to ask questions, discover and explore the joys of science, technology, engineering and mathematics. It is my fondest hope that MOXI will inspire future generations of youngsters to pursue STEM-related studies and careers."
Catalyst Club
MOXI is a museum with a long-term plan for community impact. To get there, like any business, they need sustainable, predictable revenue.
To support this, MOXI recently launched the Catalyst Club, wherein donors commit to three years of giving at least $1,000 per year.
"Be a catalyst for change in your community," says CEO Robin Gose. "Be a catalyst for changing the trajectory of a child's life."
Board of Directors
Scott Hadley, President
Chris Kroes, Vice President, General Counsel
Susan McMillan, Secretary
Justin Anderson, Treasurer
Jill Levinson, Immediate Past President
Jill Chase, At Large
Alixe Mattingly, At Large
Kelly Almeroth
Kristen Blabey
Josh Blumer
Marcia Cohen
Naomi Dewey
Tyler Duncan
Julie Farrell
Jennifer Hecht
Richard Hutton
Leanne Schlinger
Fiona Stone
Andrew Winchester
Noelle Wolf