SB Education Foundation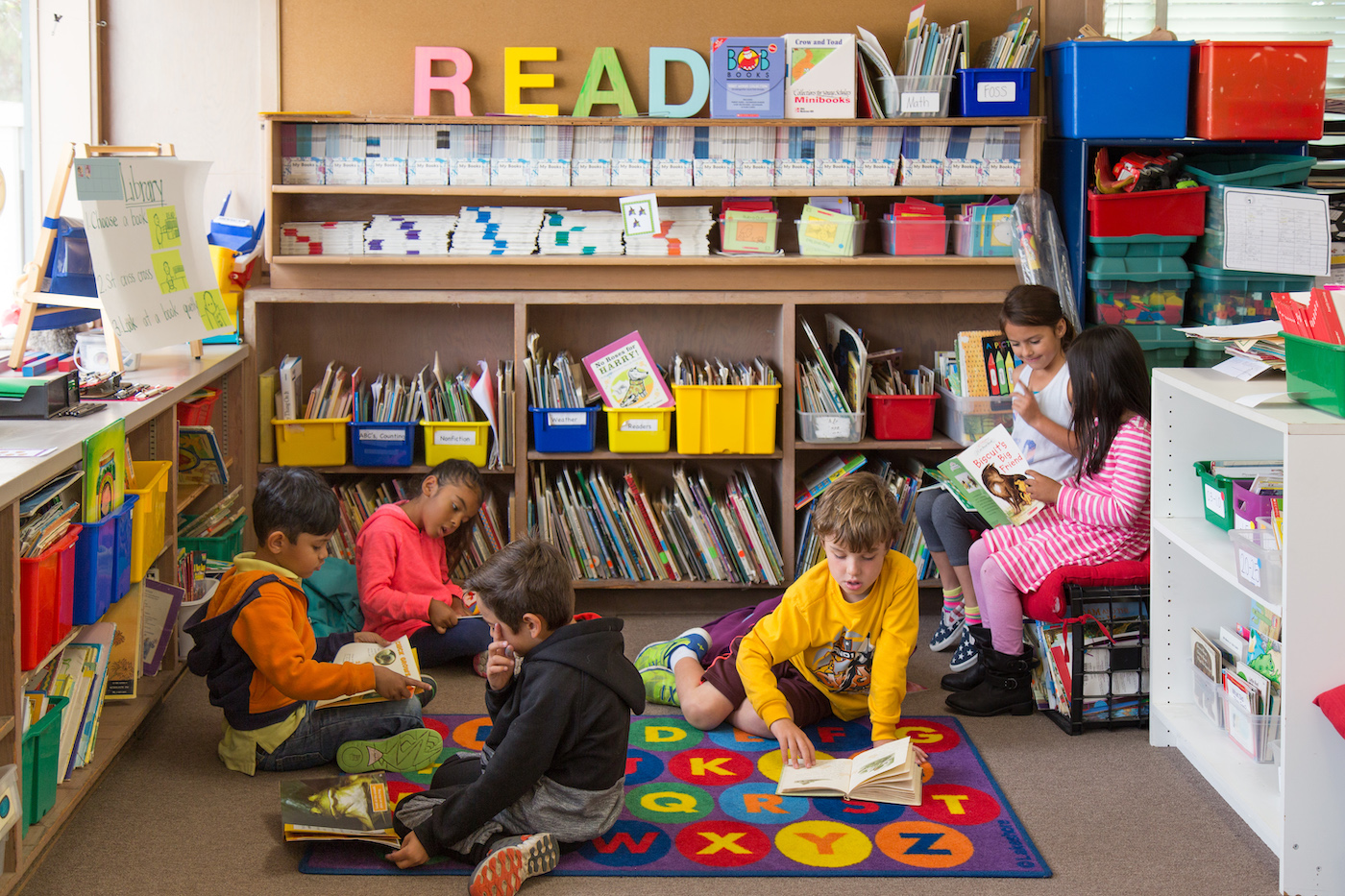 Santa Barbara Education Foundation Executive Director Margie Yahyavi was reluctant to have her office visible during our Zoom call last week, even going so far as to employ a virtual background of a rustic cabin complete with a woodburning stove in place of her actual surroundings.
"Oh my God, this office is insane," Yahyavi said. "Instruments galore, wine, jackets, and silent auction donations. It's kind of embarrassing now that I look at it."
All true.
But what that clutter represents is what SBEF is all about: action over administration, getting things done toward the mission of "providing and supporting programs that enrich the academic, artistic, and personal development of all students in the Santa Barbara Unified School District." Even if it means a bit of disarray in their downtown HQ from time to time.
Especially during the pandemic when their one-room "office suite" has turned into temporary storage for donated items and much more, as a growing list of needs for students, such as internet access – which we wrote about in our Giving List book that came out last fall – food and other various requests that came in as COVID caused continued havoc.
Late this winter, that meant finding jackets to keep underprivileged students warm as the new safety protocols for resuming in-person learning required open doors and/or windows, which created cold and drafty classroom environments. Handling that problem on the quick is exemplary of one of the ways that SBEC works.
"The kids were actually shivering in their classrooms," Yahyavi said. "The principals asked us if we could get the jackets for these students who didn't have warm enough clothes. There was really a sense of urgency, because it was cold out and they needed them right away. We were thinking, how are we going to deal with this when there's such a big need and so many kids? What we landed on was to go school by school and have the principals let us know how many jackets that they needed, the sizes and all."
Then SBEF jumped into action, with development and marketing-communications director Melissa Davenport posting on social media, issuing press releases, getting coverage on KEYT and sending out email requests to secure donations of funds to cover the kids who were cold. Harding came first, then Adams and Cleveland, as the nonprofit methodically undertook what Yahyavi called an overwhelming kind of task but one that was urgent.
"We did a really good job," she said. "I have to pat ourselves on the back because it all happened pretty quickly, barely more than a month and kaboom, we've done every school except one, even the preschools. But we still need some larger sizes, so we're about 10 grand away from being done."
Doing a good job isn't at all surprising. A sampling of SBEF's signature programs include its wildly successful Keep The Beat program that has raised funds to support music education in local schools since 2003 resulting in all 5,000-plus elementary school students being able to learn to play an instrument during their school day. (It's leftovers from the latest instrument drive in February that take up quite a bit of space in Yahyavi's office.) Other popular programs include summertime Band Camp, Drumline Camp, String Camp and, in the non-musical department, summer STEAM Camp for junior high students and annual teacher grants that support the purchase of project-based supplies and tools as well as encourage the development of creative and innovative teaching in the school district. SBEF also contributes to a number of academic – which makes up more than half of the nonprofit's budget – as well as behavioral, emotional, parent, and peer support programs that are essential to learning and frequently designed to address disparity and inequities in the district.
Now, as to the boxes of wine and other assorted items jamming up Yahyavi's workspace? Well, that's where administration actually comes in.
The Santa Barbara Education Foundation will host its Hope Awards on Thursday, April 29, and the bottles of vino and other gifts are prizes featured in the virtual events that include a mystery wine pull and a silent auction as well as performances by the Dos Pueblos High School Jazz Band. The online gathering will also honor Craig Price and Nick Rail for their longtime support of local SBUSD students.
Price is well known for his work in providing counsel in education law and has served on SBEF's Board of Directors for nine years, including two as president where he played an instrumental role in growing the organization. Rail, the founder of the Summer Band Camp, is also the founder of Nick Rail Music, a network of stores serving as the premier school music dealer for Southern California. The company has been a long-time partner with SBEF to provide new instruments valued in excess of $100,000 to Santa Barbara public school music programs.
With the awards and the entertainment, the Hope Awards' return promises to be a celebration for the community, but more importantly the event's goal is to raise critical funds for the Santa Barbara Education Foundation to continue making a positive impact on public school student outcomes. That means money for the programs, but also to run the organization. Paying the rent and utilities. Furnishing the office. Renumerating the employees, of which, amazingly, there are only four, just one full-time.
"We've been operating on a shoestring budget forever," Yahyavi said. "When people find out that there's so few of us doing what we do, they're pretty amazed, especially when you look at collegiate staff development departments which are huge."
It's not glamorous, but it's necessary.
Successful fundraising might even allow for continued expansion, which the ED would welcome enthusiastically, pointing out the difference that SBEF's new Major Gifts Officer Eryn Shugart has made in less than a year.
"She just proves to me that the more people that we could hire, the more effective we could be," Yahyavi said.
But that does take more revenue in the form of donations, but even when it's used for administrative costs, the impact is enormous, said Davenport.
"Supporting our organization directly goes into the impact that we can make with students today, and that tremendously affects their future," she said. "It truly changes kids' lives."
So tune into the Hope Awards next Thursday afternoon at 4 pm for a quick visit with SBIFF. (RSVP at https://sbefoundation.org/hope-awards.) Admission is free. Donations are voluntary. And you won't have to view Yahyavi's office. We promise. 
For more information about Santa Barbara Education Foundation, visit sbefoundation.org.
Donate now!
Mission
Santa Barbara Education Foundation (SBEF) provides and supports programs that enrich the academic, artistic, and personal development of all students in the Santa Barbara Unified School District.
Begin to Build a Relationship
We know you care about where your money goes and how it is used. Connect with this organization's leadership in order to begin to build this important relationship. Your email will be sent directly to this organization's director of development and/or Executive Director.
I have always been impressed with Keep the Beat as it fosters a love of music in children that can last a lifetime. I learned to love music when I was young and wanted to help our young folks experience that same love in their formative years.
Helping Teachers Help Students
The agenda for the 2022/2023 school year is to close the gap and achieve more funding for Teacher Grants while focusing on literacy development and mental health. Despite the $223,000 gap that the Santa Barbara Education Foundation is currently experiencing, their diligence and thoughtfulness bear every single student in mind.
You can help countless students like Bella find their voice.
Key Supporters
Arnesen Family Foundation
Timothy and Louise Casey
Andrew and Mary Jane Cooper
Daniel and Mandy Hochman
Elaine F. Stepanek Foundation
James S. Bower Foundation
John L. Carleton Foundation
Senator Monique Limón
J.M. Lind
Superintendent Dr. Hilda Maldonado
Sara Miller McCune
Mithun Family Foundation
Mosher Foundation
Santa Barbara Foundation
Nick Rail
April Thede
Towbes Foundation
Walter J. & Holly O.
Thomson Foundation
Wood-Claeyssens Foundation
Zegar Family Foundation