Just Communities' Second Annual Social Equity Summit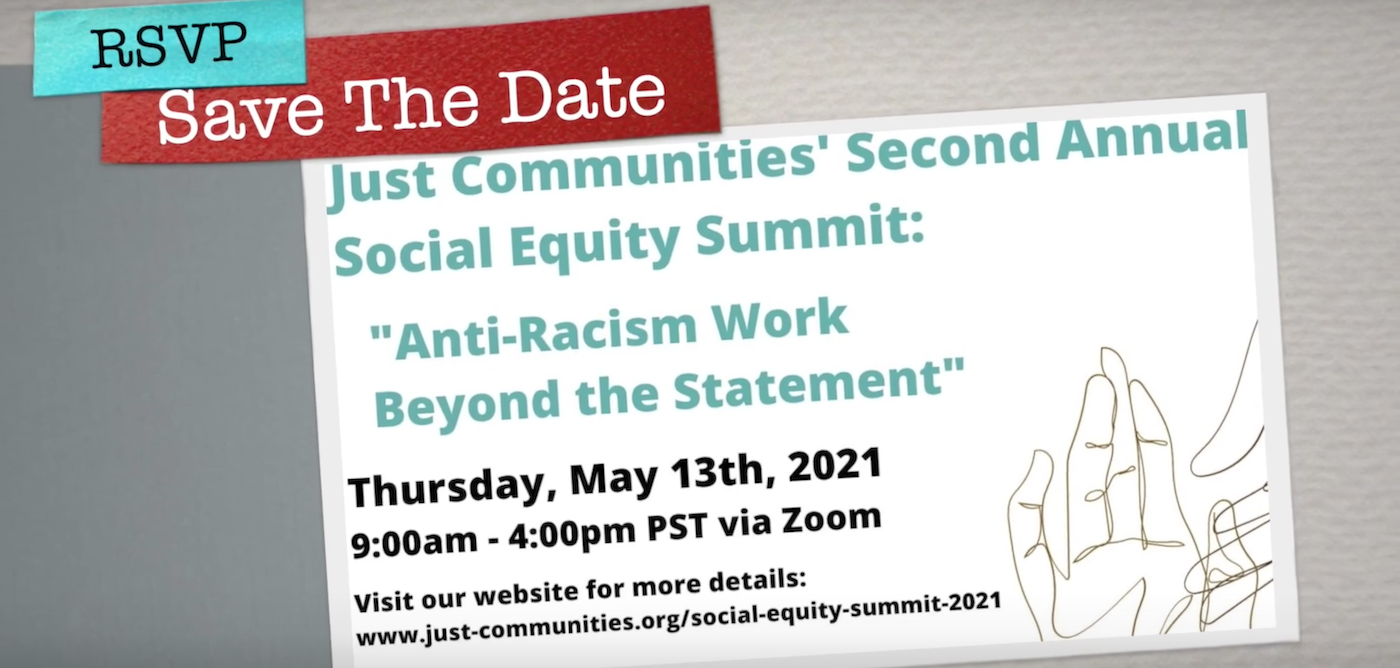 Just Communities' is hosting its second annual Social Equity Summit: "Anti-Racism Work Beyond the Statement" virtually on Thursday, May 13th.
For the past 20 years, Just Communities has leveraged the work of its committed staff, dedicated board and volunteers to empower others to incorporate social and language justice into their work, their interactions, and daily lives.
"We readily acknowledge that our work alone doesn't create social change. Rather, we equip students, teachers, school administrators, parents, businesspeople and community leaders with attitude-shifting information, tools, skills and establish support networks so they can turn their personal transformation into lasting social change. In short, we open doors to new awareness, sensitivity, advocacy and action so that others can not only walk through those doors themselves, but hold them open for others in their own communities." – Fabiola Gonzalez-Gutierrez, Just Communities Development and Communications Manager
Just Communities' second annual Social Equity Summit will build upon this work by bringing together members of the Central Coast community from all sectors to learn and discuss how to move beyond condemning racism with public statements and social media posts to addressing everyday inequities and systemic racism in their own organizations and communities.
The keynote speaker, Gabrielle Felder (she/they), also known as Ifademilade Omotola Oosafunmilayo, is the sole educator, freelance graphic designer, social media artist behind the platform GFx Studios (@gfx_prints on Instagram). Originally from Orange County, California, Gabrielle completed her undergraduate education at University of California, Santa Barbara. She graduated in 2018 with honors, receiving two degrees: Ecology and Evolution, B.S. and Biological Anthropology, B.A. In June 2020, Gabrielle graduated from University of Washington School of Public Health with a Master's in Environmental and Occupational Health. Gabrielle has forged her own path forward by creating a personal and professional career focused on environmental justice, critical race theory, and education.
Gabrielle is a culture critic, educator, and digital activist focused on dismantling white supremacy to move toward Black liberation and indigenous sovereignty. Join Gabrielle and Just Communities for "Moving from Performative Action to Material Change" where she will discuss the 2020 response to George Floyd's murder and how to move from short lived engagement to material change in the lives of Black people.
For a complete list of the workshops and to register, please visit: www.just-communities.org/social-equity-summit-2021
Tickets are $50, with available scholarships, please contact Melissa Patrino at (805) 966-2063 for more information.
Mission
Just Communities advances justice by building leadership, fostering change, and dismantling all forms of prejudice, discrimination, and oppression.
Begin to Build a Relationship
We know you care about where your money goes and how it is used. Connect with this organization's leadership in order to begin to build this important relationship. Your email will be sent directly to this organization's director of development and/or Executive Director.
Peaceful and Just Solutions
"Soon after moving to Santa Barbara I met the staff of Just Communities and learned about their work to address conflicts and to create opportunities for people of diverse cultural, racial and economic groups to work together. I attended sessions where police, students, teachers and parents expressed their gratitude for the skills and understandings they gained as a result of Just Communities' trainings and workshops. It is a privilege to endorse and support this organization that works year-round to promote peaceful and just resolutions to difficult issues in our county."

Board of Directors
Jack Rivas, Co-Chair
Walid Afifi, Co-Chair
Viviana Marsano, Secretary
Marlene Cohen
Abby Hogan
Alexandra Brown
Jean Alexander
Stooky Hernandez