STESA Hosts 12th Annual Chocolate de Vine Fundraiser Virtually Featuring Founder of 'me too', Tarana Burke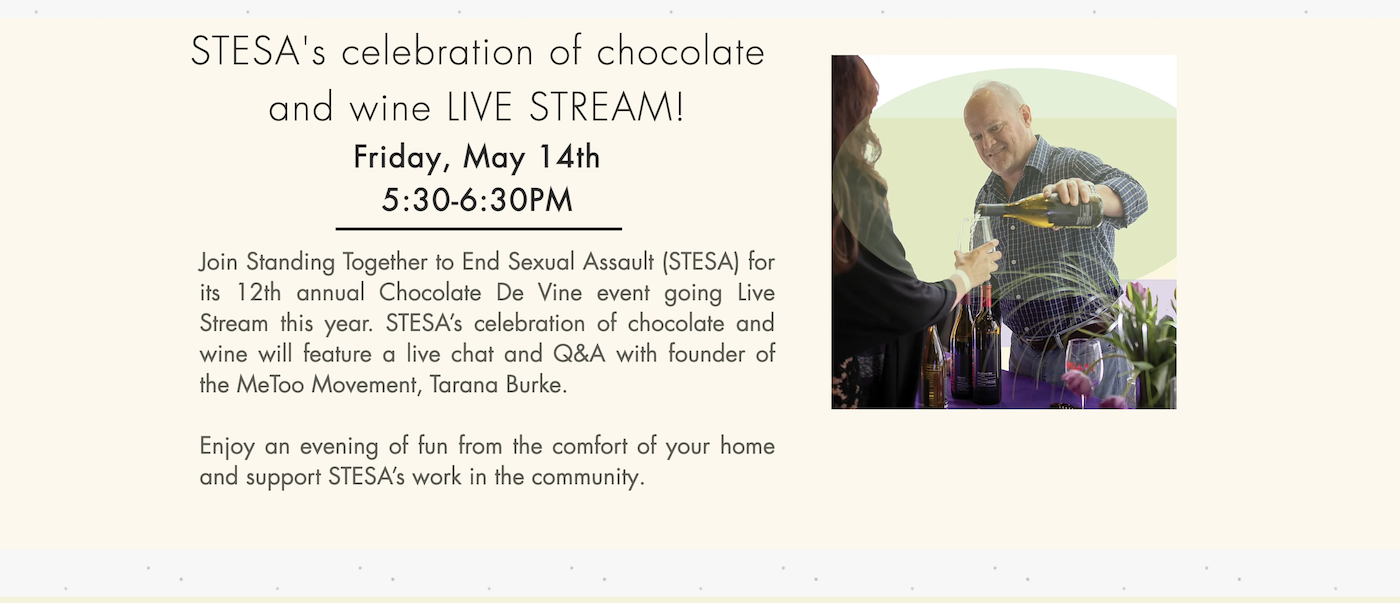 Each year, Standing Together to End Sexual Assault (STESA) hosts a fundraiser celebrating two luxurious consumables: chocolate and wine. This year's Chocolate de Vine fundraiser will take place over live-stream on May 14, 2021 from 5:30-6:30 p.m. Donations and sponsorships from this event contribute to STESA's work to provide services to survivors of sexual assault and their loved ones, and prevent sexual assault from occurring in the community. This year's celebration of wine and chocolate features an exciting opportunity drawing, tiered ticketing and sponsorship options, and a Fireside Chat and Q&A with activist and founder of the 'me too' movement, Tarana Burke.
Tarana Burke has created, led and participated in various campaigns focused on interrupting sexual violence and other systemic inequalities disproportionately impacting marginalized people, particularly Black women and girls, as well as increasing access to resources and support for impacted communities. Guests have an opportunity to submit questions for Tarana on the ticket purchase form.
This year's opportunity drawing prize is a portrait couture makeover experience with local, award-winning photographer, Lucia Kiel. The winner of the drawing and a guest of their choosing will enjoy professional hair & makeup artistry, style & concept consultation, and a fully guided magazine style photoshoot, plus a $1,000 image credit, bringing the total prize value to $1,800.
Tickets for Chocolate de Vine can be purchased on the event website, linked here. The "M&Ms" level, which includes an access link to the event, is $25. The "White Chocolate" level, which includes an access link to the event and premium chocolate, is $100. Additional sponsorship levels, which include different amounts of premium chocolate, wine, and commemorative glasses, range from $250-$5000.
Standing Together to End Sexual Assault (STESA) provides a 24-hour bilingual hotline (805-564-3696), confidential counseling and support services to survivors of sexual assault and their loved ones. Through education and awareness, STESA is committed to change the cultural norms that enable sexual assault to exist. Our service area extends from Carpinteria to the Santa Ynez Valley.
Donate now!

www.sbstesa.org
Phone: (805) 963-6832 ext 15
Executive Director: Elsa Granados
Mission
Standing Together to End Sexual Assault (STESA) – Formerly the Santa Barbara Rape Crisis Center, empowers people through healing and social change to eliminate all forms of sexual violence. We are committed to transforming lives by providing services and education to meet the needs of our diverse community.
Begin to Build a Relationship
We know you care about where your money goes and how it is used. Connect with this organization's leadership in order to begin to build this important relationship. Your email will be sent directly to this organization's Director of Development and/or Executive Director.
As a sexual assault survivor, I know first-hand the importance of STESA's work. I remember how alone I felt following my assault, and it's something I'd never wish for another survivor to experience. STESA plays an essential role in providing expert crisis and long-term supportive services to survivors in our community. STESA staff members are compassionate and dedicated to healing and empowering survivors, preventing sexual violence, and creating social change through education. By giving my time and financial support to STESA, I know that I am supporting other survivors and transforming lives.
Empower Survivors Through Healing and Social Change
The nightly news is filled with appalling damage caused by sexual assault to the individuals it touches and to our community's well-being. Through the #MeToo movement, we have made important strides in support of survivors of sexual assault. Through this work, we hope that all perpetrators of sexual violence are held accountable for their crimes and that survivors receive the support and justice they deserve.
For this purpose, please consider making a gift. Your donation ensures that the women and men who have experienced the trauma of sexual assault have a place where they can receive the counseling, advocacy, and other support services that are crucial to the healing process.
Your contribution assists us in supporting our community-wide education programs that create awareness and intolerance for sexual violence. With these educational programs, we can create significant social change, which will lead to the elimination of this brutal crime.
Key Supporters
Ethan Bertrand
Margaret Connell
Harriet Eckstein & Alan Irwin
Fund for Santa Barbara
Debra P. Geiger & Eliot Crowley
Devon Geiger Nielsen
Ed Graper
Cheri Gurse & Carol Keator
The Manger Scout Fund
Montecito Bank & Trust
New Day Marketing
Stacey Risotti
Linda Sanders & One On One Fitness
Santa Barbara Foundation
Kate Silsbury
Tomchin Family Foundation
The Towbes Foundation
Nancy Weiss & Marc Chytilo
Wood-Claeyssens Foundation
Yardi Systems Inc.