Live Fuel Moisture Findings at the Santa Barbara Botanic Garden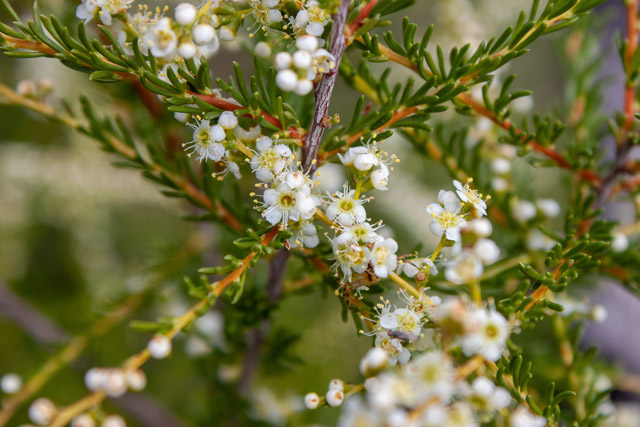 The Garden is tracking drier than average conditions as we enter high fire season
The Santa Barbara County Fire Department declared May 3 as the start date for the 2021 high fire season for all areas of the county. This year's severely lower than normal rainfall has resulted in drier fuels, which means the risk of fire ignition and spread have already reached high levels. 
The Santa Barbara Botanic Garden has tracked local Live Fuel Moisture conditions since 2013. Live Fuel Moisture, or LFM, is the amount of water in a plant's tissues, by weight, compared to the weight of plant tissues after they are dried. Plants have high LFM in the winter and early spring, when water is plentiful and the weather is cooler. In summer and fall, LFM drops as plants transpire water and soils dry out. The cycle repeats itself annually, with plants increasing in LFM (and decreasing in flammability) following the first fall rains.
The Garden has collaborated with the University of California Cooperative Extension since 2013 to measure LFM in vegetation at several sites, including along Painted Cave Road, at the top of Tunnel Road, and at St. Mary's Seminary on Las Canoas Road. Our team collects from two common chaparral species: chamise (Adenostoma fasciculatum) and bigpod ceanothus (Ceanothus megacarpus).
"Thankfully, chamise is pretty tough and though it has been drier than usual, there has been new growth on our local plants," said Dr. Josie Lesage, the Garden's Applied Ecologist. "However, the lack of rain this year means we should be extra careful about fire ignition as the LFM continues to drop this season"
The Garden's weather station shows that we have received between 45-50 percent of the normal precipitation in 2021. The Garden's next LFM data will be published online by May 10, and may show the first noticeable drop for this season.
With the threat of hotter, drier conditions that prime vegetation to burn, we all must be extra careful about potential fire-causing activities to avoid a devastating wildfire season, as human activities are a common ignition source. Carefully dispose of smoking materials, camp responsibly and never leave a campfire unattended, and incorporate fire-resistant plants into your landscape like California-fuchsia. Read through the Garden's water wise plant guide to learn more about water wise landscaping.
Founded in 1926, the garden is the first botanic garden focused exclusively on California native plants and currently spans 78 acres with five miles of walking trails, an herbarium, seed bank, research labs, library, and nursery. The Garden is open to the public daily 10 a.m.-6 p.m. and offers a members-only hour from 9-10 a.m.
For more information about the garden, visit sbbg.org.
Mission
To conserve California native plants and habitats for the health and well-being of people and the planet.
Begin to Build a Relationship
We know you care about where your money goes and how it is used. Connect with this organization's leadership in order to begin to build this important relationship. Your email will be sent directly to this organization's Director of Development and/or Executive Director.
Leading the Way
"As a former trustee, long-time docent, and legacy society member, I see the Garden as an essential leader in not only the conservation of California's wild, but as a pillar in the health and well-being of our community. Families have long trusted the Garden as a place for outdoor exploration and learning, and for forming an important connection to our natural world. I give to the Garden as an investment in our collective future."
ProtectingCalifornia's Biodiversity
A gift to the Garden protects the biodiversity and resilience of the California ecosystems on which we all rely. As a center for world-class scientific research, the Garden is a leader in the conservation of native plants and habitats of the California Floristic Province with an impact stretching from Baja California to Monterey and the Sierras with significant work on the Central Coast and Channel Islands. As climate change increasingly threatens our landscapes, the Garden urgently needs your help to safeguard California's native plants and ecosystems.
Give a gift today at sbbg.org/give!
Board of Trustees
Tom Craveiro, Chair
Valerie Hoffman, Vice Chair
Kathy Scroggs,Treasurer
John Parke, Secretary
Samantha Davis
Mark Funk
John Gabbert
Gil Garcia
Elaine Gibson
Sarah Berkus Gower
William Murdoch
Gerry Rubin
Warren Schultheis
Jesse Smith