Showing its MOXI: Innovative Spirit Helps Organization Continue to Support Children's Quest for Knowledge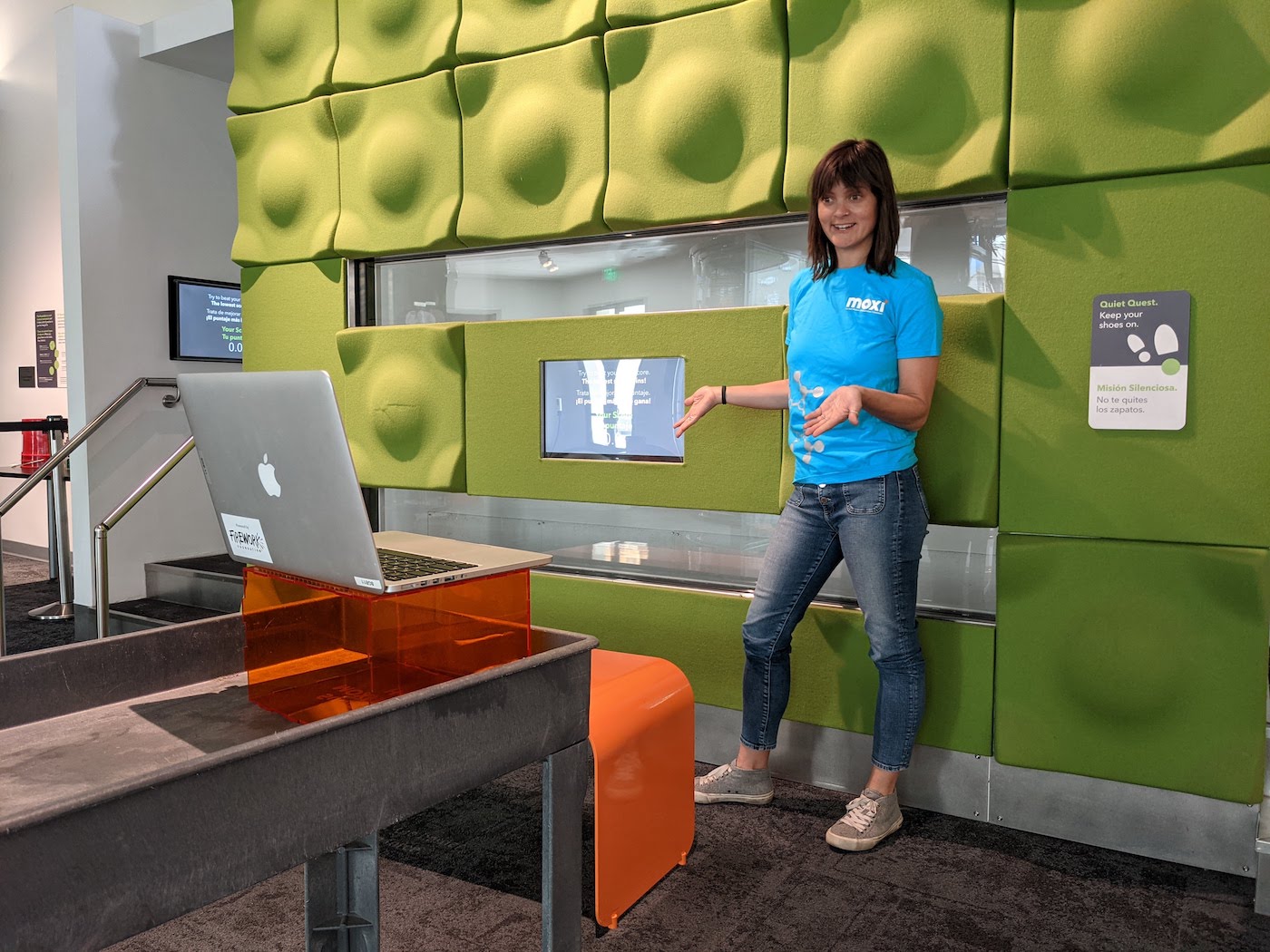 Every organization had to pivot to produce programs during the pandemic. But for the MOXI museum, innovation comes with the territory. Indeed, that's what the "I" in the nonprofit's name (Wolf Museum of Exploration + Innovation) stands for. 
"What the pandemic forced us to do is to take what we do best — which is hands-on, interactive science learning — and translate it into a virtual environment," explained Robin Gose, MOXI's executive director. "We were very passionate about making sure we did it, because we were watching as kids were Zooming in from home, and realizing that they, especially elementary school kids, need that human interaction and hands-on learning. We had to find a way to continue to offer things that worked in the remote learning environment so that their minds continue to stay engaged with design thinking and creative problem solving."
Sounds simple enough, and not at all unlike what everybody else was trying to do to cope with the COVID crisis. But how exactly does one go about duplicating the kind of hands-on experience MOXI is famous for when you're not allowed to get within six feet of one another?
Hello, innovation.
And welcome Virtual Design Labs, a creative concept that calls for a MOXI staffer to Zoom in live with the teacher and the students to creatively present some type of a challenge related to a museum exhibit.
"It's interactive," Gose explained. "The kids get to see the exhibit; they get to talk with the staffer, and we make it really fun."
For Quiet Quest, the project is called The Sneakiest Sneaker where the kids — part of a class, homeschool group, or learning pod — come up with a design to invent something where they can walk as quietly as possible. There's even a sound meter to measure success.
"The students can take any shoe, a sneaker, a flip flop or just something they make out of cardboard and use all different kinds of materials to design it to be quiet," Gose said. "It's a very open-ended exploration. Will it be quiet if you wrap toilet paper around it? Or if you glue on cotton balls? Or wrap it in a kitchen towel?
"The kids get really excited for using materials that they have at home, and it becomes a really fun challenge. It's all about getting the kids to be excited about trying to solve a problem and being creative with what they're building without having to use any special tools or materials."
The Case of the Missing Tracks, which connects to the popular Roll It exhibit — that's the one with tracks supported by moveable pegs attached to a wall that kept this correspondent occupied for nearly an hour during a pre-pandemic visit — asks the students to come up with a solution to keep the ball rolling even though the tracks and pegs are gone. With guidance from their teacher and staffers, the kids build and test prototype "ball coasters" or chutes and ramps.
"The students can use an old paper towel tube, a magazine, or whatever they find that might work," said Gose. "Their homes become a toolbox, with the challenge to design ramps that will take the place of the 'stolen' tracks. It's fun and it's playful and it gets the kids engaged that also offers a direct connection to what the teachers are teaching."
While Virtual Design Labs have a nominal fee, the museum has also been offering free MOXI at Home Activity Guides that are also all connected to motion and related to exhibits at MOXI, including the McMillan + Kenny Families Fantastic Forces Courtyard and the Muzzy Family Speed Track. Among the downloadable PDFs utilizing items that you can easily find at your house is one showing how to build a guitar out of cardboard and string, which proved popular among both teachers and parents. A homemade water wheel evokes the whitewater exhibit on MOXI's rooftop.
"You're building some type of a contraption with very easily accessible materials and there's no one right way to create the thing," said Gose. "It's about getting kids off of screens and using their hands and heads to keep creativity alive."
It's this latter part that, while already part of MOXI's mission to ignite learning through interactive experiences in science and creativity, has taken on added importance during the pandemic, as the museum's aim is to steer kids toward the skills of STEM — science, technology, engineering, and math — that make up the bulk of what will be necessary for the jobs of the future, which seems a lot closer after COVID.
"We wanted the students to hopefully maintain their academic rigor, but also connect with the real educational philosophy of MOXI, which is focusing on the 21st century skills — critical thinking, creativity, communication, and collaboration," Gose explained. "We do that through the theme of STEM, but it's really those four core competencies that can transfer to any profession and any problem. When they're faced with a challenge such as housing insecurity in a community, or another pandemic, a rise in the sea level or other results of climate change, having those core competencies and those essential skills, they're equipped to innovate."
The Power of MOXI
Inspired?
Then perhaps you'd like to take advantage of a great opportunity to learn mid-month via "The Power of MOXI," the museum's annual spring luncheon that will take place virtually. The one-hour event starting at noon on May 18, will provide information for both current supporters and potential new friends to learn more about MOXI's impactful learning experiences. It will also delve into how the museum creates equitable access to its programs, ensuring that all children are empowered to pursue their interests in STEM and perhaps become the future problem solvers and innovators the world needs more than ever.
And, because it's MOXI — with an I for innovation — the event won't just be one talking head the whole time, instead featuring live presentations with staffers, some prerecorded segments and a few videos, all designed to keep the community interested in the museum that just reopened last week.
"People will see how important this type of learning is for the teachers and the students, because we all want a future where we are happy and helping, and our planet is happy and healthy," Gose said.
The event will also feature the first annual Moxie Award to an individual or organization in the community in gratitude for extraordinary support of the museum's mission, said Martha Swanson, MOXI's director of marketing and communications.
"I can't tell you who the winner is before that day, but it's someone who without whom MOXI probably wouldn't exist. So, we're excited to honor and recognize a special person, and we're excited that we're going to start a new tradition that we hope to carry on in future years."
There is no cost to attend the luncheon, though the first 100 guests to register will receive a delicious free meal delivered to your home or workplace.
Everyone will have the opportunity to support MOXI's Education Fund, raising critical support for the museum's STEM education and accessibility programs. Those wanting to have a bigger impact can contact amanda.allen@moxi.org or call (805) 770-5003 to inquire about sponsorship or to make a pre- or post-luncheon gift to the Education Fund. Community volunteers are also needed to deliver the free meals; visit www.moxi.org/springluncheon for details.
For other ways of supporting MOXI, including the Innovator Circles of Giving, its annual giving program, corporate partners and special projects, visit www.moxi.org.
Mission
To ignite learning through interactive experiences in science + creativity.
Begin to Build a Relationship
We know you care about where your money goes and how it is used. Connect with this organization's leadership in order to begin to build this important relationship. Your email will be sent directly to this organization's Director of Development and/or Executive Director.
An Inspired Future
"Our mission for MOXI from the beginning was to emphasize STEM learning for children of all ages, in a fun, enriching, and interactive environment. I am delighted at what we've accomplished in such a short time. STEM education is the future of our country, and our programs and staff give children and young adults a chance to ask questions, discover and explore the joys of science, technology, engineering and mathematics. It is my fondest hope that MOXI will inspire future generations of youngsters to pursue STEM-related studies and careers."
Catalyst Club
MOXI is a museum with a long-term plan for community impact. To get there, like any business, they need sustainable, predictable revenue.
To support this, MOXI recently launched the Catalyst Club, wherein donors commit to three years of giving at least $1,000 per year.
"Be a catalyst for change in your community," says CEO Robin Gose. "Be a catalyst for changing the trajectory of a child's life."
Board of Directors
Scott Hadley, President
Chris Kroes, Vice President, General Counsel
Susan McMillan, Secretary
Justin Anderson, Treasurer
Jill Levinson, Immediate Past President
Jill Chase, At Large
Alixe Mattingly, At Large
Kelly Almeroth
Kristen Blabey
Josh Blumer
Marcia Cohen
Naomi Dewey
Tyler Duncan
Julie Farrell
Jennifer Hecht
Richard Hutton
Leanne Schlinger
Fiona Stone
Andrew Winchester
Noelle Wolf