'We See a Lot of Hope Every Day': SB Wildlife Care Network Growing as Need Expands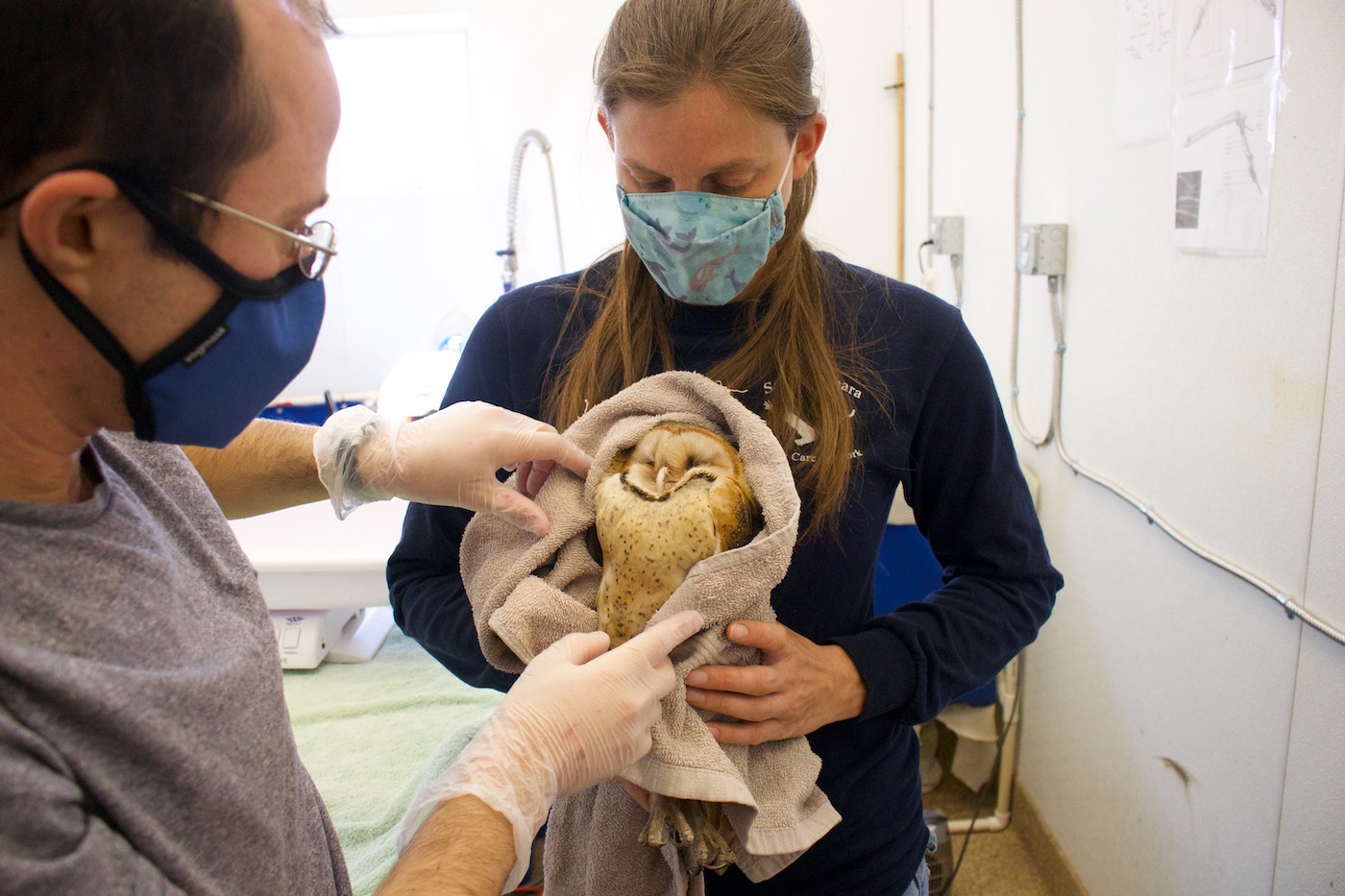 The pandemic might have produced a reduced need for services at many businesses and nonprofits. But that's not the case at the Santa Barbara Wildlife Care Network. In fact, the coronavirus crises created a contrary result, even if only indirectly.
"We saw a dramatic increase in animals coming here in 2020, and we're certainly on track for more of the same in 2021," said Ariana Katovich, the executive director of Wildlife Care Network, whose mission it is to rescue, rehabilitate, and return to the wild animals that are sick, injured, or orphaned as well as birds and reptiles that have been similarly afflicted or coated with oil or tar.
Katovich noted that while perhaps part of the uptick is due to increased publicity and outreach efforts resulting in people becoming more aware of the organization, more is because of limitations during lockdown.
"People are spending a lot of time outside recreating, walking, or just being in nature, or doing projects in their backyards, and they're noticing wildlife and seeing injured animals," Katovich said.
Whatever the reason, the WCN has had to handle the influx of injured creatures with the same level of compassionate care despite having to follow pandemic protocols that resulted in many businesses letting employees work remotely.
"We haven't been able to slow down, and we can't work from home because everything happens here at the center," Katovich said, gesturing to the organization's Goleta grounds that formed the bucolic background for our Zoom conversation. "Our animal care staff has to be here on property, and we deal with members of the public every day because concerned citizens are constantly bringing us animals."
But if COVID concerns provided a unique and unprecedented challenge — including a need for enhanced PPE because even wildlife medical procedures can require several trained staff working together — the executive director said the staff has also been "heartened by the fact that so many people, even in a pandemic, care about wildlife and go out of their way to bring animals who need help to us."
The thing is that even before the pandemic, things were getting crowded at the WCN center.
When it started back in 1988, Wildlife Care Network consisted largely of volunteer "home rehabbers" helping animals in their kitchens and bathtubs. It was only in 2004 that its North Fairview property was purchased, with WCN moving into its permanent home in a single building in 2012. But its threadbare facilities consisting of barns and trailers added over the last decade has proven insufficient to meet the mounting needs, as the nonprofit whose service area ranges from Cuyama to the Ventura-L.A. county line averages as many as 40 intakes a day year-round, helping to heal thousands of animals covering 240 different species — just about everything except domestic or exotic pets, adult deer, bear, mountain lions, coyotes, and wild boars.
And those numbers were growing even before COVID arrived.
"Every year it's getting harder to be a wild animal, because of how we're encroaching on nature and other factors such as poison and traps," said Katovich, who first encountered WCN as an 18-year-old freshman at UCSB when she brought an injured bird to the center. "The need just keeps growing."
Good thing, then, that construction on the Network's much-needed Wildlife Hospital broke ground last year and is well underway. The professional building was always part of the founders' original vision, Katovich said, but it wasn't until she took over as ED in 2017 that the project got going.
"It's been a dream of the organization for more than 30 years, and we really wanted to see if we could make it happen. So, we took the first steps to launch our capital campaign and then hire our permanent wildlife veterinarian, who really informed the final design of the hospital. It's been an incredible journey with the community coming together to help out."
The improvements are taking place even as construction takes place, Katovich said, noting that the vet arranged for the donation of a small X-Ray machine as well as tables, lights, and tools for diagnosing and treating wildlife.
"It's opened our eyes to how incredible the hospital is going to be when it's completed, and we have dedicated space for all of the different functions," Katovich said. "We will be able to diagnose issues quicker and treat animals more accurately, in house, rather than stressing out these animals when we have to bring them somewhere else. We can provide better pain control, too."
The new hospital, which is expected to open by the end of the year, will also allow WCN to truly treat oiled wildlife onsite, a major issue considering that Santa Barbara is home to large oil seeps off the shore. Instead of having to transfer the birds to a facility in Long Beach once a week, Wildlife Care Network's new facility will have a dedicated oiled wildlife capability.
"We'll have four oil sinks so we can do washing as well as a specialized drying room and a pelagic pool that will allow us to swim the birds before we release them back out into the wild," Katovich said. "That really takes our capability to a whole new level and allows us to treat more of those animals here in Santa Barbara, as opposed to transferring them somewhere else."
Less esoteric, but equally important, are the logistical improvements the hospital will bring, including temperature control, proper ventilation, solid walls for sound control, floors that can be quickly and easily hosed down with drains in the floors, and a dedicated kitchen to prepare animal diets.
"These are all things that really benefit a fragile being that is trying to heal," Katovich said. "That's really what it's all about: always improving upon our mission to save wild animals."
While the capital campaign has raised most of the $6 million goal, about $800,000 is needed to complete the fundraising, she said.
"We're so grateful that we're this far along and can't wait until we are able to build the raptor aviary and the mammal enclosure," she added, noting that she and her staff are happy to talk to anyone who would like to learn more about supporting WCN.
But dollars aren't the only way to get involved.
Volunteers are always in demand, even with many of the nonprofit's workers who stayed home during the pandemic returning to helping out.
"Our staff is working so hard to take care of animals that every person that helps us answer the phone, transport animals, wash dishes outside, clean the crates and even help feed the baby birds really makes a difference," Katovich said. "We have volunteers who knit nests that we can use for baby birds. People shop off of our wish list on Amazon. There are so many ways to help us and we're always eager to work with people on discovering what they want to do and how to channel that here at the center."
That assistance proves rewarding for all, especially during our still trying times, she said.
"We see people every day who are really upset that an animal got injured, and when they talk to us and see how we take care of the animals, they feel so relieved. We see a lot of hope every day and witness an amazing side of the human spirit."
For more information, visit www.sbwcn.org.
Mission
The Santa Barbara Wildlife Care Network's mission is to rescue, rehabilitate and return to the wild sick, injured, orphaned, or oil-impaired wild birds, reptiles, and small mammals in Santa Barbara and Ventura counties and to educate the public about living in harmony with wildlife.
Caring for the Wildlife Around Us
"All of us are thinking about keeping each other safe during this pandemic. The wildlife among us need helping hands now as always. We are fortunate to have the Santa Barbara Wildlife Care Network. A local place to take injured or sick wildlife is so important. Several friends have discovered injured animals and have been grateful to have a place to provide loving care for our fellow creatures. As we care for each other, we need to be aware of the wildlife around us, and care for them as well. I am so proud of SBWCN and the continuing work that they do."
The Animal Hospital
The Santa Barbara Wildlife Care Network plans to break ground on its state-of-the-art wild animal hospital in 2020, an event that Executive Director Ariana Katovich sees as the realization of a long-time dream for the organization.
"We started from very humble beginnings," Katovich says. "Volunteers caring for animals in their bathtubs and kitchens. We evolved from a robust network of home rehabbers to having our own property."
The next phase is an animal hospital that will ensure that the region's diverse wildlife can thrive in the face of human encroachment into their habitat, and increasingly harmful effects of climate change.
To get there, the network needs to raise $2.4 million to close out its $6 million capital campaign.
Board of Directors
Roland Bryan, President
Gretchen Lieff, Vice President
Kristen Scheff, Treasurer, CPA
Aaron Budgor
Mindy Denson
Rebecca Gaal
Tipper Gore
Kaitlin Lloyd
Connie Pearcy
Ann Smith
Honorary Directors
Bud Bottoms
Karen Bridgers
Joan Lentz
Russ Mish
Michi White
Joanne St. John
Advisory Board
John Baum
Penelope Bianchi
Jon Clark
Michael Edwards
Patti Jacquemain
Don Nulty
Jack Overall
Chris O'Connor