New Beginnings Establishes Financial Assistance Fund for Veterans with the Help of the Combat Veterans Motorcycle Association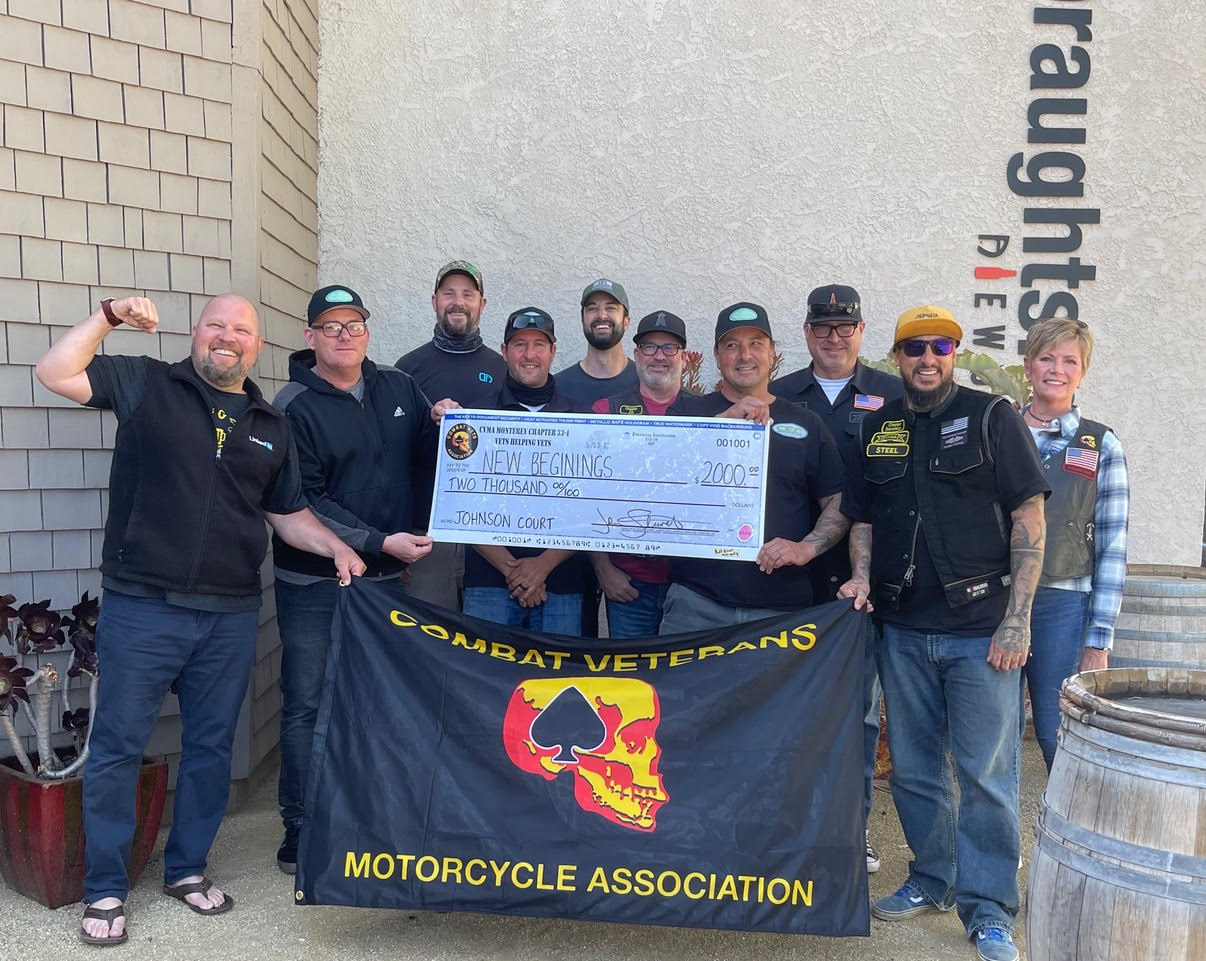 New Beginnings is honored to announce its partnership with the Combat Veterans Motorcycle Association, Chapter 33-4 to provide a financial assistance fund to 16 veterans living at Johnson Court. Johnson Court is the first all-veteran housing development in Santa Barbara and is managed by the Housing Authority of the City of Santa Barbara. Since Johnson Court's opening in February 2020, New Beginnings has served as the on-site supportive services specialist, ensuring veterans retain their housing and have the resources needed to thrive in their new home.  https://sbnbcc.org/ 
Kristine Schwarz, Executive Director of New Beginnings said, "We are so grateful to receive support from the Combat Veterans Motorcycle Association. Their generosity has enabled us to create community and a welcoming environment for the Veterans at Johnson Court, something that has been especially important this last year. Their assistance has helped immeasurably, and we are delighted that they have joined with us in honoring our local Veterans."
Rhandi LaChonce, Supportive Services Specialist at Johnson Court, "Through their donations, I have been able to improve the quality of life of several of our Veterans. For example, I was able to replace the batteries and wheels for three electronic mobility devices, enabling our Veterans to travel in Santa Barbara without worrying about their devices breaking down. This has made a huge impact in their lives."
The Combat Veterans Motorcycle Association 33-4 Chapter, which covers the Central Coast, held a fundraiser and provided the initial donation of $2,000 this past winter to launch the fund. They are holding another fundraiser on June 5 in partnership with Good Ride Rally. Since launching the fund, New Beginnings has also used the funds to purchase bedding and various household items, a Christmas feast, and Netflix accounts. Having a funding source to readily tap into has allowed New Beginnings to be more responsive to meeting the needs of their veteran clients.
The Combat Veterans Motorcycle Association is a national association of combat veterans from all branches of the United States Armed Forces who ride motorcycles as a hobby. Their mission is to support and protect those who have defended our country and our freedoms – Veterans Helping Veterans. The 33-4 Chapter represents the Central Coast from Santa Barbara to Monterey.
New Beginnings provides quality, affordable counseling, shelter, case management and education that strengthens our community and provides our clients with the ability to lead healthy and productive lives. New Beginning, located at 324 East Carrillo Street, Suite C, Santa Barbara, CA 93101, is a nonprofit 501(c)(3) organization. For more information, please contact our development department at (805) 963-7777 x112 or email at development@sbnbcc.org.
Donate now!
www.sbnbcc.org
(805) 963-7777 ext. 144
Executive Director: Kristine Schwarz
Mission
We provide mental health counseling to low-income community members and end homelessness for individuals, families, and veterans throughout Santa Barbara County. Through four core programs, we serve approximately 2,000 people each year.
Begin to Build a Relationship
We know you care about where your money goes and how it is used. Connect with this organization's leadership in order to begin to build this important relationship. Your email will be sent directly to this organization's Director of Development and/or Executive Director.
New Beginnings is a shiny gem among nonprofits in our community. Their cost effective counseling programs have stood the test of time for more than fifty years. The Safe Parking Program for the homeless was the first of its kind and now widely replicated elsewhere. More recently, they are closing in on the elimination of veteran homelessness, a long elusive goal. No matter the program, they are remarkably effective in helping its many low-income and needy clients lead healthy and productive lives.
Your Donations Help Veterans Stay Safe and Housed
New Beginnings is grateful for the grants and community donations to open its new, more efficient collaborative center last summer. But as the agency expands its services and takes on more staff, funding is still needed to support the growth of its work for all of its far ranging and desperately needed programs, including administrative and management staffing, equipment, training – all of which isn't covered by government grants.
Key Supporters
Jacqueline Kurta,
MFT, Psy.D, President
Dan Engel, Vice President
Mark Cardona, J.D., Secretary
Ziad Elkurjie, Treasurer
Steve Baird, Member
Suzanne Grimmesey, MFT,
Member
Stasia Huiner, M.B.A. Member
Kathryn Keene, Member
Karen Kelly, Member
Diane Pannkuk, M.B.A., Member
Warren B. Ritter II, Member
Scott Sanford, Member