We ALL Deserve to Experience the Bounty of the Season!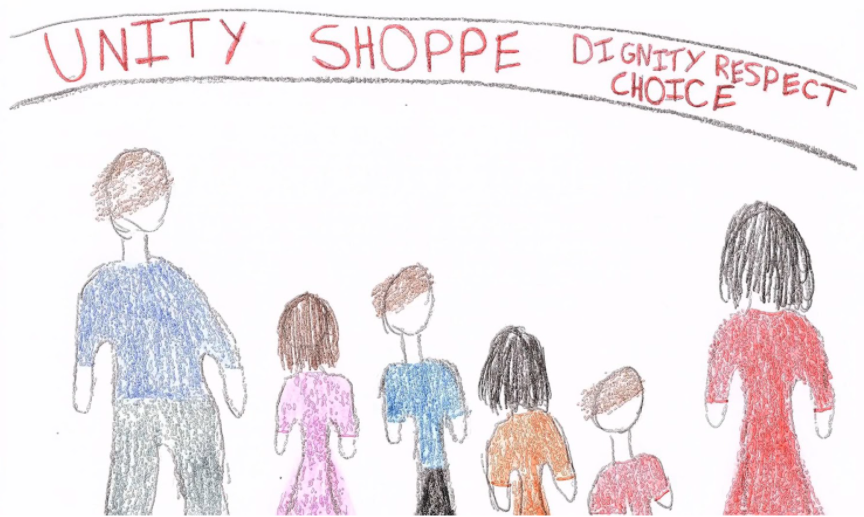 Now that Summer is in the air, the buzz to "get out there" and engage with our greater Community is palpable! But dusting off the lingering memories of the past year is not as simple as it looks… our hope is that with your ongoing and generous support of Unity's mission — THANK YOU! — and our hard work in providing the essentials, we can ease the burden on those still finding their way back after the long pandemic "winter" we just lived through.
All of us at Unity Shoppe, including our essential workers, are grateful to be vaccinated and working on behalf of our Community's residents. Those in need of help still turn to us for support services every day. They include: vulnerable seniors and other homebound adults who continue to need our grocery delivery service year-round; formerly employed Santa Barbarans still waiting for retailers, hotels, and restaurants to re-open in full; and parents waiting for schools and childcare to resume in person next fall.
Here's just one example among thousands of what our services have meant in the lives of our clients. Before the pandemic, Erin and her family couldn't fathom ever needing our support:
"Like so many of us, our family was hit very hard by Covid. Suddenly, we lost our jobs, our 4 kids needed to learn from home, and food in our fridge and pantry was scarce. Thanks to the caring people at Unity, we received fresh food for months – enough to keep our family fed and healthy – as well as access to a lifeline of support that helped us cope with the fear and uncertainty brought on by the pandemic."
It's Never Been More Clear: As One CommUNITY We Succeed!
Funds are needed immediately to purchase food, fresh produce, and items with a longer shelf life that we depleted during the past year of the pandemic, so please act now. And, thank you to Santa Ynez Band of Chumash Indians, who have agreed to match what we raise during the month of June up to $10,000!
Summer Food Challenge donations can be made to Unity Shoppe online at:
Donate now!
Mission
Unity Shoppe is dedicated to providing residents impacted by temporary conditions of poverty, natural disaster or health crisis with resources, including groceries, clothing, and other essentials, that reinforce human dignity and encourage self-sufficiency and independence.
Begin to Build a Relationship
We know you care about where your money goes and how it is used. Connect with this organization's leadership in order to begin to build this important relationship. Your email will be sent directly to this organization's director of development and/or Executive Director.
I Never Thought This Would Happen to Me
I was first introduced to Unity Shoppe when my son was volunteering for community service hours. We volunteered and worked side-by-side and saw first-hand the clients shopping with dignity by choosing items that they needed and then we watched as it appeared that they checked out at the register just like they would do in any other store but at Unity Shoppe, no payment changes hands. One of my favorite programs is Unity's Seniors Helping Seniors Center. This program provides basic need requests from hospitals, senior centers, and other organizations helping seniors who are homebound or disabled. It's no wonder why I love Unity's slogan: DIGNITY. RESPECT. CHOICE.
Taking the Legacy Countywide
Unity Shoppe is counting on the durable success of its annual telethon to continue investing in its programs and services. This includes JobSmart, which supplies low-income people with work clothes, and the Senior Resource Center, in which long-time senior volunteers knit, sew, quilt, paint, woodwork, and assemble clothes and toys to the delight and comfort of Santa Barbara's vulnerable residents. In 2023, Unity Shoppe also plans to begin serving families in north Santa Barbara County. It's a move inspired in part by Brad Paisley, who was so taken by Unity Shoppe that he brought the concept to his adopted home in Nashville. "Until now, people from north county have had to travel down to get our services," says Executive Director Angela Miller-Bevan. "In 2023, we will go to them."
Key Supporters
Patricia and Paul Bragg Foundation
Mithun Foundation
Susan and Ronald
Rodriguez Giving Fund
Golden Rule Family Foundation
John and Marcia Goldman
Bank of America Foundation
William Corbett Foundation
Maxine R. Waughtell
Donovan and Kathryn Chalfant
Santa Ynez Band of Chumash
Indians Foundation
Brittingham Family Foundation
Milton Hess
Victoria Ward
Ann Jaxson Family Foundation
MUFG Union Bank
Community West Bank
ZIA Group
Santa Barbara Foundation
Dana Newquist
Brad and Kim Paisley
Montecito Bank & Trust
Kenneth Richardson
Consumer Fire Products
Dena Stein