MOXI Welcomes LunchBoxing with Lasers Limited-Time Exhibit for Summer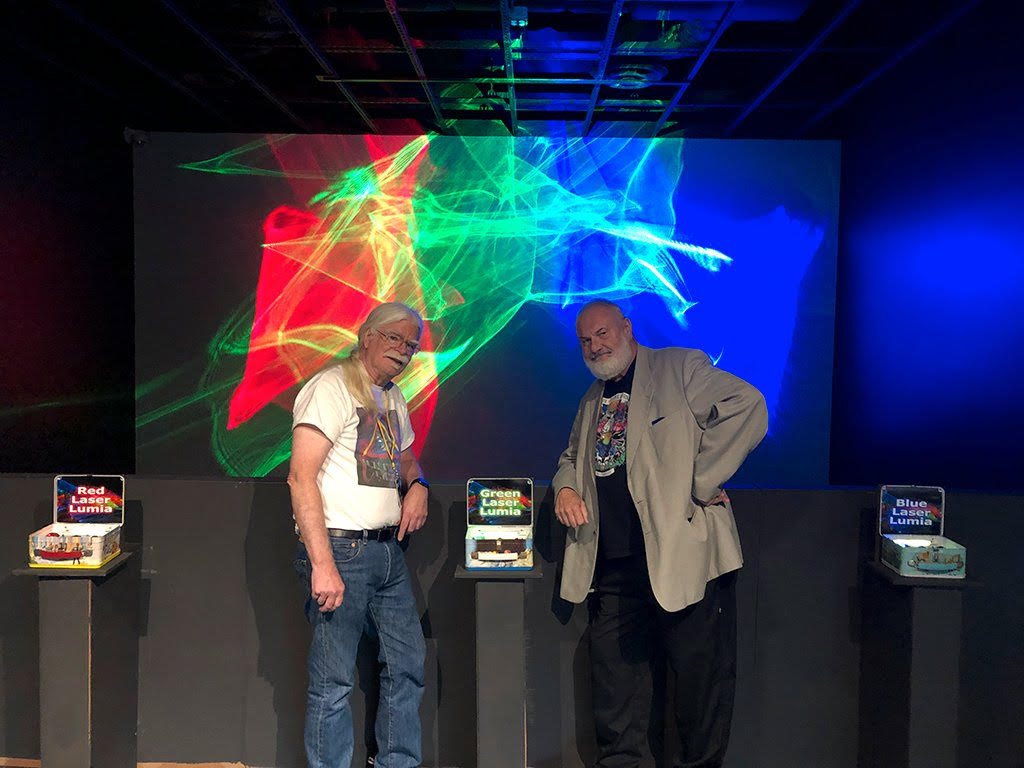 The hands-on science museum and Santa Barbara family favorite will also be open seven days a week once again!
MOXI, The Wolf Museum of Exploration + Innovation is hosting its first new limited-time art installation since reopening. LunchBoxing with Lasers by Mike Gould is now on display in the Interactive Media Theater on the second floor of the museum through September 16. The exhibit takes the typically passive experience of watching a laser light show and makes it an instantly engaging one with the help of a few vintage metal (you guessed it) lunch boxes. The exhibit is opening just in time for summer and is sure to be a highlight on a visit to MOXI which will be open daily for the summer beginning Sunday, June 20.
Guests of all ages are invited to enter the darkened theater space where they will see three different color lumia displays each with their own set of controls. Step up to one of three podiums topped with a lunch box and peer inside. Each lunch box contains three jewel-shaped knobs which control various aspects of each lumia. The result is a mesmerizing laser light show ultimately created and controlled by museum guests.
Some guests may try to create a show that's the perfect accompaniment to the soundscape called "Music for Lasers," which is audible throughout the experience. It is an original piece composed by Ken Kozora which was commissioned by the artist. Speaking of the artist, Mike Gould is a Michigan-based laser, graphics, video and electronics artist. He has been working in the laser art space for nearly 40 years and with his Illuminatus Lightshow troupe has designed, created and presented laser art for thousands at events across the country. The exhibition of LunchBoxing with Lasers at MOXI marks the first time the piece has been displayed for an extended show in one location.
"I am so excited for the kids and kids-at-heart who are returning to MOXI to have something new to do and for them to be in control. While there's a definite art to producing laser light shows, there's also such beauty in letting the audience experiment and play," said Gould.
MOXI reopened in late April after being closed for more than a year due to the pandemic. The museum initially reopened on a limited basis, but is now able to resume its typical hours of seven days a week, 10 a.m. to 5 p.m.
"This is yet another happy milestone for MOXI! After a challenging 14 months, we are thrilled to once again welcome interactive art installations at the museum. LunchBoxing with Lasers is fun for all ages and the perfect way to kick off what we hope will be a summer filled with lots of happy children and families returning to MOXI," said Robin Gose, president and CEO of MOXI.
As attendance capacity is still limited to ensure the comfort of all guests and staff, advance ticket purchase or reservations are still recommended. All guests ages two and up must also continue to wear a face covering when visiting. Tickets, Member reservations and information about all museum programs and events are available on MOXI's website, moxi.org.
About MOXI
MOXI, The Wolf Museum of Exploration + Innovation® is dedicated to igniting learning through interactive experiences in science and creativity. Located in the heart of Santa Barbara's redeveloped tourist area at 125 State Street, the museum is LEED-certified Gold and serves guests of all ages through its hands-on exhibits and education programs. MOXI is a 501(c)(3) nonprofit organization generously supported by its daily guests, members, facility rentals and donations from individuals, foundations and corporate partners. For more information, visit moxi.org.
Mission
To ignite learning through interactive experiences in science + creativity.
Begin to Build a Relationship
We know you care about where your money goes and how it is used. Connect with this organization's leadership in order to begin to build this important relationship. Your email will be sent directly to this organization's Director of Development and/or Executive Director.
An Inspired Future
"Our mission for MOXI from the beginning was to emphasize STEM learning for children of all ages, in a fun, enriching, and interactive environment. I am delighted at what we've accomplished in such a short time. STEM education is the future of our country, and our programs and staff give children and young adults a chance to ask questions, discover and explore the joys of science, technology, engineering and mathematics. It is my fondest hope that MOXI will inspire future generations of youngsters to pursue STEM-related studies and careers."
Catalyst Club
MOXI is a museum with a long-term plan for community impact. To get there, like any business, they need sustainable, predictable revenue.
To support this, MOXI recently launched the Catalyst Club, wherein donors commit to three years of giving at least $1,000 per year.
"Be a catalyst for change in your community," says CEO Robin Gose. "Be a catalyst for changing the trajectory of a child's life."
Board of Directors
Scott Hadley, President
Chris Kroes, Vice President, General Counsel
Susan McMillan, Secretary
Justin Anderson, Treasurer
Jill Levinson, Immediate Past President
Jill Chase, At Large
Alixe Mattingly, At Large
Kelly Almeroth
Kristen Blabey
Josh Blumer
Marcia Cohen
Naomi Dewey
Tyler Duncan
Julie Farrell
Jennifer Hecht
Richard Hutton
Leanne Schlinger
Fiona Stone
Andrew Winchester
Noelle Wolf