Community Environmental Council, UC Cooperative Extension, and Agricultural Commissioner Announce New Report Aimed at Building Agricultural Resilience in Ventura County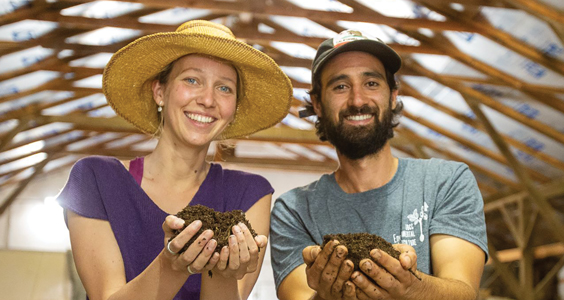 In the face of wildfire and drought, these recommendations seek to protect against climate threats
Community Environmental Council (CEC), the University of California Cooperative Extension (UCCE) of Ventura County, and the Ventura County Agricultural Commissioner's Office announce the release of Cultivating Resilience in Ventura County: Protecting Against Agricultural Vulnerabilities And Bouncing Forward After Disaster, a report designed to build climate resilience for Ventura County and the agricultural sector at large.
One of the most productive agricultural counties in the country, Ventura grows more than 30 multimillion dollar crops, and does so predominantly on small farms of less than 50 acres. The County's challenges related to water supply, labor costs, development pressures, and new land use policies are requiring growers to adapt in big and new ways. All of this is compounded by the growing climate threats they face in a County that is warming faster than any other in the lower 48 United States.
To understand what adapting to these threats might look like, CEC conducted interviews with individuals from 15 farms, ranches, and other stakeholder organizations. The report focuses on three core questions of agricultural producers:
1) What factors determine how producers experience disasters;
2) What disaster-related challenges producers face that impact their resilience; and
3) What opportunities both insulate producers from disasters and improve their ability to rebound from them.
Based on interview responses, the report identifies several opportunities to advance resilience for the agriculture sector, including helping producers identify vulnerabilities in their operations and emergency plans, identifying and increasing emergency gap funding, and streamlining and targeting emergency communications.
"We see an urgent and immense opportunity to align strategies for Ventura's disaster resilience with those that help agriculture both mitigate and adapt to climate change," stated Sigrid Wright, CEC CEO. Speaking to the impetus behind the report, she noted, "Preparing for and responding to disasters will require planning, new and unusual partnerships, additional resources, and a detailed understanding of how disasters play off of and compound each other."
Climate threats to Ventura's agricultural producers and the land they depend on are particularly complex and can include saltwater intrusion in groundwater aquifers, increased wildfire and smoke impacting crops and workers' health, flood and mudslide threats from increasingly intense downpours, and reduced snowpack limiting access to surface and ground water supply.
Annemiek Schilder, director of UCCE, Ventura County, said, "We view this report as an important step towards addressing these challenges." Acknowledging the highly complex and collaborative work needed to build up resilience, she continued, "To deal with the multitude of threats that producers face, we need to support the innovative work farmers and ranchers are doing on the ground and engage them as partners in disaster preparedness and response."
While not simple, this work is crucial to the long-term vitality of our region. "Pursuing these opportunities will require broad collaboration between Ventura County regulators, emergency responders, policymakers, community foundations, farmworker advocates, technical assistance providers, agricultural leadership, and more," stated Wright.
CEC is inviting anyone who has an interest, resource, or story related to agriculture to share their thoughts in this short questionnaire: cec.pub/VenturaQuestionnaire.
Further stakeholder meetings will take place in 2021/2022 in Ventura County. To read the summary in English or Spanish, or to explore the full report, visit cec.pub/VenturaAgResilience.
The report was compiled in cooperation with the Agricultural Commissioner's Office of Ventura County and the UC Cooperative Extension of Ventura County. The work was made possible by a grant from the Zegar Family Foundation.
About the Community Environmental Council (CEC)
Recognized as a 2020 California Nonprofit of the Year and 2020 City of Santa Barbara Climate Hero, CEC has worked since 1970 to incubate and innovate real life environmental solutions that directly affect the California Central Coast. Our current work advances rapid and equitable solutions to the climate crisis – including ambitious zero carbon goals, drawdown of excess carbon, and protection against the impacts of climate change. Our programs lead to clean vehicles, solar energy, resilient food systems and reduction of single-use plastic. Learn more about why CEC is one of only a handful of nonprofits in Santa Barbara County to have the highest possible ratings for financial health on Charity Navigator and Guidestar at CECSB.org/impact. Find CEC on the web at CECSB.org and on Facebook.com/CECSB, Instagram.com/CEC_SB, Twitter.com/CECSB, and LinkedIn.com/CECSB.
About the University of California Agriculture and Natural Resources (UCANR):
True to the mission of the land grant universities, UCANR connects the power of UC research in agriculture, natural resources, nutrition and youth development with local communities to improve the lives of all Californians. For over 100 years, our advisors, specialists, faculty and staff have been committed to: connecting Californians to their University, leading the way to science-based solutions, providing information that is trustworthy and not biased, sharing research that is practical to use, addressing local concerns as part of the community, inviting the participation of concerned stakeholders, and facilitating problem-solving and outreach to address the state's toughest challenges. Learn more at UCANR.edu.
Donate now!
Mission
At CEC, building community resilience is at the center of everything we do. Our advocacy and programs seek to address root causes of climate change.

Since 1970, CEC has led the Santa Barbara region — and at times California and the nation — in creative solutions to some of the toughest environmental problems. We are often referred to as a "think-and-do tank" — deeply analyzing a problem and then applying creative, real-world solutions to it.
CEC seeks to move the Santa Barbara region away from dependence on fossil fuels in one generation – Fossil Free by '33. We are aggressively pursuing this goal by educating and activating the community around sustainable practices, advocating for environmentally-sound policies and laws, and building partnerships with other organizations to open new pathways for sustainable transportation, energy, and food systems. Our five initiatives – Drive Less, Drive Clean, Go Solar, Ditch Plastic, Rethink Food – offer accessible pathways for the community to connect with and take action on CEC's vision for a cleaner, healthier future.
Begin to Build a Relationship
We know you care about where your money goes and how it is used. Connect with this organization's leadership in order to begin to build this important relationship. Your email will be sent directly to this organization's director of development and/or Executive Director.
Clear Thinking on Climate Change
CEC helped me understand the basics and the complexities of climate change, and how to take steps in my life to make positive changes. I also gained a deeper understanding of how to strategically bring environmental sustainability into my work to help clients be successful.
Reverse, Repair, Protect. Saving the Central Coast and Our Planet
The Community Environmental Council (CEC) must raise $15 million to fund its Protect Our Climate: Reverse, Repair, Protect campaign, the nonprofit's ambitious plan to halt the climate crisis. As of late in 2022, CEC had raised $11.7 million, and all gifts will be matched by the John C. Mithun Foundation, up to $100,000. Funding will propel CEC's work in several key areas, as well as establish an 8,000-square-foot Environmental Hub on Santa Barbara's State Street – a living laboratory for people from all walks of life to design equitable climate solutions and put nature's solutions to work.
"The Hub will fill a much-needed gap for a gathering space for the social sector, and will feature the Conklin Community Room, a flexible-use conference room. It also includes a professional webinar studio, small meeting rooms, "hot desk" rentals, and use for after-hours events such as film screenings, lectures, and receptions," says Sigrid Wright, CEC's CEO. "Our intention is that people from across the region who share the mission of protecting the Central Coast can have a place to design the future together."
Key Supporters
Campaign Leadership Donors
Mary Becker
Diane Boss
James S. Bower Foundation
Sheila & Tom Cullen
Katie Davis
Emily, Dan, Casey & Willow Engel
G. A. Fowler Family Foundation
Nancy & Karl Hutterer
Karen & John Jostes
Jean Kaplan
Charles D. (Kim) Kimbell
Dorothy Largay & Wayne Rosing
John C. Mithun Foundation
Betsy & Charles Newman
Natalie Orfalea Foundation
Hutton Parker Foundation
Paul Relis
Sea Forward Fund
Judy & Jack Stapelmann
Michel Saint-Sulpice
Suzanne & John Steed
Leslie Sweem Bhutani
& Ashish Bhutani
Sally Warner-Arnett
& G. William Arnett
Elizabeth Weber
Zegar Family Foundation
Anonymous