Watch HTO's Recording of SBMM's Webinar: "Detecting and Capping Leaking Oil Wells in Summerland"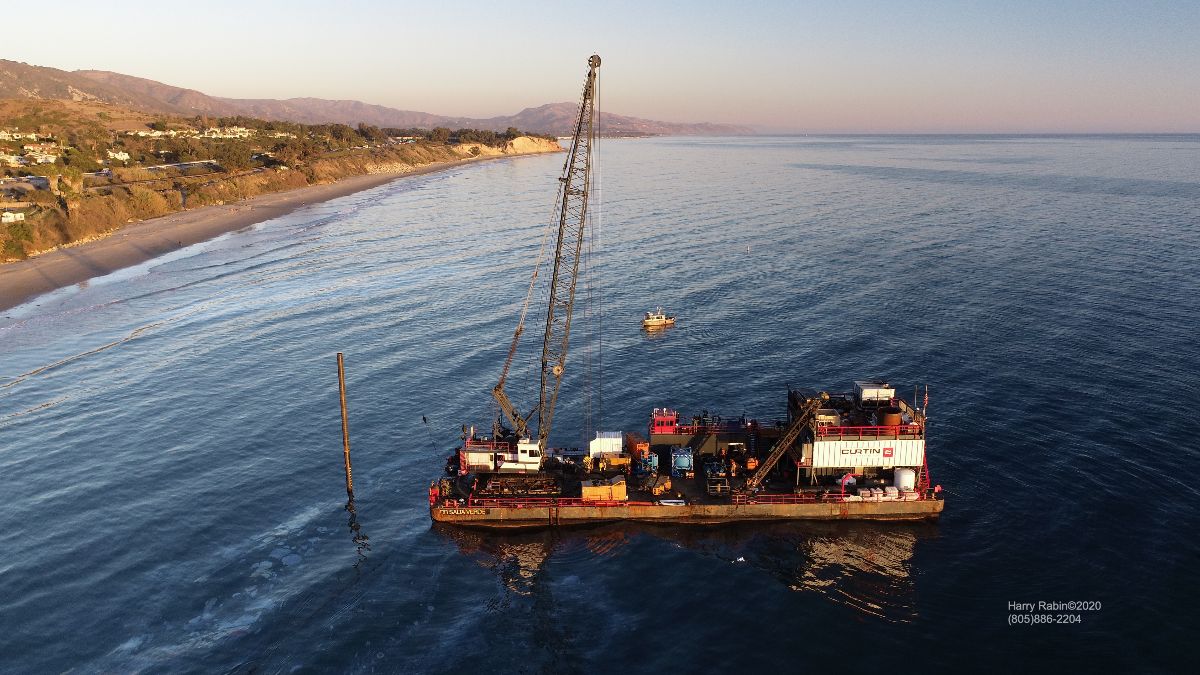 Featuring HTO & Expert Panelists! (And a sneak preview of the next project to come!)
The Santa Barbara Maritime Museum's Zoom event: Detecting and Capping Leaking Oil Wells in Summerland took place on Thursday, June 17, and was a huge success with many virtual attendees! If you weren't able to catch the event, you can now watch our recording of the webinar here: https://spaces.hightail.com/receive/YUmh5JUC7L/fi-fd177737-ebf1-42ff-a76f-4f1128416023/fv-49179ab5-ce3c-4234-8d92-e03d5792757f/SBMM%20LIVE%20Recording%20720P.mov.
The webinar was produced and moderated by documentary filmmaker Harry Rabin, CEO and founder of On the Wave Productions, who worked alongside the State Lands Commission's contracted engineers and divers in the Summerland oil well field. The event featured panelists who were involved in this environmental success, including:
• Mike Giuliani – Head engineer at InterAct – the contractors working under the California State Lands Commission (SLC);
• Joe Fabel – an attorney for the SLC;
• Hillary Hauser – Executive Director of Heal the Ocean;
• David Valentine, Ph.D. – Founding Director of the Marine Science program in the College of Creative Studies at UCSB & current Professor of Geochemistry and Microbiology at UCSB;
• Hannah-Beth Jackson – Former CA State Senator who authored SB 44, the Coastal Hazards & Legacy Oil & Gas Wells Removal & Remediation Program, which has secured $2 million per year in funding for the Summerland work.
Many HTO fans know about our organization's work capping the leaking oil wells of Summerland, which we have been able to do with gracious, generous help from Nora McNeely Hurley's Manitou Fund. For decades, oil has been leaking from the wellheads of some of the first offshore oil rigs in the world, over 400 of them right here in Santa Barbara County. The beaches in Summerland were a major source of oil pollution, which, spread as far southeast as Carpinteria and northwest along the coast to Miramar, Hammonds, and East Beach.
Finding the exact locations of these leaks and making the determination that they were indeed old wellheads vs. natural seeps took years of research both above and below the ocean. Good observations, sophisticated technology – from drones and ROV's to multibeam sonar – and determination, all would be needed to pinpoint the exact location of each well. Much of the sophisticated gear was brought in by Harry Rabin, Field Advisor to Heal the Ocean, who is known for his work topside and underwater with such equipment. The SBMM Webinar, (click https://spaces.hightail.com/receive/YUmh5JUC7L/fi-fd177737-ebf1-42ff-a76f-4f1128416023/fv-49179ab5-ce3c-4234-8d92-e03d5792757f/SBMM%20LIVE%20Recording%20720P.mov to watch) gets into the nitty-gritty of this work.
The next two wells to be capped off Summerland Beach are Ohlssen #805 in July (on or about July 22/23) and Duquesne #910, which will be capped five months later, in December 2021. With these projects ready to roll, Harry and the InterAct team are already at work to identify the projects to follow in 2022: Treadwell #10, a notorious leaker, was successfully capped in 2020, but mysterious leaks have been floating ashore since, and the team has pinpointed three suspicious wells seaward of Treadwell #10, at the end of what was the Treadwell Pier. These are the next likely targets.
Mission
Heal the Ocean focuses on wastewater infrastructure – sewers and septic systems – as well as ocean dumping practices that have contributed to ocean pollution. We are focused on Santa Barbara County, but our methods are now serving as a model for other coastal communities across the country.
Begin to Build a Relationship
We know you care about where your money goes and how it is used. Connect with this organization's leadership in order to begin to build this important relationship. Your email will be sent directly to this organization's director of development and/or Executive Director.
They Heal Our Ocean
I've surfed for years at the Rincon, and am in the water all the time. It is such a relief to know that the septic systems are gone, that we're not swimming in polluted water like we were doing day in and day out, getting sinus, ear, nose, eye infections and who knows what else. Yes, there are other bad things that get into the ocean, but just knowing that this one big source of contamination has been removed is huge. This is one of the most popular surf spots in California, world known, and the legacy left to this piece of ocean will be there forever. It's so interesting to hear the younger surfers today, who don't know about the battles Heal the Ocean went through to get this project done. They were little kids at the time. Think of it, it's now history!
Return on Investment
Heal the Ocean's pragmatic approach ensures that any donation the organization receives will be returned in multiples.
A $25,000 investment in aerial infrared photography showing leaking oil fields off the coast of Summerland was the proof then-Governor Jerry Brown needed to sign Senate Bill 44, which allocated $14 million towards capping aging wells along the California coast.
A $5,000 investment in a consultant allowed HTO to snag $150,000 in state funds to pay for a conceptual engineering study for a recycled water facility in Goleta, and another $150,000 for state-funded conceptual engineering plans for a recycled water facility in Santa Ynez. These studies and conceptual engineering plans have put these agencies first in line for state funding help for the actual building of the facilities. So HTO effectively turned $5,000 into a potential of 50 million dollars.
Board of Directors
Hillary Hauser, President and Executive Director
Jean-Michel Cousteau
Thomas Dabney, Treasurer
Charles Vinick
Heather Hudson, Event Manager
Jonathan Wygant
Tom White