A Commitment to Youth: Storyteller Children's Center Withstood the Pandemic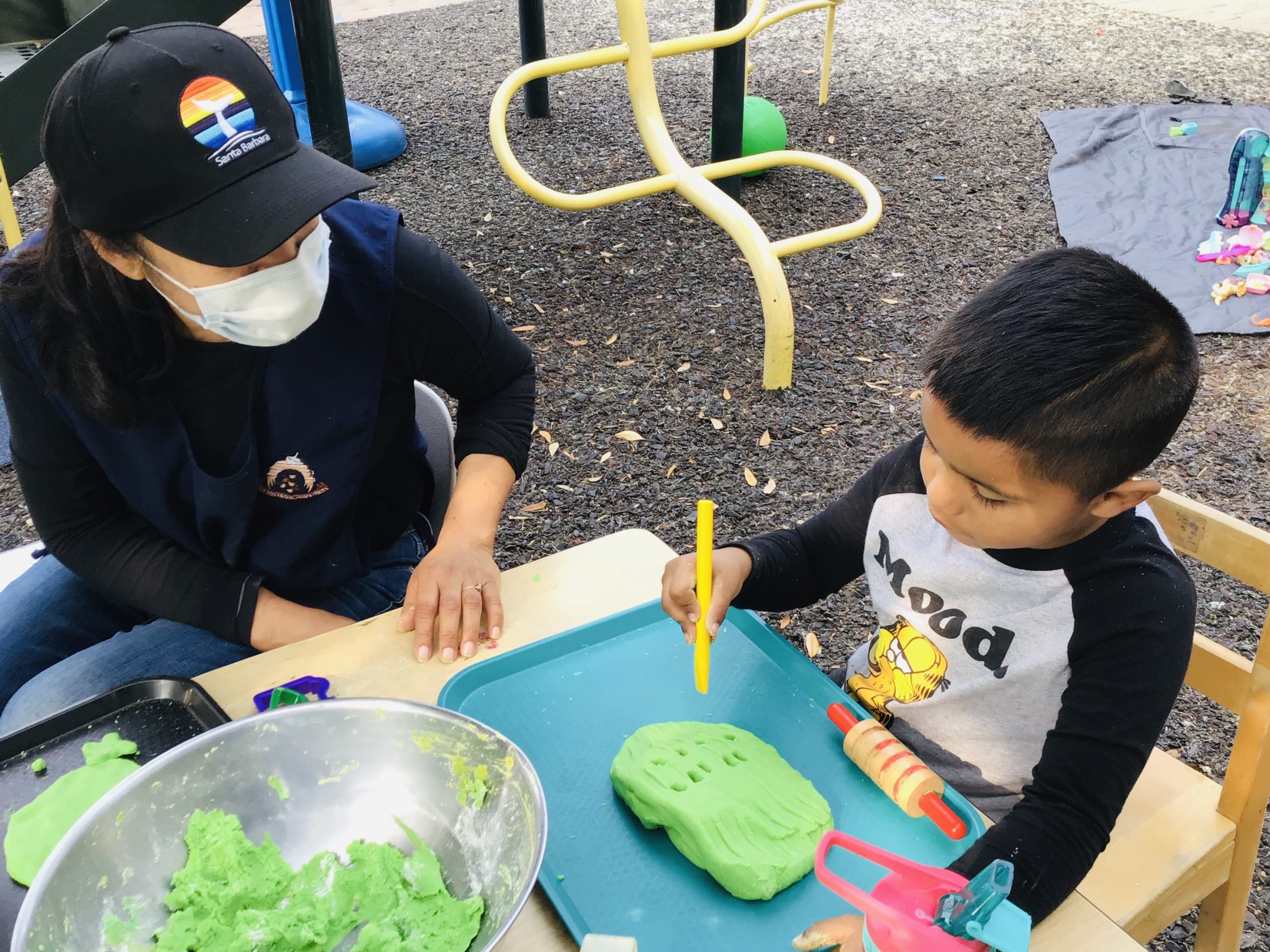 Santa Barbara has been all awash with talk about the reopening of public schools ever since the pandemic shut them down last spring. Parents of school-age children have had different desires and needs in this area as the situation and responses including various methods of remote learning shifted, with some schools reopening earlier than others, amid different ways of coping with the coronavirus crisis. 
Somewhere in that mix it seems incumbent to note that Storyteller Children's Center has been running its programs since last summer. In fact, July 13 marks the one-year anniversary since Storyteller returned to in-person schooling, fulfilling its ongoing purpose of serving as a therapeutic preschool providing high-quality early childhood education for the county's most vulnerable children — those from Santa Barbara's poorest or homeless families — as well as providing comprehensive support services for their caregivers and families.
It's all in service of helping the youngsters start school emotionally and socially ready to learn, with the coping skills and impulse control that allow them to grow and prosper into well-educated, well-adjusted adults and thriving members of the community. The pandemic wasn't going to get in the way of that purpose.
"We had to completely reconfigure our classrooms so we could spend 95 percent of the day outdoors," explained executive director Susan Cass, who arrived at her position only last August, five months after COVID closed things down in March 2020, and jumped right into the fray supported by her predecessor, Donna Barranco Fisher.
"The families couldn't be on site, which was heartbreaking, and just had to drop their kids off at the gate," Cass continued. "We had to stay on top of all the protocols… We've been resilient and we made it through, but the fact is that this was a much more challenging and difficult year for our families than it was for us."
That's why it became such a mission to make Storyteller available again as soon as possible last summer, she said.
"The way I saw it was for a lot of our children, this was their respite from some of the stress and trauma they might be experiencing at home. It was a place where they could continue to play and laugh, and just be children and feel safe. Storyteller needed to be open for these families," Cass explained.
Now that regulations are easing, with more opportunity expected as the new school year starts in August, Cass is eagerly anticipating a return to the old normal when both family members and volunteers — who were also banned due to licensing regulations for more than a year — can be on site once again.
"What I'm really looking forward to is welcoming the families back onto campus," said Cass, a Santa Barbara native who graduated from Cate School and spent time in Texas and Oregon before returning to town to serve as program director at Jodi House Brain Injury Support Center and as Braille Institute's ED before coming to Storyteller.
"They're such a huge part of this place and the work that we do. I'm excited about getting to know all of the families — the new ones, returning ones. Our volunteers are also a huge part of our Storyteller family and are such an integral part of making our programs happen every day. We haven't seen them for a year, and we've missed them. If all goes to plan with COVID it will be like a homecoming for everybody. As for me as the new director, I'm excited for the opportunity to get to know people who've been a part of this amazing organization long before I came on."
The Storyteller vision extends into the future, as the organization — which serves a total of 70-80 preschoolers on its two downtown campuses — doesn't sever relationships when the children go on to kindergarten.
"We are continuing to look into ways to stay connected with our children after graduation. That's a big part of expanding our family resource services," Cass said. "The emphasis moving forward obviously continues to be providing a safe and supportive learning environment for the children, but also looking at enhancing and expanding our connection and relationships with the families, not just in their time at Storyteller, but for years to come."
It all adds to the mission of laying the early education groundwork for success, not only for the children, but also their families, and, by extension, the larger community that benefits from the results. Storyteller can certainly use support and it strives toward that goal. Opportunities include everything from sponsoring a child at a cost of about $15,000, to providing tools, crafts, other items or smaller cash donations to keep the programs going and building for the betterment of the young children, and all of Santa Barbara society.
411
Storyteller Children's Center
WHERE: 2115 State Street and 2121 De la Vina Street
CONTACT: (805) 682-9585 
or www.storytellercenter.org
TO HELP: For donations, contact Director of Development Adrienne De Guevara at adrienne@storytellercenter.org.
Donate now!
Mission
Storyteller is a therapeutic preschool that serves children and their families toward "Kindergarten Readiness."
Storyteller serves Santa Barbara's poorest families, those living below or close to the poverty guideline and who also meet the Federal definition of homeless. This segment of our community may have difficulty accessing and paying for quality preschool.
Begin to Build a Relationship
We know you care about where your money goes and how it is used. Connect with this organization's leadership in order to begin to build this important relationship. Your email will be sent directly to this organization's Director of Development and/or Executive Director.
The Key Component is Love
We can't change the world, but we can impact our little corner. Our teachers, our leadership team, and our Board are positively impacting children and their families' lives every day.

A Lasting Impact on Children and Families
If the last year has shown us anything, it is that we need to lean on each other for support and strength when challenges arise. At Storyteller, teachers and staff have seen first-hand the increased levels of stress and trauma their families are experiencing as a result of the pandemic. From grieving the loss of loved ones to trying to obtain stable housing or employment, the families of Storyteller have experienced more than many of us could imagine. In response to this growing need for support and resources, Storyteller recently introduced a Family Advocacy Program to focus directly on the needs of the parents and guardians. The program provides early intervention for families before challenges become too complex or debilitating to overcome. With the support of community donors, this pilot program will become a permanent part of Storyteller's service offering and have a lasting impact for years to come.
Key Supporters
Terri Allison
Jon Clark
Peggy Dodds
Jennifer Gillon Duffy
Gretchen Horn
Sharon Kayser
Anna Kokotovic
Erinn Lynch
Patricia Madrigal
Danna McGrew
Daisy Estrada Ochoa
Ann Pieramici
Ken Radtkey
Kyra Rogers
Molly Seguel
Kenny Slaught
Rachael Stein
Carrie Towbes
Michael Wasserman
Craig Zimmerman