Abandoned Homeless Camp Removed From Haskell's Beach – A Story with a Great Twist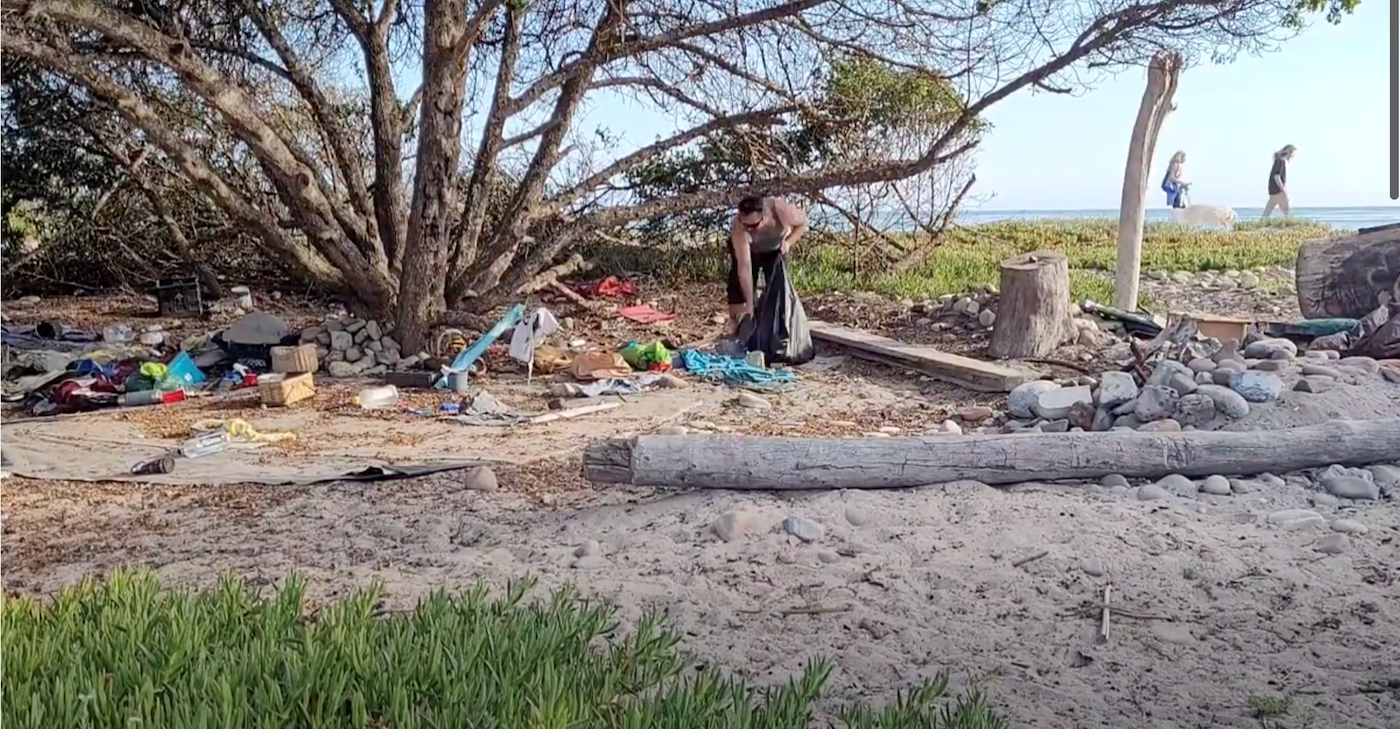 Another abandoned homeless camp got cleaned out – a big one at Haskell's Beach near the Bacara Resort. This time the operation involved an unusual combination of talent: Bacara Resort official Mitch Vargas and Santa Barbara County Sheriff Ben Sandu, who is also the Community Resource Deputy for the City of Goleta, who contacted Heal the Ocean, who contacted Brian Borgatello of MarBorg Industries – and finally the most unusual participant of all in this project is a former resident of the camp who is now living with a roof over his head, and who now cleans up every piece of junk he can get his hands on.
This is Andrew Velikanje (pronounced "Vela-can-JEE"), who, in the end of the Haskell's project, got tired of waiting for everyone to get it together, and on a recent day, went out to the camp and bagged it up himself for easy pickup by MarBorg today, Tuesday, July 13, 2021.
Andrew came to the project through Hands Across Montecito, the group operating on the "Functional Zero" tactic of getting to know each homeless individual as a person with a story, rather than a thing to shuffle somewhere else. The group, led by Sharon Byrne (who is also Montecito Association Executive Director), has had considerable success housing formerly houseless people living about in the shrubbery of the Montecito community.
Andrew is a Hands Across Montecito protégé, and he now spends his days cleaning up shorelines, roadsides, beaches, the Bird Refuge – and even Highway 154. He has cleaned up the shoreline of Lake Cachuma so many times the powers that be at Lake Cachuma are considering giving him a permanent pass to be there as much as he wants. He has formed a new business, Earthcomb, with videos he posts on YouTube. (This live link shows him cleaning up Highway 154 before hitting the Haskell's camp (at film marker 1:26). Andrew hauls hundreds of pounds of trash per day from everywhere and anywhere.
For Andrew, to beautify the former spot where he used to camp outdoors with others is truly the definition of Coming Full Circle.
Thank you, Andrew… And also, thank you Sheriff Ben Sandu, and Brian Borgatello!
Mission
Heal the Ocean focuses on wastewater infrastructure – sewers and septic systems – as well as ocean dumping practices that have contributed to ocean pollution. We are focused on Santa Barbara County, but our methods are now serving as a model for other coastal communities across the country.
Begin to Build a Relationship
We know you care about where your money goes and how it is used. Connect with this organization's leadership in order to begin to build this important relationship. Your email will be sent directly to this organization's director of development and/or Executive Director.
They Heal Our Ocean
I've surfed for years at the Rincon, and am in the water all the time. It is such a relief to know that the septic systems are gone, that we're not swimming in polluted water like we were doing day in and day out, getting sinus, ear, nose, eye infections and who knows what else. Yes, there are other bad things that get into the ocean, but just knowing that this one big source of contamination has been removed is huge. This is one of the most popular surf spots in California, world known, and the legacy left to this piece of ocean will be there forever. It's so interesting to hear the younger surfers today, who don't know about the battles Heal the Ocean went through to get this project done. They were little kids at the time. Think of it, it's now history!
Return on Investment
Heal the Ocean's pragmatic approach ensures that any donation the organization receives will be returned in multiples.
A $25,000 investment in aerial infrared photography showing leaking oil fields off the coast of Summerland was the proof then-Governor Jerry Brown needed to sign Senate Bill 44, which allocated $14 million towards capping aging wells along the California coast.
A $5,000 investment in a consultant allowed HTO to snag $150,000 in state funds to pay for a conceptual engineering study for a recycled water facility in Goleta, and another $150,000 for state-funded conceptual engineering plans for a recycled water facility in Santa Ynez. These studies and conceptual engineering plans have put these agencies first in line for state funding help for the actual building of the facilities. So HTO effectively turned $5,000 into a potential of 50 million dollars.
Board of Directors
Hillary Hauser, President and Executive Director
Jean-Michel Cousteau
Thomas Dabney, Treasurer
Charles Vinick
Heather Hudson, Event Manager
Jonathan Wygant
Tom White