Heal the Ocean's July 2021 E-Letter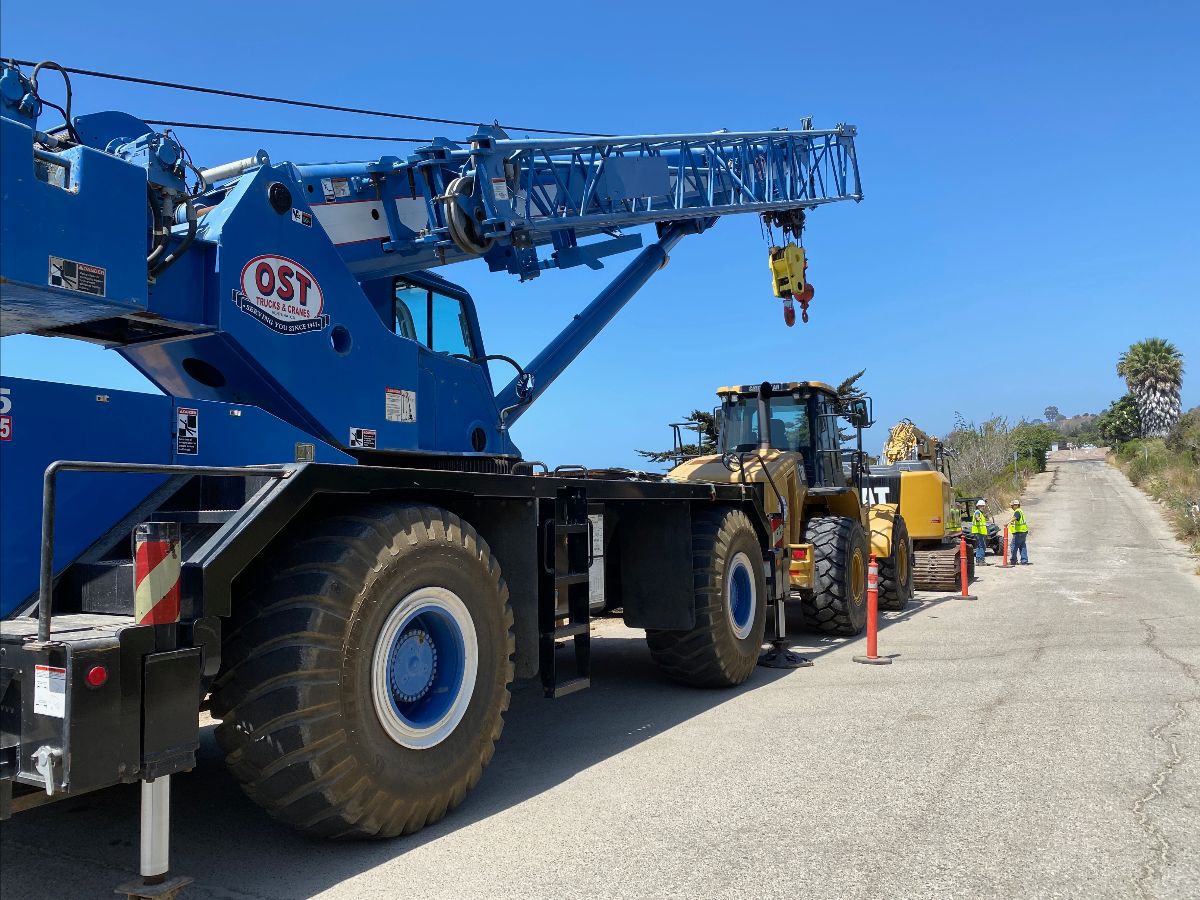 In this E-Letter:
• Oil Well Capping Equipment Moves into Summerland
• Be Confetti Conscious this Fiesta!
• Haskell's Hero Andrew Joins HTO to Help the City Keep Litter Under Control
• Sam Scranton Joins Advisory Board
• Surf on With Heather Hudson's Films!
Oil-Well Capping Equipment Moves Into Summerland
Anyone going by Summerland's Lookout Park will see all manner of heavy oil construction equipment taking up the park as well as the beach in Summerland, because the State Lands Commission, has moved in, to begin the capping of the leaking beach well called Ohlsson 850.
The heavy construction equipment is accessing the beach via the Wallace Avenue access, while spill response equipment and trained personnel will be staged in the Lookout Park parking lot during the activity as a precautionary measure. Ohlsson 850 is at the west end of Summerland Beach.
SLC engineers InterAct will supervise construction work, which will begin at low tide tonight, Wednesday, July 21, 2021, and continue on through this week, until July 25th. Leading up to this project, HTO Field Engineer Harry Rabin has been working with InterAct to pinpoint the exact location of the well.
And For Dessert… Rincon Island Cleanup Finishes
Heal the Ocean field Advisor Harry Rabin also reports that the State Lands Commission (SLC) decommissioning of the Rincon Island oil installation is complete, and reports that over 50 wells have been successfully abandoned on the island, capped and sealed in concrete. The causeway from the Ventura shoreline to the island, visible to drivers traveling the 101 Freeway, has also been rebuilt and repaired at a cost of over $3 million.
Rabin, who did underwater and topside monitoring of the island during the multi-year decommissioning, says the islands are "ready to become a new home for ocean education, outreach, research, environmental studies" which is what he is advocating. Heal the Ocean likes that idea, too! Click here to see Harry's drone footage of Rincon Island: https://vimeo.com/573447072
Here Comes Fiesta – & HTO Too
HTO Hires Andrew Velikanje/Earthcomb for Fiesta Help
Heal the Ocean is proud to announce that we have hired Andrew Velikanje to help keep a lid on litter during Fiesta. Andrew, whose Earthcomb project is gathering considerable steam following his recent Haskell's homeless camp cleanup fame, and his assistant, Josh Mcdonough, will be working all five days of Fiesta under the direction of the Santa Barbara Downtown Organization, which will help the Earthcomb team develop a strategy for keeping the city streets and sidewalks litter-free.
Click here to see Andrew in action cleaning up the Rincon Beach area last week! https://www.youtube.com/watch?v=GC7p4sDZtHk
Sam Scranton Joins HTO Advisory Board
Heal the Ocean is proud to announce that Sam Scranton, a former HTO Board Member, is rejoining us as an Advisory Board member. Sam was for over 30 years the moving force behind the Santa Barbara Bowl (Manager 1978-1980; Founding Board Member (with Steve Cloud and Patrick Davis) of the Santa Barbara Bowl Foundation (1980); General Manager (Feb 91-Feb 94); Executive Director Santa Barbara Bowl Foundation (Feb 94-Dec. 31, 2010). As the Foundation's executive director, Sam spearheaded the raising of $25 million for Bowl renovation and improvement.
But Sam says his proudest moments in life were the years he was, in the early 1970s, the personal assistant to Elisabeth Mann-Borgese, director of Planning Council, International Ocean Institute, Malta, and in this position, Sam did the preliminary editing of text and photographs for her historic book, The Drama of the Oceans. We are glad to have you back, Sam!
Go Surfing with HTO's Own Heather Hudson!
Heather Hudson has been surfing waves since she first took a bath, and her two films, "The Women and the Waves" (2009) and "The Women and the Waves 2″ (2016) have been shown all over the surf world. Her latest film, "93 – Letters from Marge" is about surfing pioneer and icon, Marge Calhoun.
"93 – Letters from Marge," is having its first public screening TONIGHT (Wednesday, July 21, 2021) at the California Surf Museum in Oceanside, California. The screening is part of a program titled "Legendary Surfing Women in Print and Film" where she will present with Wave Woman author Vicky Durand. For details and RSVP instructions click here: https://surfmuseum.org/upcoming-events/presentation-and-book-signing-with-vicky-durand-author-of-wave-woman/
Additionally, Heather's film "93- Letters from Marge" will be screening locally at Santa Barbara Maritime Museums' "Wave Women" event on Thursday, July 29 at 4 p.m. at the Munger Theatre. She will be presenting with Vicky Durand here, too, and in a "HAPPINESS HOUR" on the Patio afterward, both women will be selling merchandise. The event is free with Museum admission, but reservations are required and can be made online at reservations@sbmm.org. For more information click here.
Heather has been on HTO's Board of Directors for many years and is HTO's Event Manager. We are proud of her filmmaking abilities, as well as her making time to get into the ocean nearly every day and catch a wave!
P.S. Please remember to pick up your trash, properly dispose of it, and pack out your trash if the trash can is full! Thank you!
Mission
Heal the Ocean focuses on wastewater infrastructure – sewers and septic systems – as well as ocean dumping practices that have contributed to ocean pollution. We are focused on Santa Barbara County, but our methods are now serving as a model for other coastal communities across the country.
Begin to Build a Relationship
We know you care about where your money goes and how it is used. Connect with this organization's leadership in order to begin to build this important relationship. Your email will be sent directly to this organization's director of development and/or Executive Director.
They Heal Our Ocean
I've surfed for years at the Rincon, and am in the water all the time. It is such a relief to know that the septic systems are gone, that we're not swimming in polluted water like we were doing day in and day out, getting sinus, ear, nose, eye infections and who knows what else. Yes, there are other bad things that get into the ocean, but just knowing that this one big source of contamination has been removed is huge. This is one of the most popular surf spots in California, world known, and the legacy left to this piece of ocean will be there forever. It's so interesting to hear the younger surfers today, who don't know about the battles Heal the Ocean went through to get this project done. They were little kids at the time. Think of it, it's now history!
Return on Investment
Heal the Ocean's pragmatic approach ensures that any donation the organization receives will be returned in multiples.
A $25,000 investment in aerial infrared photography showing leaking oil fields off the coast of Summerland was the proof then-Governor Jerry Brown needed to sign Senate Bill 44, which allocated $14 million towards capping aging wells along the California coast.
A $5,000 investment in a consultant allowed HTO to snag $150,000 in state funds to pay for a conceptual engineering study for a recycled water facility in Goleta, and another $150,000 for state-funded conceptual engineering plans for a recycled water facility in Santa Ynez. These studies and conceptual engineering plans have put these agencies first in line for state funding help for the actual building of the facilities. So HTO effectively turned $5,000 into a potential of 50 million dollars.
Board of Directors
Hillary Hauser, President and Executive Director
Jean-Michel Cousteau
Thomas Dabney, Treasurer
Charles Vinick
Heather Hudson, Event Manager
Jonathan Wygant
Tom White