A Virtual Success: Cottage Hospital Foundation Surpasses Tiara Ball Goals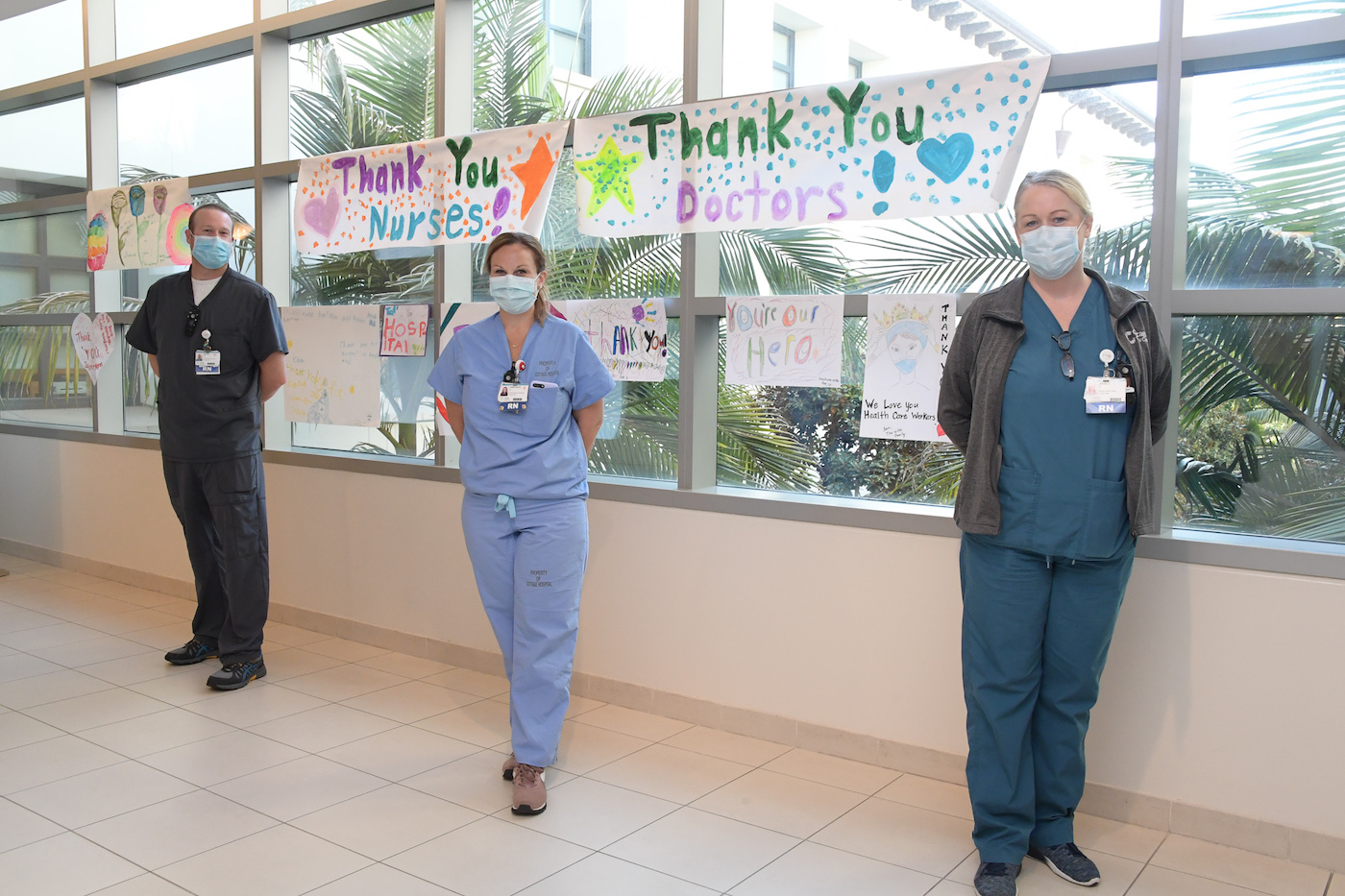 Santa Barbara Cottage Hospital Foundation's 2020 Tiara Ball, one of the more popular annual black-tie galas in a town with no shortage of big bash benefits, was one of the last public events in the community before the COVID crisis closed everything down. The so-called "Party of the Year," held on February 29, Leap Year Day, attracted more than 500 people to the glitzy Ritz-Carlton Bacara, where guests dined and danced the night away while doing a whole lot of good in supporting Cottage's critical care services, with the 2020 event focusing on raising funds for the remodel and expansion of the SBCH Emergency/Trauma Center. 
That center, not coincidentally, is where Neil Myers, who was nearly killed in a bike-versus-truck accident near the top of Gibraltar Road above Montecito, was treated with ultra-modern equipment that helped save his life — a story he chronicled in the documentary film, Climb — which screened at the 2021 Santa Barbara International Film Festival, partially to pay tribute to the critical care treatment he received at Cottage.
Philanthropists are usually very generous for the gala event, which in 2020 raised about $620,000. What was surprising was just how generous the guests were for this year's event, which took place, if only virtually.
"We reached out to the same people that have sponsored the live gathering to ask them if they would support a Tiara campaign — sustain their giving levels, but not come to the party," explained David Dietrich, Cottage Health's vice president for advancement, adding that Cottage had set an ambitious internal goal of raising $500,000, the same figure usually generated by the live event.
"We just finished the accounting, and it turns out the appeal raised $652,722. The community went far beyond what we were hoping for. They were very supportive."
Sure, the "event" featured dinner and wine delivered to each upper-level sponsor's homes, as well as private dance lessons for up to eight in person or virtually all designed to best emulate the experience at the Bacara. But Dietrich knows the giving wasn't geared to the grub and gifts. It had a lot more to do with the consciousness of the community and where this year's funds were aimed — Cottage's COVID response fund as a segment of the Cottage Emergency Response Fund.
The COVID coffers covered several important needs here during the pandemic, Dietrich explained. One was supporting caregiver families, both with resources for childcare so that those Cottage employees affected by school closures could consistently come to work without worrying about their kids, and for families struggling with basic needs if the employees spouse lost their job, offering funds to cover rent, car payments, insurance, and the like.
"It was really important to support our own employees and their families to try to get them through this (the COVID crisis) and keep them financially stable," Dietrich said. 
The fund also allowed Cottage to purchase equipment and supplies needed during the pandemic, including special COVID response kits for patients who test positive but aren't sick enough to be hospitalized.
"We give them a kit that has a thermometer, a pulse oximeter, educational materials about COVID and its symptoms so that they can care for themselves at home, monitor their symptoms and know when they need to come to the hospital," Dietrich said.
The Tiara-filled fund also helped with Cottage's vaccination program, the drive-through clinic that ran for seven months across from the Goleta hospital and administered just shy of 100,000 jabs. The money helped to cover the costs of running the free clinic including tent and equipment rentals, professional staff who were joined by hundreds of community volunteers, and the refrigeration and technical care of the vaccine itself.
"The layers of complexity are astonishing, and it took a big team to put it together," Dietrich said.
Last, but certainly not least, the COVID-response portion of Cottage Emergency Response Fund is also going toward emergency preparedness for the future, because, as Dietrich put it, "We're not done. With the Delta variant coming through, we don't know yet when we will be. So, it's really about being prepared for the unexpected."
Those donating for the virtual ball and otherwise may not have been aware of the specifics, but they sure are aware of how Cottage has continuously served the community for far more than a century, even more so following the recent fires and floods as well as the pandemic.
"I think people are very grateful to first responders and the people who are taking care of our community," he said. "They've been seeing it in very tangible ways during the pandemic. There's respect and appreciation for the doctors, nurses, respiratory therapists, and others who are coming to take care of anyone with COVID and those who don't have the virus but have important medical needs right now. My sense is that there's a heightened awareness and sensitivity and respect for the work that the caregivers are doing.
"Messages of encouragement and appreciation to caregivers, and philanthropic support, have always been valued and important. But this affirmation and appreciation of Cottage's role has taken on special meaning during the pandemic. It's an honor to care for this community."
Community support truly has dated back for as long as the hospital has been around, Dietrich said, noting that this December marks 130 years since Cottage first opened its doors — which have never closed through world wars, depressions and other challenges. In fact, he said, a community-supported carnival raised $5,000 to help in the original building's construction.
Beyond the COVID care fund, Cottage's current needs include dollars to help remodel its "Little Cottages," a series of six small dwellings for family members of far-away patients who can't afford to stay in a hotel; construction has already begun on a 12-unit replacement. Some funds raised will also go toward an expanded patient simulation training lab that is being built to allow nurses, physicians and other caregivers to practice and perfect patient procedures on highly sophisticated simulation mannequins, plus scholarship programs for people seeking education to enter the nursing professions. Cottage provides significant numbers of scholarships for people who want to go into nursing careers — which Dietrich said can be a very expensive education. The hope is that they will eventually become caregivers in our local community.
"It takes a lot of people coming together to do all these kinds of programs, and each generation has done its part," Dietrich said. "Philanthropy makes a difference, and any gift at any level helps. It all gets added together and makes an impact."
Meanwhile, for those who can't wait to get all glitzy one more time out at the Bacara, rest assured that, conditions permitting, Cottage plans to bring back the Tiara Ball, currently slated to roll out to the seaside resort next spring — April 9, 2022. The sponsorship materials will be mailed to supporters in November. So, it's not too early to start earmarking funds for the big event and making sure the gowns and tails are ready for one of the best galas of the year.
Santa Barbara Cottage Hospital Foundation's David Dietrich can be reached at (805) 569 7345. Visit www.cottagehealth.org/donate.
Mission
Cottage Hospital's mission is to provide superior health care for and improve the health of our communities through a commitment to our core values of excellence, integrity, and compassion.
Begin to Build a Relationship
We know you care about where your money goes and how it is used. Connect with this organization's leadership in order to begin to build this important relationship. Your email will be sent directly to this organization's Director of Development and/or Executive Director.
Caring For You, Your Friends and Neighbors
"Barry and I became passionate supporters when Santa Barbara Cottage Hospital began its major rebuilding program in 2004 – and we remain committed to making sure the hospital and its caregivers have the resources needed to maintain the level of medical excellence we currently enjoy this close to home. The Cottage hospitals are nationally recognized for quality of care, an extensive range of specialized services, engaged employees, and patient satisfaction. Cottage cares for our family, friends, and neighbors. Supporting this important work is a privilege and an honor."
Strengthening a World-Class Healthcare System
Philanthropic support from local families and organizations made it possible for Santa Barbara Cottage Hospital to open its doors in 1891, and for the past 129 years, those doors have never closed. Today, charitable gifts continue to strengthen and sustain the hospitals of Cottage Health.
Philanthropic priorities include:
• Enhancing excellence in clinical programs such as cardiology and the neurosciences, supporting educational programs for caregivers – including a new patient care simulation training center, investing in research;
• Strengthening Cottage's Emergency, Trauma, and Critical Care programs;
• Building and sustaining the Cottage Children's Medical Center;
• Improving the health of the broader community through the Cottage Center for Population Health;
• Supporting Cottage Rehabilitation Hospital's move to a modern, patient-centered space at the Goleta Valley Cottage Hospital campus;
• Acquiring new CT scanning technology at Santa Ynez Valley Cottage Hospital.
To learn more about how your outright gift, multi-year pledge, or estate-plan gift can improve health care in our region, please call the Cottage Health Advancement office at (805) 879-8980, or visit: cottagehealth.org.
Cottage Health Board of Directors
Gregory F. Faulkner, Chair
Thomas J. Cusack, Vice Chair
Dorothy Largay, PhD, Vice Chair
Steven C. Zola, Vice Chair
Edward S. Bentley, MD, Secretary
Susan Christol-Deacon
Pamela B. Gann
Nancy Nielsen
Ernesto Paredes
Gamble T. Parks
Richard S. Ponce, MD
Anne O. Rodriguez, MD
Ginger Salazar
Mark P. Scott, MD