A Beautiful Race: Annual Fundraiser is Back for Girls Inc.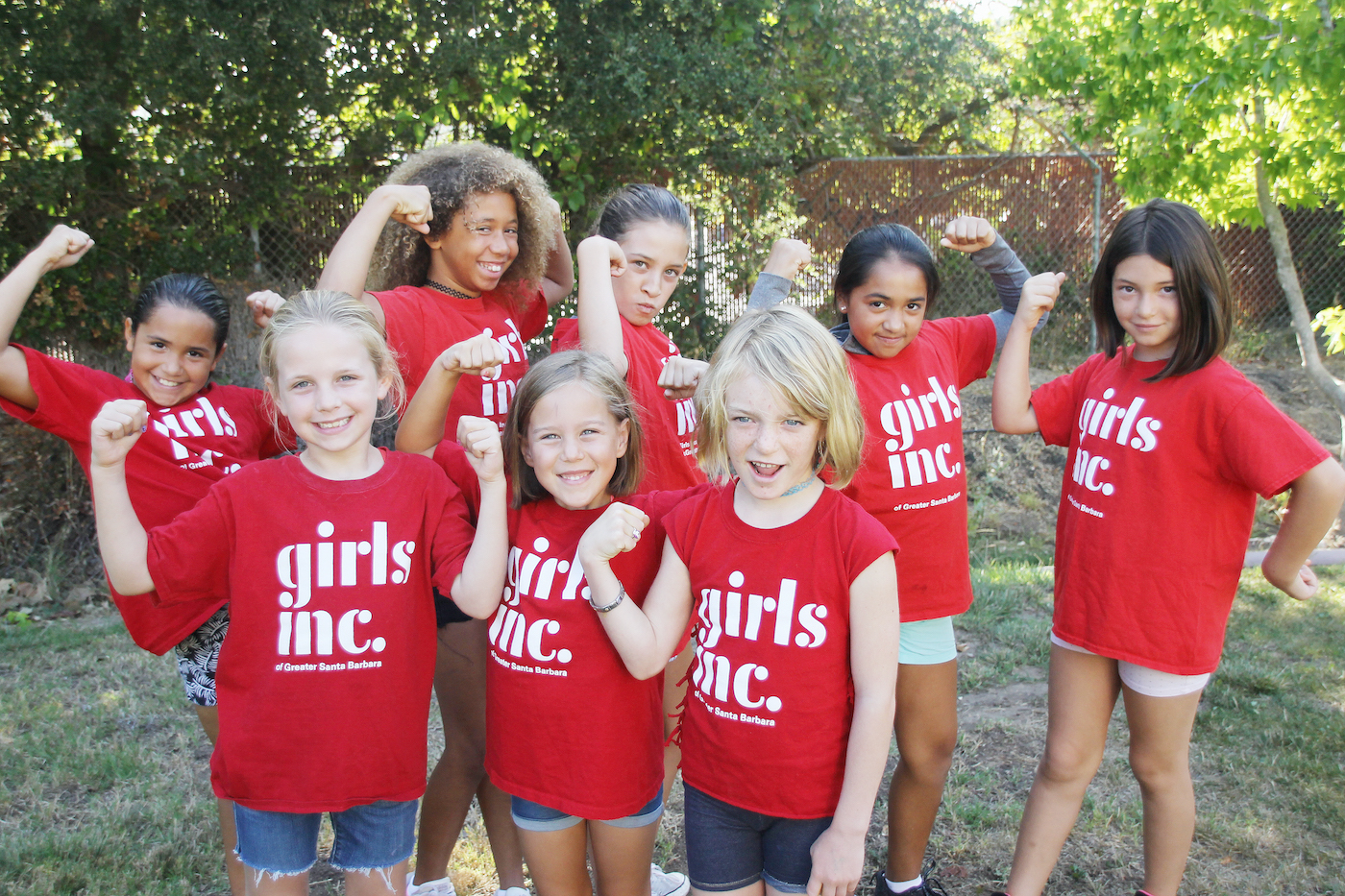 Girls Inc. of Greater Santa Barbara has had plenty on its plate since the pandemic altered almost everything back in March 2020. Like everyone else, the nonprofit — whose mission is to inspire all girls to be strong, smart, and bold with a vision serving empowered girls in an equitable society — had to make a lot of adjustments during the various shutdowns and changes to the COVID-coping protocols. Then late last fall, Girls Inc., also learned that Barbara Ben-Horin, the CEO who was instrumental in helping the organization weather the challenges to its service model, would be leaving her position at the pro-girl nonprofit at the end of the year, necessitating a search for new executive leadership that is just now winding down.
Still, with the pandemic largely receding, the organization wants to focus this story on something coming up soon that's both fun and a fundraiser. That would be the annual She.Is.Beautiful 5K/10K Santa Barbara races, which has been associated with Girls Inc. for twice as long as Ben-Horin's important tenure lasted. The event was converted to a virtual-only event last year, but the 10th annual She.Is.Beautiful race is on track to be ready to be run on Saturday, September 18.
Girls Inc. of Greater Santa Barbara has been the local charity partner for She.Is.Beautiful — a Santa Cruz-based nonprofit that shares a similar vision albeit more narrowly-focused — going back for the full decade, and every dollar raised from the event stays in our community and helps provide the Girls Inc. experience to youth and teens.
"We're super excited to bring the race back after having to skip last year," said Katie Pearson, Girls Inc.'s development officer. "It's one of the first big in-person events that's going to be allowed in Santa Barbara since the pandemic started and we are thrilled to have our names on it."
Calling the event a "race" is a bit of a misnomer, because it's not really about the competition, Pearson took pains to point out:
"The two sisters who founded She.Is.Beautiful really want to promote female empowerment and the concept of making a statement that you are strong, no matter what level you are at," she explained. "So, we don't want people thinking that they have to show up and run as hard as they can. We are happy to have walkers and strollers, jogging and dancing. It's all about just feeling really powerful at the start line and completing the course." 
Indeed, the event page on Girls Inc.'s website invites the whole community to "Grab your girlfriends, mom, sister, aunt, co-workers, daughters, or partner and come move with us… All ages and genders are welcome to join us." Meaning, boys and men, too. "Women, and anybody who advocates for women and making them feel strong and bold," Pearson said. 
Girls Inc. isn't just the beneficiary of the event, either. The nonprofit is also entering two of its own teams this year. There's the one that has younger program participants and supporters and community members under the organization's umbrella. But there's also a girls' running club teen team as part of its "Strong" programming, said Kristen Weaver, the nonprofit's chief strategy officer and communications director. "Strong is about healthy bodies, healthy lifestyles, and physical movements, and it's teaching girls about what it is to train for an event like this, how to prepare? The girls really learn about physical fitness and about running itself as a sport and as an activity."
The teen program participants wanted to step out on their own for this year's event, Pearson explained.
"They are maturing teens who really feel like they want to express themselves," she said. "They are very strong and bold – some of our future leaders. And they're going to lead the pack with their own team this year, which is super exciting."
Also new this year are corporate teams, Pearson said.
"Any local businesses that want to promote health and wellness within their company can sign up as their own team and race together in a way that makes them able to benefit the charity even more," she said, adding that Amazon, Wells Fargo, and American Riviera Bank are signing on.
One more thing also sets the 2021 She.Is.Beautiful event apart: There is still room for more racers available even as event day looms barely more than a month away, a rarity for the perennially popular participatory benefit. But slots are filling up, as the normal 3,500-participant capacity has been pared to 2,000 to increase safety with the pandemic still lingering. Register at https://girlsincsb.org/events/she-is-beau
tiful-5k-and-10k.
The event has a $10,000 goal, with the proceeds earmarked for Girls Inc.'s general fund where it will help supplement the costs of the organization's proven evidence-based program and allow the nonprofit to provide financial assistance for qualifying families so that the Girls Inc. experience is accessible to all.
Meanwhile, emerging from the pandemic during a time of leadership transition has really focused the organization on its strategies for its next step, including adapting some of its successful virtual programs into hybrid models going forward.
"We really learned that we could be flexible and explore new ways to expand our programs to meet girls where they are rather than having them always come to our centers for programs," Weaver said. "There's a lot of exciting things happening behind the scenes."
Call Girls Inc. of Greater Santa Barbara at (805) 963-4757. Website: https://girlsincsb.org.
Mission
To inspire all girls to be strong, smart, and bold. Our vision: empowered girls in an equitable society.
Begin to Build a Relationship
We know you care about where your money goes and how it is used. Connect with this organization's leadership in order to begin to build this important relationship. Your email will be sent directly to this organization's director of development and/or Executive Director.
"I share Girls Inc.'s vision of empowered girls in an equitable society, and support their work to encourage girls to learn and pursue higher education and careers in the science, technology, engineering, arts, and math (STEAM) fields, in which women are widely underrepresented. Girls Inc. offers a pro-girl environment, mentoring relationships, and programs designed to encourage girls to break gender stereotypes and see the world of opportunity that awaits them. A Girls Inc. girl understands the importance of life-long learning and leadership, work-force readiness, creativity, and solid life-skills."
Creating New Paths to Serve Girls and Teens
Girls Inc. is dedicated to making its vision of empowered girls in an equitable society a reality for all families in the Santa Barbara community and beyond. CEO Barbara Ben-Horin and her staff share three goals for Girls Inc. programs:
• To expand program delivery beyond the walls of the organization's centers, serving girls and teens in schools, at community centers, and through other social sector strategic partnerships in Santa Barbara;
• To expand its outreach geographically to make programming available and accessible in underserved areas throughout Santa Barbara County;
• To ultimately offer programming free of charge to all girls and teens and their families.
With a $7 million investment, the organization can clear the existing mortgage on its Goleta Valley Center, fund its endowment to support operations during the transition to a no-fee service model, and fund multiple start-up and satellite programs locally and in North County to serve a greater number of youth with impact.
Board of Directors
Meredith Beitz
Carol Brumberger
Vanessa Garcia
Tracy Jenkins, President
Betsy Manger
Amber Ortiz, Vice President
Amie Parrish
Sue Pilkington, Secretary
Paul Portney, Treasurer
Luz Reyes-Martin
Christi R. Sulzbach