A Look Toward the Future: How Endowing the Lobero Helps the Community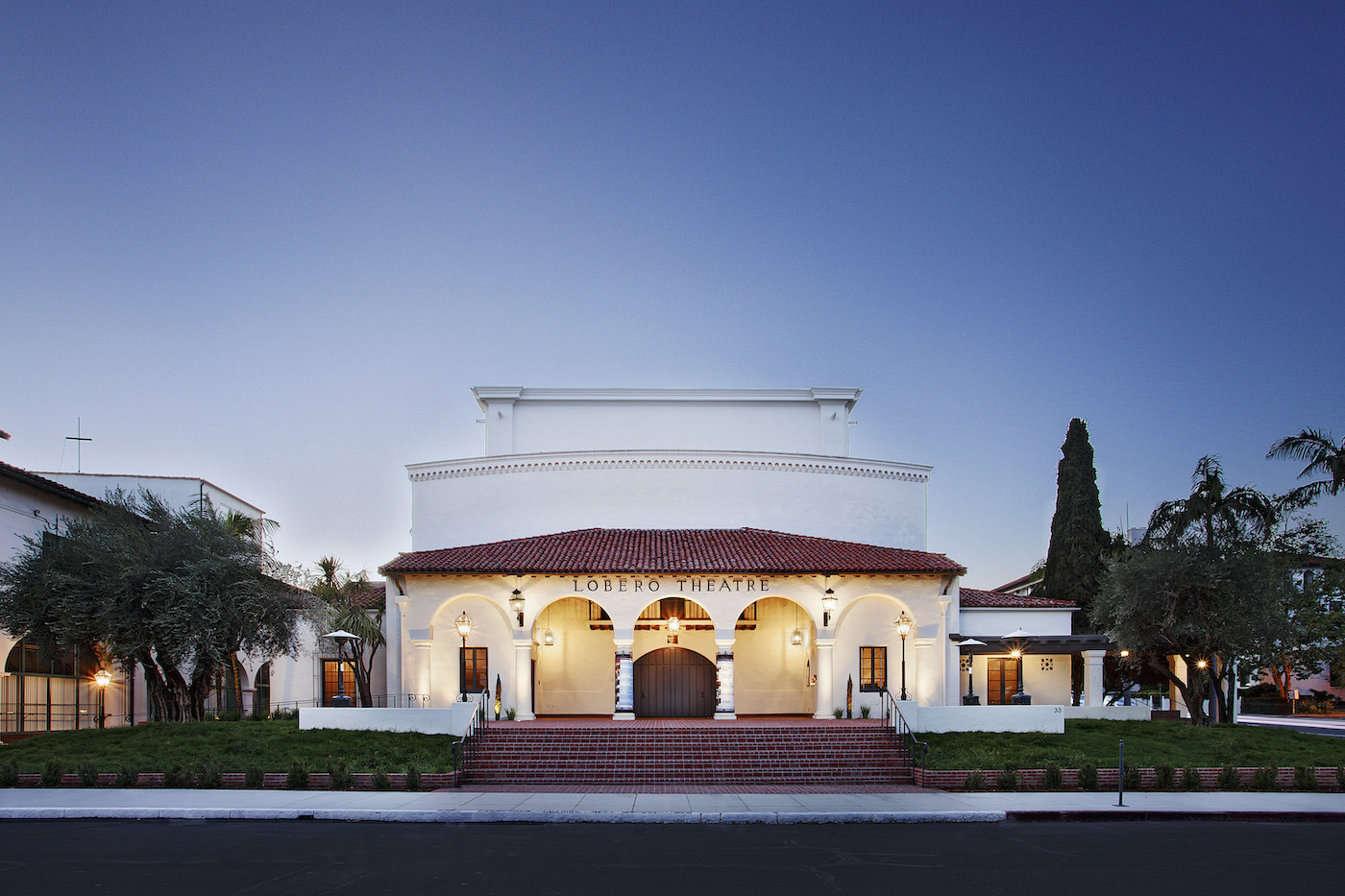 The Lobero Theatre is by far the oldest performing arts venue in Santa Barbara. In fact, it's actually the longest operating theater in all of California, dating back just a couple of decades after California became the 31st state admitted to the union. The Lobero also ranks fourth in seniority among all performing arts buildings in the entire country, having had a theater operating on the site at the corner of Canon Perdido and Anacapa streets since 1873.
"We're actually the oldest this side of Milwaukee," boasted David Asbell, the theater's 20-year tenured executive director. "We've never been a movie theater. We've never been a restaurant or a church or anything other than a theater hosting the performing arts throughout that entire time."
And, Asbell pointed out, the Lobero has only been closed for less than 10 years in all that time, first when the opera house refurbished from an adobe school building was replaced by one in the Spanish Colonial Revival style with designs by architects George Washington Smith and Lutah Maria Riggs. A major renovation also shut the doors for a couple of years.
"Of course, we were also closed to the public for 15 months in 2020-21 because of the pandemic," Asbell added, although the Lobero did host quite a few livestreaming events, including concerts by Montecito residents Kenny Loggins and John Kay of Steppenwolf, plus some recorded evenings of entertainment as protocols allowed.
The theater was also quick to resume public events after the June 15 state reopening, first hosting Opera Santa Barbara's foray into Wagner and, most recently, a free community concert with Santa Barbara jam-rock singer-songwriter Zach Gill and many other Santa Barbara stalwarts. The Lobero launches back into a crowded calendar this week with performances by smooth jazz Dave Koz & Friends and the folk duo The Milk Carton Kids. Local pop heroes Toad the Wet Sprocket are due in early September, with such acts as The Wallflowers, Dean Torrence of Jan & Dean, Pat Metheny and the Charles Lloyd Quartet hot on their heels.
"It was important to get back to doing shows for the community as soon as possible, as long as it could be within a safety protocol framework," Asbell explained. "You want to open up and get back to being here for the community."
But Asbell and his associates at the Lobero Theatre Foundation — the nonprofit that officially maintains and operates the historic theater — aren't putting their attention on the past or even the present, at least for the purposes of this Giving List article. They're turning their attention toward focusing on the future, namely securing a more than tripling of the theater's endowment — from $3 to $10 million — to ensure not only its survival but greater service to the community.
"First of all, let's endow the building so that we never have to go to the community again to ask for money to re-do the chairs, or put in air conditioning or update the plumbing," Asbell said, explaining that the Lobero has engaged architects and facilities specialists to do a study of what might be needed in the next 30 years. "They told us, this is what you can expect to have to do from redoing the roof to painting the building to getting new sound and lighting equipment and the latest technology for the stage. Now we have an idea of what that costs and we can also try our best not to have to close down for any length of time."
That mission has already been accomplished. What's next is raising enough money to fill up the coffers of the community access fund so that the Lobero can host the local performing arts organizations at little to no cost in perpetuity, a lofty goal for a venue that only self-produces roughly 30 dates out of more than 220 events per year, instead renting to such outfits as CAMA, Opera Santa Barbara, the Music Academy of the West, and myriad others large and small, as well as outside promoters.
"Our next campaign is all about our ability to create an endowment that will provide funds specifically for us to be able to allow those local organizations who use the Lobero to do it rent-free," explained Jim Dougherty, the Lobero Foundation's director of planned giving who was previously its development director. "We don't want to need to collect rental money from them because every dollar comes out of what they are able to get from ticket prices or toward their own fundraising (for benefit events). We really would like to be in a position where we have a fund set up that allows us to provide them using the Lobero for free. We want to get to where in the worst of times, we can still have a strong program and keep these artists alive and onstage."
The point is to truly make the Lobero the community's theater once again.
"Santa Barbara artists should be able to use the Lobero as their home, the way it was intended to be way back when the theater opened 150 years ago," Asbell said. "If we could endow that aspect, we know that there will be money there every single year to support really making this the community theater without having to worry about various economic cycles (of boom or bust). With that stability, we can really be an agent for propelling a really vibrant performing arts scene in Santa Barbara."
Doughtery explained that the Lobero partially decided to create the community endowment to be able to be more flexible and inclusive, noting that while some presenters or producers such as the Civic Light Opera and Sings Like Hell faded from popularity, the Lobero will always be here.
"So, we can respond to new organizations, startups, fledgling companies and do a lot of things to be helpful in supporting them. It's an investment in the community."
While the benefits accrue in the future, the centerpiece of the campaign, dubbed Ovation Celebration, is a loving look at the Lobero's long history, a two-plus year focus on its 150-year anniversary. The celebration launches next summer to surround the date of the 2023 sesquicentennial and continues into 2024 to mark the 100th anniversary of the modern building. The whole community is invited, so mark your calendars.
For more information, visit www.lobero.org.
Mission
The mission of the Lobero Theatre Foundation is to maintain and operate the historic Lobero Theatre as a performing arts center and cultural asset to the community of Santa Barbara, and to present the highest quality productions in music, dance, and theatre.
Begin to Build a Relationship
We know you care about where your money goes and how it is used. Connect with this organization's leadership in order to begin to build this important relationship. Your email will be sent directly to this organization's Director of Development and/or Executive Director.
Proven Value
"For nearly 150 years, the Lobero has proven its value as a venue which brings world-class talent to our town. I've long enjoyed coming to this theater, and have enjoyed countless diverse performances on this historic stage. It's simply a great place to enjoy a show. And just as meaningful, it is Santa Barbara's community theater – collaborating with local schools and youth arts organizations. I'm proud to not only support the Lobero, but also honored to serve as President on its Board of Directors."
Another 150 Years
In 2023, the Lobero Theatre will celebrate its 150th anniversary. For Director of Planned Giving Jim Dougherty, the moment will be as much about celebrating the past, as cementing the Lobero's legacy into the future.
Although 60% of annual revenue comes from ticket sales and venue rentals, the theater relies on charitable donations for the balance.
"Our true endowment going through the years has been this community," Dougherty says. "The community members have always stepped forward in times of crisis and exerted an ownership over the theater. This is their theater."
To coincide with the 150-year anniversary, Dougherty plans on expanding the current endowment of $3 million to $10 million, and is seeking your help. If you want to be a part of the Lobero tradition and future, you can reach him directly at: jdougherty@lobero.org.
Board of Directors
Steve H. Hayes, President, Annual Fund Chair
Charles de L'Arbre, Vice President
Melissa Fassett, Secretary
Bridget Foreman, Treasurer
Amy MacLeod, Past President
Tim Casey, At Large
John Gerngross, At Large
Stephen Cloud
Mindy Denson
Jeff DeVine
Brett Hodges
Michael Jaffe
Laurie Bentson Kauth
Janet McCann
William J. Nasif
Ben Trosky
Bo Willis
David Anderson, Director Emeritus