Justified Pivot: Organization Doesn't Stop Fight Against Discrimination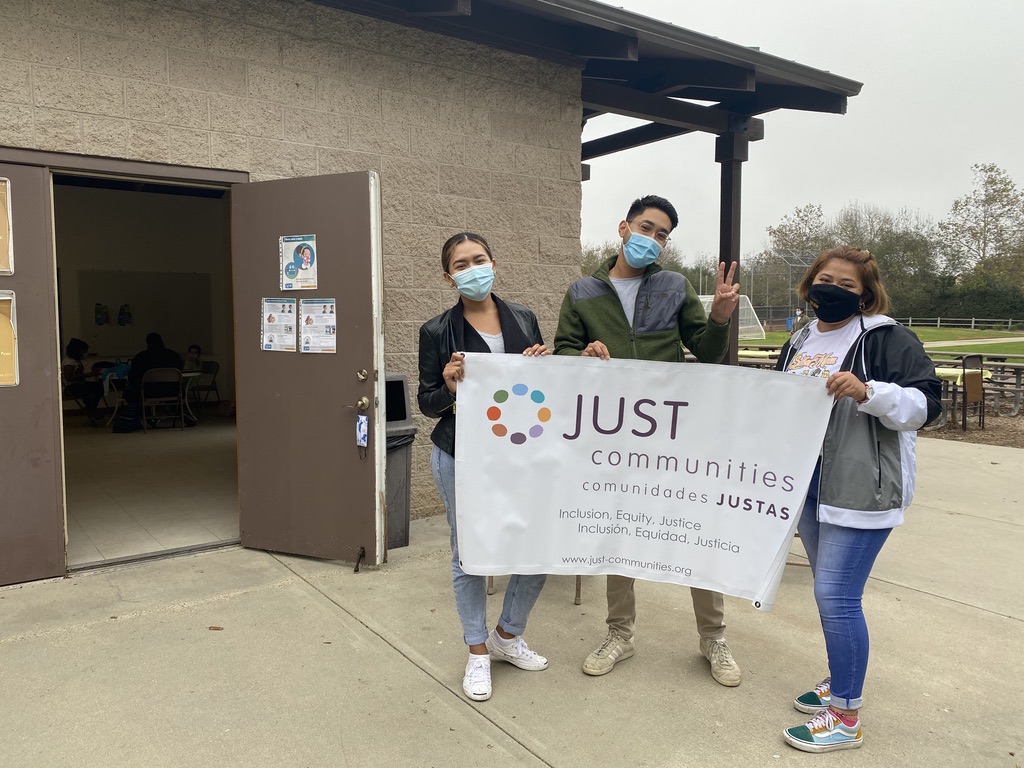 Just Communities (JC), the nonprofit whose mission includes "dismantling all forms of prejudice, discrimination, and oppression," works towards its vision of an equitable and inclusive Central Coast by offering cultural competency training to organizational leaders, education seminars for the general public, leadership training for students and teachers, and customized consultation to local agencies for diversity and organizational change initiatives.
Until 16 months ago, that multi-pronged approach also included a series of quarter-million-dollar contracts with the Santa Barbara Unified School District to provide implicit bias training. But that was before the pandemic and a protracted lawsuit by Fair Education against SBUSD, and one against Just Communities itself alleging that the curriculum is racist, radical, discriminatory, and illegal, caused an abrupt halt in the relationship. But that was no surprise to Melissa Rodezno-Patrino, Just Communities' executive director and chief operating officer since spring 2018.
"SBUSD was our biggest contract and essentially we don't have that anymore because of this appeal, which means they're really hampering the work that we've been doing with students and educators and parents for the past 10 years," she said. "That loss has definitely affected us financially — we're a much smaller staff than we were two years ago. But it seems that whenever organizations move the needle of social justice forward, there's always going to be other ones that want to quell that work."
When the search for racial equality is the mission, however, such a setback only serves to spur on efforts to engage in other avenues. Such is the case with Just Communities.
"We've pivoted by working directly with communities," Rodezno-Patrino said. "We're still doing the same work, but now we're doing it with other programs and with other nonprofits and private entities who are preparing youth who reach out to us."
Youth for Justice (Y4J), for example, is a 15-hour program taking place September 23 through October 14, where youth discuss and address issues of racial equity and systems of oppression in their own communities, and learn about Social Justice Education, civic engagement, and community organizing. A more accessible version of JC's "Talking in Class" program for SBUSD, Y4J's goal is to teach students in grades 7-12 to be inclusive of all people and cultures and to develop capacity to check assumptions and to understand the value-laden choices that await them as leaders, decision makers and arbiters of ethical choices at home, at school, and in their communities.
Just Communities' Anti-Racist Educators Collaborative Group, which meets monthly on Zoom, gives teachers, aides, and administrators "a space to really talk about issues that happen in schools, and how to support each other with tools to address racism in the classrooms in a productive way," Rodezno-Patrino said.
There's some irony in the fact that Just Communities had to pivot and retrench even as the George Floyd murder and Black Lives Matter protests dramatically raised awareness of implicit bias the nonprofit has been addressing for a couple of decades.  
"We've been doing this work on the Central Coast for the past 20 years and it's been like swimming upstream to get people to talk about the issue," Rodezno-Patrino said. "George Floyd's death and the murder of Breonna Taylor woke a lot of people up who normally are not involved in the work. It has made what we do a lot easier because more of the community recognizes that this is a big issue, and people are realizing it is happening right in front of you."
The executive director said that the heightened awareness has bumped up the nonprofit's consulting work. "It's becoming more holistic in that we're talking to organizations to understand that you can't just do a one-time training and then suddenly you're not racist anymore. Really talking about what it means for an organization to participate in an anti-racist workshop is more of a year-long commitment and a five-year plan for lasting change."
"Going beyond the solidarity statement" part of the point of last January's First Annual Social Equity Summit with a goal of helping organizations that might have expressed empathy about Floyd's death to come up with action pieces to put into place in order to combat racism within," Rodezno-Patrino said.
To that end, Gabrielle Felder, JC's director of research and consulting who was hired on last spring, is spearheading the nonprofit's move in expanding consulting and helping to define the work.
"We're looking internally at what a pro-Black institution looks like. And how do we ensure that we're having that conversation in the Central Coast?" Rodezno-Patrino said.
Among the institutions signing on is MPA Collaborative Network, the organization working to empower coastal communities and encourage ocean stewardship — a recognition that the climate changes more heavily impact people of color, she said.
What ties all these avenues and challenges together is that the work itself "embodies a lot of pain of what people go through every day," she said. "There are ripples of change happening throughout the community, but change doesn't happen overnight. There's a lot of push and pull. Being able to continue working with allies and accomplices to move the needle forward, that's what gives me hope every day."
Financial help, of course, as well as volunteers who can facilitate programs are always needed, Rodezno-Patrino said. But so are individuals simply doing their own work within their own community, taking a close look at the systems that are around them and engaging in the conversation.
"When people are willing to wonder about their own role in racism and implicit bias, that's what is truly heartening for me."
Just Communities' Executive Director Melissa Rodezno-Patrino can be reached at (805) 966-2063. Visit www.just-communities.org.
Mission
Just Communities advances justice by building leadership, fostering change, and dismantling all forms of prejudice, discrimination, and oppression.
Begin to Build a Relationship
We know you care about where your money goes and how it is used. Connect with this organization's leadership in order to begin to build this important relationship. Your email will be sent directly to this organization's director of development and/or Executive Director.
Peaceful and Just Solutions
"Soon after moving to Santa Barbara I met the staff of Just Communities and learned about their work to address conflicts and to create opportunities for people of diverse cultural, racial and economic groups to work together. I attended sessions where police, students, teachers and parents expressed their gratitude for the skills and understandings they gained as a result of Just Communities' trainings and workshops. It is a privilege to endorse and support this organization that works year-round to promote peaceful and just resolutions to difficult issues in our county."

Board of Directors
Jack Rivas, Co-Chair
Walid Afifi, Co-Chair
Viviana Marsano, Secretary
Marlene Cohen
Abby Hogan
Alexandra Brown
Jean Alexander
Stooky Hernandez