Setting the Standard: SBCC Foundation Creates Opportunity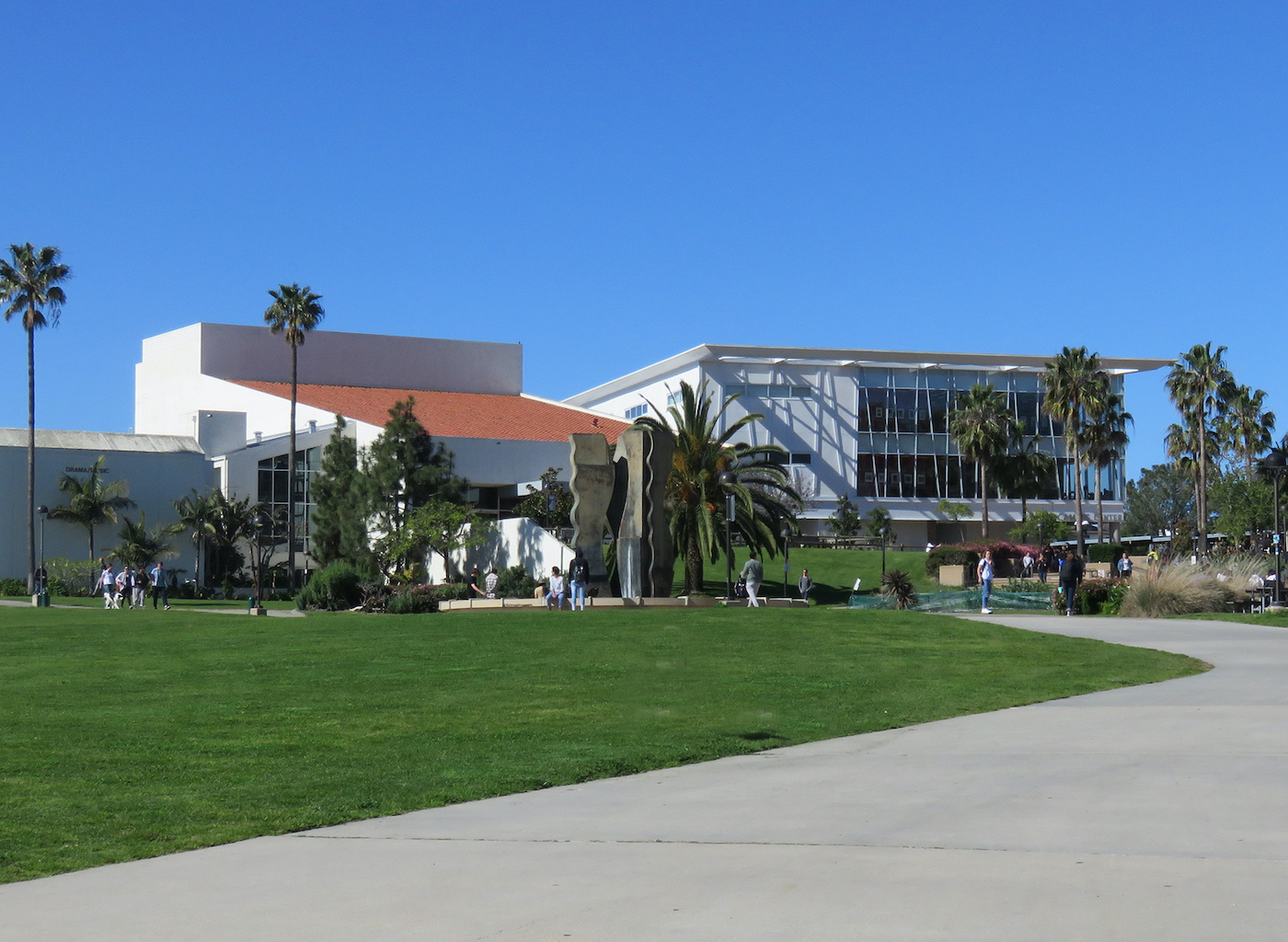 Santa Barbara City College Foundation CEO Geoff Green is understandably proud of the SBCC Promise, the innovative program he spearheaded that launched in 2016 and provides all local high school graduates with the opportunity to attend SBCC full-time free of charge for up to two years. Since then, more than 5,000 students have availed themselves of the opportunity to attend the top-notch community college without having to pay tuition, fees, books, supplies, and other sundry expenses. The program has significantly increased the number of local students enrolled at SBCC, an important goal for a college with a national reputation.
"It's really working and it's continuing to set the standard for the country," Green said, noting that the program's unique aspect is that the students don't have to demonstrate and document financial need. "It's open access to absolutely everyone based on the principle that every young person who wants to pursue a college education should have that opportunity.
"You don't have to prove that you're poor or that you need to participate. You just have to make the commitments that are all based on the data on things that make for a successful college experience. We built a program that was not tied to high school performance or poverty or anything else. It was simply tied to the desire to succeed."
The idea of no barriers is meant to encompass high school graduates no matter where they rank in their class, Green said.
"We want to support the valedictorians who just need a little help. But we also want those students who barely graduated from high school. We all know those stories about students for whom high school was really a disaster and they get to college, and they figure it out and just thrive. The Promise is for all of them."
The program represents Green's interest in, as he put it, messing with the scholarship structure and fixing the machine.
"Building a new kind of structure where everybody has access is a better way forward for our community because it's an investment in the student," he explained. "It's an investment in their family. It's an investment in the community. And frankly, it's an investment in our economy because if you have local students who are trained locally, they're more likely to stay in town."
That kind of commitment is costly, of course, to the tune of about $2.5 million per year, all of which is raised by the foundation, Green said.
"Sometimes people don't understand it, they think the college itself is doing it. Nope. It's the foundation. We're raising every cent and it's not easy. And right now, we're in deficit spending to keep it going."
But even worse than a budget shortfall was watching 35% of The Promise program students put their education on pause during the pandemic when enrollment dropped from a peak of 1,700 students to as low as 1,100.
That got Green's creative juices flowing one more time.
"We decided to experiment again and try to figure out how to incentivize people to come back," he explained. "So, this spring we came up with the No Fault return where the message was if you dropped out, if you paused and put college on hold or even never started, and you were eligible for The Promise, you can come back now, no questions asked. Now this fall, we're at over 1,500 students, which is a huge bounce back, and we're very, very happy about it."
Even more exciting was the quick response Green put into place at the start of the pandemic, when he was able to ramp up the already existing emergency grants program, which distributed more than $2 million to students in less than a month.
"One of the great things about philanthropy at an independent foundation is that we can do things and move quickly in a way that others cannot," Green said. "Money buys you options, and we were literally in the healthiest fiscal position we've ever been in when the pandemic hit."
It also didn't hurt that Green is well-known and very active in the community and was the chair of Santa Barbara Chamber board in March 2020.
"I was sitting there alongside all these employers," he recalled. "They were telling me that just in those 10 days they had laid off hundreds of workers at restaurants and hospitality jobs, a huge proportion of which are our students earning part-time hourly wages that they're pulling together to put themselves through school."
The grants served as a bridge until the CARES Act benefits came through, which research a year later bore out as having a huge impact in keeping students enrolled and stable.
"Those are the things that we're constantly looking for, finding innovative ways where philanthropy can step in and fill a gap or innovate, come up with a new model, or do an experiment that you can't otherwise do," Green said.
That applies to non-emergency situations in academic departments, too, where SBCC Foundation can fund grants to faculty and educators to try a program that may not fit into a department's fiscal year budget. Many of the coveted awards presented to SBCC in recent years are among the results.
"We make sure faculty have the tools they need," Green explained. "They're incredibly innovative and they know how to do their work better than we do, but the public funding sources don't always pay for that. And when they can't or won't, we can step up and provide the resources. The hope is that we can be the venture capitalists to try out those experiments and let the ones that work turn into regular programs."
Perhaps even more profound than the pandemic or the innovative programs, though, is how SBCC Foundation has provided a source of stability even as leadership at the college has gone through frequent changes.
"I've only been in my seat for six and a half years and I've worked alongside seven different presidents," Green said. "It's hard to maintain and build relationships when half of the relationship is constantly changing. The Foundation has to be that stable partner through some of that change, something that has a strong infrastructure that's also flexible… I think it's important for people to know that whatever else is going on, you have this 46-year-old foundation that has at this point $90 million in assets, all gifted by the community to support students to get through their educational programs."
Donate now!
Mission
The SBCC Foundation has provided Santa Barbara City College with private philanthropic support since 1976, serving as the vehicle through which individuals and organizations may invest in the college and its students. As an independent 501c3 nonprofit organization and partner to SBCC, the SBCC Foundation provides more than $5 million annually for student success programs, scholarships, book grants, emergency funds, and other critical needs of the college. For more than four decades, the resources raised and managed by the SBCC Foundation have supported SBCC students as they prepare for careers, transfer to four-year universities, and pursue lifelong learning goals.
Begin to Build a Relationship
We know you care about where your money goes and how it is used. Connect with this organization's leadership in order to begin to build this important relationship. Your email will be sent directly to this organization's director of development and/or Executive Director.
The SBCC Promise has allowed me to find myself and has been incredibly helpful in my academic journey. By covering the cost of going to college for two years, I've been able to focus on my studies.
Be Part of the Education Solution
Donations to the Santa Barbara City College Foundation will fund programs like the very one that helped Alberto "Berto" Lule realize his dream of having a career in art history. The Foundation is also currently striving to make the SBCC Promise a permanent offering, and works continually to improve and expand access to a greater share of the Santa Barbara community. The cost of one student's participation in the SBCC Promise varies with the student and their course of study, but currently ranges between $2,500 and $5,000.
Key Supporters
Laurie Ashton & Lynn Sarko
Leslie & Ashish Bhutani
Roger Durling & Daniel Launspach
Coleen & Ted Friedel
Perri Harcourt
Bruce Heavin & Lynda Weinman
Madeleine & Peter Jacobson
Irma & Morrie Jurkowitz
Lillian Lovelace
Kandy Luria-Budgor & Beno Budgor
Sara Miller McCune
John C. Mithun & Mercedes Millington
Maryan Schall
Frank Schipper &
Leslie Meadowcroft-Schipper
Herbert & Bui Simon
Geoff Slaff & Dale Zurawski
Judy & Jack Stapelmann
Rachel Kaganoff Stern
Scott Vincent
Merryl & Chuck Zegar