A Historic Mainstay, El Encanto's Unbreakable Bond with Community Grows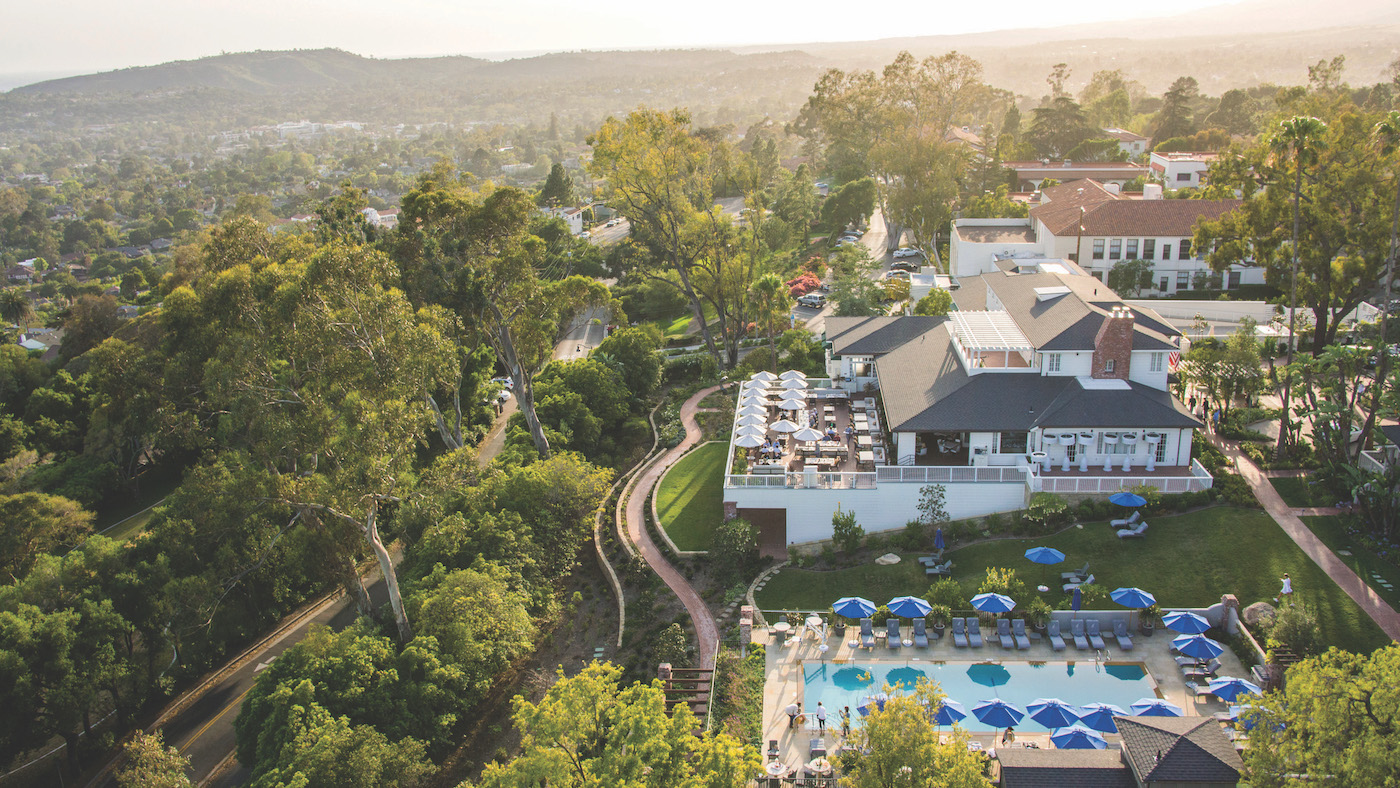 After 103 years, El Encanto Hotel, a Belmond Hotel is well-known for its majestic and breathtaking views of the South Coast, an escape from the hustle and bustle and a much-needed taste of the simpleness of yesteryear.
And a reputation such as that comes via the heartfelt dedication of its 230 employees that fortify a one-of-a-kind experience through tireless effort, greeting guests – and one another – with a smile and willingness to go the extra mile.
It's simply a part of the company's DNA – with long-time employees and new hires alike expected to give back to a community that prioritizes philanthropy, through unique and lasting partnerships, as well as an innovative spirit that pushes the status quo of what it means to give back.
It goes as far as the new hire packet, where the company's mission to give back to the Santa Barbara community is front and center, requiring a signature to even move forward.
And El Encanto walks the walk, so to speak, donating time, money, and services to more than 25 different community events in recent months.
"This is what we're about. This is part of our culture," says El Encanto's Human Resources and Corporate Social Responsibility Manager Chinna Nahabedian.
"We want to know if they buy into this, if it's how they feel as well. So, even before they are hired, we already know they are like-minded people."
The projects that El Encanto is involved with range from donating shampoos, body wash, and lotion to the Rescue Mission – which provides more than 150 daily showers – to restoration work at the Channel Islands National Park, where a contingent of employees make their way out to the island to aid in the natural ecosystem.
And while the venue donates event and meeting space throughout the year, it also hosts a summer camp for young girls from Girls Inc., a local nonprofit that provides needed educational opportunities for local underprivileged youth.
In addition to providing Thanksgiving meals prepared by the hotel's chef, El Encanto invites 25 youngsters to the facility, where they are paired with the property's female leaders, opening their eyes to the endless possibilities that are in front of them, either in management, culinary, customer service, or human resources.
The girls rotate through different departments, learning how their mentor attained their position, and the training and knowledge necessary. A big part of the lesson plan is to educate them on sustainability methods, as well as the impact each one of them can have on the planet.
El Encanto is already considered a "zero waste" facility, and it is 89% of the way toward receiving a Green Business Certification – a rarity among hotels, particularly in Santa Barbara.
"They really are learning things from a different viewpoint," says Nahabedian. "We are so incredibly fortunate to have so many strong female leaders here that it allows us to pay it forward; to help educate the next round of leaders."
For General Manager Janis Clapoff, she points to the corporate mandate from Belmond that wholeheartedly supports community relations in any market that it has a hotel.
"It feels very right to be a prominent property that realizes the community is just as important as the overnight guest," Clapoff said. "It's part and parcel of being a leader in the community and the hotel world. It's not really something that we have to ponder on; it is a given."
Both Clapoff and Nahabedian continue to be impressed by the involvement of its employees, with lofty goals set by the organization when it comes to toy and food drives that are exceeded year in and year out.
Nahabedian points to the dishwashers and room attendants that are hourly wage workers yet are normally the first ones to bring in donations, either goods or with their time.
"It's humbling. These kinds of initiatives not only bond us with the local community, but bond us with one another," Nahabedian said. "It's a reaffirmation of the culture that we believe we have – one where we know the importance of giving back."
And the commitment continues to grow, as Clapoff says she is now requiring her leaders to champion nonprofit causes internally, allowing the organization to branch further out to help with new causes or projects.
When Clapoff thinks of the annual Santa Barbara International Film Festival, El Encanto will undoubtedly be there to support. Same goes for the Breast Cancer Resource Center.
It's all about adding, not subtracting.
And now the hotel will be looking into how it can help the Ridley-Tree Cancer Center, Cottage Hospital, as well as the area's universities, including Santa Barbara City College, Westmont College, and UCSB, among many others.
Over her 30 years locally, Clapoff has learned that time is a most valuable currency.
Admittedly, the staff is stretched, managing personal lives, demanding work lives, and just putting one foot in front of the other. So, carving time out of already tight schedules will be tough, which is one of the many challenges in today's world. But Clapoff believes that even so, El Encanto's team is committed to helping wherever need be.
"This is a partnership with the community, without a doubt."
Find Out More
Mission
Santa Barbara's only Forbes Five-Star resort is an enchanting hideaway for those who cherish privacy and serenity.
Begin to Build a Relationship
We know you care about where your money goes and how it is used. Connect with this organization's leadership in order to begin to build this important relationship. Your email will be sent directly to this organization's director of development and/or Executive Director.
It's humbling. These kinds of initiatives not only bond us with the local community, but bond us with one another. It's a reaffirmation of the culture that we believe we have – one where we know the importance of giving back.