The Healing Power of Art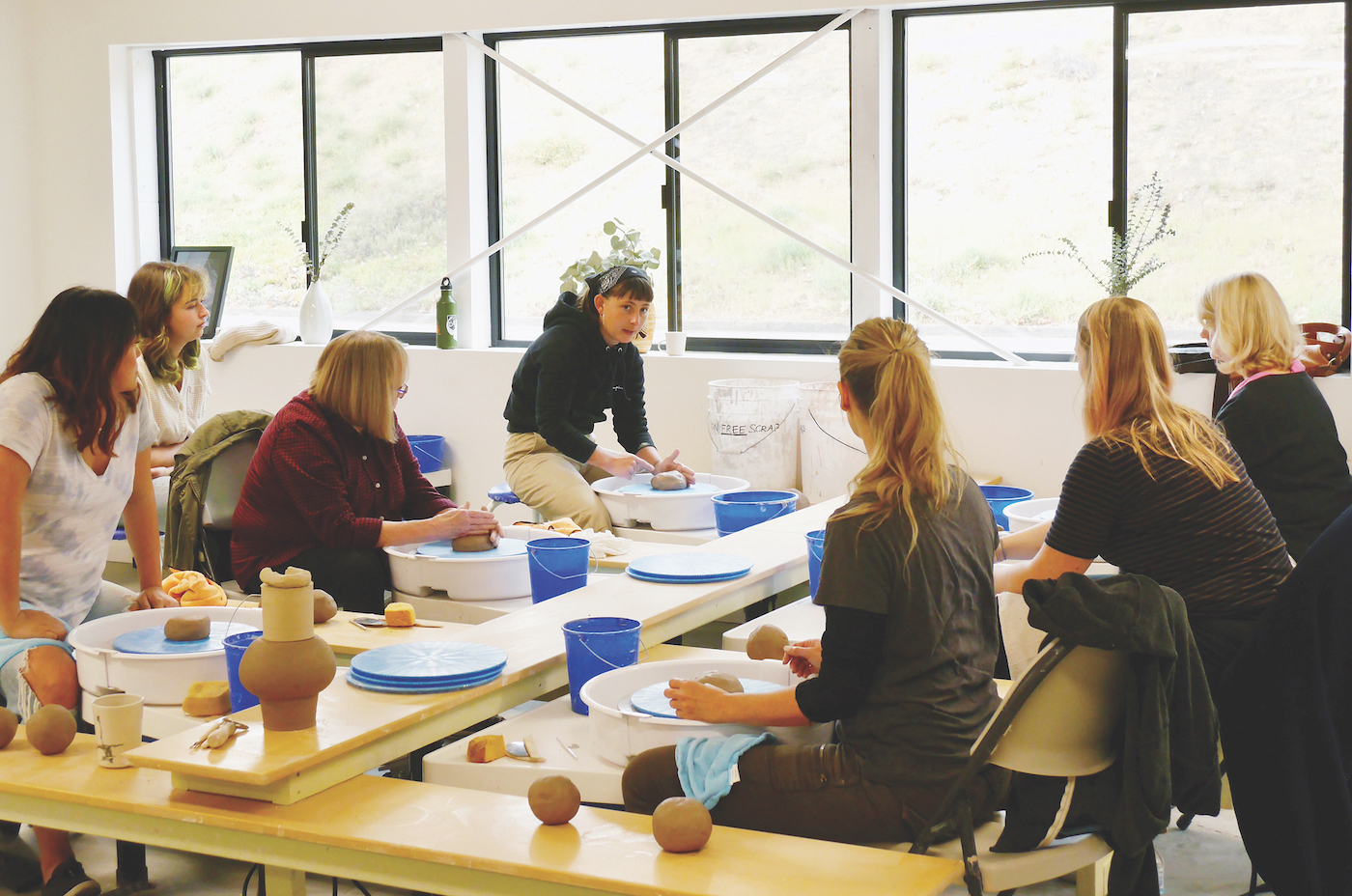 Clay Studio Founder and Executive Director Patrick Hall has acquired a lot of ceramics memories since he fell in love with clay at the age of 14 and soon after began working as a production potter. But a memory that still sticks with him is meeting Lynda.com co-founder and writer Lynda Weinman and "the breakfast that changed my life for the next 30 years."
It was about six years ago when Hall, by this point an accomplished clay artist, had started a small clay studio with his UCSB art professor Sheldon Kaganoff. The owner of the building wanted to redevelop the property and Hall was stuck looking for a new location. That's when he came across Weinman and he told her all about his idea to develop a community arts center that teaches drawing, painting, and printmaking, but has ceramics as its core discipline. "I like your big idea," Weinman told him during the breakfast, and she became his biggest investor.
The confidence that Weinman placed in Hall's big idea helped mold Clay Studio into what it is today: Santa Barbara's leading community arts center specializing in all things clay, from hand building to wheel throwing to 3D printing.
"Thank God for Lynda," Hall says. "I could not have anticipated how well the community would receive this place and what a joy it is to be here every day to do my part in making this happen."
All this takes place in a modern facility in Santa Barbara under the meticulous care of five experienced staff members. Clay Studio offers nine three-hour classes per week, and it also brings together internationally renowned artists to host outdoor and virtual workshops. The nonprofit has enough space for eight private artist studios ranging from 150 to 400 feet, with another 16 that will be available in 2022.
For her part, Weinman says she could not have anticipated the overwhelmingly positive response to Clay Studio, and sees this as only the beginning of a long story with Santa Barbara.
"We believe that the arts are healing, and we see this every day with people coming into the studio and finding their peace," she says. "We really believe that this is a needed nonprofit in town because of its healing ability for a lot of people who are hurting right now."
Donate now!
www.claystudiosb.org
(805) 565-2529
Executive Director: Patrick Hall
Mission
Clay Studio is a community art center committed to fostering the creative process in a welcoming and supportive environment. Our goal is to enrich lives by teaching and promoting the ceramic arts.
Begin to Build a Relationship
We know you care about where your money goes and how it is used. Connect with this organization's leadership in order to begin to build this important relationship. Your email will be sent directly to this organization's director of development and/or Executive Director.
It was so fun just letting your imagination go wild as you're kneading this clay and wondering, what am I gonna create today? It is so beautiful to see someone's heart and soul infused into these sculptures, bowls, and pots! Thank you for giving the community a place to work with clay and maybe find a new passion!
Help Us Grow
Thanks to initial seed funding, Clay Studio has built a sustainable operation that is growing, but will need "fortification from others," if it is to continue expanding, says Lynda Weinman, the nonprofit's seed investor.
The studio will undergo renovations this spring to further build out the property and facilities. Once completed, programming will include photography classes, printmaking, painting, drawing, and more. Clay Studio is aiming to raise $625,000 to pay for equipment and furnishings, with the goal of greatly expanding their classes and community offerings in late 2022.
Key Supporters
Patrick Hall, Board Member, Executive Director
Lynda Weinman, Board Member
Amy Ryan, Board Member
Anita Green, Board Member
Josh Rabinowitz, Legal Advisor
Juliette Fish, Glaze Technician
Suzanne Hawtrey, Children's Program Director
James and Linda Haggerty of Haggerty Ceramics
Michelle Griffoul of Michelle Griffoul Studios
Michael Adcock, Artist, Potter & Ceramics Instructor
Isaih Thomas, Artist, Potter & Ceramics Instructor
Sarah Klapp, Artist, Potter & Ceramics Instructor
Sarah McLean, Meditation & Wellness Instructor