Blazing A Needed Trail for Reading Success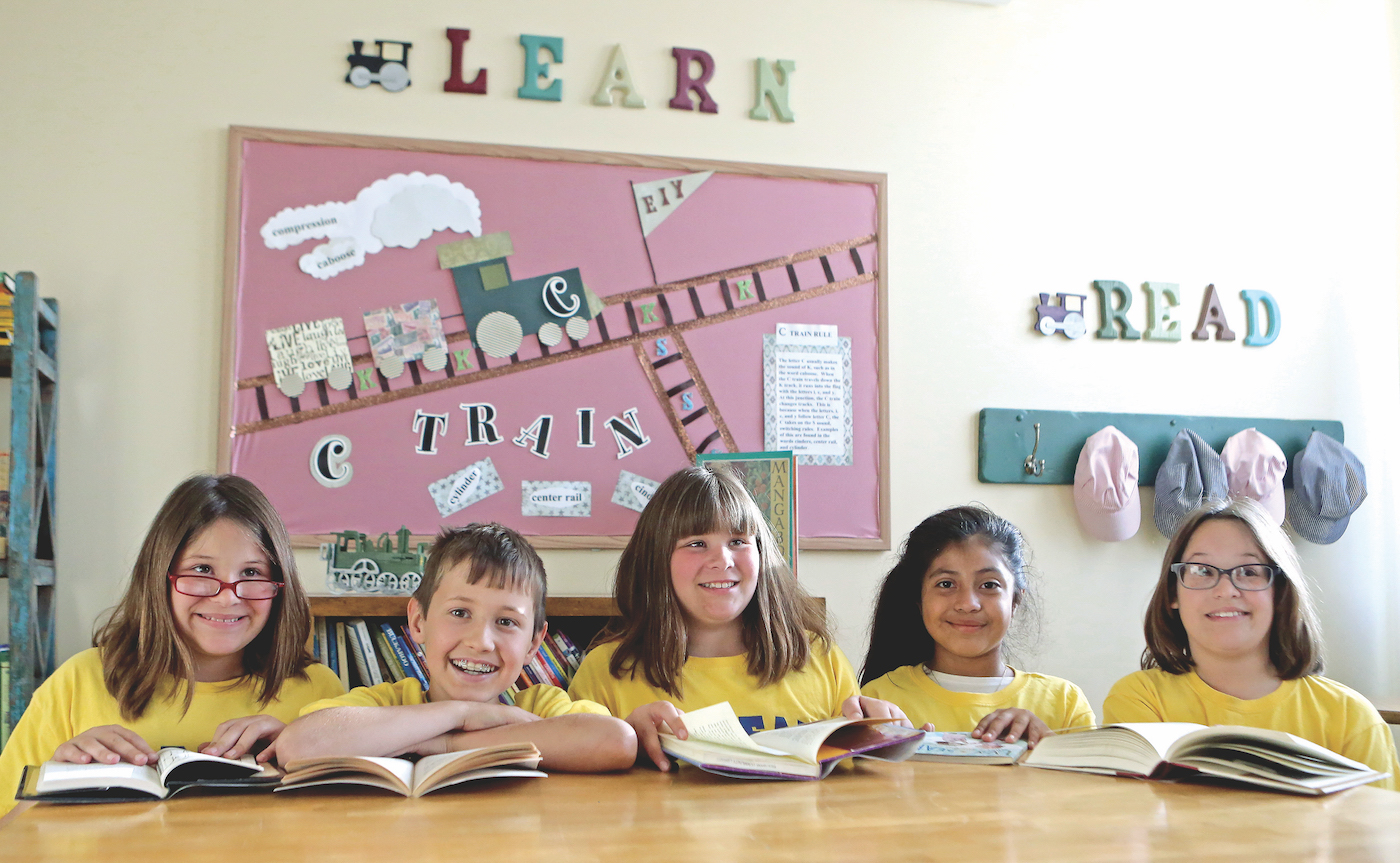 When she talks about education, Tina Hansen McEnroe likes to invoke Irish poet W. B. Yeats: "Education is not the filling of a pail, but the lighting of a fire." 
Those words were instructive for McEnroe and her husband, Paul, in 2011, when they founded the McEnroe Reading & Language Arts Clinic, a leading research and teaching institute located on UCSB's campus. It's here that children in first through eighth grades receive world-class and research-based instruction that hones in on reading comprehension and fluency as well as writing – all through interdisciplinary contexts including STEM (science, technology, engineering, and mathematics).
The clinic is designed to serve our most vulnerable youth by supporting our local schools who are facing multiple, overlapping pandemic and climate-related issues. The clinic's instructional framework also aligns with both current and new standards (e.g., the California-adopted Common Core State Standards, the Next Generation Science Standards, and the new national reading assessment standards), which collectively inform K-12 education for post-secondary preparation. Literacy (reading, writing, thinking, and doing) is a key thread running through all such standards. The clinic's overarching framework (Community Based Literacies, cbleducation.org) addresses these standards by providing young students with opportunities to practice in-depth discussions about challenging texts and including hands-on, authentic experiences that support language and literacy development such as the creation of a book publication (see the CBL website for examples of student-authored work).
And the need for literacy support is growing. Through the additional philanthropic support it has received, the clinic is now serving five times more local youth compared to just a decade ago – showcasing the significant need for community support.
"As a special education teacher and reading specialist, I believe there is a tremendous need in Santa Barbara County to support our local children to prepare for an ever-challenging future," Tina McEnroe says. "The crux of all education is reading. Prior to the pandemic, more than 60 percent of K-6 children have been identified as reading below grade level, and that's just in Santa Barbara. Education experts expect an even greater decline in child literacy as a consequence of the pandemic."
Over the last five years, the McEnroe Reading & Language Arts Clinic has given more than 500 children the instruction necessary to strengthen their literacy and reading comprehension. The teachers at the clinic adopt a team-based approach that reflects current understanding of literacy as a multidisciplinary (including STEM) set of practices; the framework is best known as New Literacies Studies. As such, students are positioned to actively engage in the practices of literacy for authentic, real-world purposes (e.g., given a video PSA on the importance of and tips for recycling within our community).
"Our approach is based on research; [it also] highlights the importance of community engagement as part of the literacy development process," says McEnroe. "We celebrate linguistic and cultural diversity."
Indeed, community partnerships are as crucial to the clinic's success as its programs. In addition to serving students in grades 4-6 at the Harding University Partnership School, the clinic has partnered with Girls Inc. of Greater Santa Barbara as well as the Goleta Boys & Girls Club. The clinic's leadership also works closely with partnering leaders who oversee the various units within the Boys & Girls Club of Greater Santa Barbara and the Santa Barbara Unified School District.
"[The McEnroe Clinic] has been a game changer at Harding. For the past two years, students that have been part of the program have blossomed in their desire to read and to read widely," says Veronica Binkley, the principal at Harding. "Our current fourth-grade class scored higher than any former cohort when tested on reading – at or above grade level."
This year, the core of the clinic's fundraising effort is trying to secure scholarships for students of lower-income families. McEnroe says more than 90 percent of local elementary students come from Spanish-speaking households that live below the poverty line.
"My dream is to eventually expand the program for high school students and even adults," she says. "With a firm foundation of support for our younger students, our clinic will undoubtedly attract additional support for older populations that have been equally impacted by the COVID-related pandemic."
Donate now!

www.education.ucsb.edu/reading-clinic
(805) 893-7905
Founder and Associate Director: Tina Hansen McEnroe
Mission
To provide literacy support for children in grades 1-8 with intensive, research-based instruction through our clinical services and partnerships with community organizations.
Begin to Build a Relationship
We know you care about where your money goes and how it is used. Connect with this organization's leadership in order to begin to build this important relationship. Your email will be sent directly to this organization's director of development and/or Executive Director.
The McEnroe Reading & Language Arts Clinic continues to provide children with intensive instruction to develop fluency, reading comprehension, and writing, with an interdisciplinary (particularly STEM) focus. UC Santa Barbara is proud to offer innovative and effective literacy support and critical outreach programs to children in our community. The McEnroe Reading & Language Arts Clinic sustains our commitment to pioneering educational programs and helps prepare the next generation of leaders and innovators. The McEnroes' long-standing involvement and support helps to sustain our leadership in education, research, and public service. Thank you, Tina and Paul, for your tremendous vision, passion, and dedication.
Help Fund Student Scholarships to Improve Literacy
Prior to the pandemic, more than 60 percent of K-6 students in the Santa Barbara area read below grade level. Literacy experts and school leaders are expecting greater decline due to consequences of the pandemic. The vast majority of youth in our community will need literacy support. The McEnroe Reading & Language Arts Clinic is a state-of-the-art research and teaching institute housed within the Gevirtz School of Education at the University of California, Santa Barbara. Students receiving support from the Clinic are showing unrivaled measurable growth in literacy. The research-based programming at the clinic has been recognized as a model and a resource for improving literacy instruction at the state and national levels. To continue and expand our services, we look to our community and philanthropic supporters to fund student scholarships. If you can donate at any level, please contact Tina McEnroe at (805) 350-2588 or tinamcenroe@education.ucsb.edu.
Key Supporters
Tina and Paul McEnroe
The Stepanek Foundation
The Douglas Foundation
The Hausman EDU Endowment
Anne Smith Towbes
The DiPaola Foundation
The Towbes Foundation
The Rord Foundation
Christie and John Glanville
Joni Meisel
Leslie White
Junior League of Santa Barbara
Maryan Schall
Montecito Bank & Trust
Naturipe Berry Growers Inc.