Looking to Create "Positive Change"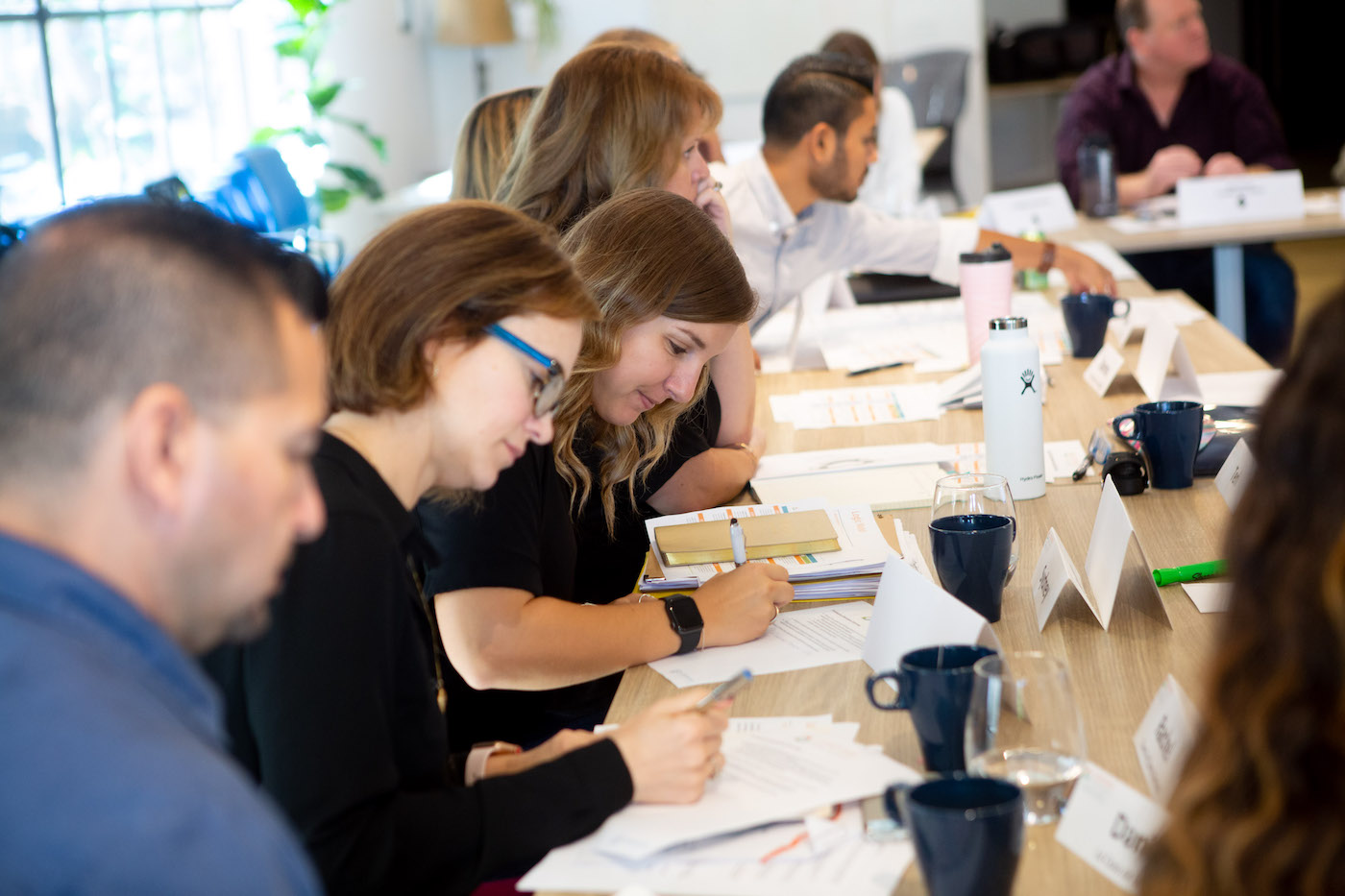 In its short 13-year history, Leading From Within — which was founded in 2008 as the Courage to Lead program that was created to offer renewal to experienced nonprofit executive leaders while also offering leadership development — has already had quite an impact in town. More than 60 executive directors have participated in the year-long professional development program, with tangible results in their respective nonprofits' growth and success. 
That's a small number, relatively speaking, but those 60 have tentacles that multiply rapidly when they become more effective at their individual organizations, and while supporting or training leaders doesn't produce the same sort of direct result as, say, treating drug addicts or housing the homeless, the indirect impact can be exponentially greater.
"We support the people who do the work in the [nonprofit] sector, which maybe isn't the same thing as supporting children who are going through social services or people with issues with alcohol, but it's helping those leaders who sustain those organizations who are doing that work over the long haul," explained Ed France, Leading From Within's executive director, who joined the organization in 2020 after experiencing reinvigoration for his previous nonprofit first-hand when he completed Courage to Lead.
But that 60-leader number also represents barely 10% of the number of community leaders who are still connected with the organization that has expanded to add three other programs in the last eight years, with its "Emerging Leaders" developing the next generation of professional nonprofit execs, another working with volunteer leaders and a third focusing on North County nonprofits. Now LFW boasts a community of more than 550 alumni who share knowledge and ideas, provide mutual support, and collaborate outside the confines of the specific programs.
"We're wanting to leverage the ability to create positive change," France explained. "That means moving beyond the silos of an individual nonprofit to ask, what is our capacity as a community to take on big issues such as the environment or homelessness, addiction, education, or the achievement gap? How can the community work together as a whole?"
The question matters even more in Santa Barbara, France said, not only because of the high number of nonprofits per capita, but also because the area's high cost of living combined with nonprofits' comparatively low pay means a shorter window of opportunity to leverage effective leaders.
"Often we only have people for a short amount of time in their career, maybe five or 10 years or perhaps a lot less before they move on," he said. "Turnover is a real problem. So, it becomes even more important to invest in the talented people who are committed to these causes so that they have the tools and support to be at their best and get them connected with each other so they can be more effective, and raise the capacity to take on some of these larger, more complicated collective problems."
Santa Barbara's glut of social services and other nonprofit organizations also often results in overlap and inefficiency, France said.
"The reality is that there are many different nonprofits that have slightly different focuses but intersect over large areas. For example, there's a number of organizations that work on homeless services, which is about housing but also mental health and addiction. Each has a different niche within that sector. Are they feeding people? Are they providing workplace training? Is there counseling? Sometimes there are so many different elements that it can get tricky for someone who is experiencing homelessness. There might be 15 different nonprofit organizations that could have services for you. Where do you go?"
That's among the reasons why collaborations are the name of the game for tackling and solving those collective problems, or at least streamlining things to a greater extent, France said. Which is why fostering those relationships are a growing part of Leading From Within's mission.
Response to the COVID pandemic also benefitted from nonprofit leaders who had gone through LFW's programs, he said, pointing to the rapid results that came from the relationship between Santa Barbara Unified School District and the Santa Barbara Education Foundation, a constructive connection that might normally take years to build.
"But both the new superintendent and the executive director of SBEF happened to be alumni of Courage to Lead. So, they were able to get to work without skipping a beat and jump right to get things done without worrying about who's getting credit and the structure."
SBEF was able to quickly get computers and other technology into kids' hands, and then, when school first reopened in winter with having to have the doors open for fresh air, providing jackets to keep the children warm.
"The idea is to build high trust environments where people can work beyond typical silos as a way to not only leverage their talents but also leverage the number of various resources that are available in this community to solve some of these complicated problems," France said. "After 10 years of developing our four different social impact sector leadership programs, we now have those 500-plus alumni who are supported and coordinated in a way where we can really leverage the value of having this type of network to start to approach collective problems differently. What it comes down to is growing Santa Barbara's community leadership capacity."
All of which means that while your donation to Leading From Within won't go straight to an underprivileged kid's lunch or put up a disabled veteran for the night, in time it might just help solve the underlying issues.
Contact Leading From Within's Executive Director Ed France at (805) 203-6940 or online at www.leading-from-within.org.
Donate now!
Mission
Investing in leaders that serve the public good. We live in a region filled with dedicated leaders who give their whole selves towards improving our communities, but, sadly, who too often work in an environment of scarcity, isolation and competition. We need social sector leaders who are prepared, renewed, connected and collaborating, and who represent the broad diversity of our region. At Leading From Within, we foster a dynamic network of public-minded leaders who know each other, trust each other, and are better able to work together to improve our communities. This investment better ensures that leaders can address some of society's more persistent challenges.
Begin to Build a Relationship
We know you care about where your money goes and how it is used. Connect with this organization's leadership in order to begin to build this important relationship. Your email will be sent directly to this organization's director of development and/or Executive Director.
I admire how Leading From Within, as a small, nimble nonprofit, has worked to be responsive to the needs of the sector, experimenting with new offerings, including pro bono coaching for emerging and executive leaders.
Make an Investment in People
Donating to Leading From Within is a great way to leverage your investment in philanthropy. $2,500 pays for a transformative leadership development experience in a nonprofit leader's career, and fosters the growth potential of the next up-and-coming leader in Santa Barbara County. 
Key Supporters
Santa Barbara Foundation
Angell Foundation
Schwartz Family Foundation
Manitou Fund
Mosher Foundation
Natalie Orfalea Foundation
and Lou Buglioli
Jo and Ken Saxon
Ann Jackson Family Foundation
James S. Bower Foundation
The Towbes Foundation
Maryan Schall
Linked Foundation
Mary and Jim Morouse
McCune Foundation
Ginger Salazar
and Brett Matthews
Jeff Bochsler
Chris Parker