A Trusted Table of Community Activists and Visionaries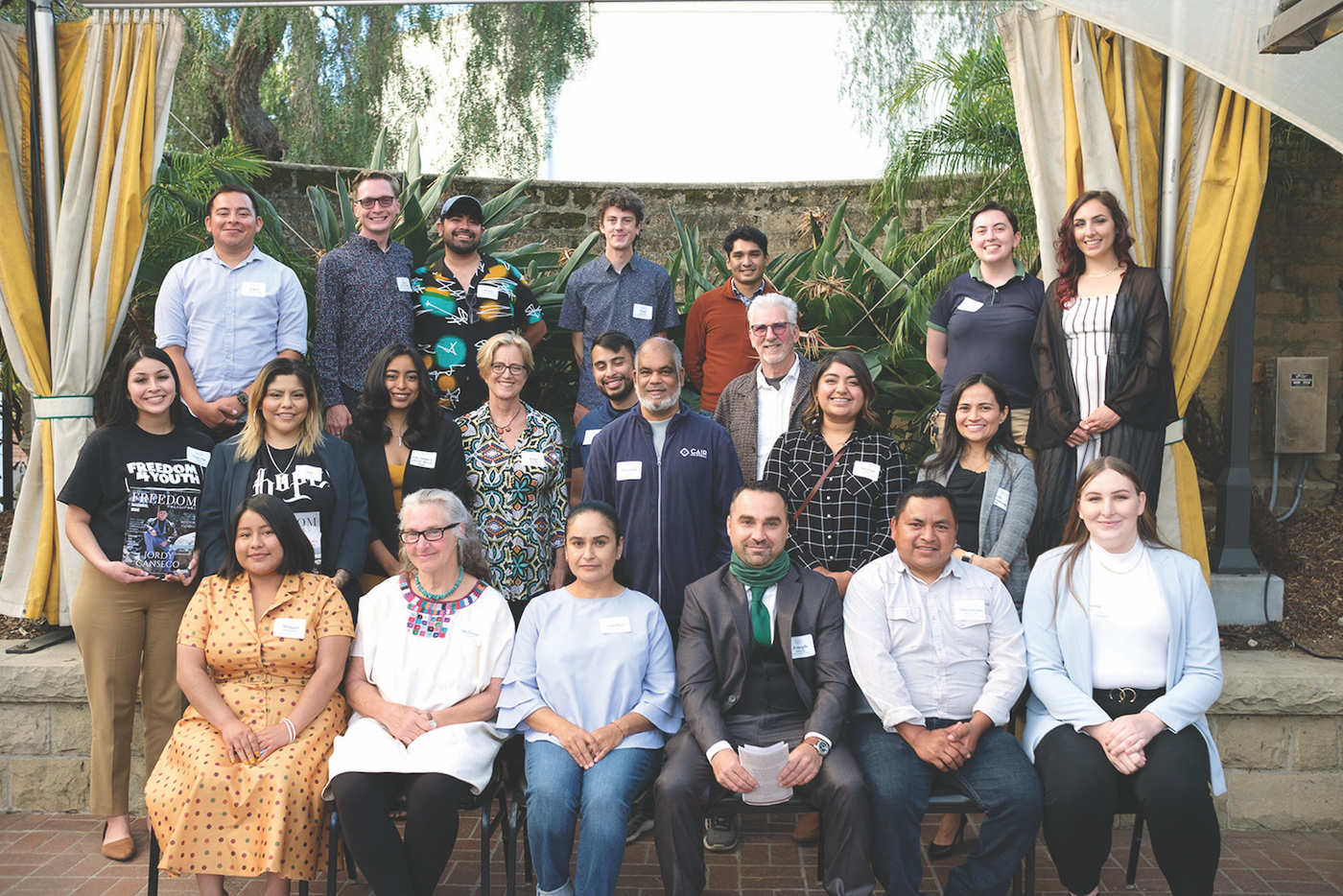 A common thread connects all those on The Fund for Santa Barbara's team – if they weren't professionally involved with The FUND, as it is affectionately known, they'd be steeped in social justice work in their personal lives. Those drawn to the organization feel the responsibility of giving back to the collective, of building a future that is more equitable, just, and inclusive for generations to come.
When Alina Rey Keswani joined The Fund for Santa Barbara two years ago as the organization's development and communications manager, she immediately found herself surrounded by individuals with a shared vision. "I've always wanted to work in something that builds community in a meaningful and sustainable way," Keswani says.
Founded 41 years ago by community organizer Nancy Alexander to help fund local activist groups, The FUND issues grants and helps build the capacity of local organizations and coalitions committed to progressive change around social, political, racial, economic, and environmental justice.
What makes the organization such a potent force is its unique philanthropic model – it allocates funds for social change, not charity. All grant dollars are determined by a grantmaking committee made up of community organizers, volunteers, and activists with a finger on the pulse of a diverse set of social issues. The FUND believes that social conditions improve most dramatically when people organize on their own behalf, form alliances with other like-minded people and organizations, and build coalitions to confront and change the conditions that have denied them access, equity, and justice.
"The FUND serves as a trusted table that brings folks into the fold to build intersectional coalitions to support movements for justice in all of its forms," Keswani says.
In all, The Fund for Santa Barbara has made over 1,000 grants totaling more than $8 million to diverse causes ranging from housing rights to disability justice and food security across Santa Barbara County. Among the projects funded in 2021, Healing Justice Santa Barbara received $10,000 to support a commission that advocates for accountability and transparency in local policing. Freedom 4 Youth's Freedom Philosophies received $9,000 to support a magazine that chronicles and humanizes the experiences of people impacted by the criminal justice system.
The track record of funding reflects a commitment to tackling issues at more than a just skin-deep level.
"At so many charitable organizations there's a kind of band-aid approach to a problem," Keswani says, "but we're really looking to get at the core of solutions, and we understand that those solutions are best determined by a constituency of people who really know the community."
Donate now!
www.fundforsantabarbara.org
(805) 962-9164
Development & Communications Manager: Alina Rey Keswani
Mission
Advancing progressive changes by strengthening movements for Economic, Environmental, Political, Racial, and Social Justice.
Begin to Build a Relationship
We know you care about where your money goes and how it is used. Connect with this organization's leadership in order to begin to build this important relationship. Your email will be sent directly to this organization's director of development and/or Executive Director.
We appreciate that The FUND not only provides critical funding and tools to local progressive organizations that do the heavy lifting, they demonstrate an understanding of intersectionality and model personal and organizational integrity through their processes. The FUND for Santa Barbara truly walks their talk. We value and continue to support The FUND because of their powerful, challenging, relentless drive to make ours a more just, equitable, and inclusive community.
Help Create and Sustain Systemic Change
Every tax-deductible donation to The Fund helps to advance progressive change by increasing our capacity to build movements for economic, environmental, political, racial, and social justice. Every contribution, no matter the amount, helps us sustain and build on our work.
Our work is only possible because of the support of more than 1,000 donors who make a difference each year.
Key Supporters
Jean Kaplan
Harriet Eckstein & Alan Irwin
Anna DiStefano & Deborah Karoff
David Landecker
Alice O'Connor
Ted Rhodes & Joni Pascal
John & Gloria McManus
Sara Miller McCune
Maryanne Mott
Linda & Dennis Fenton
Natalie Orfalea
Gail Osherenko
Sheila & Jim Davidson
Dick Flacks
Susan Rose
John & Suzanne Steed
Dale Zurawski & Geoff Slaff
Atterbury Foundation
Hutton Parker Foundation
James Bower Foundation
Santa Barbara Foundation
Wood Claeyssens Foundation