True to Its Grassroots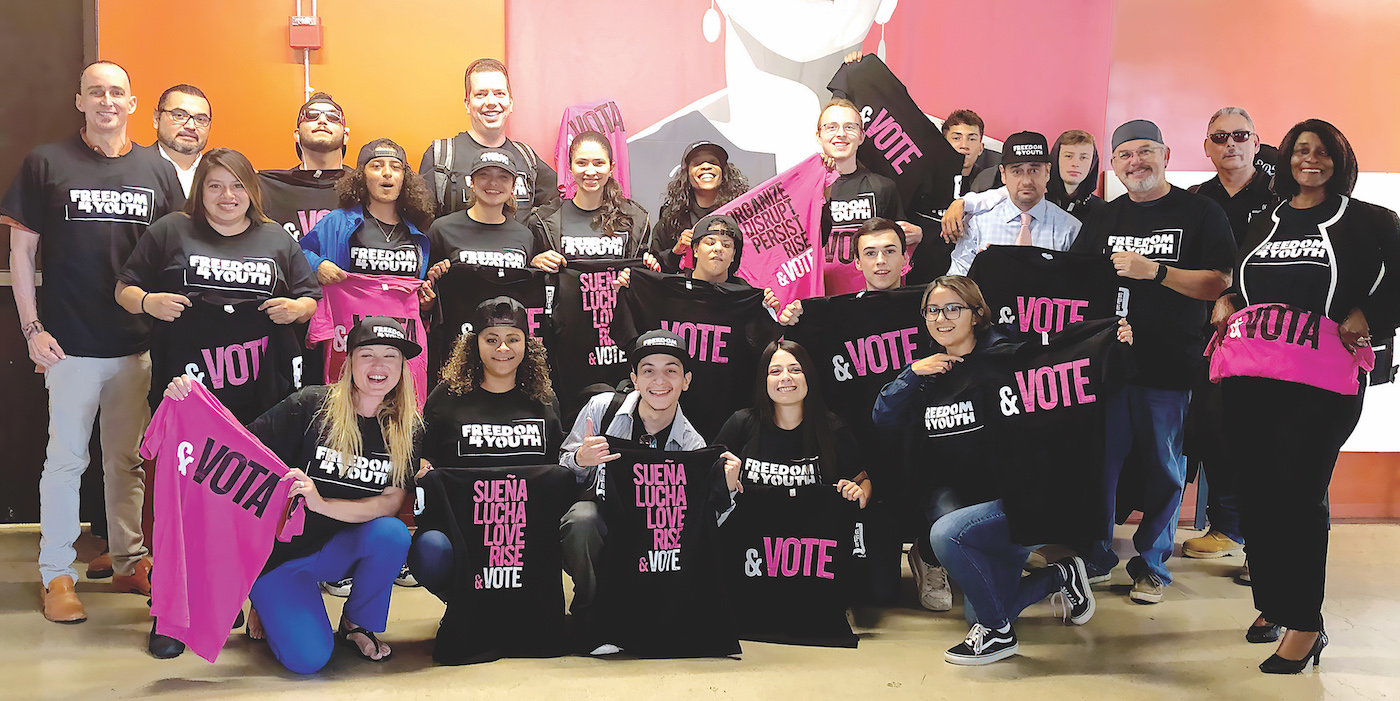 Many nonprofits like to throw around the word grassroots to describe their organizations, but few do the term justice as much as Freedom 4 Youth does. In 2008, Billi Jo Starr, a Santa Barbara High School alumna who has since earned her PhD in Education from UCSB, brought a Toastmasters curriculum to Los Prietos Boys Camp, a juvenile detention facility in Santa Barbara.
Starr partnered with the youths themselves, tapping into their innate leadership abilities. They learned to speak in public; they overcame their fears of sharing personal stories. The Toastmasters initiative blossomed and eventually culminated in 2011 with the creation of Freedom 4 Youth as an official nonprofit organization. Shortly after, in 2012, the F4Y Advocates were formed, a campus organization where UCSB students mentor youth who have been incarcerated or impacted by the criminal justice system.
For nearly a decade, Freedom 4 Youth was kept alive by volunteer support. It didn't even have a real facility until 2019 and it took until 2020, 12 years since the first Toastmasters sessions, for Dr. Starr to even earn an official salary. "We have been as youth-led and as grassroots as any nonprofit can get, running entirely on volunteer work," says Development Director Dylan Griffith.
The nonprofit's persistence has more than paid off. Their leadership program, an evolved and custom curated form of the Toastmasters curriculum, still runs every Tuesday and remains the core of the organization's work. Today, Freedom 4 Youth counts more than 2,000 alumni who were previously incarcerated who have benefited from its leadership and education programs. This year, it is quickly outgrowing its current facility located across Goleta Valley Cottage Hospital. "2021 has really been a breakout year for us in terms of our capacity," Griffith says.
One of the reasons for the organization's effectiveness is that 100 percent of its staff has been impacted or directly involved in the justice system themselves in some way. Further, they empower the alumni of their program to mentor the youth who are currently entrenched in the system. Collectively, they call themselves "credible messengers."
"There's an immediate connection," says Griffith, who himself was involved for several years in the justice system as a youth. "You're on an immediate form of shared ground with that person that you can then use as a stepping stone to continue building depth in a relationship. We always operate from a relationship framework."
Donate now!
freedom4youth.org
(805) 708-1292
Director of Development & Advocacy: Dylan Griffith
Mission
As part of our vision to expand services and partnerships, we recently moved into our new multi-purpose Freedom 4 Youth (F4Y) Center, located at 187 South Patterson Ave., Suite A. in Santa Barbara. The F4Y Center fills critical gaps through individualized case management involving families to reduce the challenges of recidivism.
Begin to Build a Relationship
We know you care about where your money goes and how it is used. Connect with this organization's leadership in order to begin to build this important relationship. Your email will be sent directly to this organization's director of development and/or Executive Director.
I love Freedom 4 Youth (F4Y). They have been there for me since I was a kid locked up at Los Prietos Boys Camp. Because of F4Y I met my mentor Scott Budnick from Anti-Recidivism Coalition (ARC) and they helped me move to L.A. Now I'm studying film at West L.A. City College and working on my portfolio to finish the Hollywood Cinema Production Resources program. Without F4Y I wouldn't be where I'm at today. I'm always part of F4Y advocating for youth that come out of the same place I do. Being able to focus on my career and future is a blessing and I'm grateful for F4Y and ARC for always being with me and giving me endless support and opportunities.
Expansion
Freedom 4 Youth is in the midst of a significant and long-needed two-year expansion project. 
Their office is merely 1,360 square feet, shockingly small for an organization of their reach and magnitude. They plan to take over an empty space adjacent to their current office, where they will build a commercial kitchen and begin a catering and meal delivery service fully operated by people who are formerly incarcerated.
It will also house a multi-purpose educational and mixed martial arts space.
The expansion is in two initiatives, split by calendar year. 2022's goal is budgeted at $713,572, so Giving List donations will be gratefully put towards this expansion.
Key Supporters
Board Chair Susan Washing
Elisabeth Fowler
Tom Washing
Santa Barbara Unified School District
Zegar Family Fund
McCune Foundation
Fund for Santa Barbara
Santa Barbara Foundation
Women's Fund of Santa Barbara
Elizabeth Calvin & Human Rights
Watch Children's Rights Division
National Child Traumatic Stress Network
Santa Barbara County Sheriff's Office
Santa Barbara County Probation
Santa Barbara County
Board of Supervisors
Tides Foundation
UCSB Blum Center
Santa Barbara City College
Foundation
Anti Recidivism Coalition
Homeboy Industries
F4Y's Board of Directors
F4Y's Advisory Council
UCSB, The Blum Center, UCSB First, the Associated Students Community Volunteer Foundation, Community Affairs Board, Finance & Business, the Executive Office of Statewide Affairs, the Student Initiated Recruitment and Retention Committee, the Student Initiated Outreach Program, and Smart Media Solutions