A Fine Art for All Ages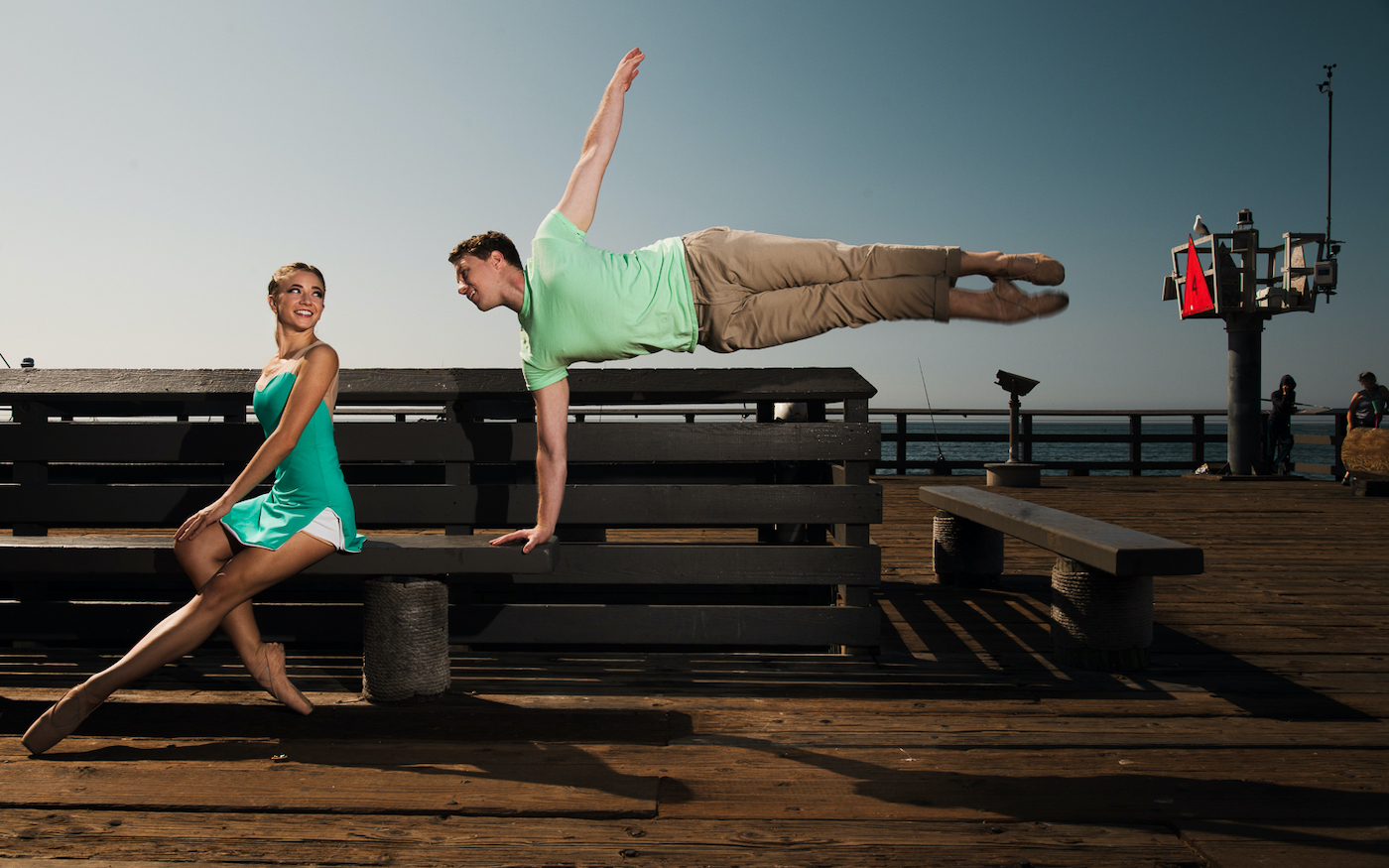 It was March 2020 when Rodney Gustafson received the call no creative director wants to get. It was the week before the State Street Ballet was scheduled to open its production of Sleeping Beauty to a sold-out crowd and the Granada Theatre was on the phone saying it was time to move out their equipment and sets. The coronavirus pandemic was closing the doors on performances for the rest of the season.
The shutdown could have crippled State Street Ballet, but the venerable dance company that Gustafson founded in 1994 had other plans. "Rather than many companies that just shut their doors and laid off many of their staff, I pivoted toward a more creative solution," Gustafson says.
One solution was to keep alive its intensive dance training program for 18-to-22-year-olds by moving classes outside. Another was to keep at least half of the company's dance staff on payroll to mentor younger dancers and carry out a high-level program of virtual performances. It yielded some innovative choreography, including performances held in Santa Barbara's mountains shot from drones hovering 200 feet over the ground.
"I believe that having people watching ballet on their computer screens is not the best delivery system. However, it did give us some creative ideas where we can work outdoors," Gustafson says.
One reason why the company has been so resilient, says Gustafson, has been its strong track record of quality performances. "Quality doesn't build overnight; it takes time," Gustafson says.
Another reason is the company's legacy of collaboration with other institutions in the fine arts, from the Music Academy of the West to the Santa Barbara Symphony to Ensemble Theatre Company. In October, State Street Ballet returned at last to the stage in what may be its greatest collaboration yet: a production of the Tony Award-winning Kismet.
Directed by the famed Broadway showrunner Lonny Price and featuring top-billing leads, the performance was underwritten and produced by Santa Barbara philanthropist Sara Miller McCune and in collaboration with the Santa Barbara Symphony.
Donate now!
www.statestreetballet.com
(805) 845-1432
Founder and Creative Director: Rodney Gustafson
Mission
State Street Ballet is a professional dance company that combines classical traditions with sophisticated styles, inspiring diverse international audiences through performances, collaborations, and unique education and outreach programs.
Begin to Build a Relationship
We know you care about where your money goes and how it is used. Connect with this organization's leadership in order to begin to build this important relationship. Your email will be sent directly to this organization's director of development and/or Executive Director.
Take a glance at State Street Ballet's 2021-2022 season and try to hold onto your checkbook. You will want to buy tickets for yourself, your spouse, children, parents, and friends. Oh, and send a little extra to support this terrific troupe. All of Santa Barbara should be delighted by our dancers and grateful for Rodney, William, Brian, Leila, and the rest of the staff. Dan and I sure are.
Help Add a Live Orchestra to Performances
As State Street Ballet soars toward our 30th Anniversary, we seek to deepen our impact at home and on tour. The addition of a live orchestra to all major performances at our local venues will highlight the combined power of live dance and music, enhancing the quality of our productions and reaching a more diverse audience. Our touring productions take us to many underserved communities with a wide range of demographics, fulfilling our mission of making dance accessible and available to everyone. From large urban cities to small rural towns, we treasure each of these opportunities to bring the joy of the performing arts to people of all ages and backgrounds. We are honored to represent Santa Barbara as Cultural Ambassadors, knowing that our work in each community has tremendous meaning and long-lasting positive impact. Our fundraising goal, to support a live orchestra and subsidize our touring efforts, is $200,000.
Key Supporters
Fred and Roxana Anson
Barbara Burger and Paul E. Munch
Dan and Meg Burnham
California Arts Council
Roger and Sarah Chrisman
Benjamin Jerry Cohen and Jane S. De Hart
Margo Cohen-Feinberg
Brooks and Kate Firestone
Dennis and Setsuko Furuike
Seth Geiger and Teri Jory
Arlyn Goldsby
Patricia Gregory
Deirdre Hade-Arntz and Will Arntz
Belle Hahn
Hutton Parker Foundation
Jerry Isenberg and Caroline MacDougall
Palmer and Susan Jackson
Diana Katsenes
Herbert Kendall
Chris Lancashire
Lillian Lovelace
Manitou Fund / Nora McNeely Hurley Silo
Tim Mikel
Sara Miller McCune
Montecito Bank and Trust
Mosher Foundation
Robert and Alexandra Nourse
Performing Arts Scholarship Foundation
Jeffrey and Amy Pryor
Robert and Patricia Reid
Santa Barbara County
Office of Arts and Culture
Maryan Schall
Victor and Coleen Stewart
Marc and Pauline Sylvain
Roger and Justine Thompson
Anne Smith Towbes
Carrie Towbes
The Towbes Fund for the Performing Arts
Malcolm Tuffnell
Richard J. Watts
Karl Weis and Kristen Klingbeil-Weis
Andre Yew