A Place to Be (and Become)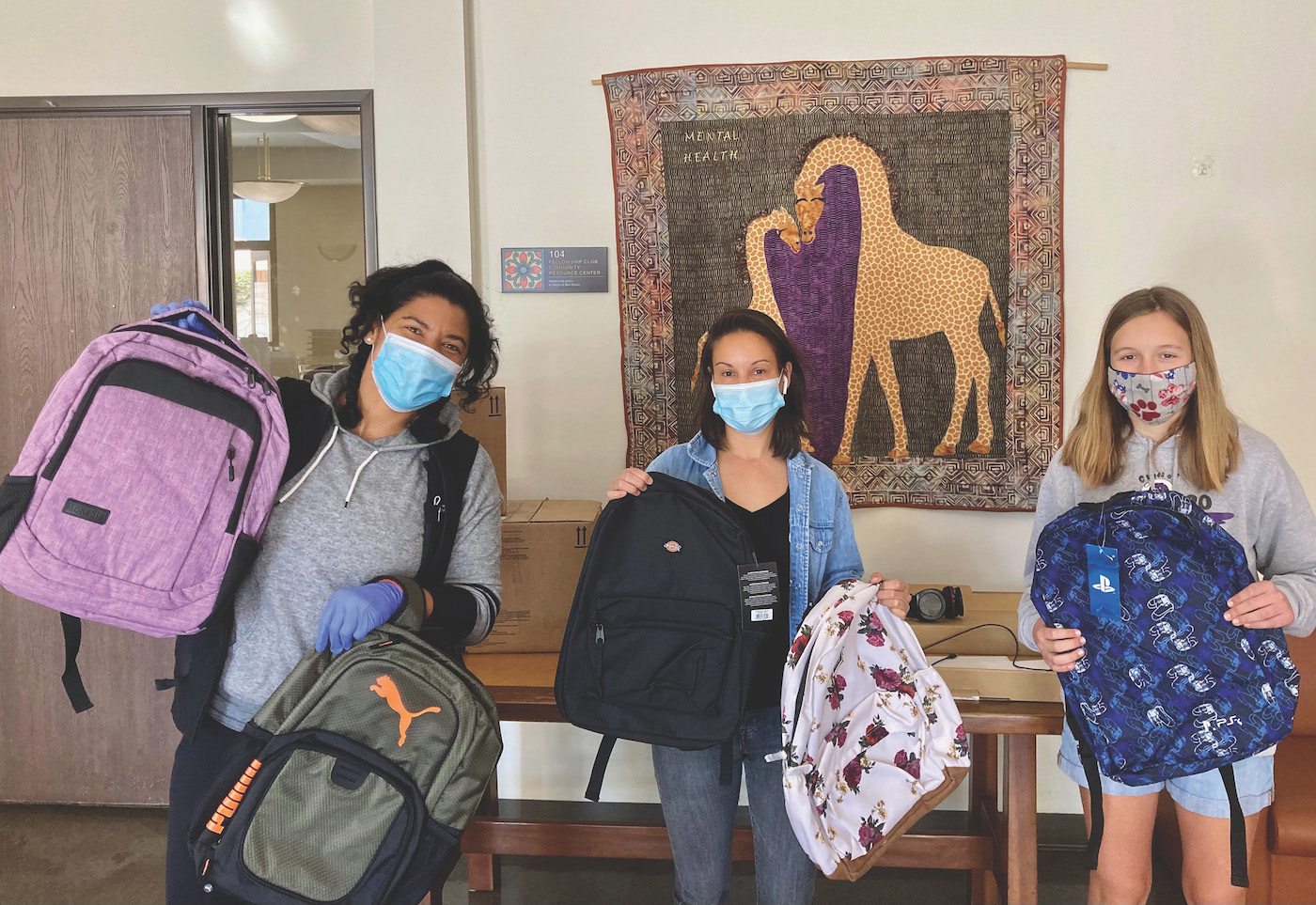 On any given weekday, as many as 100 community members living with mental illness enter through the blue doors and into the Fellowship Club at the Mental Wellness Center. Once inside, they're greeted by friendly staff, many who identify as peers. 
The Fellowship Club is the longest running program at the Mental Wellness Center and operates as a day-use mental health and recovery program for adults living with a mental illness. The Club has more than 300 members ranging in age from late 20s to 90s, with one third or more of these individuals living in homelessness. The Club's environment is safe and supportive of members' individual wellness and recovery journeys, and the social connections found at the Club are an antidote to the isolation that many may otherwise feel.
The Fellowship Club provides members a safe place to belong and a year-round support system. As Mental Wellness Center CEO Annmarie Cameron says, "The cornerstone of who we are is meeting someone where they're at. We walk alongside them, supporting them along their wellness journey."
It is that commitment of care that has made the Mental Wellness Center a leader in providing vital mental health services to Santa Barbara's most vulnerable residents for the last 75 years. Through mental health education, essential community services, and safe, affordable housing, the Mental Wellness Center serves individuals and families impacted by mental illness.
Personal challenges and social isolation caused by the pandemic have increased the need for a reliable, safe environment that allows individuals to continue social connections with family, friends, medical professionals, and other community resources. Throughout the pandemic, the Fellowship Club continued to serve community members and did so thanks to dedicated peer support staff, generous donors, and passionate community partners and collaborators.
The Mental Wellness Center's peer support staff bring their first-hand, live experience with mental illness, allowing them to relate to individuals actively struggling with their own mental health challenges. Perhaps one of the greatest gifts peer supporters bring to others is hope and inspiration, for they are living proof of how it's possible to grow, learn, and live a fulfilling life while still coping with a significant and sometimes lifelong health challenge.
During the pandemic, the Fellowship Club transitioned to using their outdoor patio space with lunches available to-go. They've also provided safe social and emotional check-ins with members, and have partnered with Doctors Without Walls to provide regular health check-ups and flu shots to members a few times a month.
And thanks to generous donors like National Charity League, Inc. Santa Barbara, Deckers, Miramar Hotel, Santa Barbara Bucket Brigade, and so many others, the Mental Wellness Center continues providing an immediate, positive impact on those they serve. "The approach starts from a philosophy of abundance," Cameron says. "It's a matter of people knowing what the needs are and knowing that their giving is not only going to be handled responsibly but will also help people."
As overwhelming as mental illness can seem, Cameron says "it is countered by a wealth of supportive community members and resources, like the Mental Wellness Center, that remain committed to our community." Cameron shares, "We're living in a golden era of opportunity to let people know what's already available to them and which services need support to grow."
If mental health matters to you, donate today.
Donate now!
Mission
The mission of the Mental Wellness Center is to advance mental wellness in Santa Barbara.
Since 1947, the Mental Wellness Center has been building hope for individuals and families, providing support in recovery and raising awareness of mental health within the Santa Barbara community.
Begin to Build a Relationship
We know you care about where your money goes and how it is used. Connect with this organization's leadership in order to begin to build this important relationship. Your email will be sent directly to this organization's director of development and/or Executive Director.
The Mental Wellness Center plays such an important role in our community by providing resources that truly support some of our most vulnerable community members. Throughout my career as an affordable-housing and social-service provider, I've witnessed the impacts of this issue first-hand; not only on individuals that struggle with mental illness and substance abuse disorders, but also at a broader community level.
"Mental illness knows no bounds. I am proud to lend my support to an organization that is leading the way in increasing education, awareness, and opportunities for supported recovery for those most impacted by these challenges.

Mental Health Matters
The vision of the Mental Wellness Center is to inspire a world where all people live their healthiest lives, and fear and misinformation of mental illness no longer exists. Please consider supporting their unwavering efforts to advance mental wellness in Santa Barbara, and consider making a tax-deductible donation online today at www.mentalwellnesscenter.org.
Board of Directors
Andrea Carnaghe
Karel de Veer
Ned Emerson
Paul Erickson
Edwin Feliciano
Ian Filippini
Eric Jackson
Darcy Keep
Ann Lippincott
Scott Lochridge
Michèle Pouget-Drum
Julie Kessler-Solomon
Alice Villarreal Redit