Access to Nature for ALL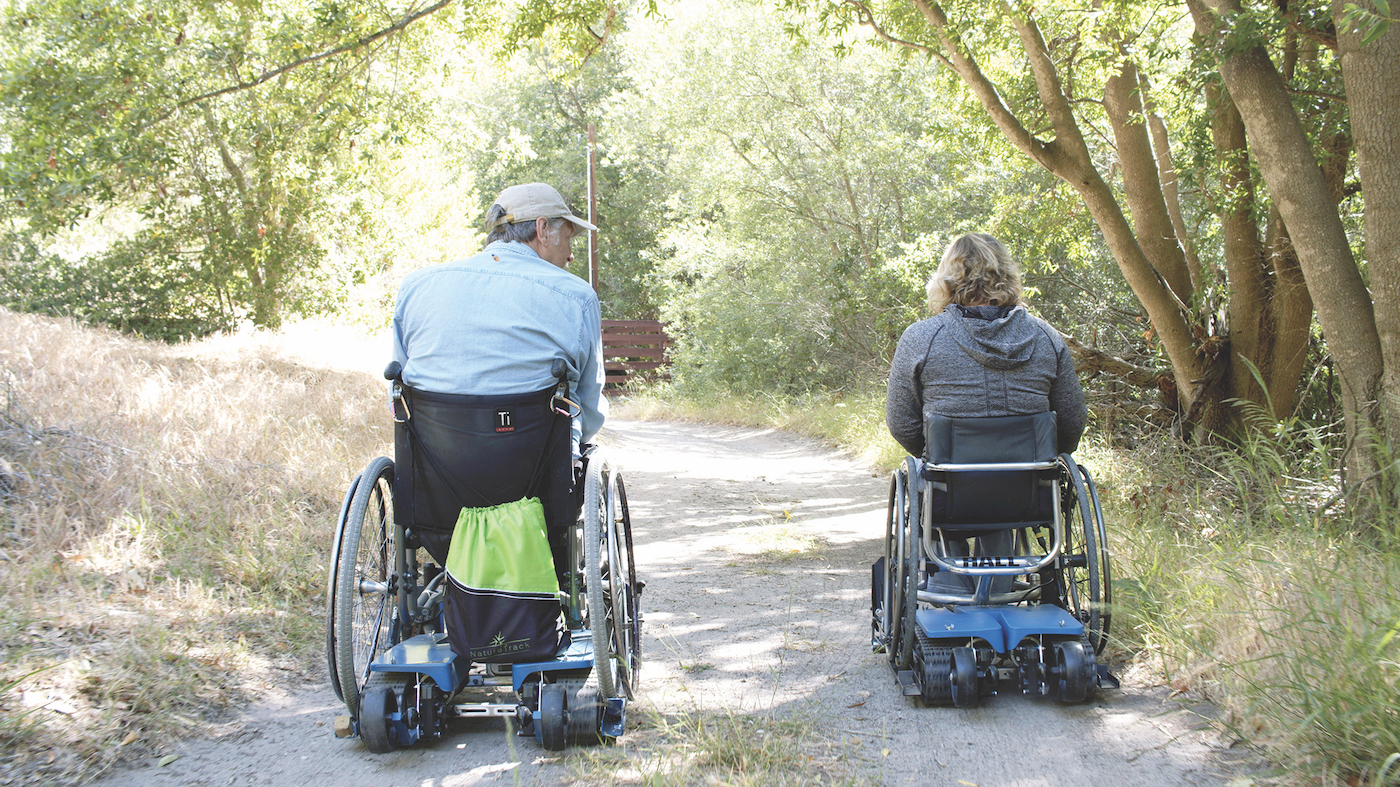 In the ten years that NatureTrack has been taking Santa Barbara County's school-age kids on outdoor field trips, Steve Schulz has volunteered as a docent for nine of them, sharing his extensive knowledge of local flora. Yet in that time, Schulz has never been able to enjoy the beautiful trails of the Arroyo Hondo Preserve, a single beach field trip or numerous other field trip locales. That's because Schulz has been a wheelchair user since 1999.
This year, NatureTrack expanded its field trip program to include NewTracks. Using Freedom Trax, a device which quickly transforms a manual wheelchair into a battery-powered, all-terrain vehicle which can easily traverse sand and trails, NewTracks provides field trips for wheelchair users and others with physical disabilities. Now, Schultz can enjoy many beaches and trails that have been inaccessible to him for 20+ years.
NatureTrack has received funding to buy nine Freedom Trax. Their goal is to acquire and maintain a total of 10 Freedom Trax to provide outdoor field trips to wheelchair users of all ages. NatureTrack also lends their Freedom Trax to other nonprofit organizations so that they too can include wheelchair users in their events and programs.
"We're thrilled that we're able to remove the barrier between wheelchair users and nature, allowing them to have the same experience as other students, teachers, and volunteers. It's wonderful that we can ALL be out on the beaches and trails together," says Sue Eisaguirre, NatureTrack's founder and executive director.
NewTracks fulfills an essential part of NatureTrack's mission: to connect as many people as possible to the natural world. Eisaguirre founded the organization after heading up the docent and K-12 programs for the UCSB Sedgwick Reserve. It was then that she realized she could impact more schools and students with a countywide organization.
A decade later, NatureTrack has taken more than 25,000 school-age students on outdoor field trips. The organization relies on the support of 100 enthusiastic volunteer docents to lead the trips. The program is entirely free, including transportation.
"We find every way possible to make sure everyone has the same opportunity to connect with and experience nature," Eisaguirre says.
Donate now!
www.naturetrack.org
(805) 886-2047
Founder & Executive Director: Sue Eisaguirre
Mission
NatureTrack is a 501(c)3 non-profit whose mission is to provide outdoor field trips for school-aged children at no cost to the schools or students.
Begin to Build a Relationship
We know you care about where your money goes and how it is used. Connect with this organization's leadership in order to begin to build this important relationship. Your email will be sent directly to this organization's director of development and/or Executive Director.
We both know it is vital for our young generation to be out in nature and experience what nature offers. Seeing the excitement on students' faces and their reactions to natural discoveries is always a joy. We enjoy being out on the trails and beaches, sharing nature at the moment with future stewards of our natural world.
For the Love of Nature
Transportation costs have increased significantly. In order to keep NatureTrack outdoor field trips cost-free for everyone, we need your help. Every donation you make will help us connect more kids and wheelchair users to nature.
$1,000 – Pays for 15 students to take a field trip (including transportation)
$2,500 – Pays for 35 students to take a field trip (including transportation)
$5,000 – Pays for 70 students to take a field trip (including transportation)
$6,300 – Buys 1 FreedomTrax device
PRICELESS – Becoming a NatureTrack volunteer! Join us. We have as much fun as the students!
Key Supporters
Adams Legacy Foundation
Audacious Foundation
California Coastal Conservancy
Explore the Coast
Coastal Ranches Conservancy
Coastal Resources
Enhancement Fund
Craig H. Neilsen Foundation
deLaski Family Foundation
Herbert and Gertrude Latkin
Charitable Foundation
John S. Kiewit Memorial
Foundation
Natalie Orfalea Foundation
and Lou Buglioli
Pacific HR, Inc.
Parks California – Route to Parks
Santa Ynez Valley Foundation
Santa Ynez Valley Youth
Recreation
Towbes Foundation