Building a Resilient Food System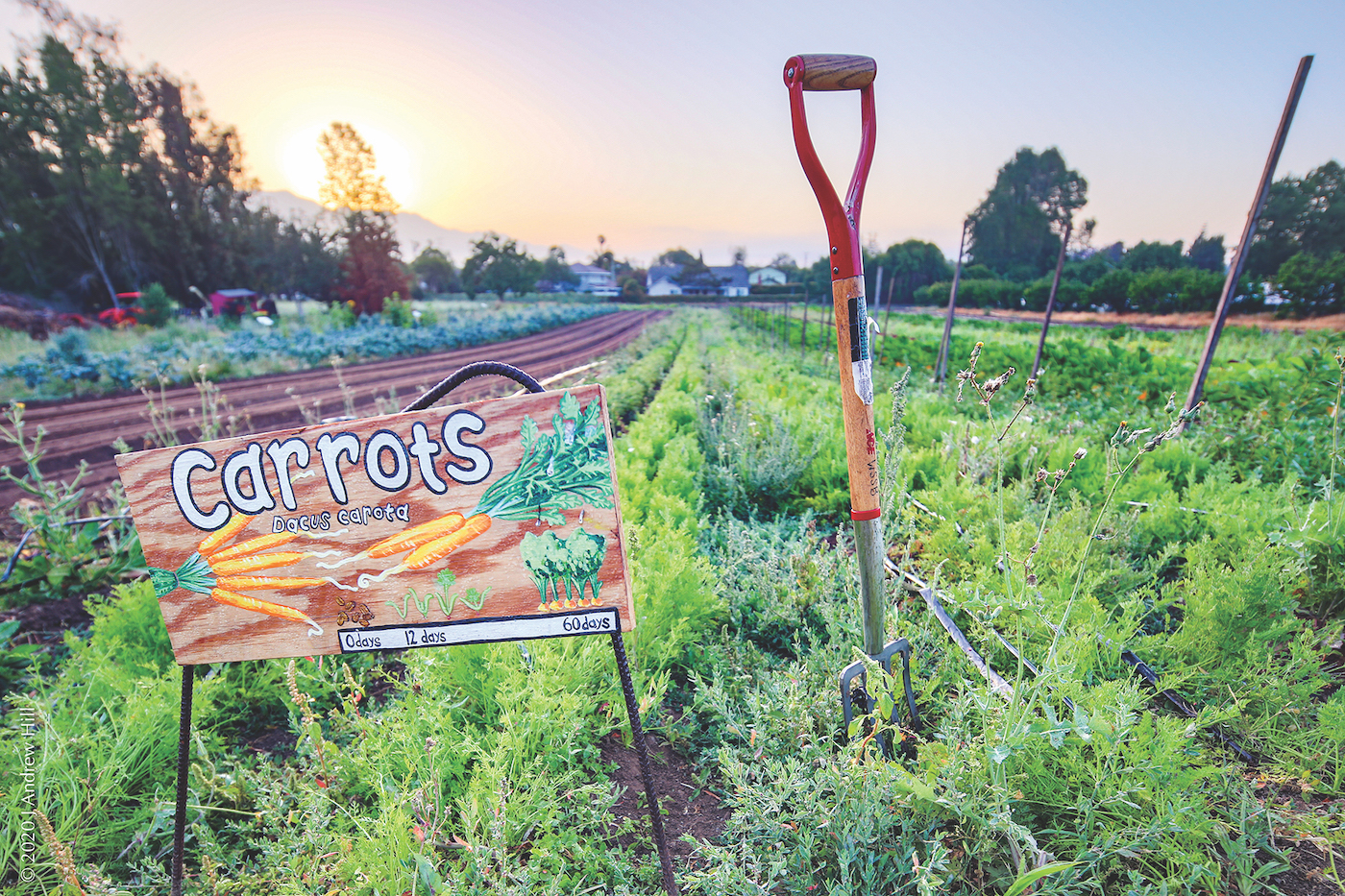 Boasting a year-round growing calendar, Santa Barbara County is known as a food mecca, ranking in the top one percent of counties nationwide with respect to agricultural value. Diverse microclimates, temperate weather, and warm ocean waters contribute to the rich abundance our farmers, ranchers, and fisherfolk are able to harvest.
Yet, very little of this quality food makes it onto local plates. According to a 2011 white paper by UC Santa Barbara environmental studies professor Dr. David Cleveland, 99 percent of the produce grown in Santa Barbara County is exported – and 95 percent of the food consumed is imported.
This revelation prompted the Community Environmental Council and the Foodbank of Santa Barbara County – in partnership with the Santa Barbara Foundation and the Orfalea Family Foundation (which has now been sunsetted) – to create a countywide, community-driven strategic plan that assessed and provided recommendations for how we grow, distribute, consume, and dispose of food. Published in 2016, the Santa Barbara County Food Action Plan was informed by more than 200 community members who helped develop this strategy-based community "blueprint" for an accessible, thriving, sustainable, and healthy food system.
Over the next few years, many organizations throughout Santa Barbara County implemented projects that activated Food Action Plan goals. In 2019, these relationships were formalized through the launch of the Santa Barbara County Food Action Network (SBCFAN).
SBCFAN accelerates the activation of Food Action Plan goals by connecting, aligning, and activating a network of food system changemakers – farmers, ranchers, fisherfolk, nonprofits, businesses, cooperatives, and consumers – to develop a robust local food economy, a healthy and just community, and a well-stewarded, resilient foodshed.
"Ten years after Dr. Cleveland's study, our food system is still fragile – wildfires, flooding, and a global pandemic have unmasked further inequities and gaps," says Executive Director Shakira Miracle. "Through its membership, SBCFAN is providing a hub for local food system information, access to resources, collaboration, and activation so that together, we can build a more resilient food system that everyone can participate in and benefit from."
SBCFAN's current priorities are:
Working Groups
By convening, launching, and co-facilitating working groups, SBCFAN brings together individuals from across the food system to collaborate on projects that result in the activation of one or more Food Action Plan goals across four areas of investment. Current countywide working groups that have been launched or are in development include:
Our Food Economy
–Infrastructure: establishing regional processing for seed, grain, and protein to reduce carbon footprints, create new revenue streams, and increase local food access
Our Health & Wellness
–Higher Education: increasing student food access, education, and security
–Nutrition: addressing equitable access to education and incorporating health data and outcomes
Our Community
–Food Access Centers: deepening local impact through network support
–Place-Based Food Chain and Food Sovereignty: promoting food systems by the people, for the people, featuring foods they traditionally eat
Our Foodshed
–Farm and Ranch Land Preservation: protecting existing and potential land and ecosystem services they provide
–Land Stewardship: increasing regional understanding of the climate, economic, and ecological benefits of soil building and regenerative management practices
Advocacy
Identifying, proposing, and advocating for policies and innovative solutions that support an equitable and resilient food system ensures that our Network can help advance economic development, social justice, and environmental sustainability. Current priorities include:
– Federal Level: access to resources and locally informed legislation
–State Level: farm and ranch land preservation, affordable housing, and regional infrastructure
– Local Level: addressing and changing regulatory barriers
Resource Sharing
SBCFAN's membership portal is a countywide hub for critical resources such as:
–Opportunities for funding and financing, employment, land access, equipment, and materials
–An innovative loan program, created in partnership with the Economic Development Collaborative (EDC), that connects food producers with trusted and vetted financial resources that break down the barriers associated with traditional loan programs
–Grantmaking programs that are designed to include wraparound information, resources, and tools that food producers need to execute a successful project
– Federal, state, and local grants or individual gifts that are aligned with members' needs
Donate now!
www.sbcfoodaction.org
(805) 705-5452
Executive Director: Shakira Miracle
Mission
SBCFAN connects, aligns, and activates food system changemakers to develop a robust local food economy, a healthy and just community, and a well-stewarded, resilient foodshed.
Begin to Build a Relationship
We know you care about where your money goes and how it is used. Connect with this organization's leadership in order to begin to build this important relationship. Your email will be sent directly to this organization's director of development and/or Executive Director.
The SBCFAN grant not only allowed the Collaborative to purchase vital equipment that supports farmers in planting locally adapted and heritage varieties of grain that are suited to the climate and the culture, but it led to other kinds of member investment. As a result of this network, people have been a lot more open to sharing equipment, knowledge, and resources, which makes all of us farmers more resilient.
Help the Local Food System Thrive
SBCFAN is a hub for regional food system information, resources, and policy navigation.  Granted 501(c)(3) status in 2022, the network needs $30,000 per month to support the activation of the Food Action Plan's four areas: Economy, Health, Community, and Foodshed.  Current and/or developing projects include: financing and impact investment; workforce development; farm to school; processing and distribution of seeds, grains, meat; medically supported food interventions; community kitchens; farmland preservation; food waste.
Key Supporters
Santa Barbara Foundation
11th Hour Project
Boehm-Gladen Fund
BP Moser Trust
Pharos Creative
Mercury Press
Santa Barbara Culinary
Experience