Super Soup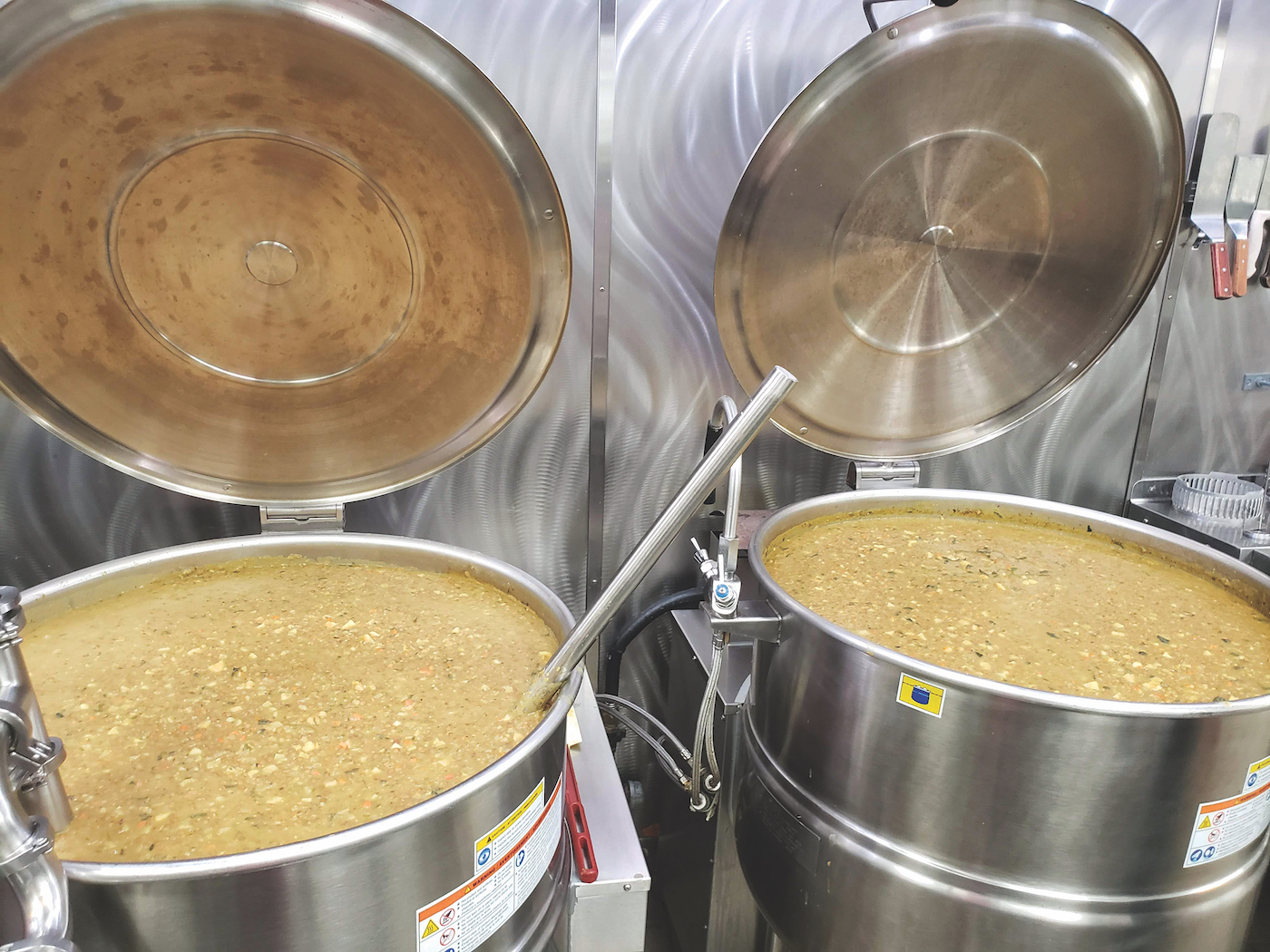 Organic Soup Kitchen does not just make soup, it makes perfect soup: nutrient-rich, life-sustaining, and hand-delivered every week to 720 cancer patients, chronically-ill residents, and low-income seniors throughout Santa Barbara County.
Not surprisingly, it is the only organization of its kind in America.
"It's taken a lot of work and a lot of time and a lot of research for us to get where we are today," says Anthony Carroccio, the founder and executive director of the Santa Barbara-based nonprofit.
It starts off with all organic vegetables and 100 percent pure coconut cream as the base and non-radiated herbs and spices to maximize each spoonful's medicinal value. Every recipe is formulated to be anti-inflammatory, low glycemic, and strengthen the immune system. It's a complete, balanced meal designed to nourish the body and support healing on a cellular level.
When they're not making soup, the team is doing extensive research into the connection between food and health. "Studies everywhere, from Harvard to the National Institute of Health, point to chronic inflammation as a central cause of some of the most challenging diseases of our time, including cancer, heart disease, diabetes, arthritis, asthma, and even alzheimer's," Carroccio says. "It's for this reason we purposely select anti-inflammatory ingredients and use no added sugar or preservatives."
The majority of Organic Soup Kitchen's clients are housebound and isolated. With a bag of soup and a big smile, the friendly, compassionate volunteer delivery team breaks the chain of isolation that so many residents are experiencing.
"This past year and a half has been challenging for our entire community," says Andrea Slaby, chief operating officer. "The need for our services has exploded to nearly triple what it was prior to the pandemic and that demand continues today. It's truly an honor and privilege to touch the lives of so many residents facing cancer, chronic illness, and/or financial challenges."
Not only is Organic Soup Kitchen a lifeline to Santa Barbara's most vulnerable and medically fragile community members, they have also become a trusted resource for anyone who wants clean, chemical-free food to support their immune system.
SoupMeals are available for purchase online and every soup sale provides a soup to a cancer patient or chronically-ill resident. This buy one, give one social business model is an opportunity for the community to give back to friends and neighbors in need. Soup lovers can enjoy a bowl of homemade artisan soup knowing that their purchase supports someone battling cancer or chronic illness.
Donate now!
Mission
Organic Soup Kitchen provides oncology nutrition and addresses food insecurity to a diverse demographic of individuals struggling with the effects of cancer and chronic illnesses.
Begin to Build a Relationship
We know you care about where your money goes and how it is used. Connect with this organization's leadership in order to begin to build this important relationship. Your email will be sent directly to this organization's Director of Development and/or Executive Director.
When someone is going through chemotherapy, they need healthy and nourishing food more than anything, but most of the time they don't have the physical and mental energy to get up and do it for themselves. Organic Soup Kitchen does it for them with so much love and care! They work tirelessly in rain or shine to make sure that all their clients get their nutritious soup on time. I feel so blessed and privileged to be a small part of this gem of an organization in our community! I joined hands with them a few years back and I am happy to say that I am here to stay and support this wonderful organization in the years to come!
How Can You Help?
Monthly Givers are the heartbeat of our organization. Your monthly contribution will directly provide a month's worth of SoupMeals to community members in treatment or recovering from cancer.New Distribution Center. As demand grows, we have quickly outgrown our facility and are actively seeking the resources to expand our operation.
Key Supporters
Manitou Fund
Trust in Diversity and Exchange
Deckers OutDoor Corporation
Volentine Family Foundation
The Herbert and Gertrude Latkin Charitable Foundation
St. Francis Foundation
Community Volunteer Foundation
of UCSB
Union Bank
Natalie Orfalea Foundation
Mosher Foundation
Russell Steiner
Hutton Parker Foundation