Where the Rescued Horses Roam Free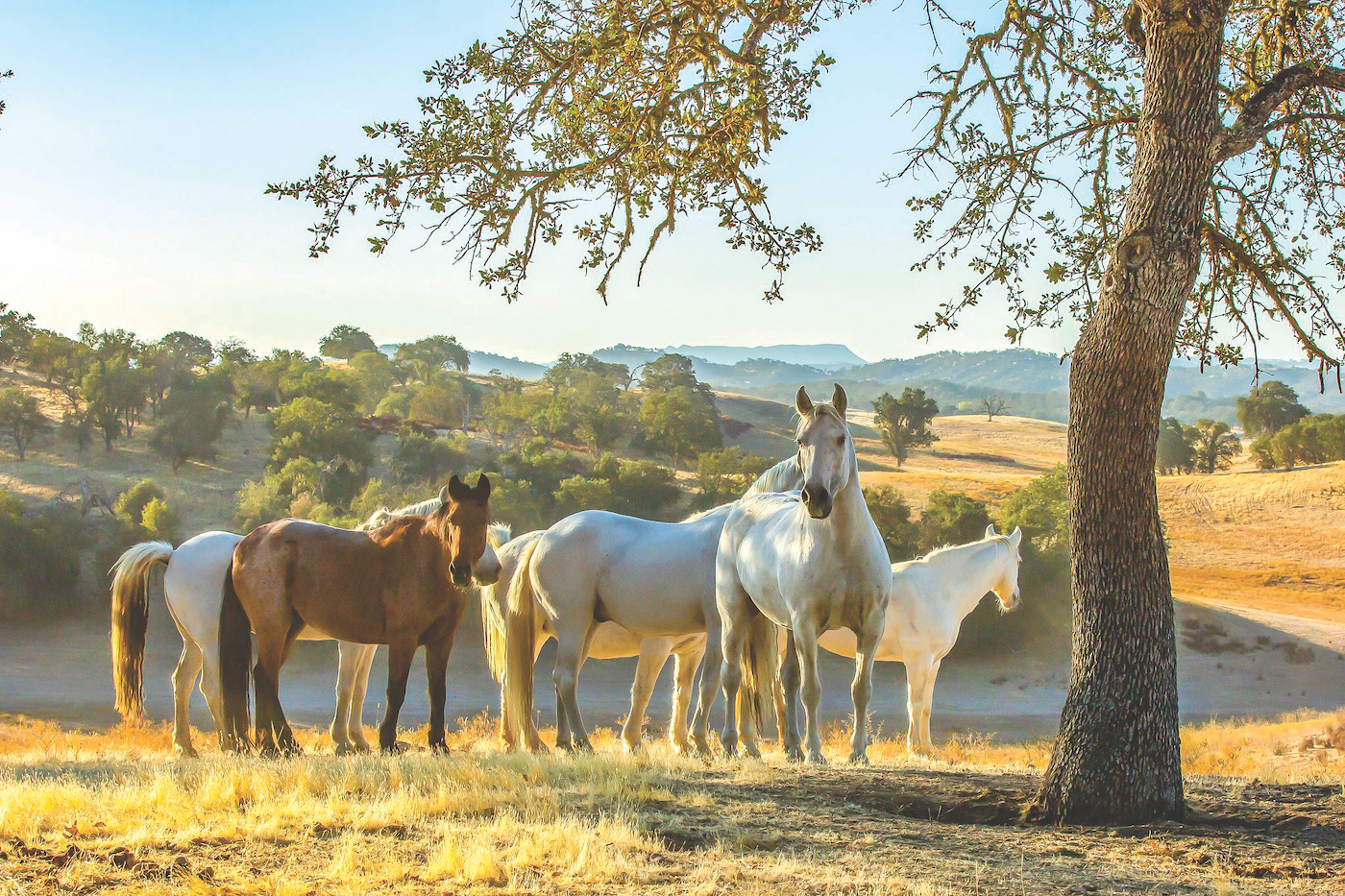 In any given week, Sara Ruggerone receives as many as 30 requests to rescue someone's horses. She's lucky if she has enough space to accept even one.
"If we had accepted every horse that we were contacted about, we would have thousands of horses in our sanctuary," Ruggerone says.
Ruggerone is the Equine Care Manager at Redwings Horse Sanctuary, a horse rescue and sanctuary facility that relocated this year to the rolling hills of Paso Robles. Ruggerone has been active in the equine care industry and she owns five horses of her own, all of them rescues.
Redwings operates on the front line of one of America's most rampant but little-known tragedies: the neglect, abuse, and slaughter of horses. In the last five years alone, more than 370,000 American horses were shipped to their deaths in foreign slaughterhouses.
There are a lot of reasons why horses need rescue. There are people who lose their jobs and can no longer take care of their horses. There are exasperated owners who discard horses for behavioral problems. There are even people who can't make the commitment to take care of a horse after its rideable period, even though a horse typically lives 10-15 years past its "useful years."
Whatever the reason is, Redwings Horse Sanctuary is there to educate people about the widespread problem of horse abuse. And its 140-acre spread serves as a permanent sanctuary for more than 70 horses, some of which were rescued from the "slaughter pipeline."
"We have horses of every age, breed, and size," Ruggerone says. "You name it, we have it or have had it."
Before this year, Redwings operated from a 167-acre ranch in southern Monterey County. The move to Paso Robles was a strategic one. "When we knew our lease was ending, we had a vision to move closer to town where we could get more volunteers and visibility and be a little bit more connected to the community," Ruggerone says.
By being closer to Santa Barbara, Redwings will be in a stronger position to raise awareness about its programs. In its first year alone, the organization wants to significantly increase its volunteer numbers and continue to increase the number of horses they can adopt.
"We have a lifetime commitment to each horse," Ruggerone says. "But every horse that's adopted into a loving home makes space for another horse."
Donate now!
redwingshorsesanctuary.org
(805) 237-3751
Equine Care Manager: Sara Ruggerone
Mission
Our mission is to eliminate the causes of equine suffering through education and community outreach programs, rescue abused and neglected equines, and provide permanent sanctuary or selected foster homes for those equines.
Begin to Build a Relationship
We know you care about where your money goes and how it is used. Connect with this organization's leadership in order to begin to build this important relationship. Your email will be sent directly to this organization's director of development and/or Executive Director.
Marilyn and I have been associated with Redwings Horse Sanctuary for over twenty-one years. We started to support Redwings shortly after it was founded and have served as volunteers, officers, and board members. We have visited the sanctuary to view with compassion the horses who had been rescued from dire situations and rehabilitated and restored to good health.
"We also helped in the relocation of the sanctuary to Paso Robles, California. The wonderful care given to the animals by the staff and volunteers of Redwings has been the driving force in our continuing to support the mission of the organization. I am sure the new facility will enhance the care of the animals and we wish Redwings continued success.
Paso Here We Are
Prior to moving to its new spread in 2021, Redwings Horse Sanctuary led a capital campaign called "Paso Here We Come" to pay for its new permanent facility. Even though Redwings has arrived in Paso Robles, the fundraising campaign continues with a target of $1 million. "Now that we've completed the move, we expect to have additional volunteers and to be able to offer more guided tours and educational outreach to the public. With our new proximity to the San Luis Obispo County community, we anticipate more interest in Redwings, which hopefully turns into more fundraising support," says Linelle Soxman, a board director.
Key Supporters
Marilyn and Jack Clifton
Catholic Community Foundation
Community Foundation for Monterey
Evelyn Gaul
The Mary Jo and Hank Greenberg
Animal Welfare Foundation
Harden Foundation
Diana Tiernan Hunter
Sharon Johnston
Kinnoull Foundation
Belina Lee Lazzar
Maureen Marshott
Joan and Terry McHenry
Kristan Otto
Rosamund Reece
Juanita Reid Trust
Dr. Yvonne Robinson and Don Buss
Patricia Theis
Jan Vanderbilt
Ward Family
California Retirement Management Account
and Thoroughbred Aftercare Alliance
With special thanks to all the Redwings volunteers
who give their time so generously to the horses