'Provide Some Cheer': Teddy Bear Cancer Foundation Puts Emphasis on Holidays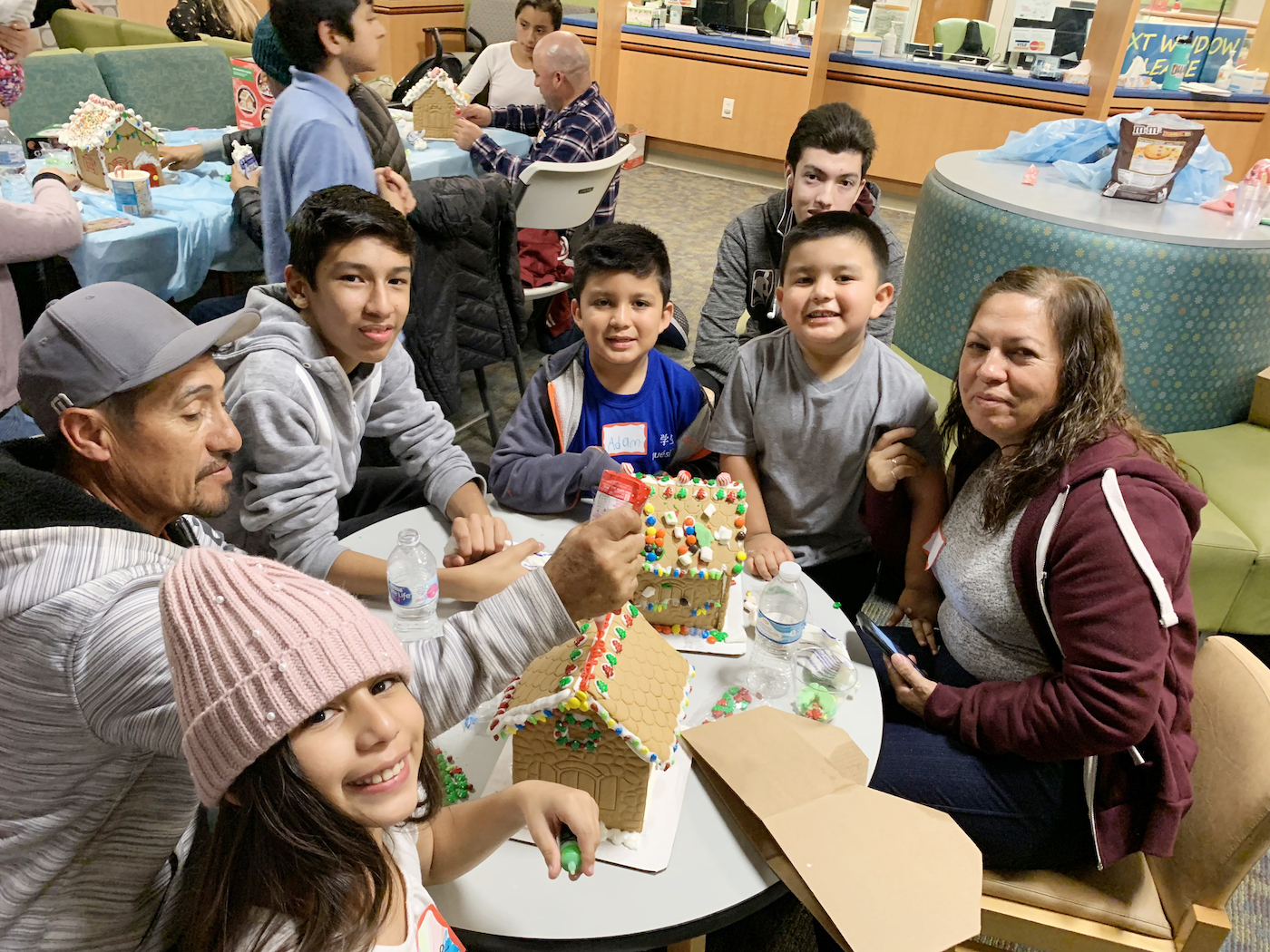 Teddy Bear Cancer Foundation (TBCF) was founded by Nikki Katz back in 2002 after hearing of the financial and emotional challenges faced by the family of a three-year-old boy who had been diagnosed with bone cancer and a brain tumor and felt alone in dealing with both the diagnosis and the fallout.
"I wanted to build a support system for local families with a child battling cancer," Katz explained as she announced her retirement from the foundation in 2012. "While I couldn't change the child's diagnosis, I could make the family's journey a little easier."
Now, almost 20 years since it launched, Teddy Bear Cancer Foundation has become one of the more recognized nonprofits on the Central Coast. The organization that operates on a budget just north of $1.2 million is all over the news seemingly all year long, lauded for its good work that encompasses an average caseload of about 200 families from Ventura, Santa Barbara, and San Luis Obispo counties at any given moment.
In recognition that worrying about money is a source of distress second only to cancer itself for families with a stricken child, financial assistance is a huge part of the foundation, with TBCF's Direct Assistance Fund providing immediate grants of up to $5,000 for low-to-moderate income families to use for rent or mortgage payments, auto expenses, utility bills, medications, home care services, food, childcare, or hotel accommodations.
To help ease the emotional burden, TBCF and its partners also provide professional and peer support not only to the child undergoing medical treatment but also for the entire family, including parents and siblings. Youth and young adults in need of individualized academic support can also receive tutoring services including up to 24 hours of virtual or in-person aid, while the whole family can receive up to $1,500 for neuropsychological testing aimed at making parents more effective at advocating for their child's academic needs.
All this good work takes a lot of dollars to implement, of course, and TBCF relies exclusively on philanthropy and the generosity of community members making direct or planned donations. But the nonprofit also has a more off-beat approach in getting the community more deeply involved and connected.
Teddy Bear's Youth Philanthropy program gets the giving spirit going for anyone who is between 5 and 21 years old, including individuals, school clubs, scout troops, and church groups. The program mentors youngsters in entrepreneurship, helping them develop leadership skills and experience the power of commitment.
"Our goal is to mentor young people through their fundraisers and demonstrate how easy and rewarding philanthropy can be. We help guide them from concept to implementation to delivering the oversized check," Katz said.
TBCF will mentor kids from elementary school to college aged and help them raise funds with goals starting at $500. TBCF can assist these youths to develop the leadership skills and commitment necessary to set and achieve important goals as the budding entrepreneurs set up everything from lemonade stands and bake sales to car washes and social media campaigns.
"It's really a unique program where kids can fundraise for other kids and get mentored by us," explained Brittany Avila Wazny, TBCF's senior development director. We talk to them about various fundraising techniques and encourage them to utilize a skill of theirs or try a business idea that they might have. We mentor them to create a successful fundraiser, and support them with their marketing and advertising, and the proceeds come back to Teddy Bear. It's a really sweet program of kids helping kids and getting involved in their community and being encouraging in their entrepreneurial spirit."
TBCF's Create Your Own Fundraiser operates similarly for adults, with the nonprofit helping those wanting to support the organization in kind to turn a passion into a fundraiser, create a Go Fund Me campaign, or simply adding a donation link to social media or other online networks.
Meanwhile, the approaching winter season finds Teddy Bear once again gearing up for its annual Season of Hope campaign, the most popular portion of its ongoing Project Holiday. The nonprofit is seeking various in-kind donations for Project Turkey, Project Christmas, and Holiday Drive-Thru parties to spread cheer and needed resources to local families battling pediatric cancer. The project provides extra support to families during the holiday season that's often stressful under normal circumstances and can be extremely overwhelming for those dealing with their child's cancer treatments.
"The holidays are supposed to be a time filled with joy, but a lot of our families don't have the time or energy to go out and make holiday traditions happen," Wazny said. "Teddy Bear wanted to step up to literally deliver Thanksgiving and Christmas, or whatever version of the holidays our families celebrate, so they can have one less thing they have to think about, and their kids can continue on with some type of normalcy and joy."
For Project Turkey, TBCF will be delivering meals to families who worked with the nonprofit and hospital social workers to identify foods that are appropriate for their cultural traditions during the Thanksgiving holiday; the community can help by dropping off requested food items or $50 gift cards to the TBCF office at 3892 State St. Suite 200 in Santa Barbara by Monday, November 15.
In December, Project Christmas provides presents for each child in the family as well as culturally appropriate décor and gift wrapping, alleviating both the financial stress and time and energy associated with holiday shopping. The TBCF Programs team has collected wishlists from more than 50 kids for this year's Project Christmas and invite the community to help bring hope and holiday cheer to the families by sponsoring a child for $100 or shopping for children's wish list directly and/or providing monetary or in-kind donations for decorations and goodies such as hot cocoa and candy canes. Volunteer support is also needed to help deliver each family's holiday package and gifts, as well as wrap presents.
Teddy Bear's annual Holiday Party, converted to drive-thru in deference to COVID concerns for a second year, aims to spread holiday cheer and provide a memorable event with a festive event featuring Santa Claus, mini horses from Hearts Therapeutic Riding Center, surprise gifts for children and a take-home craft. The holiday events are held at various locations to serve the tri-county area and are open to all families battling pediatric cancer.
Last year, Wazny noted, the nonprofit provided gifts to 471 TBCF kids and their siblings, which was double the number of kids served in 2019 as the community stepped up in a big way despite – or maybe because of – the pandemic. More than two-thirds of the families served by Teddy Bear participated in at least one of the Project Holiday events.
"It's a way to provide some cheer at this time of the year," Wazny said. "It's about doing something that's more than just fun but instead tries to actually fulfill that holiday for the kids with cancer and their families. It takes a huge stressful weight off the families and really supports their emotional wellness so they can focus on their child's well-being."
Visit Teddy Bear Cancer Foundation at www.teddybearcancerfoundation.org. Contact Brittany Avila Wazny, TBCF's Senior Development Director, at (805) 563-4723 or brittany@teddybearcancerfoundation.org.
Mission
Teddy Bear Cancer Foundation supports families living in Santa Barbara, Ventura, and San Luis Obispo counties that have a child with cancer by providing financial, educational, and emotional support.
We support the entire family when their child has cancer.
​Our programs allow parents to focus on what matters most, their child's well-being, during one of the most difficult times of their child's young life.
Begin to Build a Relationship
We know you care about where your money goes and how it is used. Connect with this organization's leadership in order to begin to build this important relationship. Your email will be sent directly to this organization's Director of Development and/or Executive Director.
Giving Back
After 30+ years working in the Aerospace industry, I just released my first children's book, Dragons on the Purple Moon. Our son survived brain cancer in 2017 and I wanted to give back. After moving to Santa Barbara, I looked for an organization aligning with my vision of bringing joy and happiness to children with cancer. Teddy Bear Cancer Foundation was an excellent choice – they provide financial, emotional, and educational support that is extremely important for families during this time.
Helping Families Now, Forever
Teddy Bear Cancer Foundation serves more than 800 individuals every year. Incredibly, they do this with a budget of $1.2 million. In 2021, TBCF will step up outreach to hospitals so they can help even more families.
Teddy Bear needs your help. You can sponsor a family for $5,000, provide relapse or funeral funds for a family for $2,500, or pay for tutoring for a child for $1,000. TBCF is completely funded through the generosity of community members, and any amount helps.
And if you believe, as we do, that TBCF needs to be serving the region for years to come, visit its planned giving page – www.tbcflegacy.org – and consider a bequest
Board of Directors
J. Paul Gignac, Board Chair
Nathan Rogers, Vice Chair
David Edelman, Treasurer
Carolyn Shepard Baham,Secretary
Rich Schuette, Immediate Past Board Chair
Adam Black
Tyler Dobson
Joe Ferreira
Matthew Fish
Tom Fisher
Jamie Hansen
Sheela Hunt
Rebecca Koch
Tony Vallejo
Maria Wilson