'Creating Hope' with UCSB Arts & Lectures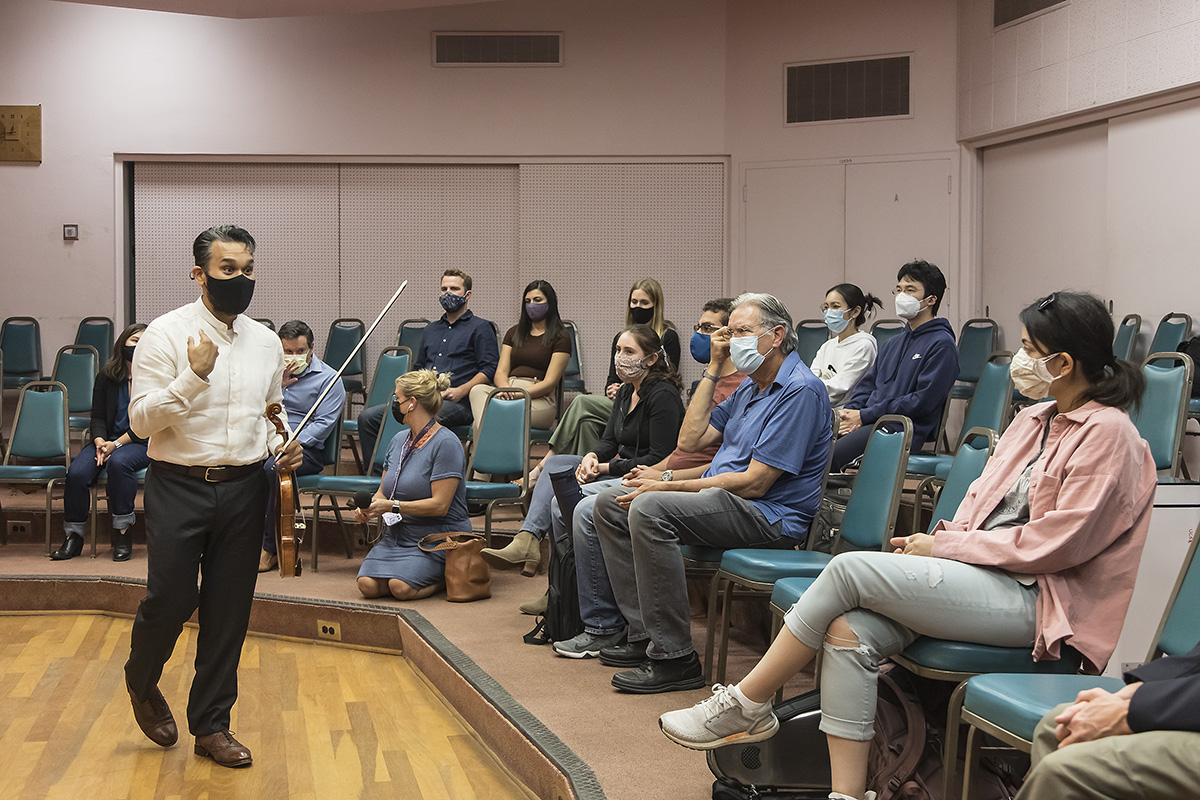 When the COVID-19 pandemic hit in March 2020, UCSB Arts & Lectures, like every establishment across the country, was forced to close and cancel all its programs. But the 62-year-old organization — still the largest and most influential arts and lectures presenter not only in the Santa Barbara region but in the several hundred- mile span between Los Angeles and San Francisco — also moved quickly to resume programming for the 2020-21 season, albeit virtually.
The streaming events topped off with live Q&A sessions conducted by staff and Santa Barbara journalists and friends proved quite popular not only among locals who are long familiar with A&L's quantity and quality, but also across the country and even around the world, a reach that can only pay further dividends down the road. Programs ranged from concerts to theatrical programs to talks, all produced exclusively for Arts & Lectures with the price of admission set at just $10 or less per event, the better to provide access to the wide community starving for connecting content.
"We wanted to offer something to combat the epidemic of loneliness and depression that were coming out of COVID as well as the pandemic itself, and the Black Lives Matters protests after George Floyd's murder," explained Meghan Bush, UCSB Arts & Lectures' Associate Director. "We were trying to throw a lifeline through providing digital entertainment, and we ended up getting really great engagement through the digital programming. It also allowed us a more global audience rather than only with our Santa Barbara-based footprint, reaching people across the world, with people in Bangladesh and China and Brazil tuning in for our programs."
But, of course, A&L's priority is its home in Santa Barbara, with a community that begins on the UCSB campus and stretches throughout the South Coast community, where the organization not only presents critically acclaimed concerts and dazzling dance performances from touring artists and talks by groundbreaking authors and speakers, but also oversees an outreach program that brings most visiting artists and speakers into local classrooms and other venues for master classes, open rehearsals, discussions and more.
So last winter, when it was time to start programming for the 2021-22 academic year just as the COVID vaccines became available providing light at the end of the lockdown tunnel, the folks at UCSB Arts & Lectures found some cause for optimism.
"We were starting to see little sparks of hope everywhere," Bush said. "The thought of emerging as 'headlights, not taillights' as the late U.S. Rep John Lewis used to say, began to take shape."
Thus was born "Creating Hope," the theme for the season-long programming initiative that launched in May with an uplifting hour-long live virtual talk with His Holiness the Dalai Lama in conversation with Santa Barbara-based writer Pico Iyer. Now, more than a month after regular events have started once again to take place in person at UCSB's Campbell Hall and venues downtown, hope has materialized in cultural events once again bringing the community together face-to-face.
"Everything we're presenting has been programmed because we think they bring some element of hope into the equation," Bush said. "Everything that we're curating, including the 'Justice for All' series that serves as a successor to last year's 'Race to Justice,' is about evolving into a more positive place than we were during the worst of the pandemic."
The "Justice for All" serves as an illustration of UCSB Arts & Lectures' commitment to serving as an inspiration in connecting all communities even beyond the trendy program organizations adopted in the wake of the Floyd murder and BLM movement in 2020.
"We wanted to elevate Black voices and give them a platform to speak and be heard, but it wasn't like everything was fixed after just one season of presenting those voices," Bush explained. "Instead, we want to expand it and continue to bring speakers who confront the inequalities that shape our policies and our lives, from public figures to organizers to radical thinkers to a one-man performance such as John Leguizamo."
But A&L still recognizes the values of resuming bringing world-class artists and entertainers to town, whether it be classical musicians like the duo of violinist Leonidas Kavakos and pianist Yuja Wang; top-notch dance companies Alvin Ailey, The Joffrey Ballet, and Ballet Hispanico; jazz with longtime Arts & Lectures favorite Wynton Marsalis and the Lincoln Center Orchestra; American roots music with Punch Brothers, Jason Isbell, Shawn Colvin, and the star-studded My Bluegrass Heart; or world music with Yamato: The Drummers of Japan.
"We're just trying to illustrate the idea that it's OK to come back and gather again in the theater and feel joy and be elevated together, whether it's through feats of athleticism in music and movement in dance, which always leaves people feeling uplifted, or classical music or whatever else brings you joy," Bush said. "Until I went back into the theater to see my first live event, I had forgotten the catharsis and high that you get from engaging in the arts, and how awesome it is to see a live performance or a really interesting speaker."
At the same time, Arts & Lectures didn't want to abandon those who still don't feel safe to sit together in a theater, so the organization is offering live streaming to almost 90% of the events on the season's calendar.
"This way when you buy a ticket, it's up to you how you use it," Bush said. "Your seat is going to be there regardless of whether you are sitting in it or watching at home on your couch. People feel comfortable having that flexibility."
However, the endeavor, usually entailing the use of multiple cameras, is quite expensive to produce, coming in at a cost of more than $100,000 over the span of the season, Bush said, noting that funding the streaming is a unique philanthropic opportunity that is more than welcome. But there are myriad other ways to support Arts & Lectures, from simply buying tickets to events — which only accounts for about 40% of the costs in a typical year, closer to 25% in the early post-pandemic times — to underwriting an entire program or series or serving as main sponsor of A&L's ambitious commissioning program, which this year brings premieres from the Danish String Quartet and Jennifer Koh to town. All gifts are more than welcome, and perhaps more important than ever to ensure such important programming continues unabated for another six decades.
Contact UCSB Arts & Lectures at www.artsandlectures.ucsb.edu, or call Development Director Stacy Cullison at (805) 893-3755. Bush can be reached at (805) 893-2098. •MJ
Donate now!
Mission
To educate, entertain and inspire.
Begin to Build a Relationship
We know you care about where your money goes and how it is used. Connect with this organization's leadership in order to begin to build this important relationship. Your email will be sent directly to this organization's Director of Development and/or Executive Director.
Enriching Program at Santa Barbara's Doorstep
Arts & Lectures brings our community, the University, and its students an incredible array of artistic offerings that are unequaled in any other community of our size in this country. A&L always manages to present the kind of material that appeals to thousands – I don't know how they do it! Their robust education outreach, presented to both English- and Spanish-speaking audiences, enriches younger students immeasurably. We are incredibly fortunate to have such a varied and stellar program right here on our doorsteps!
Sustain Cultural Excellence in Santa Barbara
Arts & Lectures remains a beacon of hope in Santa Barbara, connecting art and education to the community. But they are still struggling with the impact of COVID-19 on their programs. Your support will allow Arts & Lectures to continue to play a pivotal role in the vibrancy of our community.
"Access for ALL is Arts & Lectures' suite of education and community programs, making inspirational, enriching, and dynamic learning opportunities possible for classrooms, campus, and the community," says Celesta M. Billeci, UCSB Arts & Lectures Miller McCune Executive Director.
Arts & Lectures hosts field trips for local K-12 students to see the most notable artists and thinkers of our time and also offers substantial discounts (and often even free admission) to students, as well as opportunities to learn from some of today's hottest musicians, renowned dancers, revered authors, and more.
Over the past few seasons, A&L has reached nearly 450,000 people and with your help they can offer life-changing opportunities and continue to transform the community.
Key Supporters
Advisory council members and leaders who have helped make A&L
a vibrant part of Santa Barbara:
Jody & John Arnhold
Loren Booth
Marcy Carsey
Marci & John Mike Cohen
Audrey & Timothy O. Fisher
Connie Frank & Evan Thompson
Martha Gabbert
Eva Haller
Luci & Rich Janssen
Dorothy Largay & Wayne Rosing
Kath Lavidge & Ed McKinley
Patty & John MacFarlane
Manitou Fund
Sara Miller McCune
Jillian & Pete Muller
Natalie Orfalea & Lou Buglioli
Maxine Prisyon
Heather & Tom Sturgess
Anne Smith Towbes
Sherry Villanueva
Lynda Weinman & Bruce Heavin
Bridget Yin & Russell Steiner
Merryl Snow Zegar & Charles Zegar